The Best Skincare Products for Sensitive Skin
Our picks for cleansers, moisturizers and more to keep sensitive skin in check.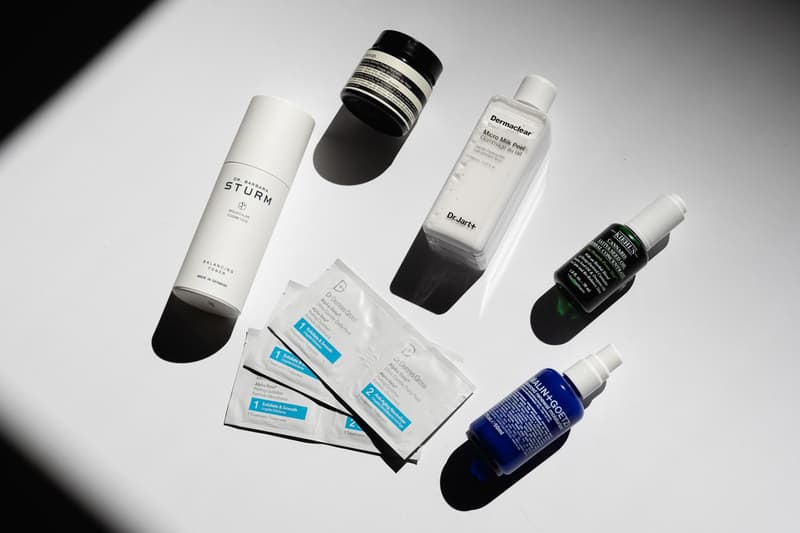 With the season change, you're likely already swapping out your wardrobe for fall-friendly items, but new weather can also be an opportune time to try new skincare products. For those with sensitive skin in particular, a changing climate can trigger irritation. But that is just one of many factors that can be a challenge for sensitive skin types.
"Sensitive skin is a complex issue and is, in essence, skin in a state of hyper-reactivity. It is not well defined and relatively poorly understood," Aesop founding associate Suzanne Santos tells HYPEBEAST.
Many skincare brands focus specifically on formulations for those with sensitive skin, including Aesop, MALIN + GOETZ and Kiehl's to name a few, but finding the right product is ultimately a matter of personal preference and some trial and error. "We do know that those with sensitive skin are more susceptible to environmental factors, and often experience pronounced reactions to certain substances, such as soap, cosmetics or sunscreens. This reactivity may also occur after contact with plants, animals or fabrics; in response to insect bites; or in particular climatic conditions — in fact, it is often reported to be aggravated by extremes of temperature," Santos explains.
If you find that your skin is prone to sensitivity, Santos emphasizes that when trying any new product it's key to first do a patch test on a discreet part of the skin, such as under the jawline or behind the ear, to see if there's a reaction before applying to the rest of the face. Wait for 24 hours after application to see if there's any irritation, and then repeat the process. If there's no reaction, try a full application with some caution. "Use less product than you normally would in the first instance, then slowly increase the amount," Santos explains. "If skin reacts or symptoms persist despite not using any products, we suggest you consult with a dermatologist."
"Sensitive skin is a complex issue and is, in essence, skin in a state of hyper-reactivity."
All skincare products are in essence unisex (no matter what certain branding may imply), and sensitivity can affect people of all genders. Santos notes however that, generally speaking, men have higher skin density than women, which also leads to greater sebum production. "While there is a perception that male skin is not prone to sensitivity, increased sebum production often goes hand-in-hand with irritated or sensitive skin and therefore men need products that will respond to these characteristics," she explains.
In general Santos recommends that those with sensitive skin look for gentle, non-foaming cleansers and alcohol-free toners. "Hydrating products will utilize a greater concentration of calming ingredients to soothe the skin and reduce the likelihood of reactivity," she adds. And if you are suffering from conditions such as eczema or rosacea in addition to general skin sensitivity, Santos advises that those should be addressed with a health care professional.
With the season change underway, we've rounded up a few of our favorite products for sensitive skin, with picks from The Ordinary, DR. JART+ and a brand new item from Aesop.
The Ordinary Squalane Cleanser
Where to buy: The Ordinary
Price: $7.90 USD
Harsh cleansers can often further dry out sensitive skin that also feels tight, but The Ordinary's popular cleanser is a gentler way to get clean skin. The product relies on squalane, a plant-derived version of the compound that naturally occurs in skin (The Ordinary also sells a 100% Squalane concentrate if you need some extra hydration in your routine). If you love the product, you can also invest in a 150 ml size for $19.90 USD.
Dr. Barbara Sturm Balancing Toner
Where to buy: Dr. Barbara Sturm
Price: $75 USD
Toners can be tricky for sensitive or dry skin, as the traditionally alcohol-based product is often drying. Dr. Barbara Sturm's toner can be used by all skin types, but is particularly suited for sensitive skin with Beta-Glucan and Panthenol to calm irritation. Use the toner after cleansing to remove any excess oil or grime before moisturizing.
Dr. Dennis Gross Alpha Beta® Ultra Gentle Daily Peel
Where to buy: Dr. Dennis Gross
Price: $88 USD
Many swear by Dr. Dennis Gross' peels to quickly improve the appearance of fine lines, but the traditional strength peels may be too harsh for sensitive skin. The brand's gentler version still features the same two-step process with alpha and beta hydroxy acids to chemically exfoliate the skin.
Aesop Seeking Silence Facial Hydrator
Where to buy: Aesop
Price: $60 USD
Aesop's botanical-based line is popular among all skin types, but this month the Australian brand is launching its first product specifically geared for sensitive skin with its Seeking Silence Facial Hydrator. The gentle cream features narcissus tazetta bulb extract, derived from daffodils, and dunaliella salina extract, derived from algae, both of which are calming ingredients and can combat redness.
Kiehl's Cannabis Sativa Seed Oil Herbal Concentrate
Where to buy: Kiehl's
Price: $49 USD
Yes, cannabis is the trendy product of the moment in skincare. Kiehl's has tried its hand at the popular ingredient with this soothing face oil, which also features green oregano. The non-comedogenic oil (meaning it won't clog pores) is best-suited for acne-prone, irritated skin, perfect for calming flaky skin in the drier months. Some say it can even double as a beard oil.
Rodial Dragon's Blood Cleansing Water
Where to buy: Rodial
Price: $45 USD
"Dragon's blood" may sound rather intense for a product targeted to sensitive skin, but Rodial's Dragon's Blood line is derived from the sangre de drago tree found in South America and can soothe irritated skin. This gentle cleansing water also contains hyaluronic acid to plump the skin and is safe to use around the eyes.
REN Evercalm Ultra Comforting Rescue Mask
Where to buy: REN
Price: $42 USD
For a bit of extra help when your skin is feeling stressed, try REN's Rescue Mask. The whole REN Evercalm line is formulated for sensitive skin, and this gentle mask can be left on for 10-15 minutes before being rinsed on, or left on overnight for extra care.
DR. JART+ Dermaclear Micro Milk Peel
Where to buy: Sephora
Price: $42 USD
Is it a peel, a moisturizer? It's a bit of both. The DR. JART+ Milk Peel is a chemical peel formulated with coconut milk to hydrate and sooth the skin while removing dead skin cells. After cleansing, shake the bottle and sweep the liquid on your face with a cotton pad before rinsing off.
MALIN + GOETZ Advanced Renewal Moisturizer
Where to buy: MALIN + GOETZ
Price: $76 USD
The whole MALIN + GOETZ line is made with sensitive skin in mind, but if you're looking for something new try the Advanced Renewal Moisturizer, which launched earlier this year. The lightweight moisturizer uses natural ingredients such as antioxidant-rich apple stem cell to protect and hydrate the skin.