'FIFA 20' Review: Does the Juggernaut Retain Its Title?
Find out how it stacks up against its rival 'PES 2020.'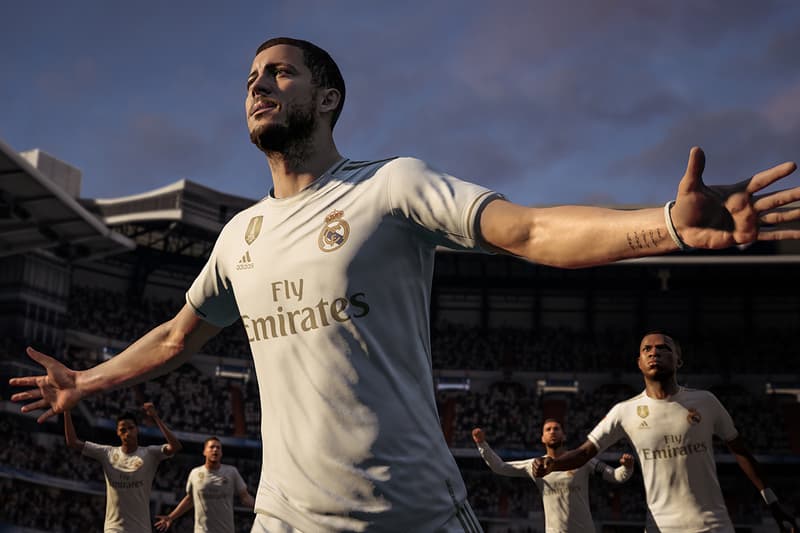 FIFA 20 is releasing on September 27, the latest iteration in the unstoppable series. Industry tracker the NPD group reported that FIFA 19 was the ninth best-selling game in the U.S. between March 2018 and 2019 — not exactly a territory known for its love of football. In September 2018, EA Sports confirmed that the series had surpassed 260 million sales of its game since its 1993 inception. That's in addition to the 193 million downloads for FIFA Mobile as well as the 115 million people registered for the Asia-only title FIFA Online 3 and 4. It's fair to say that FIFA is popular.
But the double-edged sword of popularity means that longtime fans may not be open to updates or changes to their beloved game. So how has EA Sports both competed with Pro Evo Soccer 2020 and updated the franchise with FIFA 20 while still making it palatable — and recognizable — to its million of worldwide fans?
Gameplay
FIFA 19 was fun but frantic, with passing feeling pinball-esque when attempting to break down a defense. FIFA 20 slows the overall pace of the game, allowing users more time on the ball instead of making every team play a high press regardless of tactics.
The result is a game that, like PES, has made central midfielders more important than ever. While pace is still useful, the reliance on it has faded in comparison to previous series. Dribbling, specifically the LB/L1 strafe dribble, has been reworked, making it a vital skill.
Tight situations that required side passes now can be dribbled past, meaning that in FIFA 20 you'll be able to use Messi in a manner similar to his actual play. Instead of looking for pace, you'll likely find yourself searching for dribbling attributes when choosing your lineup.
Defense has also received a revamp, becoming both more difficult and more rewarding than before. The new controlling tackling technique means you won't be allowed to simply let the CPU tackle for you but successful tackles from the user will typically result in the defender having possession of the ball rather than bobbling off to an oncoming attacker.
Career Mode
After a few years being ignored by FIFA, the career mode has been revamped. Upgrades range from the cosmetic — as is the case with manager customization — to the game changing — as we see in player morale.
Morale appears mostly in the form of constant player chats — which are very similar to what happened in previous editions, except now you're allowed to actually reply to them. Requests are what you'd expect from players, such as increased playing time demands, or younger players asking if they're able to play in the league cup.
The other key addition is the press conference upgrade. While they've been in the game for a few years, they've always had a touch of the rudimentary about them, working solely in text and making little difference to the game overall. This time it's all fully rendered, with your painstakingly rendered manager gives answers to questions that directly affect team morale. It's a combination of effects that showcase just what FIFA is so good at, using the seemingly superfluous to create a more immersive mode.
VOLTA
VOLTA is FIFA 20's key new addition to the franchise, filling the hole left behind The Journey, which ended after three iterations. Indoor football last made an appearance in a full FIFA game more than 20 years ago in FIFA 98, so its return is highly anticipated among long-time fans. The game may throw people off slightly at first as it does play differently from the 11-a-side game, typically in how difficult it is to score at first. The manual shooting mechanics are clearly there to stop goalfests in three-on-three football, but the learning curve is relatively steep for those who expected FIFA Street next-gen.
Presentation
One place where FIFA 20 clearly outshines Pro Evo is presentation. Often dismissed as bells and whistles, presentation can actually be the key difference between a player feeling wholly immersed in a game, and still feeling they are sitting in their living room looking at a screen. While PES still delivers the slightly better game of football on technical matters, the clunky presentation and commentary often pull you out of truly feeling like you're partaking in a match.
PES can often leave you hearing the phrase "They are rampant!" more often than you'd ever previously imagined, FIFA's commentary reacts to the play in an organic manner, feeling like it's watching and reacting to your game rather than using a small stock of phrases.
Piemonte Calcio debuts in this year's FIFA after Juventus signed an exclusive deal with PES. The team comes complete with diagonal stripes and a black and pink kit that is clearly meant to evoke Juventus without being close enough to get sued. But, coup aside, the most interesting part of the team is that FIFA managed to create a fake team identity that felt more realistic than any of PES's attempts at digitizing real-world football clubs.
It's never truly been a contest between PES and FIFA when it comes to presentation and that's something that's not changed this time around.
How does it compare to PES?
As we said previously in our PES 2020 review, the key question is always: which football game is better? Having spent time with both games, it depends on what you want from a game. While PES still plays a better game of football, it's only marginally better than FIFA's improved gameplay. Where PES lets down players is the lack of improvements everywhere else.
Nowhere is this more clear than when comparing Master League against Career Mode. Master League's manager cut scenes are often ponderous and dull, leaving them only as annoyances to be skipped. Meanwhile Career Mode has linked its cutscenes with the overall wellbeing of the team, meaning there's actually an incentive to partake in them, making the mode feel deeply immersive in a way Master League never truly grasps.
There's also simply more to do in terms of new modes in FIFA. Both games have their versions of an online-based team builder in MyClub and Ultimate Team, but PES's only other true mode being Become A Legend. In comparison, FIFA has added VOLTA, which is an entirely new game mode complete with a RPG-esque story mode.
It's these differences and additions that mean that, despite PES 2020's stellar gameplay, FIFA 20 has to be called the better game overall.
Poll
Which is better, FIFA or PES?