The Denim Industry Needs to Find the Innovation Thread
Heritage labels face threats from the athleisure trend and growing demand for sustainable fashion.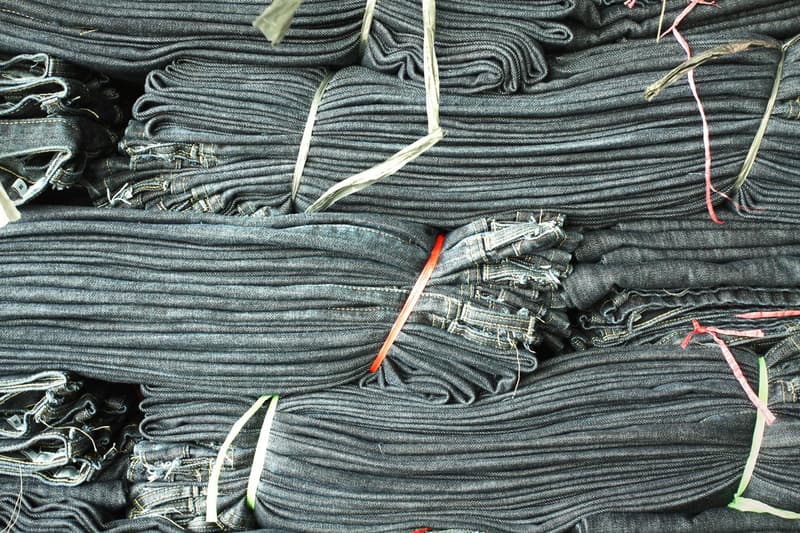 In fashion, as in many industries, a lack of innovation often leads to obscurity. And yet, modern blue jeans — that staple fashion product — are almost identical to their classic predecessors that appeared over a century ago. The denim industry can't afford to stand still, however; the decline of department stores, the rapid influx of fast fashion's influence and the rise of athleisure have all put pressure on the niche and heritage denim market. Some big players have already taken note. Having gone public earlier this year, Levi's — the unequivocal pioneer of denim — celebrated the 126th anniversary of its iconic 501 denim line with the launch of a partnership with industry darling Heron Preston. Such collaborations are necessary for the denim market, which has fallen into the dreaded "mainstream" category.
Denim has not always been ubiquitous with mall clothes, however. Believe it or not, Che Guevara once feared denim was more influential than the entire Red Army. But what was once shorthand for counter-culture has become mass-market. Denim's widespread adoption may make it a staple in most closets, but consumer demand for trend-worthy or "novelty" items has threatened that stronghold. Today's consumers are more inclined towards casual comfort garbs (i.e. stretchy and elastic pants). Or, as Andrew Olah, CEO of Olah Inc. and founder of the denim trade show Kingpins, puts it, "If you look at what people are wearing at the airport and what people wear when they go shopping, it's simple."
According to a report by NPD Group on the denim industry, the rise of athleisure disrupted denim's dominance in the casual market, even while the demand for athletic wear has somewhat declined. But the literal and fiduciary constriction of yoga pants is just one element that heritage denim brands are battling against.
Collaborations as Cultural Relevance
When compared to the more avant-garde styles in the wider fashion market, denim products have remained structurally close to their origins. In a flooded market, denim brands are largely producing the same product and fighting for their market share. "When you get down to it, brands and retailers are hiring the same people, virtually, to create their products," Olah explains. "An issue arises in the future, as the industry grows it will get more and more difficult to differentiate your product."
In order to attract millennial and Gen Z consumers, today's major denim labels have to look beyond traditional advertising techniques, as simply advertising their "heritage" isn't particularly effective for connecting with a younger audience.
Though omnipresent, collaborations remain an easy way to generate new buzz. When executed properly, these collaborations can give a seemingly stale brand a more "human" feel, but — if poorly launched or executed — collaborations can do more harm than good by leading consumers to question a brand's authenticity.
Wrangler's partnership with the provocative "Old Time Road" rapper Lil Nas X exemplifies a successful strategy that helps the brand align itself with cultural relevancy. The timely collaboration didn't just generate buzz, but Bloomberg reported that Wrangler stock prices have surged as much as 17% because of the artist's endorsement. In speaking with the outlet, Scott Baxter, CEO of Wrangler's parent company Kontoor Brands, touted the fact that the subsequent restocking of the collaboration sold out.
"That is what's cool about collaborations, and it allows you to tell stories that wouldn't be able to go on their own."
Levi's has shown a penchant for these types of partnerships as well. The brand's collaboration with Heron Preston has allowed the company to communicate with a niche market outside its usual customer base. As Preston himself tells HYPEBEAST, "It's just like extending their touchpoints; that is what's cool about collaborations, and it allows you to tell stories that wouldn't be able to go on their own."
Recently, Adweek reported on American Eagle's perennial ability to authentically connect with the coveted youth market — including Gen Z'ers. But in its recent drop with rapper Lil Wayne, the $1 Billion USD jean retailer may have taken some missteps. The unusual collaboration certainly stirred up media coverage. Nonetheless, the garments have already been marked down since launching in August.
The multitude of collaborations on the market means they are subject to greater scrutiny than ever before. The wider options mean consumers can now search for utility and authenticity, rather than simply a given partnership's shock value.
The New Generation of Denim
Levi's, Lee's and Wrangler — which operate in the mid-price range — have been losing market control to direct-to-consumer retailers and fast fashion conglomerates. "The mid-price mass market is a dead spot today," says Nudie Jeans CEO, Joakim Levin, "All those H&Ms, Zaras and UNIQLOs have become extremely good at making clothes, so the middle position has received hard competition."
"Younger people will spend a lot of money on one type of garment but don't have a problem mixing it with H&M jeans. There needs to be a reason for them to choose you," he adds.
According to G-Star RAW's Denim & Sustainability Expert Adriana Galijasevic, Gen Z shoppers are drawn to fashion brands that demonstrate innovation. "At G-Star collaboration has always been essential because it brings innovation which is at the core of our DNA," says Galijasevic. "Although, our partners come from various disciplines… we always share with our partners that sustainability is as an inherent part of our business and that we all want to be front runners in our own realms."
"Jacquard is a compelling example of an alternative consumption model within the established fashion cycle."
Innovation in denim itself can help challenge the athleisure craze. While some brands may be left behind by the increasing demand for more athletic styles, heritage labels and even brands such as G-Star are finding ways to bring elasticity to sturdy denim. "Instead of focusing directly on the athleisure craze, we do our own interpretation by combining denim aesthetic with sports functionality via our Ultimate Stretch range which we introduced into our collection in 2013, and have been evolving ever since," remarks Galijasevic.
"Smart" clothing is another avenue for collaboration. "Levi's® recent collaboration with Google's Advanced Technology And Projects lab brought to life a brand new form of wearable technology through Project Jacquard®," remarks Paul Dillinger, VP Global Product Innovation at Levi Strauss & Co. The creation of such an article melds the everyday tech used with clothing to create a responsive article that changes how we interact with the world. And through constant updates, Dillinger remarks that "Jacquard is a compelling example of an alternative consumption model within the established fashion cycle: delivering seasonal newness and value through updated and improved digital functionality, rather than continuing with the conventional cycle of iterative style & color changes."
Technical feats will continue to push the boundaries of how jeans can be constructed and in some cases what they can do. But out-of-date universal sizing – which was standardized for uniform codes established during the Civil War — still remains unaccessible for consumers who don't fit into standard sizing, further alienating many customers.
The particulars of uniformity are on its way to be challenged, as finding that "perfect pair" of denim is on the horizon. Leveraging growing consumer interest in customization, the brand denim unspun is championing a new way of making clothes undefined by size. The label utilizes 3D capturing technology in its manufacturing process to engineer a bespoke pair of jeans based on a consumer's measurements. Mainstream adoption of such technology is still a ways away, as it requires processes that aren't financially accessible to the wider mass market, but it's a foot in the right direction.
Banking on Sustainability
Denim might seem like a fairly innocuous material, however, the process required to make a single pair of jeans has had huge environmental consequences. As consumers continue to be vocal about fashion's impact on the environment, brands that fail to meet demands for transparency and sustainability measures are likely to see their profits dip. And Joakim Levin of Nudie believes that consumers should be cynical and critical of brands.
With profits at stake, both small and large brands are taking steps to assume greater responsibility. "Jeans consumes 3,781 liters of freshwater across its life-cycle," says Dillinger. "The biggest part of that 3,781 liters, however, comes from cotton cultivation -– 68%." This is a problem that all imprints play a part in, but coalitions such as the Better Cotton Initiative, which Levi's is a founder of, are establishing standards for cotton cultivation, fair labor practices and resource conservation, effectively diminishing water usage by 20%. In a recent announcement, internal standards set by Levi's will further reduce water usage in "high stress" by 50% before 2025.
Nudie and G-Star Raw have also taken holistic approaches to diminish their environmental impact. It's not just about utilizing organic cotton or establishing a chemical usage standard, but also holding their supply chains accountable for protecting both their workers and the planet. Organizations like the Sustainable Apparel Coalition and the Fair Trade Commission have helped brands establish environmental standards.
"Jeans consumes 3,781 liters of freshwater across its life-cycle."
At the trade show level, Olah says King Pins has become "the first trade show to ever actually have criteria for the exhibitor." He states further, "We insist on all of our exhibitors to be able to exhibit at an event and must have a social compliance standard by 2020 that's never been done before," also emphasizing that they must "comply with an agreement with the Zero Discharge of Hazardous Chemicals."
According to Olah, "Transparency is the motherload of sustainability. That's the first step to lay down a prosperous future." Though Joakim Levin has always maintained an openness from Nudie's beginning, both the Nudie and G-Star provide internal and external transparency reports. This engenders brand loyalty, and according to the 2016 Label Insight Transparency ROI Study, this clarity leads to establishing a lifelong customer base.
As generational shifts in culture continue to fluctuate, alongside the circuity of fads, the appetite for denim will persist. According to Olah, "We think the industry is $120 billion [USD], business based on our research, even if it goes down 10%, it's still $100 billion [USD]." Even in a decline, the industry will stay prevalent, but for heritage and niche labels to stay afloat, they must consider how to maintain space. Because at the of the day, for those who choose not to evolve with the technological advances the industry makes, concerns and interest of society and show concern for the welfare of the environment will find demise at their own hands.