Champions League 2019/20 Preview: Liverpool vs Man City, Teams to Watch, Zidane's Return & More
The road to Istanbul begins today.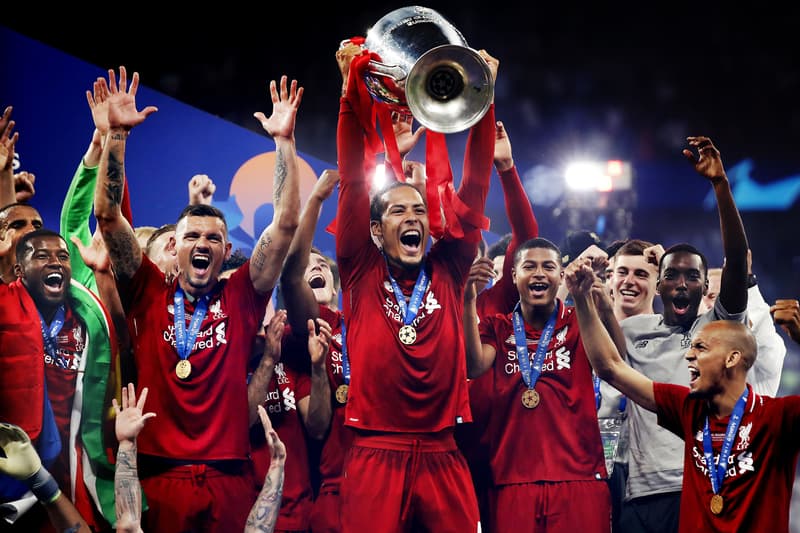 It's that time of year again, the UEFA Champions League has returned for its 2019/20 season. Last year we saw Premier League clubs Liverpool and Tottenham battling it out in the final after claiming two of the best comebacks in European football when they faced off against Barcelona and Ajax, respectively, in the semi-finals. Ultimately The Reds claimed a 2-0 victory in Madrid.
Once again 32 teams will all be vying for a chance to claim the coveted European Cup on May 30, 2020, with the final taking place in Istanbul. While a lot can happen on the road to the Turkish city, enough has already happened during domestic league play to start drawing some conclusions on how the lauded tournament could play out. Defending champions Liverpool are favored to win again, along with EPL's recent title winner Manchester City. Top guns Lionel Messi and Cristiano Ronaldo return, along with a slew of youngsters that are sure to light up the pitch.
The Champions League of course has produced some of the best football fixtures in the Beautiful Game's history, and this season is almost guaranteed to feature the same pulsating drama and edge-of-your-seat excitement. Below are some key factors to look out for when the group stage kicks off on Tuesday, September 17.
Can Liverpool Do It Again?
Liverpool was able to claim their six European Champions League title with a 2-0 win over Tottenham Hotspur last season in what many fans called the dullest CL Final ever. All that aside, will Jürgen Klopp and his men be able to secure a consecutive win in the herald tournament? The defending champions will have to face off against Napoli, Salzburg and Genk in what looks to be a rather easy Group E. Napoli look to be their biggest threat, while the latter two shouldn't cause too much stress for The Reds.
In the last two Champions League seasons alone, Liverpool have won 15 games and scored 65 goals, more than any other side in the completion. In comparison, Napoli have only made it out of the group stages twice before and have only won 17 Champion League fixtures in their history. Liverpool also has the most cohesive and best starting XI. On top of that, Virgil van Dijk is probably the best defender in the world at this point and the club's attack still looks terrifying. Liverpool have a serious chance to follow Real Madrid as teams who repeat as winners of the Champions League.
Will Manchester City Finally Progress?
Manchester City are amongst the favorites to win the tournament having never won the European Cup before. However they first must overcome familiar foes in the form of Shakhtar Donetsk, Dinamo Zagreb and tournament debutant Atalanta in Group C. City will face off with Shakhtar Donetsk for a third consecutive time. Both teams qualified for the Round of 16 in 2017/18, so a repeat could potentially happen this year. City should top the group with their phenomenal outfit, followed by the Ukrainian club close behind.
Coming into the tournament the Cityzen claimed the domestic treble by winning the EPL, FA Cup and Carabao Cup. Although they didn't spend enormous amounts of money this summer on transfers, the club managed to fill some holes by bringing on Rodrigo, João Cancelo and Angeliño. And, of course, Belgium's Kevin de Bruyne is a key playmaker for the club.
Elsewhere in the Group C, Croatian kingpins Dinamo Zagreb will have tough challenge to get out of the group, while Serie A's Atalanta makes its Champions League debut. This should be a rather easy group for Pep Guardiola and his men. If they can keep up their momentum from the past year, the club should go far this tournament.
Teams to Watch
Along with Liverpool and Manchester City, Barcelona, Real Madrid and Paris Saint-Germain round out the top five favorites to win the competition this year.
However three teams worth paying attention to in this year's tournament for their style of play and potential to cause damage include Bundesliga's RB Leipzig, La Liga's Valencia, and finally Serie A's Atalanta.
RB Leipzig may be the "underdog" that is most likely to reach the knockout rounds and currently sits first in the Bundesliga with a goal differential of +7. The team boasts German lethal striker Timo Werner who managed to score five goals already this season — which includes his hat trick against Borussia Monchengladbach — and not forgetting to mention his 20 goals in 36 appearances last year. Don't overlook this side and their attractive football.
On the other-hand Valencia is coming off a Copa del Rey championship title after successfully beating Barcelona, and made it to the semifinals of the Europa League. Maxi Gómez and goalkeeper Jasper Cillessen should offer up some cutting edge plays.
Another interesting team to watch is Atalanta. Under the guidance Piero Gasperini, the club played some of Europe's most vibrant football last season. If they can tighten up their defense, they may even have a shot at advancing with Pep's men to the Round of 16.
The Group of Death Goes to F
This will be the group that many football fans will be paying attention to, considering three of the group's clubs have won the prestige title in the past. Barcelona are favorites to come out on top, especially with new signee Antoine Griezmann. With the addition of both Borussia Dortmund and Inter Milan thrown into the mix, even non-bias football fans will be in for a treat.
Dortmund look stronger than last year. And with the return of Mats Hummels, this club could really do some damage as well as provide the best drama in this group. Inter, on the other-hand, mean business with the arrival of Romelu Lukaku and Diego Godín.
Additionally his also marks Slavia Prague's first Champions League campaign since 2007. Unfortunately their campaign is almost guaranteed to end come December.
Zinedine Zidane Returns to Helm Real Madrid
Footballing legend Zinedine Zidane has garnered one of the most successful manager campaigns in the history of the tournament. During his short three seasons with Los Blancos, Zizou managed to win the title three consecutive times – along with 25 out of 39 CL fixtures — making him the first manager to ever do so. After abruptly leaving his position in May of 2018, Zidane was convinced to return to the club 10 months later due to Real Madrid's fall from grace following his resignation.
Upon returning Zidane spent an equivalent GDP of a small island nation to bring in Eden Hazard, Luka Jovic, Rodrygo, Éder Militão and Ferland Mendy to reform the squad. Can Zidane's return to the club help turn their luck around? As far as the group stage goes, Real shouldn't have any problems advancing, however a now Cristiano Ronaldo-less roster could prove troublesome down the line. Not only that, current troubles with Gareth Bale could manifest for the worst.
Young Players to Shine
Another exciting group to watch out for is H due to its bevy of young talent.
With Chelsea's summer ban, Frank Lampard will have to look at the club's young talent for some extra life on its starting lineup. Promising prospects include Mason Mount, Callum Hudson-Odoi, Kepa, Andreas Christensen, Kurt Zouma, Tammy Abraham, Ruben Loftus-Cheek and Christian Pulisic.
In terms of the other Group H teams, Ajax will be able to look towards David Neres, Donny van de Beek, Andre Onana, Noussair Mazraoui, Razvan Marin and Edson Alvarez, while Valencia have Jose Gaya, Mouctar Diakhaby, Carlos Soler, Goncalo Guedes, Ferran Torres, and 18-year-old Kang-in Lee.
Ligue 1's Lille can look towards Renato Sanches as well as their sub-25 roster made up of goalkeeper Mike Maignan, full back Zeki Celik, midfielders Xeka, Thiago Maia, and Boubakary Soumare, and attackers Jonathan Bamba, Jonathan Ikone, Yusuf Yazici, Victor Osimhen, Luiz Araujo, and Timothy Weah.
Capped Ticket Prices
For those planning to head out to catch the action live, both UEFA and Europe's top clubs have agreed to cap ticket prices for away fans. The European football's governing body states the maximum cost of Champions League tickets will now only be €70 EUR (approximately $77 USD). The affordable ticket price ensures away fans can still travel to games to show their support.