8 Outlandishly-Essential Items for Summer Break
Enjoy the warmer months in style.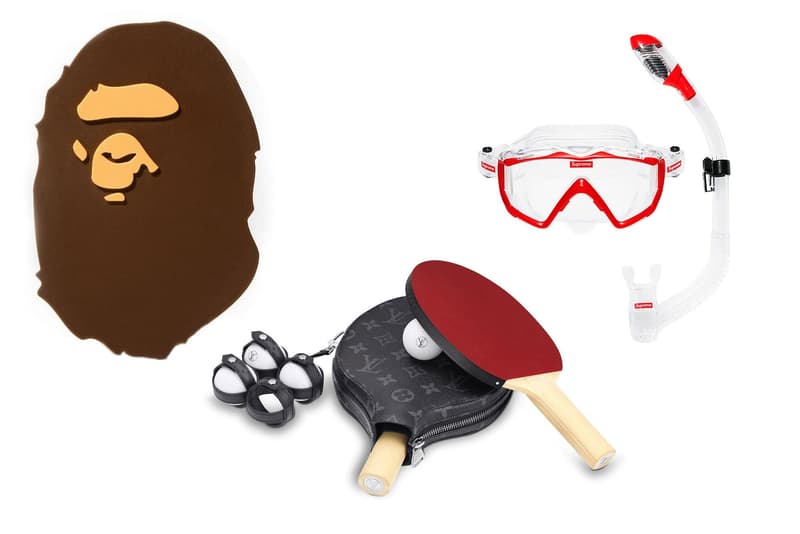 With July 4th just around the corner, it means that for many school is out. And for those professionals out there, it's time for a long summer break or an upcoming trip with the family.
While heading to the beach, your neighbour's BBQ or an acquaintance's pool party may hinder your usual fashion style, we've rounded up a list of outlandishly-essential items that will not only add to your summer fun, but will also garner the attention from those surrounding you.
Check out some of this season's best options from brands such as BAPE, Supreme, Palace and more to ring in July 4th and your other summer activities in style. And for more options to elevate your summer break, here are 8 luxury sandals.
BAPE x HELINOX Camping Range
Where to Buy: bape.com
Price: ¥23,800 JPY to ¥45,800 JPY (approximately $221 USD to $425 USD)
Why You Should Cop: BAPE teams up with camping aficionados HELINOX on a range of eye-catching gear. Be the envy of everyone at your next beach and/or camp outing. The range includes two different styled chairs (one of which is a rocking chair), a triangular tent cover, a table with built-in cup holders and a dome tent.
Louis Vuitton Ping Pong Set James
Where to Buy: louisvuitton.com
Price: $2,210 USD
Why You Should Cop: Ping Pong, or as many others would call it table tennis, is a great summertime activity to get that body moving without overexertion. Why not flex a bit with a luxe set from LV? Additionally you can use the balls for a round of beer pong.
Supreme x Cressi Snorkel Set
Where to Buy: Supreme retailers and supremenewyork.com this Thursday, July 4.
Price: TBC
Why You Should Cop: You don't need to compromise your streetwear style for your next trip to the beach or boat party.
Supreme Super Soaker 50
Where to Buy: StockX
Price: Approximately $48 USD
Why You Should Cop: Released only a few days ago as part of Supreme's Week 17 Drop, the collaborative Super Soaker 50 is a definite must-have item for those summer BBQs and hanging around the pool.
Palace Ice Trays
Where to Buy: StockX
Price: Approximately $15 USD for the orange tray and approximately $46 USD for the Tri-Ferg blue
Why You Should Cop: Impress those summer guests with a nice cup of ice-tea chilled with Palace Tri-Ferg-shaped ice cubes. Both the orange and blue tray were released earlier this year and can still be copped at re-sell sites.
BAPE Portable Fan
Where to Buy: BAPE Retailers
Price: Free upon a designated amount spent in-stores
Why You Should Cop: Portable fans are a convenient way to keep cool during the summer heat. Don't comprise your style with all the generic ones floating around.
ROKIT Classic Games Collection
Where to Buy: ROKIT's website
Price: $10 USD to $35 USD
Why You Should Cop: Spend your lazy summer days with friends playing a few innocent rounds of cards, dominos or dice decked out in ROKIT's signature graphics. The "Summer Games" collection is also small enough to take with you on that upcoming family trip.
Chanel Basketball
Where to Buy: chanel.com
Price: $2,300 USD
Why You Should Cop: For those willing enough to take it out onto the court, this luxe Chanel basketball will definitely be turing heads; even if it's only for a quick round of Horse.