How Auction Houses Are Using Supreme to Maintain Relevancy
The stalwart brand has become an entry point for young collectors.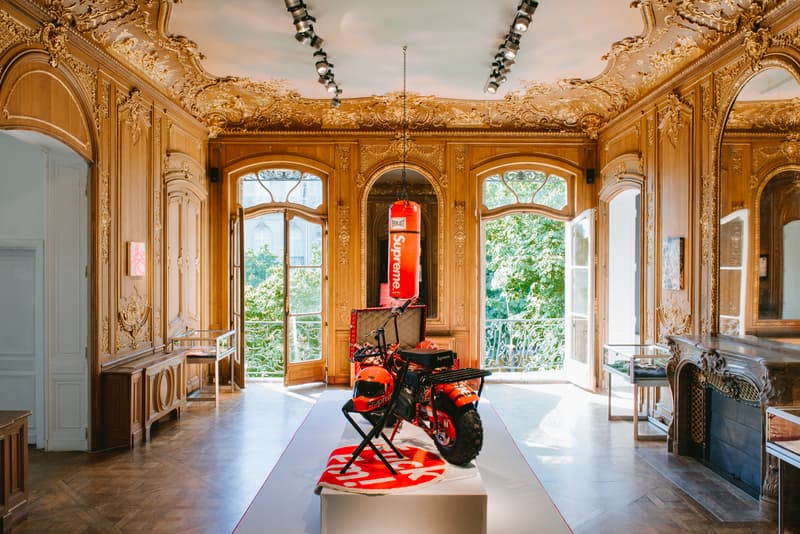 The world of auction houses is undergoing a shift. Typically associated with stuffy oak-laden rooms and octogenarian men, they're now embracing a new type of event focused that's right up any hypebeast's alley — Supreme. Both Bonhams and Sotheby's have plans for auctions based around the seminal brand in the near future, and last year French auction house Artcurial held "C.R.E.A.M.", which saw 145 Supreme items sell for a collective €809,432 EUR (approx. $902,000 USD).
The introduction of Supreme is a marked change from the typical fare usually seen at Bonhams and Sotheby's. The former's latest auctions include "Modern and Contemporary South Asian Art," "Fine Glass and British Ceramics" and "Knightsbridge Jewels." Meanwhile, Sotheby's includes lots for Hermès bags, Rolex Daytona collections and Chinese art. In fact, the closest any one of these places have gotten to the streetwear sphere is Bonham's "Entertainment Memorabilia" lot. With such a gulf between these companies' usual offerings and Supreme, this change might appear out of the blue. But for the auction houses, it's simply part of a natural adaptation to changing tastes.
"The auction world is a desperate need of reinvention," says Osei Bonsu, writer and art historian. And part of that change includes houses responding to a younger consumer's needs. At the moment, the simplest way to do so is through offering up pieces from the world's most popular streetwear brand. Bonsu notes that this is simply an issue of supply and demand, albeit played on a far grander — and more lucrative — scale. "If younger buyers are demanding a more holistic and inclusive approach to luxury, the market will eventually respond."
The need to attract younger buyers is something that many auction houses are grappling with. "There can at times be a misconception that art auctions are for an older generation," says Cassi Young, Head of the Modern and Contemporary Sale at Bonhams. One of the people at the forefront of challenging this misconception is Yuki Terase, the person behind Sotheby's Supreme auction. She's already gained a reputation for garnering younger collectors, with 40% of her new clients under the age of 40. While impressive, the fact that this number is lauded as a sign of youth shows how skewed the world of auctions are towards the older consumer.
Supreme is quite possibly one of the biggest brands in the world that's perpetually associated with youth culture, making it a clear choice when looking for the under 40 consumer. While the clientele is the most obvious reason for auction houses to go after Supreme collectibles, the streetwear stalwart's art bonafides actually make it a somewhat natural fit. Terase notes that Supreme has collaborated with several artists on Sotheby's roster, including Damien Hirst, Jeff Koons and George Condo. In recent times, Supreme has used the artworks of Gilbert & George, Salvador Dalí and Sekintani La Norihiro, to name but a few, in its pieces. But the consumer buying a T-shirt with a Dalí print isn't necessarily going to purchase an actual work of art.
For Bonsu, there's a very clear delineation between collecting fashion and art. "The latter demands a long term commitment to understanding the origins of artworks and their rich social and historical contexts. Fashion at its best is about creating desire and capturing the immediate present." And these two dueling aims could create tension when it comes to creating collectors who will graduate from Supreme collections to actual works of art.
"Supreme introduce their customers to contemporary artists. Their collectors follow the market, do their research and collect with passion."
And here's where the struggle may lie for young collectors. Fashion and art are often bedfellows, but they are not analogous. "We should be able to differentiate between fashion products and works of art," says Bonsu. For the critic, the key differentiator between the two is fashion's immediacy. "Fashion at its best is about creating desire and capturing the immediate present," he says. While art, especially art collecting, "demands a long-term commitment to understanding the origins of artworks and their rich social and historical contexts."
While Supreme draws upon its own social and historical context, it's fair to assume that the current collector who'd pay for the auction version of a Supreme punching bag is not necessarily the same person who spotted and identified the Rock Steady crew font on one of its Fall/Winter 2015 jackets.
Supreme is also uniquely placed in its love of art, meaning that there's a connection that could lead to securing a new consumer for the houses, even if there won't be a mass migration of consumers from collecting Supreme to purchasing artworks by Gilbert & George. The synergy was noticed by Young, "Supreme already introduce their customers to some of the biggest contemporary artists. Their collectors also follow the market, do their research and collect with passion." These similarities make following Supreme all the way to the auction a straighter line than initially anticipated.
But perhaps the most interesting takeaway from the explosion in auction houses selling Supreme is that there's very little risk for the houses themselves. Auction houses are, despite their prestige, bound to market demand. So if the market demands Supreme, Supreme is what they'll get. As Bonsu puts it, "As usual, Warhol saw this coming."
Join Our Discussions on Discord
The HYPEBEAST Discord Server is a community where conversations on cultural topics can be taken further.