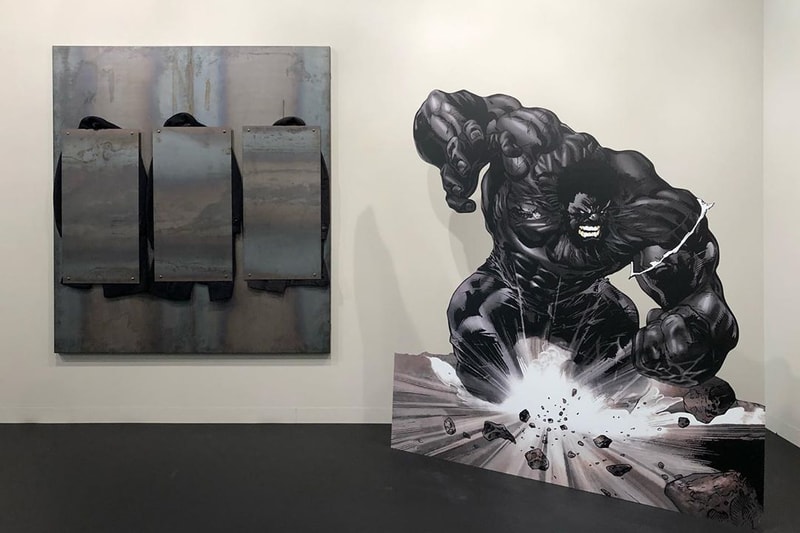 Five Most Underrated Booths at Art Basel 2019 to Check Out
Jot these gallery presentations down before your visit.
---
Art Basel 2019 in Basel, Switzerland will open its doors to the public starting June 13. Over 290 galleries from 34 countries will present work at the Swiss fair including international giants Pace, David Zwirner, and Perrotin. Upstaging them all is leading contemporary art institute, Gagosian. The gallery opened a large pop-up space at the fair's Messeplatz venue which turned out to be a permanent location — it's 17th space as per Artsy.
While art world luminaries such as Gagosian can expect long queues at their booths, those attending the fair should also pay a visit to the more underrated galleries participating at Basel. From Arthur Jafa's Hulk-inspired Le Rage (2017) installation to new light sculptures by Olafur Eliasson, these unmissable artists are represented by the notable contemporary art spaces below.
Check out the list below and then head over to Art Basel's website to view the full list of exhibitors.
Simon Lee Gallery, Booth M26
Simon Lee Gallery is an international art space that represents over 35 contemporary artists (emerging and established) with locations in New York, London, and Hong Kong. For the 2019 edition of Art Basel, the gallery is displaying new works from conceptual Italian artist Claudio Parmiggiani including his acclaimed series entitled 'Delocazione.' In addition, works by George Condo, Jim Shaw, Bernard Frize, Angela Bulloch, among others are presented at the booth. Visit Simon Lee Gallery's website for further details.
Peres Projects, Booth P6
Berlin-based Peres Projects continues to support progressive contemporary artists from across the globe. The gallery is keen on spotlighting unconventional artworks from mixed-media works by Donna Huanca to post-minimalist paintings and wall works by New Orleans native Blair Thurman. The highlight of Peres Projects' booth at Art Basel are works by New York-based painter and sculptor, Austin Lee, who is showcasing psychedelic sculptures from his "Feels Good" exhibition at Jeffrey Deitch. Visit Peres Projects' website for more information.
Tanya Bonakdar Gallery, Booth R9
New York City-based Tanya Bonakdar Gallery exhibits new works by leading contemporary artists who specialize in varying media including painting, sculpture, installation, photography, and video. For Art Basel 2019, the gallery is displaying all-new works by acclaimed artist Olafur Eliasson. One highlight is Eliasson's Renaissance Echos comprised of painted glass spheres. Visit Tanya Bonakdar Gallery's website for additional details.
Gavin Brown's Enterprise, Booth S2
With spaces in New York City and Rome, Gavin Brown's Enterprise offers a wide selection of artworks by leading artists including Urs Fischer, Alex Katz, and Laura Owens. For Art Basel 2019, the gallery enlists celebrated African American artist and cinematographer, Arthur Jafa to showcase his standout cutout image of a Black Incredible Hulk entitled Le Rage (2017) alongside a gripping video installation by late postwar artist Elaine Sturtevant who is known for her unique twists on iconic American Pop Art and relentless appropriation of Hollywood films in her video pieces. Visit the official website of Gavin Brown's Enterprise to learn more.
Jack Shainman Gallery, Booth S25
Founded in Washington D.C. by expert gallerists Jack Shainman and the late Claude Simard, the Jack Shainman Gallery is known for running about twelve exhibitions across its three NYC spaces annually. For these exhibitions, the gallery taps its diverse batch of artists to present multifaceted works including Nina Chanel Abney, Jackie Nickerson, Hank Willis Thomas, Gordon Parks, Carrie Mae Weems, among others. Standout pieces on display is a complex assemblage by Nigerian artist El Anatsui and figurative paintings by Kerry James Marshall. Visit Jack Shainman Gallery's website to learn more.
Art Basel
Messepl. 10
4058 Basel
Switzerland