Flying Lotus' 'Flamagra' Is a Cosmically Sprawling Opus
Steven Ellison's latest project is his most ambitious to date.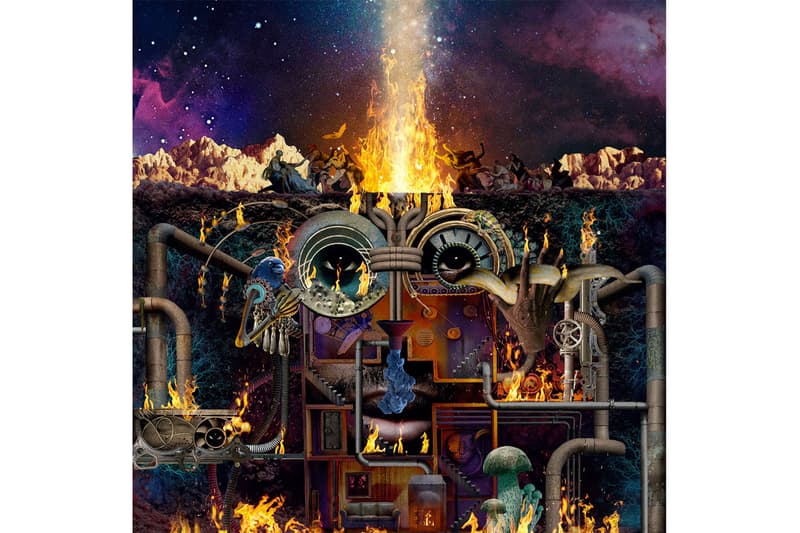 Flying Lotus, real name Steven Ellison, has maintained himself as one of the few ardent creatives in today's masterful realm of sonic innovators. Spanning the mediums of music, film, and more, the iconic record producer is equally the head of his Brainfeeder label, emphasizing a staunch approach towards experimental electronic music and instrumental hip-hop. Unbeknownst, Ellison just so happens to share the same lineage as jazz greats Alice and John Coltrane, which undoubtedly influenced his eclectically-cosmic sound that relishes in jazz, funk, hip-hop, and experimental electronic. In many senses, he shares the same sonic ethos that bolted legends like Madlib, MF DOOM, and J Dilla to the forefront — his sound is idiosyncratically his, and masterfully unrivaled.
Ellison has had an interesting past few years that has taken him in a variety of directions. After releasing his previous full-length album You're Dead, Flying Lotus took a step back from his usual approach, opening up Brainfeeder's film division with his directorial debut in Kuso, a rather outlandish comedy-horror film that featured a range of music from the artist. On top of this, he produced the soundtrack for 2017's short film Blade Runner Black Out 2022, directed by anime legend Shinchiro Watanabe. Yet it seems the origins of an artist can never be escaped, and after the longest hiatus from his solo projects thus far, Flying Lotus has finally given us his highly-anticipated project, Flamagra.
Spanning nearly 67-minutes, Ellison's latest project is his longest yet, sprawling across a whopping 27 tracks. When most people listen to albums this long, they imagine a dumbed-down and drowned-out sound — repetitive soundscapes that become tiring halfway through. But this is not the case with Ellison's latest project — in fact, it's nowhere near that. Flamagra is a pinnacle masterpiece for the prolific artist, an album so refined and so imaginative that the only thing you wish for after listening, is more. Just like that of a renaissance artist, Ellison promotes a sense of unrivaled genius that remains at the forefront of cutting edge. Here he melds an array of off-world sounds that feel as if they were captured in a time far from now, in a universe millions of light years away – somehow infusing a sense of Afrofuturism through a prodigious vision that infuses blues, acid jazz, funk, hip-hop, and electronica.
Through the album, most notably, are the syncopated rhythms that take hold. The project is chocked full with scuttling percussion, distorted synths, melodically-geared piano chords, and cosmically psychedelic basslines and effects. Enlisting a well-assorted range of features from Tierra Whack, Denzel Curry, Little Dragon, Thundercat, Shabazz Palaces, and more, Flamagra maintains itself as both texturally diverse and immaculately refined, so much so that it's confusing as to how Ellison even managed to produce the record. But as is such, wondering how the art itself was created is the exact essence of what makes such inventiveness so compelling – that sense of not knowing is exactly what drives much of Ellison's work at-large.
You can stream Flying Lotus's latest album, Flamagra, below.
For more related news, don't miss the Shinchiro Watanbe-directed visual for his track "More" feat. Anderson .Paak.