Where to Get CBD Food and Drinks in London
Searching the capital for the best infused cocktails and foods.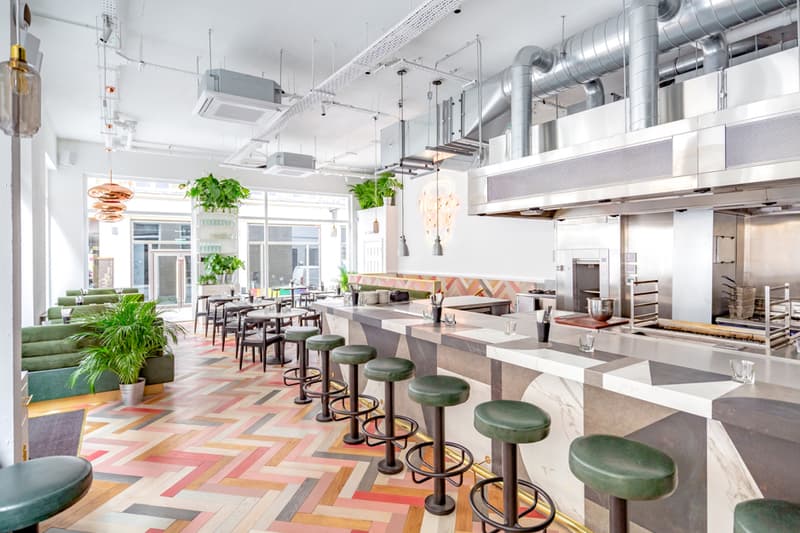 Whether it's Oreo-maker Mondelez exploring the possibility of launching a CBD product range or the rising trend of caffeine addicts adding CBD oil to their morning cuppa, cannabidiol is all the rage in the food and beverage industry. The cannabis plant's purported chemical lists benefits such as pain relief and has a nutty, earthy taste. From a hemp-flavored dessert to a herbaceous G&T, here are six places in London to get your choice of CBD food and drink.
Farmacy
As one of the trailblazers of London's CBD food and drink scene, Farmacy in Notting Hill has pulled out all the stops. The drinks menu has a "CBD Specials" section with their take on a Bloody Mary that uses organic wild-crafted CBD and a house-made hemp & bay leaf syrup. Their selection of syringe shots also features the "O.M.G": a shot of flaxseed oil, grapefruit, and CBD. If you're feeling fancy, Farmacy's afternoon tea offering—called "High Tea"—uses CBD truffles, a CBD-infused cocktail, and even a pot of hemp leaf tea.
Where: 74-76 Westbourne Grove, London, W2 5SH
Yogland
With a promise of "making healthy fun," fit frozen dessert company Yogland offers guilt-free frozen desserts and protein-rich ice cream. After testing it out in a limited capacity and seeing the insane demand, their hemp matcha flavor now has a permanent spot in their line of frozen yogurts. The new addition is infused with 40% CBD oil, is vegan, gluten-free, fat-free, and has no added sugars.
Where: 58 Westbourne Grove, London, W2 5SH
Glow Bar
Glow Bar is the women-only wellness company that focuses on providing its clients with holistic ways to cope with stress and anxiety. From infrared saunas to adaptogenic herbal supplements with natural aphrodisiacs, everything at this modern wellness destination is about promoting self-care. Their café is no different, with a plant-forward menu that incorporates healing herbs. The Golden Moon Milk is laced with turmeric and CBD and they also sell CBD croissants and macaroons by organic bakeries Mr. Prempy's and Organic Livity.
Where: 70 Mortimer Street, London, W1W 7RY
Maison Bab
Along with its sister restaurant Le Bab, Covent Garden restaurant Maison Bab is perhaps best known as a spot for delicious posh kebabs. Aside from absolute winners like their naan with meat butter and the pork shawarma swimming in caramelized mature cheddar, what we've got our eyes on is their drinks menu. Aside from a generous selection of beers, wines, and signature cocktails, their Gin & Chronic is made with Bombay Sapphire and lemon and is topped with CBD oil.
Where:  4 Mercer Walk, Covent Garden, London, WC2H 9FA
Kalifornia Kitchen
Vegan influencer Loui Blake's millennial pink central London eatery Kalifornia Kitchen opened early this year to some great reviews. Get your day going with their CBD latté which uses plant-based milk and can be topped up with immunity booster shots. The entirely plant-based all-day menu has lots of CBD-infused dishes such as the sticky toffee pudding with ice cream and butterscotch sauce, energy balls with CBD-activated turmeric and ginger gummies, and cupcakes with CBD-infused pink icing.
Where: 19 Percy St, Bloomsbury, London, W1T 1DY
Behind This Wall
Down a dark staircase on the top of the Narrow Way in Hackney lies a basement bar called Behind This Wall. Founded and run by a group of friends, this contemporary venue has a seasonally-changing menu with all ingredients either selected or made in-house, including their homemade CBD syrup. Their violet CBD syrup makes an appearance in a number of drinks on their Spring menu such as the "Purple Drank" that's made with Reyka vodka and Birds botanical spirit and the non-alcoholic Fosse with Seedlip garden and a house-made ponzu kombucha. If you're looking for an aperitif, the Drymouth has CBD CannaWine, Orahovac green walnut liqueur, Peter Spanton chocolate tonic, and a mint sprig.
Where: 411 Mare St, London, E8 1HY