Fully Custom Berluti-Designed 1973 Porsche 911 Targa to Be Auctioned at Sotheby's
A one-of-a-kind creation.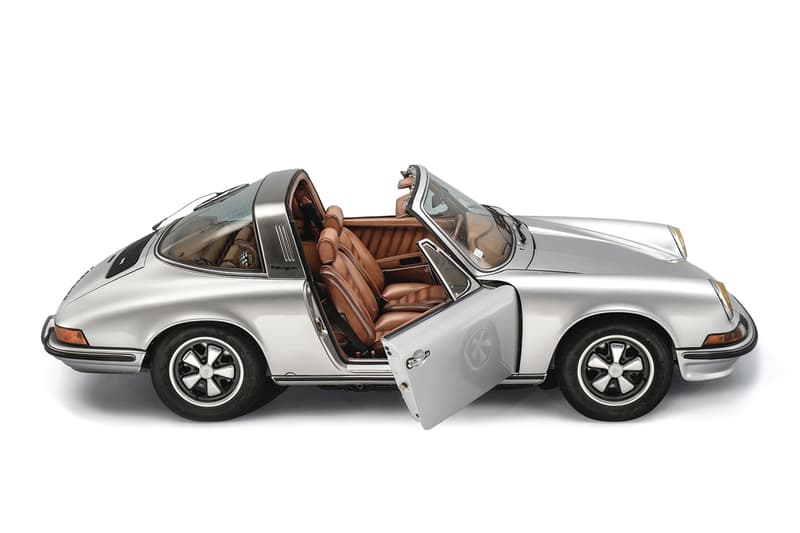 A custom Berluti-designed Porsche 911 Targa from 1973 is due to hit the auction block at Sotheby's this month in a sale titled "Berluti: The Art of Craftsmanship."
The Porsche is the first ever car to be customized by Berluti and sees an exclusive and completely reupholstered Berluti patinated leather interior, complete with an aged patina finish and unique branding. Served in its Targa form, the 911 maintains its iconic glass roof construction which allows one lucky buyer to see the reworked interior at all times.
The Porsche 911 Targa comes fitted with a 190 BHP, 2.4-litre air-cooled flat-six engine, good for 142 mph and a 0-60 time of just 7.8 seconds. The 1973 sportscar also features lightweight brakes and a performance gearbox as standard and was one of the fastest street-legal sports cars of its time.
The Berluti rework sees a number of premium finishing touches adorn the vintage Porsche. Finished in silver, the 911 features bouclé wool floor mats, a hand-stitched leather-sheathed gear knob, an alpaca-lined Targa roof, a fully re-trimmed front boot and a stand out leather-trimmed dashboard with open seams and double top-stitching. The Porsche is accompanied by Enzo Ferrari-inspired Venezia leather driving shoes and a calf-leather Jour-Off weekend bag.
Estimated to sell between $196,896 USD and $253,152 USD, head over to the Sotheby's website to take a look at the entire "Berluti: The Art of Craftsmanship" auction. The auction will be held from April 24 to May 7.
For more exclusive Porsche's, take a look at the German manufacturers latest masterpiece — the 2019 911 Speedster.