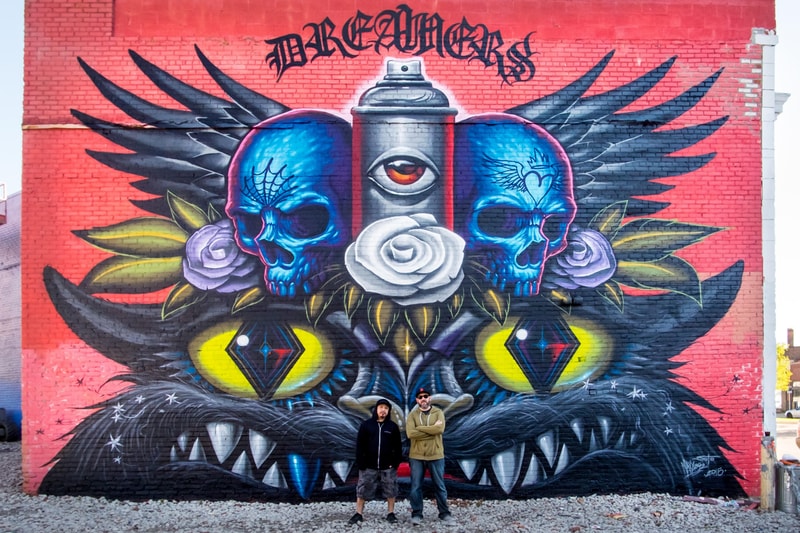 Mercedes-Benz Featured Detroit Murals in Ads, Now Suing Artists Who Made the Artworks
An ongoing copyright infringement case surrounding street art in Detroit's Eastern Market.
---
This past Monday, Mercedes-Benz filed a federal lawsuit claiming that it has the right to feature street art in advertisements surrounding its G 500 vehicle. Photos of the ads were posted on Instagram last year, spotlighting the SUV set against backdrops of murals located at the Eastern Market in Detroit. The murals were made by artists Daniel Bombardier, Maxx Gramajo, James "Dabls" Lewis, and Jeff Soto.
Currently, the automaker and the four aforesaid artists are in a legal battle revolving whether or not the ads promoted on the social media platform constitutes as copyright infringement. Mercedes-Benz is seeking a ruling from a federal judge at the U.S. District Court for the Eastern District of Michigan stating that the company had the right to spotlight the works in their now-deleted Instagram posts. On the other hand, the artists are fighting back to make sure that their works are protected.
"A mural that Maxx and I created was used by Mercedes Benz in their advertising without our permission or knowledge. We attempted to discuss the matter with them, but instead, they sued us claiming they did not violate any copyright laws and are asking the court to rule that we have no rights against them," said Jeff Soto in a statement sent to HYPEBEAST. "In fact, they filed these lawsuits secretly while we were still talking with them and waiting to hear back from them."
"Mercedes has made their choice and they will forever be on the wrong side of history."
The case is especially a crucial one for artists whose works are publicly displayed. The attorney for the artists, Jeff Gluck, tells us: "If courts were to agree with Mercedes, and companies no longer needed permission to use and exploit outdoor murals, then maybe artists would hesitate before creating works in outdoor spaces. Because of this, we stand to lose such an important and beautiful part of our culture." He adds: "Mercedes has made their choice and they will forever be on the wrong side of history. We will prevail just as we have in the past against other corporations who have tried to use these same bullying tactics against artists."
As the case continues, renowned artists such as Shepard Fairey, Tristan Eaton, and more are expressing their support for the artists on Instagram, featured below.
The issue here isn't anything new. Last March, H&M engaged in a controversial legal dispute with artist Jason "REVOK" Williams (who was also represented by Gluck) over the copyright usage of his work in an advertising campaign.
Stay tuned for updates on the lawsuit and let us know your thoughts on the matter.