A.S. Roma Bans Players from Taking Photos with Drake After PSG Hit by "Drake Curse"
Following PSG's worst loss in 10 years.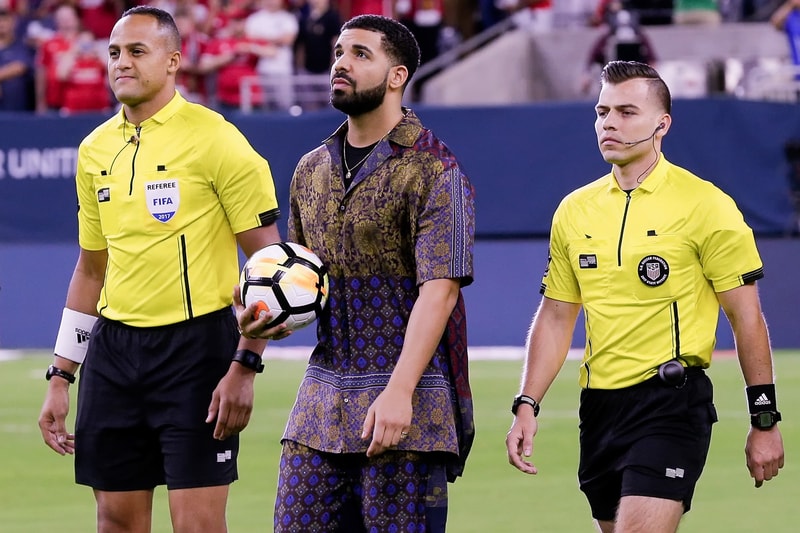 Drake has become infamous in the sports world for his 'Drake Curse' — an athlete or team always ends up losing whenever they take a photo with Drake or the singer wears its kit — and now it has struck again.
Just recently, PSG's Layvin Kurzawa took a photo with Drake, and his team subsequently suffered the worst loss in the past 10 years. PSG lost 1-5 to Lille OSC, with a red card on PSG's side. To make things worse, the team also lost their captain and another player to injuries that very same game.
Realizing this trend, Italian team AS Roma announced on Twitter jokingly that all its players are now banned from taking photos with Drake until the end of the season. Superstitious maybe, but A.S. Roma is probably smart not to take risks. After all, UFC fighter Max Holloway boasted a 13-fight win streak until Drake name-dropped him in one of his songs which led to Holloway's subsequent loss against Dustin Poirier.
Taking notice of the curse himself, Drake poked fun by wearing a jumper with all four team sigils for this year's NFL semi-finals. Check out the tweets below for A.S. Roma's announcement, more evidence of the 'Drake Curse', and Drake's four-team jumper.
Elsewhere in sports, Seahawks' Russell Wilson just became the highest-paid player in the NFL.
All Roma players banned from taking photos with Drake until the end of the season

— AS Roma English (@ASRomaEN) 15 April 2019
Drake curse confirmed real. pic.twitter.com/0qm2L1sUsj

— HIP HOP UPDATES (@RapAccess) 15 April 2019
The Super Bowl has been cancelled ?‍♂️

(via @Drake) pic.twitter.com/VM8tUGrU9o

— Yahoo Sports (@YahooSports) January 20, 2019
Somebody get @Drake a Tom Brady jersey pic.twitter.com/T4EtDlkBqb

— NFL Retweet (@NFLRT) January 8, 2019