Rick Ross Is Releasing His Own Memoir, 'Hurricanes'
The book will also discuss his "past as a both a drug dealer and correctional officer."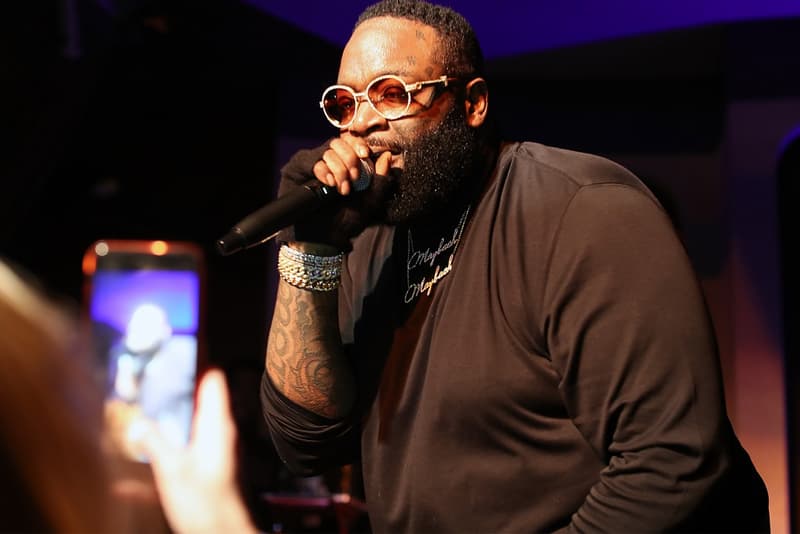 Rick Ross is revealing plans for his very own book. Known as Hurricanes, the Maybach Music superstar's new book is a memoir that will break down his life-story in its entirety, including his "past as a both a drug dealer and correctional officer." Hurricanes was also co-written by Neil Martinez-Belkin, the same writer who co-wrote Gucci Mane's The Autobiography of Gucci Mane.
"In Hurricanes, Ross moves beyond the headlines, opening up about the experiences that inform his creative process. His upbringing in Carol City. His past as both a drug dealer and correctional officer. His scuffles in the streets and in the industry. The seizures. The drive-by shootings. The 2015 arrest on kidnapping and assault charges," reads an officials statement on Rick Ross' forthcoming book. "It is a remarkable story of not only surviving the storms of life but reaching the highest levels of achievement in spite of them."
"My story has always been deeper than rap," Rick Ross shares. "With this book I wanted to go deeper than I ever have. I wanted to tell people about the life of William Leonard Roberts."
"Most people know Rick Ross as a global icon, but few are familiar with his origin story," adds Hanover Square Press editorial director Peter Joseph. "Hurricanes transcends the conventions of celebrity memoir to offer an intimate and inspiring portrait of an artist who at every turn defied the odds and continues to change the game."
Rick Ross' Hurricanes is scheduled to see release on September 3 via Hanover Square Press, and is currently available for pre-order on Amazon. You can take a look at the cover-art for Rick Ross' new book below.
Last summer, Rick Ross linked up with Young Scooter and T.I. for the "Jugg King" remix and dropped "Green Gucci Suit" with Future.