Shake Shack's Chick'n Bites Release Nationwide
For a limited time only.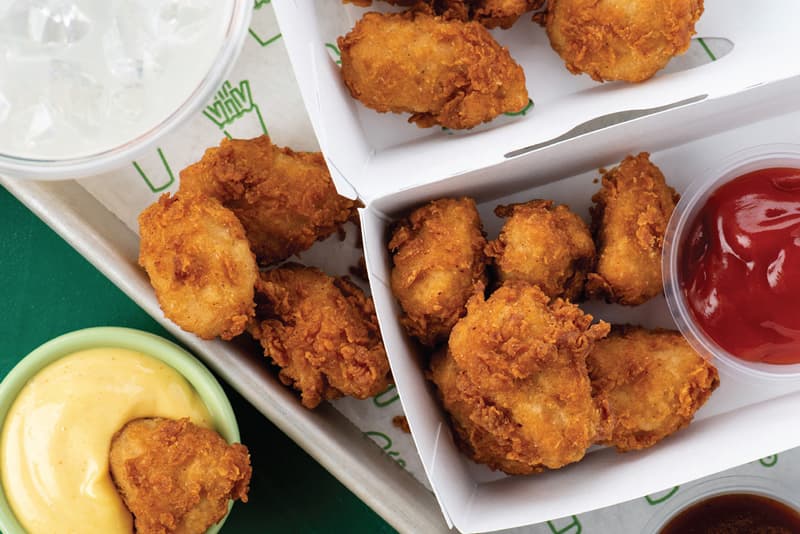 Following its brief testing at Innovation Kitchen in New York, Shake Shack has released its Chick'n Bite chicken nuggets nationwide. The fresh, hand-breaded fried nuggets can be served with a choice of barbecue sauce or honey mustard–but can also be dipped with cheese sauce, ShackSauce, or buttermilk herb mayo.
It is cooked in temperature-controlled water in a vacuum-sealed bag before it's fried and served as a six or 10-piece meal for $4-$6 USD. Although the Chick'n Bites are available nationwide, they will only available for a limited time, excluding Shake Shack's stadium and airport locations.
In other food news, Japan recently introduced its latest food creation: Chocolate Ramen.
PSA: Chick'n Bites have officially landed at most Shacks nationwide! These crispy pieces of hand-breaded all-natural chicken breast (antibiotic-free + fresh, never frozen) are shakin' up the nugget game. ? Enjoy 'em with our Shack-made Honey Mustard or BBQ Sauce! ? pic.twitter.com/SO6OLLvUEt

— SHAKE SHACK (@shakeshack) February 4, 2019