Can Men's Makeup Finally Gain Hype?
All it would take is Off-White™ "Beauty."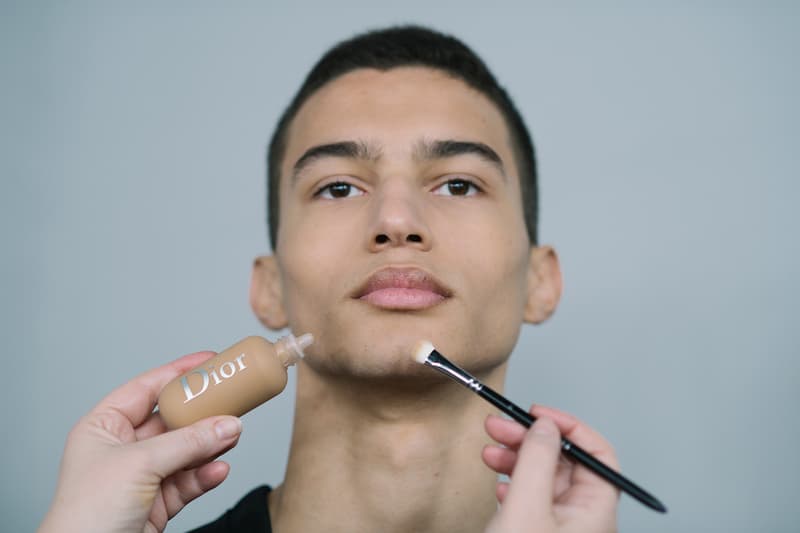 1 of 5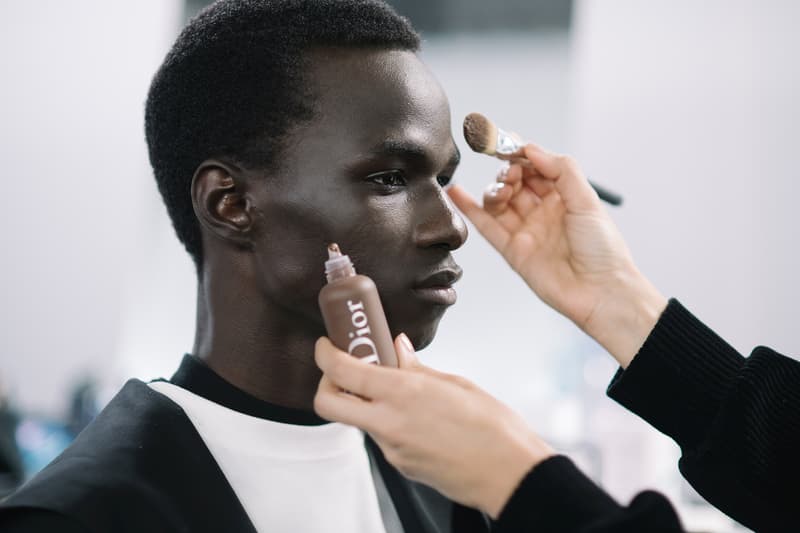 2 of 5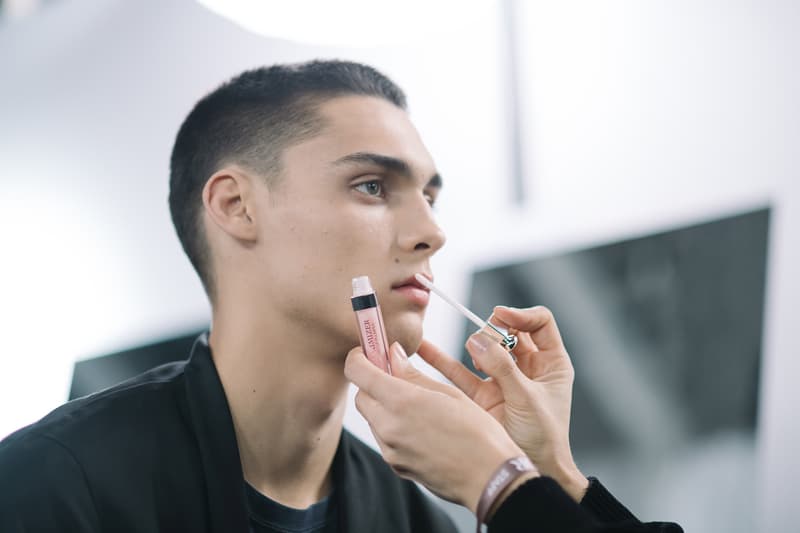 3 of 5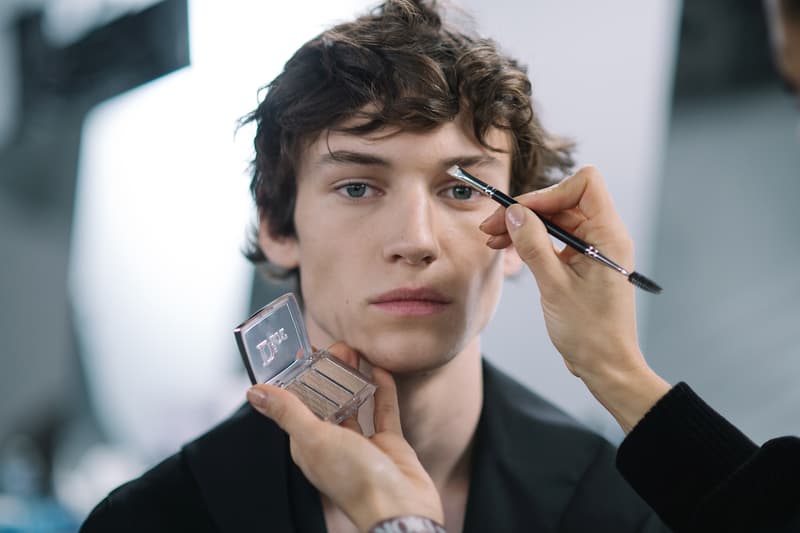 4 of 5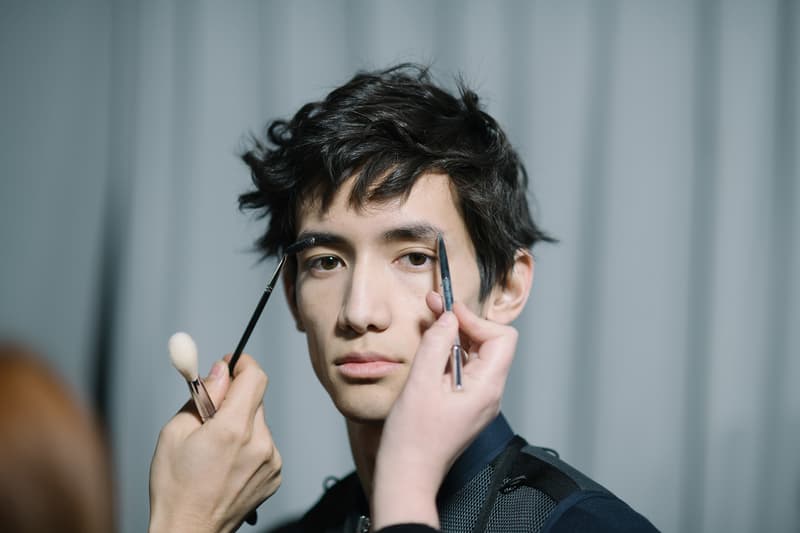 5 of 5
Last month, HYPEBAE Beauty shared backstage images from Dior's Fall 2019 Men's show in Paris. The images show makeup artists grooming the male models' brows, brushing on foundation, giving the boys a touch of lipgloss — using, of course, all Dior-branded makeup.
Certainly, there is nothing unusual about male models wearing makeup. What's notable is that Dior would like you to know about it. Its luxury cohort Chanel has gone a step further; with the arrival of its new Boy de Chanel line in the United States this year, the brand is hoping men who weren't previously interested in beauty will go out and buy some face spackle of their own.
The launch of Boy de Chanel is timely. With a booming menswear market, it is no longer taboo for men to have an interest in fashion. The overall messaging around makeup, meanwhile, has shifted toward self-expression, an idea that men can now more easily subscribe to. Streetwear savvy men are already spending thousands of dollars on luxury sneakers, bags and jewelry to enhance their appearance — why not makeup?
Express Yourself
As makeup artist Amber Amos notes, the shift in men's interest is clear. "When I first started doing more men's grooming work, I would be given one direction: 'Just take the shine away,'" says Amos, who has worked with celebrity clients such as Ryan Jamaal Swain and Daniel Kaluuya in her nine years in the industry.
"Now guys are asking questions about products because they are interested, taking pictures of things to pick up to use at home, also declining when I offer to take off the makeup at the end of shoots or appearances," Amos adds.
What's changed in the past decade is that by now, the beauty industry has begun to market makeup as an optional form of self-expression and self-care — a sharp shift from the long-running strategy of telling women they need makeup in order to make themselves acceptable to men.
"Makeup is no longer seen as simply cosmetic," but instead is "used as a tool for self-expression and personal transformation."
"When I started Into The Gloss, I wanted to make beauty as much of an element of personal style as fashion," Glossier CEO and founder Emily Weiss writes on the brand's About page. Glossier, which launched in 2013, may not have courted the mainstream male consumer in its advertising, but the $400 million USD company paved the way for an ethos that would easily find footing among men.
Milk Makeup and Fenty Beauty continued that same messaging of "personal style" and "makeup should be fun" with their launches in 2016 and 2017, respectively. According to a 2017 Glossy report on CoverGirl's image overhaul, the brand found that "makeup is no longer seen as simply cosmetic," but instead is "used as a tool for self-expression and personal transformation." It's far easier to market makeup to heterosexual men when the prevailing message is centered on self-expression, rather than, "This lipstick will make a man want to kiss you."
Fenty, in particular, shook up the beauty world when it launched with 40 foundation shades, causing many brands to scramble to catch up and making "inclusivity" one of the industry's biggest buzzwords. And though the brand has primarily stuck to women in its marketing, Fenty has also since created beauty tutorials explicitly for men who might just want to freshen up after "coming out of the gym."
Milk meanwhile has been even more proactive in incorporating men into its marketing since its launch. "At that time, there was very little awareness and representation of men in beauty other than RuPaul's Drag Race and niche early YouTube influencers," co-founder of Milk Makeup Georgie Greville told HYPEBEAST. "We were not the first to include guys or trans folks, but I think we were pioneers in the way we shot them being their authentic unique selves and wearing makeup in a way that was true to them." Milk's campaigns have included a new generation of influencers like Luka Sabbat, who also recently shared his skincare routine for Harper's Bazaar.
Start With Skin
Watching Sabbat put a rubber Dr. Jart mask on his face might seem strange to the uninitiated, but it's a commonplace phenomenon in the beauty world now that brands like Glossier have turned "good skin" into the industry's hottest commodity. And as Greville says, skincare can be "an accessible introduction to self-care and daily grooming" for many men — and perhaps lead to more.
"I've never met a person opposed to perfect skin," Amos says. "The closer you get to achieving that, you'll be more willing and unapologetic about trying other ways to get said perfect skin. Even if that means incorporating a tinted brow gel, spot concealer, or powder to control oil."
Clear skin might be becoming more and more valuable, and yet anything that involves putting effort into their appearance can still be intimidating to some men — hence the need for a direct marketing approach to bring them into the lucrative skincare market. Likened to both Glossier and Goop, hims launched in 2017 with a mix of skincare, hair care and sexual health products for the man afraid to ask about hair loss or acne.
"Our mission at hims has always been to destigmatize these topics and empower men to be proactive about their wellbeing," hims founder and CEO Andrew Dudum told HYPEBEAST. The brand's goal goes beyond creating a safe space for men to buy anti-wrinkle cream, but, as Dudum says, to also create "impactful products that men don't feel they need to hide from friends, roommates and partners – and don't want to!" Like many beauty brands marketed to women, hims is keenly aware that users sharing their products both offline and online isn't just a bonus — it's a key part of the strategy. "On social, we had guys posting unboxing videos of their hims packages — and tagging the brand — right from the start," Dudum says.
Both large and small-scale influencers like Sabbat sharing their extensive beauty routines on Instagram, YouTube and more, certainly drives hype around these products, with a dedicated readership hungry for more tips on just how to get that coveted glow. However, as beauty journalist Tynan Sinks tells HYPEBEAST, the "secret" to a celebrity-worthy complexion often lies in "being able to get the best dermatologists, procedures, and in some cases, surgeons, that money can buy." But that doesn't make for such a nice YouTube clip.
The Celeb Factor
Even while celebrities may not share all their beauty secrets, there's no denying their power in influencing a mainstream audience. And perhaps no one can convert men to the beauty gospel quite like Frank Ocean, who shared his skincare routine in a GQ cover story this month. "I am SURE that thousands of dudes were googling 'retinol' after that Frank piece dropped, and now are experimenting with night cream," Sinks says.
No matter how much money brands may spend on sleek packaging and a savvy social media presence, it may still be celebrities like Ocean who wield the most powerful impact in not only normalizing men's beauty but making it cool. Fenty Beauty set Twitter alight when it revealed Daniel Kaluuya wore the brand's foundation to the 2018 Oscars. A simple smudge of green eyeshadow garnered countless headlines for David Beckham's Love magazine cover last month. Pharrell's bold eyeliner stole attention at Chanel's December runway show. Ezra Miller has earned continuous praise for donning bold lipstick on the red carpet and all around defying gender expectations.
However, as journalist Tre'vell Anderson wrote for Out in January, it's far too often only white, thin men like Miller who are celebrated for wearing makeup or breaking gender norms. And while praising cisgendered men's use of "feminine" accessories might act as a step towards inclusivity, Anderson writes that it also does "a disservice to actual nonbinary people who endure violence for similarly living out loud."
Sinks is skeptical as well about how far launches like Boy de Chanel can truly go in shifting the beauty paradigm, arguing its minimal products only further cement the idea that men are supposed to be "low maintenance." "What's cool about a men's makeup line that consists of eight shades of foundation, a brow pencil, and a lip balm? Doesn't that feel more performative than anything?" he asks. "I want to see brands be more authentically inclusive of all genders without being self-congratulatory. Let the work speak for itself."
Ultimately, the line between "men's" and "women's" cosmetics is a matter of perception. "When it comes down to it, there is very little that separates male from female-oriented products other than added fragrance and binary packaging design," Greville says. But as the fanfare around Ocean's skincare routine or Kaluuya's foundation shows, perception is powerful.
"We all see how these guys go from having dry skin on the first mixtape cover to glowing like Drake."
Looking ahead, Amos is hopeful that changing attitudes will lead to more men getting involved in the beauty sphere in 2019. "We all see how these guys go from having dry skin on the first mixtape cover to glowing like Drake," she says. "That takes more than water, so I'm excited to see the shift, and to see more guys dropping skincare routines and sharing products like they do sneaker cleaning tips."
Cosmetic brands can profit tremendously from the male streetwear consumer if approached with care and creativity. Virgil Abloh announced he'd be making a jewelry line this January — is a "Virgil Abloh™" beauty launch so far off? With the right brand attached, it wouldn't be hard to imagine men lining up around the block for exclusive makeup products.