These Are the Must-See Movies and TV Shows Premiering in December
'Tis the season once again.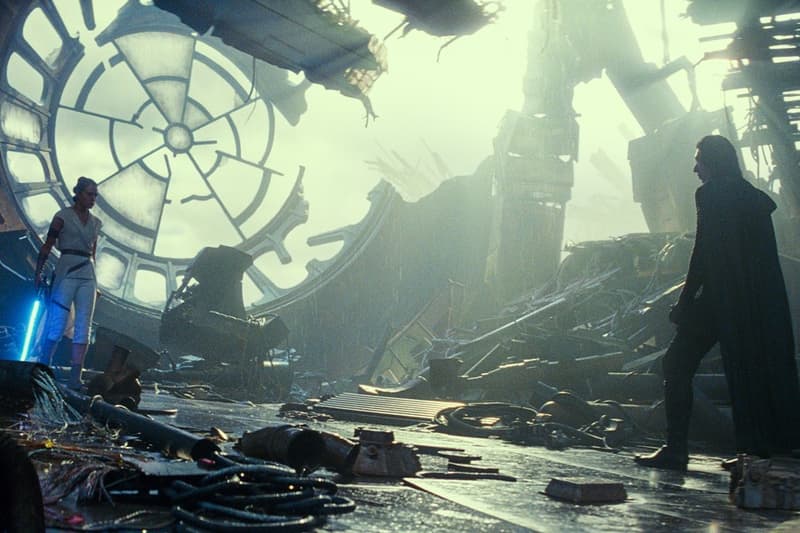 Welcome back once again TV watchers and moviegoers to the final round-up of the year. With December underway, there's a bevy of wholesome holiday content arriving in theaters and on streaming platforms for our viewing pleasure. But there's also a huge wave of Oscar contenders premiering this month, which to be honest, is what we're looking forward to over the mandate Kris Kringle content. That includes the likes of A24 and Adam Sandler's Uncut Gems, Netflix's The Two Popes and, lastly, the final installment in the Skywalker Saga — Star Wars: The Rise of Skywalker.
Oh yeah, don't forget about Netflix's answer to Game of Thrones, The Witcher, which stars Henry Cavill and is also premiering this month. Check out the list below, ranging from some of the must-see releases to the more under-the-radar films and TV shows to look forward to in December.
Movies
Midnight Family (December 6)
In one of Mexico City's wealthiest neighborhoods, the Ochoa family runs a private ambulance service, competing with other for-profit EMTs for patients in need of urgent medical care. This documentary showcases the low-income family's attempts to manage a difficult financial state without compromising the
health of the people in their care.
Why it's worth your time: The film aims to highlight just how flawed the healthcare system in Mexico is, while also giving insight into its citizens' diligence and desire to improve their circumstances.
I See You (December 6)
In this horror film, strange occurrences plague a small-town detective and his family as he investigates the disappearance of a boy.
Why it's worth your time: According to reviews coming out of its premiere at SXSW, I See You is set to be a twist-heavy thriller that also borrows elements from noir and horror genres. With that mix of classic genres, we hope to see it subvert cliches rather than rely on them.
Jumanji: The Next Level (December 13)
The Next Level will see Dwayne "The Rock" Johnson, Jack Black, Kevin Hart and Karen Gillan returning for a new round in the action-packed video game. Awkwafina, Danny DeVito and Danny Glover also join the franchise, while Nick Jonas, Colin Hanks, Ser'Darius Blain, Alex Wolff, Madison Iseman, and Morgan Turner all reprise their original roles. This time around DeVito and Glover's characters get pulled into the game as Johnson and Hart's avatars, respectively, giving the latter two the chance to show off some new comedy skills.
Why it's worth your time: This movie will give us the chance to see Jack Black impersonate a teenage girl again. But in all seriousness, despite drifting pass the premise of the original Jumanji film, the first installment in this remake franchise (2017's Jumanji: Welcome to the Jungle) stood well enough on its own. Now that the sequel is here to shake up the formula previously established, more hilarity can ensue between the core cast's dynamic.
Uncut Gems (December 13)
Adam Sandler takes on a rare dramatic role in this film. His character Howard Ratner is a New York jeweler who makes a series of big bets, placing himself in a precarious position with several businesses. The crime thriller also stars LaKeith Stanfield, Kevin Garnett and The Weeknd, who makes his film debut.
Why it's worth your time: This movie is getting hyped up following its Telluride Film Festival debut, and as it's written and directed by the acclaimed Safdie Brothers, we have high hopes the praise is warranted. The duo's documentary about former NBA basketball player Lenny Cooke from 2013 remains one of our favorites, and they've been making consistent splashes on the film festival circuit since.
6 Underground (December 13)
Michael Bay marks his directorial debut for Netflix with 6 Underground, which features Ryan Reynolds. The stories centers around a crew of characters who faked their own deaths to form an under-the-radar vigilante squad that takes down notorious criminals.
Why it's worth your time: As outlandish as the premise might be, this is intended to be a return to form for Michael Bay, with the movie embracing all the guns, explosions and machismo that made him famous. We imagine this to be one of those actions flicks suitable to turn on during a lazy Sunday this holiday season.
The Two Popes (December 20, Netflix)
Directed by Academy Award-nominee Fernando Meirelles (City of God), the movie follows Cardinal Bergoglio (Jonathan Pryce), the future Pope Francis, requesting permission from Pope Benedict XVI (Anthony Hopkins) to retire in 2012 after he becomes frustrated with the direction of the church. Pope Benedict invites him to the Vatican, where he reveals a secret behind closed doors that shakes the foundation of the Catholic Church.
Why it's worth your time:  The Two Popes premiered at the Telluride Film Festival over the summer to critical acclaim. Besides that, it stars the iconic Anthony Hopkins and Jonathan Pryce as Pope Benedict XVI and Pope Francis, respectively. Expect finely crafted dialogue and lots of opulent papal attire.
Star Wars: Rise of Skywalker (December 20)
The surviving Resistance members face Kylo Ren and First Order once more as Rey, Finn and Poe Dameron's adventure continues. With the power and knowledge of generations behind them, the final battle commences. And oh yeah, Sheev Palpatine is back.
Why it's worth your time: This one is for all the marbles folks. After The Last Jedi, being an online Star Wars fan means either hating everything Lucasfilm and Disney produce or willingly eating up any and everything the franchise has to offer. As a result, we going back to the tried and proven dynamic from The Force Awakens and a villain everyone assuredly loved from the previous movies. Let's just hope we can put a nice bow on the conclusion and be done with the films while we pay focus to its television landscape.
TV
The Confession Killer: Miniseries (December 6, Netflix)
Netflix's five-part docuseries will be exploring the infamous legacy of Henry Lee Lucas — a serial killer who confessed to 600 murders in the early '80s. Although his confessions brought closure to many families and several unsolved cases, The Confession Killer will touch on several suspicious facts about the case, and how Lucas' claims may have a few holes.
Why it's worth your time: This guy only perpetrated a handful of proven murders but wants to take credit for slayings he almost certainly didn't commit. However, he was still able to accurately sketch victims, stunning police officials. So get ready to sit back and watch an unhinged white guy sip strawberry milkshakes and take the United States Justice System for a well-privileged loop.
Eddie Griffin: E-Niggma (December 6, Showtime)
Eddie Griffin's E-Niggma stand-up special is set to arrive on Showtime December 6 at 11 p.m. EST, and it will serve as the comedian's eighth stand-up special to date. You can expect the veteran to discuss his family life as well as current events.
Why it's worth your time: Eddie Griffin is one of the most effortlessly funny comedians to ever perform. Though undoubtedly funny, he's also devastatingly underrated as far as the mainstream comedy scene goes. We hope this special is able to push Griffin into a renaissance of sorts, similar to what we've seen with Dave Chappelle and Eddie Murphy.
Truth Be Told: Season 1(December 6, Apple TV)
This limited series will follow podcaster Poppy Parnell (Octavia Spencer) as she is coerced to reopen the murder case that made her a national star and come face to face with Warren Cave (Aaron Paul), the man she may have wrongly accused and put behind bars. The series through Parnell's actions will examine critical concerns about privacy, media, and race.
Why it's worth your time: Let's face it, comparatively speaking, Apple TV+'s first offering of content out the gate stank against the likes of Disney+. However, stars Aaron Paul and Octavia Spencer have had stellar moments this year individually, and they may bookend the year with another powerhouse. Certainly, they're able to punch up whatever show or film they're in just by being present.
The Witcher: Season 1 (December 20)
The Witcher will serve as an epic tale of the life and times of Geralt of Rivia, a solitary monster hunter who struggles to find his place in a world where people often prove more wicked than beasts. But when destiny hurtles him toward a powerful sorceress and a young princess with a dangerous secret, the three must learn to navigate the increasingly volatile Continent together.
Why it's worth your time: This is supposed to serve as Netflix's version of Game of Thrones, and Amazon is also working to fill the GoT market with its series adaptation of Lord of the Rings. Both are also said to stick closer to their respective source materials. So if Dave Benioff and D.B. Weiss burned you in their last two GoT seasons, give this one a chance and, if you're already a fan of the series, hope it doesn't tread far from the building blocks of its creator.
Lost in Space: Season 2 (December 22)
Netflix's reimagining of the '60s classic Lost In Space returns for a second season, where we see the Robinson family embark on an off-course journey as their spacecraft, Jupiter 2, takes them off course to a destination unknown.
Why it's worth your time: Although the first season had some mixed receptions from fans and critics alike, it didn't subject audiences to a gritty reboot as most expected. Instead, it updated the family dynamics to make them a bit more relatable through a 10-episode season. If you enjoyed the first season, make sure to watch the second, as it may be the last time we see this incarnation.
You: Season 2 (December 26)
The new season will be adapted from the second installment of author Caroline Kepnes' series of books, Hidden Bodies. Just like the previous season, the series is set to pick up with the overly obsessive romantic Joe Goldberg crushing on a new girl named Love Quinn after he moves from New York to Los Angeles.
Why it's worth your time: The first season took audiences by storm for its completely crazy premise that gets even crazier as the season progresses. We hope this upcoming installment will be able to recapture that unhinged nature its core cast of character's brought to the first season.