Best New Tracks: Trippie Redd, Blac Youngsta, Ta-ku, 03 Greedo & More
Several new essential releases.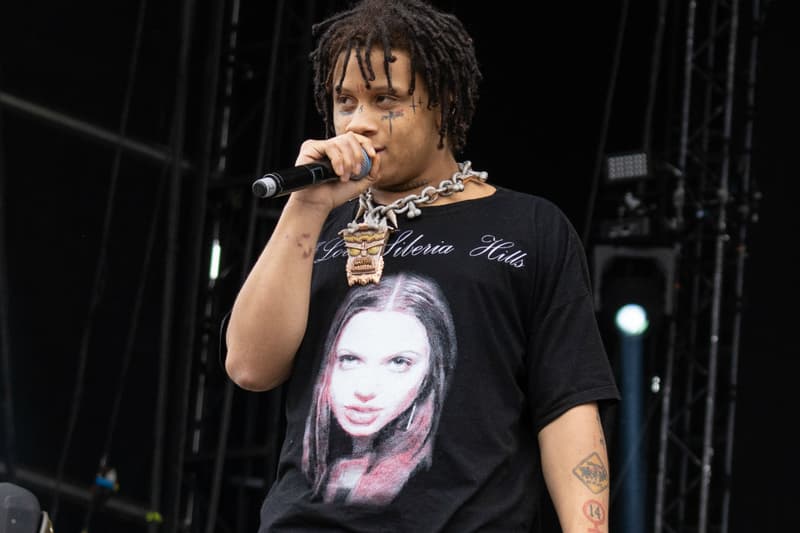 MBNel – Born to Win
Fast-rising Stockton rapper MBNel is serving up his second full-length solo project — and third overall solo project — of 2019, Born to Win. The follow-up to his May EP Countin' Bands and March's Misunderstood, Born to Win delivers 15 new tracks to listeners, including collaborations with Mozzy, Lil Bean, Lil Poppa and TeeJay3K.
"Born to Win represents what I felt growing up. I was coming up lowkey and I was expecting to make it out; I manifested it into reality," MBNel tells us. "While there isn't a super specific theme, the album does showcase my style and my growth as an artist. On this album, listeners will hear how my sound has changed and evolved, and even with my lifestyle. That, and being from Stockton helped influence the album and its sound. Even on my favorite song, 'Dear Jhené,' listeners get to know me better as you can hear the passion and emotion on the record — it stands out. Born to Win is my story, and the music brings my personal story to life."
Retch – Still Goin Up
At the beginning of this year, Retch released a full-length album known as Richer Than the Opps. Now, he's back with another new project, Still Goin Up. Notably, Still Goin Up contains seven new tracks, with Retch choosing to go solo and deciding to not include any guest features.
Cash Kidd – "Unappreciated"
As we await the anticipated follow-up to last year's Bebe Kidd 2 album, Cash Kidd is working to keep his fanbase content by releasing a new track. Known as "Unappreciated," Cash Kidd's latest record features production by close collaborator DaMazin Beats and comes to us in support of his upcoming Marc My Words mixtape — although it won't be included on that full-length's final tracklist.
"Hey u guys please don't be mad at me Ok so I'm pushing the #MarcMyWords tape back to December 6 for promotion reasons but I promise it's worth it. I hope y'all understand. Also, imma drop a CRAZY video for one of the songs off the tape next week," Cash Kidd shares via Instagram. "Matterfact, I feel so bad I just dropped a bonus track on my YouTube channel that's not on the tape. I wasn't gone drop this song probably til like next year. Soo I hope u enjoy it and hopefully my apology is accepted. Please forgive me."
Ta-ku, Matt McWaters, Masego – "Flight 99"
Ta-ku is announcing his next major studio project and introducing the effort by unveiling its lead single, "Flight 99." Known as Black & White, Ta-ku's upcoming EP is a collaboration with Canadian artist Matt McWaters, and is being released under their joint moniker Please Wait. Besides Ta-ku and Matt McWaters' contributions, Black & White's new single "Flight 99" also features Masego. Ta-ku and Matt McWater's first project as Please Wait, the Black & White EP, will hit streaming services and similar platforms on December 13.
I look forward to hearing what you think!
Trippie Redd & DaBaby – "Death"
For the latest single in support of his forthcoming project A Love Letter to You 4, Trippie Redd is teaming up with DaBaby for the DJ Paul-produced "Death." The aforementioned track also comes with a tripped-out visual treatment, which follows Trippie Redd as he spends a night out at the strip club.
"I just have random spurts of wanting to record," Trippie Redd told us during an episode of our MIC/LINE podcast. "I record some shit and I always want it to mean something, I always want it to be deep. At the same time, the music is made for your interpretation; it's not necessarily what I've been through … however you interpret the song — it's you … I freestyle, I don't write … It's all about the vibe being right too."
Boosie Badazz – Talk Dat Shit
For the latest entry in his illustrious discography, Boosie Badazz introduces a new full-length album fittingly-titled Talk Dat Shit. Boosie's latest LP is comprised of 18 new tracks, and is an entirely solo affair.
Drego & Beno – Sorry For the Auto Tune
Drego & Beno made quite an impact a couple months ago when they dropped their 15-track album Meet Us Outer Space. Wasting little time, the Detroit duo are ensuring their swiftly-expanding fanbase doesn't have to endure any lengthy gaps between projects by unleashing another new full-length release. Known as Sorry For the Auto Tune, Drego & Beno's new LP contains 17 new songs, including collaborative records with Mozzy, Bandgang Masoe, Bandgang Lonnie Bands, Shredgang Mone, Babyface Ray, G.T. and more.
Blac Youngsta, Moneybagg Yo, Yo Gotti – "Goodbye"
Blac Youngsta is reconnecting with Yo Gotti and Moneybagg Yo for his latest major single and visual, "Goodbye." Chris "GT" Ferguson directed the clip for "Goodbye," which contains all three artists and follows Blac Youngsta as he attempts to escape one of his previous romantic interests.
KrispyLife Kidd & Rio Da Yung OG – "Arguing"
Once again, Rio Da Yung OG finds another talented, likeminded local rapper to cook up a creative, back-to-back flurry of bars with. This time around, instead of his usual collaborator RMC Mike, he reaches out to KrispyLife Kidd for "Arguing." Just add this track to Rio Da Yung OG's growing hot streak, which continues to pick up steam as time goes on.
Bonnie Prince Billy – I Made a Place
Will Oldman is partnering with Drag City to release his first new, original full-length album as Bonnie "Prince" Billy since 2011. Titled I Made a Place, the latest Bonnie "Prince" Billy LP contains 13 new songs that Oldman admits he initially created without the intentions of presenting them to the public. Each record on I Made a Place features additional contributions from Oldman's talented, Kentucky-based backing band, which includes Nathan Salsburg, Mike Hyman and Joan Shelley. Head on over to Bonnie "Prince" Billy's official Bandcamp account to check out and purchase his new album.
Medhane – Own Pace
Brooklyn-based rapper Medhane has earned some attention by working with Earl Sweatshirt and MIKE, and now he's providing a complete display of what's he capable of as a solo artist by sharing his debut full-length. Specifically, Medhane's Own Pace album gives listeners 12 songs to digest, with the centerpiece being his exceptional skillset as a lyricist and unique ear for beats.
03 Greedo & Kenny Beats – "Maria"
03 Greedo and Kenny Beats are coming together to reveal plans for their new collaborative project, Netflix & Deal. To introduce the album, the pair are liberating one of its 13 original records, "Maria." Besides this week's single, Greedo and Kenny Beats' new full-length will also give us songs with OhGeesy, Freddie Gibbs, Maxo Kream, Vince Staples, Key! and Buddy. Netflix & Deal is scheduled for release on November 22.