Why Japanese Brands Are Finally Embracing London
Japan is reciprocating the UK's adoration with a bevy of London stores.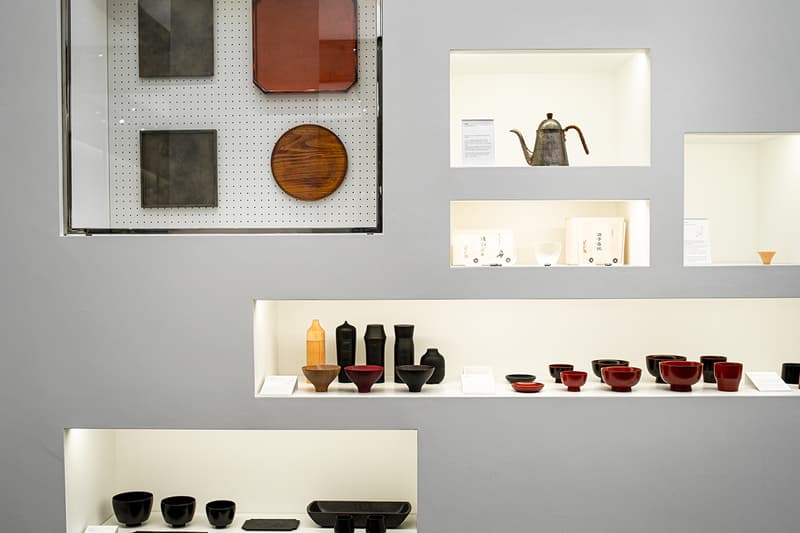 Japanese brands have long been the symbol of sophistication in London's menswear scene. "[They] have an appreciation & deep seated understanding of tradition yet approach apparel in a really forward thinking way," says Laura Robertshaw, menswear buyer at Liberty. "That marriage of tradition and modernity really resonates with the London menswear scene." Traditionally, Japanese brands have been difficult to come by outside of their home country, a fact that only made them more desirable for UK shoppers.
Slowly but surely, both physical and e-commerce stores have taken note of this desirability, gradually increasing their range of Japanese brands. Whether it's MR PORTER, which ran a Japan Edit campaign that saw the e-com store team up with brands like AMBUSH, AURALEE, blackmeans and BEAMS Plus, or NEEDLES, which is one of the most popular brands in London department stores. And most interestingly, increased availability of Japanese wares hasn't put a dent in customers' appetites for the product.
Despite the demand, Japanese brands have typically been reluctant to branch outside their home country, with Japan House's Kylie Clark noting that Japan's sizable population meant brands simply didn't have to expand their reach beyond local shores to turn a profit. Japan's population stands at 126.7 million, which coupled with a healthy tourism industry of nearly three million visitors — with one million coming from China alone — makes it obvious why Japanese brands haven't been eager to expand. But as Tatsuo Hino, Director of BEAMS & CO's UK arm, explains, there's another factor at play in brands' reticence. "Generally speaking, [Japanese brands] have little hands-on knowledge about the [UK] market itself in terms of market size, preference, consumer behaviours and appetite."
This approach is changing, with Nepenthes, 45R, Japan House and Snow Peak all launching stores and spaces in the UK over the last year. For Hino, the change is due to the colliding factors of the world catching up to Japan's fashion and culture, an increase of international visitors and upcoming events like the Olympics.
But internally, Japan is also facing a major change in its customer base. "Japan has been experiencing a super-ageing society, and many companies are faced with changing demographics. They're more encouraged to test out the market and trade, engage with overseas markets," Hino said.
45R has already been ahead of the curve in tapping external markets, as the brand launched its London store in late 2018. The denim specialists have long been known for their painstakingly considered take on clothing. "It has been a dream to open in London for a long time," said Fumiko Takahashi, London Store Manager. "It was just a case of finding the right location." Takahashi attributes London's desire for Japanese goods to the search for something unique. "There's more awareness than ever before about the qualities of Japanese products, and more desire to buy these kind of items, particularly as people search for something more special and less mainstream."
Meanwhile Snow Peak, which has already expanded to New York, plans to launch its London store at the end of October to function as its European flagship. Snow Peak wants to introduce the brand in its totality; it's primarily seen as a clothing brand in the UK, when in fact camping gear is just as important an element of the company. To communicate this element of the brand, the London store will include tent set-up sessions and field cooking lessons. As Kei Saito, Snow Peak UK director explained, "We are so pleased to finally be able to offer a space where customers/our fans can view, touch & study the full collection of our gear and apparel in one place."
But London's grandest store dedicated to Japanese products is West Kensington's Japan House, which opened in June 2018. Located a few doors down from Harrods in an art deco, historic landmarked building, the space spans three floors and was created over an intense 18 months by builders brought over from Japan specifically for the process. Japan House stands apart from the usual Japanophile store in that it's a project of Japan's Ministry of Foreign Affairs, with a specific goal of deepening the UK's understanding of Japan.
The ample space — there's a restaurant, library, theater space and store — is able to host multiple exhibitions at once. One of its previous shows focused on Japanese metalwork and featured Snow Peak's camping equipment, including its highly regarded tent pegs. The exhibition worked as a two-pronged attack: Japan House was able to capitalize on Snow Peak's dedicated customer base, and Snow Peak was able to see just how many people would turn out for a Snow Peak tagged event.
In this way Japan House also works as a local incubator for Japanese brands. Kylie Clark, PR for Japan House noted, "If a Japanese brand is thinking about the UK market and they want to see which of their products would be popular, they can work with us just to test the market."
Social media has been partly responsible for this shift from curated exhibitions to events that test the waters. Clark notes that most of the interest in hosting events has derived from Japanese brands seeing the space on Instagram and asking if they can collaborate, "It's a very powerful connector." While social media has facilitated connections, the rise of e-commerce and the wealth of data it provides has also spurred Japanese brands to test new markets. However, 45R see it as a first step rather than the whole solution. "The internet has helped everyone to reach more customers," said Takahashi. "But creating awareness is only the first step. Our products need to be seen, to be touched and tried on."
Tatsuo Hino notes while "e-com is still at an infant stage for many Japanese brands in terms of offering their product outside of Japan," the rise of European online stores like MATCHESFASHION.COM, MR PORTER and END. offering Japanese brands has helped show labels that their wares are desired worldwide.
The ubiquity of the internet has also allowed Japanese brands to be more esoteric in their choice of physical location, as an online presence already allows the brands to garner the awareness they need. Nepenthes is in Bloomsbury, 45R in Mayfair, Japan House West Kensington and Snow Peak will be in St. James Park. If there's a connecting thread between these choices is that they're all off the beaten path, often on cobbled side streets or next to a selection of stores the average Japanese menswear fan would rarely visit. The key connector is, for lack of a better phrase, that they are all placed in "traditionally" British areas.
Such was the attraction for 45R's location in Mayfair. "Brook Street offered us the right mix of essential elements: being in a [mainstream] shopping area, in the center of town, surrounded by historic architecture but not on one of the main streets," Takahashi explained. The blend of classic architecture and cobbled streets conjure up Victorian-era ideas of London — in other words, a far more romantic idea of London than the reality for those who have to get a crowded bus to work everyday.
It would be easy to call the arrival of more Japanse brands in London an "invasion," but the movement is far too understated for such cliches. 45R's Fumiko Takahashi's words about the brand's launch are some that could easily be extrapolated to the rest of the brands mentioned here. "We obviously celebrated our official opening, but then it was a case of allowing customers to find us naturally. As a brand we don't do advertising. We feel that the quality and uniqueness of our products speak to the customer in a much deeper way."
This deeper connection means that while Japanese brands are arriving on these shores, they're all whispering rather than yelling upon arrival. The quiet approach is one that's worked so far, so don't expect that to change anytime soon.