The Most Stylish AirPod Cases to Buy Right Now
Everything from luxury and branded collaborations to environmentally-friendly options.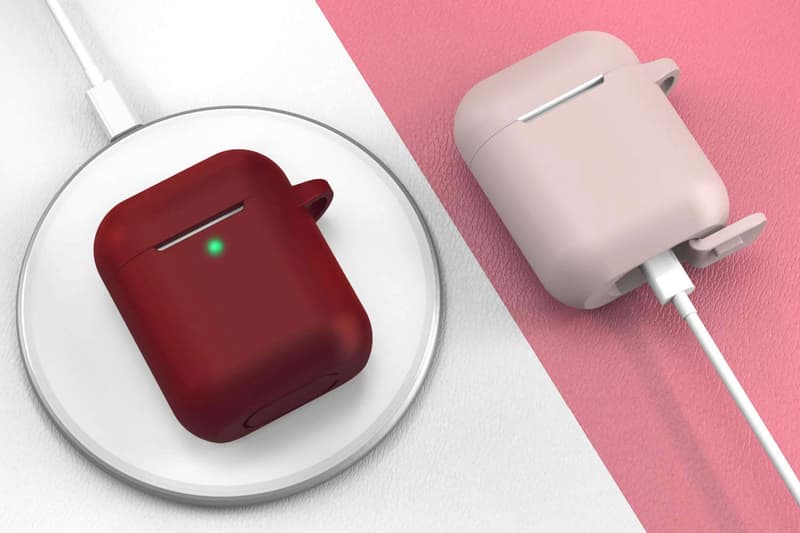 Apple's AirPods are the most talked-about tech accessory out on the market right now. With rumors of the release of the third generation earbuds continuing to circulate, it's looking like an official rollout could come sooner than we think.
Owners of the current AirPod iteration are happy enough with the existing model to turn them into functional jewelry accessories, or to go to extremes to save them when they fall onto subway tracks or traffic. But one's love for AirPods shouldn't be too complicated and the simplest way to give more care to the device is keeping them safe in its case. But for some, Apple's stock case just isn't enough as fans want either better convenience or just more flair to match their lifestyles.
Tons of AirPod cases have been unleashed out into malls, boutiques and the e-commerce universe, making it tough to choose the best option. Don't fret, though, we here at HYPEBEAST have narrowed down a slew of options into the most functional and stylish cases. They vary from sleek luxury designs and branded collab cases to environmentally-friendly choices.
3.1 Phillip Lim Full Grain Leather Case
Many will consider Apple AirPods a fashion statement in their own right, as some have even gone as far as to turn them into non-functioning accessories. So for the stylish crowd, this 3.1 Phillip Lim case takes the fashion statement a step further as you can conveniently put them around your neck like a necklace or lanyard. It's made from full-grain leather and comes in a clean black colorway. The large snap button makes storage convenient while the attached O-ring can be used for holding keys.
Where to buy: 31philliplim.com
Price: $125 USD
Case-Mate Kodak Airpods Hook Ups
Case-Mate linked up with Kodak to create this convenient sleeve for the regular AirPods case. The Hook Ups are designed with a retro feel using Kodak's popular multi-colored stripes and logo. The signature "K" is even embossed on the black iteration. The others flaunt the tech company's old school film roll and Super 8 cartridge branding. They're made from sturdy silicone rubber and finished with an O-ring for attaching to belt loops or bags.
Where to buy: case-mate.com
Price: $20 USD
Wildlife Collections Eco-Friendly Case
For those more conscious of the environment, an earth-friendly option are these cases from the Wildlife Collections. They're made from quality vegan leather and come in a variety of colors. More importantly, parts of the proceeds from your purchase go on to save whales as the Wildlife Collections will donate them to The Orca Research Trust, an institution who helps save and preserve marine animals.
Where to buy: thewildlifecollections.com
Price: $19.95 USD
ATUAT Upgraded 2019 AirPods Case
If you're looking for a quality case for you AirPods, ATUAT's designs are the best bang consumers can get for their buck. They're made of food-grade silicone and surface coated with hydrophobic materials to keep dust off. Because of the surface coating, they're also easy to clean. Best of all, they're available in a bevy of off-kilter color options like burgundy, tawny, and khaki.
Where to buy: amazon.com
Price: $11.46 USD
Dior Calfskin Case
This $350 USD luxury AirPod case utilizes a chic gray calfskin leather for opulence. Rubber Dior branding is featured on the front of the case and on the backside of the opening flap. The working clasp allows you to attach it to your bag or trousers to showcase the item how you see fit. For those wanting a bit more sophistication in their gadget carry options, this is a fine fit especially for Dior fans.
Where to buy: dior.com
Price: $350 USD
Salvatore Ferragamo GANCINI CASE
From Salvatore Ferragamo's FW19 collection comes the GANCINI AirPod Case. It's made from calfskin leather and detailed with a pattern of mini Gancini branding. A metal ring allows you to secure it to your bag or belt, which also showcases Salvatore Ferragamo's signature logo, while the textured surface of Italian leather adds to the luxurious look. The compact shape makes it extremely versatile for carrying anywhere and storing at home.
Where to buy: salvatoreferragamo.com
Price: $295 USD
Catalyst Airpods Case Protective Silicon Cover
Catalyst's protective silicon AirPod case is an Amazon's Choice product that offers quality protection at little cost. The product is made with military-grade impact shock resistance, scratch-proof polycarbonate, and premium light silicone. It's a preferred choice for outdoor enthusiasts or just anyone who likes to stay active. Best of all, the case is waterproof, giving your expensive tech purchase the extra protection it deserves.
Where to buy: catalystcase.com
Price: $24.99 USD