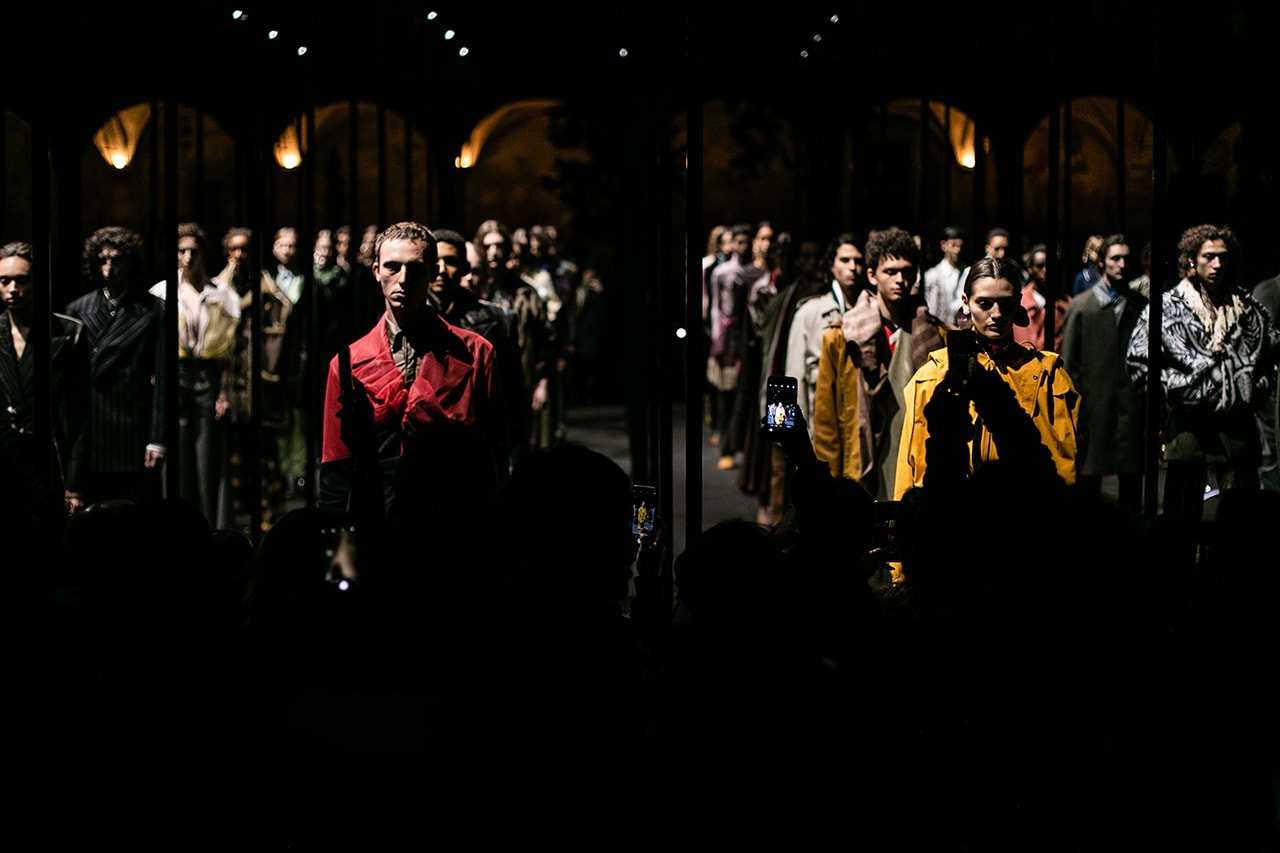 How Y/Project is Making Fashion Fun
Glenn Martens takes over Pitti and Paris in his own way.
Glenn Martens enjoys accomplishing the unexpected. That approach follows Y/Project at all points of its design process and is clearly visible in the Paris Fashion Week venue where we meet Martens. Navigating one of the city's winding side passages, we find a seemingly abandoned unnamed gaudy clothing shop filled with cheap polyester suits with bedazzled lapels. The store was deserted six years ago, with all the clothes curiously left intact inside. For any other brand, it would be an incongruous venue, but for Y/Project it was the perfect fit.
To make sense of Y/Project, you need to understand its roots. Founded in 2010 by designer Yohan Serfaty and businessman Gilles Elalouf, the brand was a world away from what we see today. Serfaty's vision was dark and gothic, more in line with Rick Owens than the label of now. When Serfaty passed away in April 2013, Elalouf decided to continue the brand in honor of the late designer.
"At the end of the day, it's just clothes. We're not doing masterpieces"
Elalouf spoke to the Chambre Syndicale about potential designers for the brand, with Glenn Martens' name frequently bounced around. Martens had, at that point, become a rising name in menswear. After originally graduating in interior design at Ghent University, he went to Antwerp's Royal Academy of Fine Arts "with a portfolio of bathrooms and kitchens," as he told V magazine.
He began working for Jean Paul Gaultier after graduation when a jury member in Antwerp recommended him for a junior designer role at the brand. Martens later created his own label, and by the time Elalouf approached him, the designer was three seasons into his eponymous line. For Martens, one of the sticking points of joining Y/Project was whether he'd be allowed to put his own stamp on the label. But when it became clear that Elalouf wanted him to create a new vision for the brand, he immediately shuttered his own line to become Y/Project's creative director in August 2013.
Martens' vision has led to numerous prizes and accolades, including the ANDAM prize in 2017 and, most recently, a guest designer slot at Pitti Uomo. The prestigious position has become a rite of passage for elite level designers, having been awarded to everyone from Raf Simons to UNDERCOVER. Martens had been in talks with Pitti for a year and a half, "we were already negotiating for the June [2018] show," Martens said. But when that fell through, Y/Project decided on the January 2019 slot.
For Martens, there was no apprehension about whether to accept the opportunity. "It's always great to be at Pitti. There are always great designers selected for the slot that I really look up to and the whole experience is super nice. You can do whatever you want. You've got the keys to the city. It's a fun experience."
And Martens made sure the experience of the show was also fun for the viewer, with the brand taking over the 3,000 seater Santa Maria Novella Grand Cloister. "I really wanted to open the show to as much people as possible, and to really confirm the democratic vibe of the fair and also have something celebrative about Florence as a city," Martens said.
Martens decided on the venue after a strenuous — but fun — process of elimination. "We literally went to see every single palazzo, monastery, whatever, you could see in Florence, which was amazing. [The Santa Maria Novella Grand Cloister] was the perfect combination: it was the venue that could host the most people, plus it was one of the most beautiful basilicas in the city, it was a win-win situation."
And the theme of democracy was seen in the show's design as well. Upon entry, each guest was given a torch and instructed to work in unison to light the venue. "It was really to accentuate the democratic vibe of the whole show. To show that regardless if you're an editor, a store, students or museum people — because we invited every museum in the city — you have to work together to see the clothes. If you don't work together you won't see anything," Martens explained.
1 of 7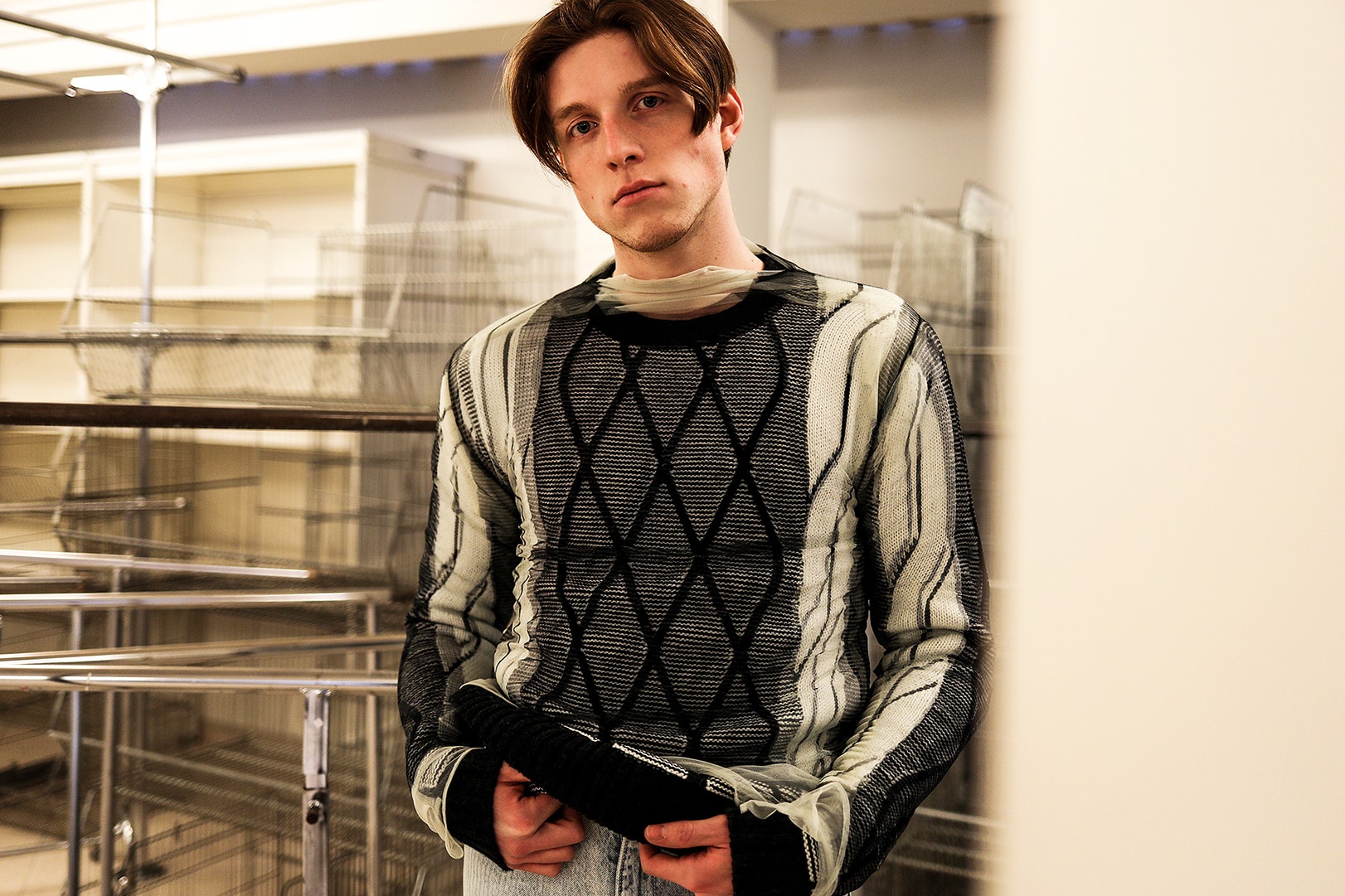 2 of 7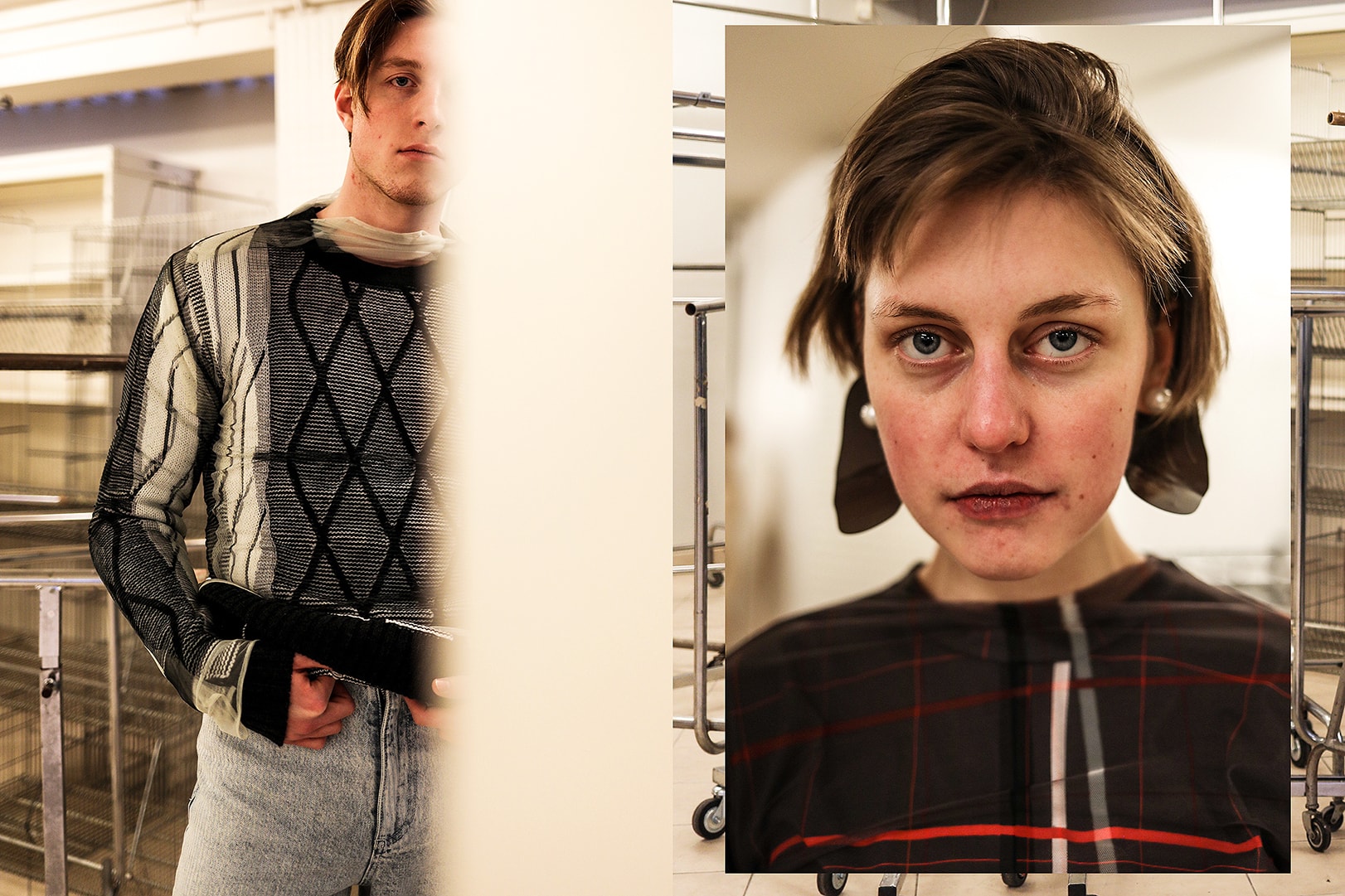 3 of 7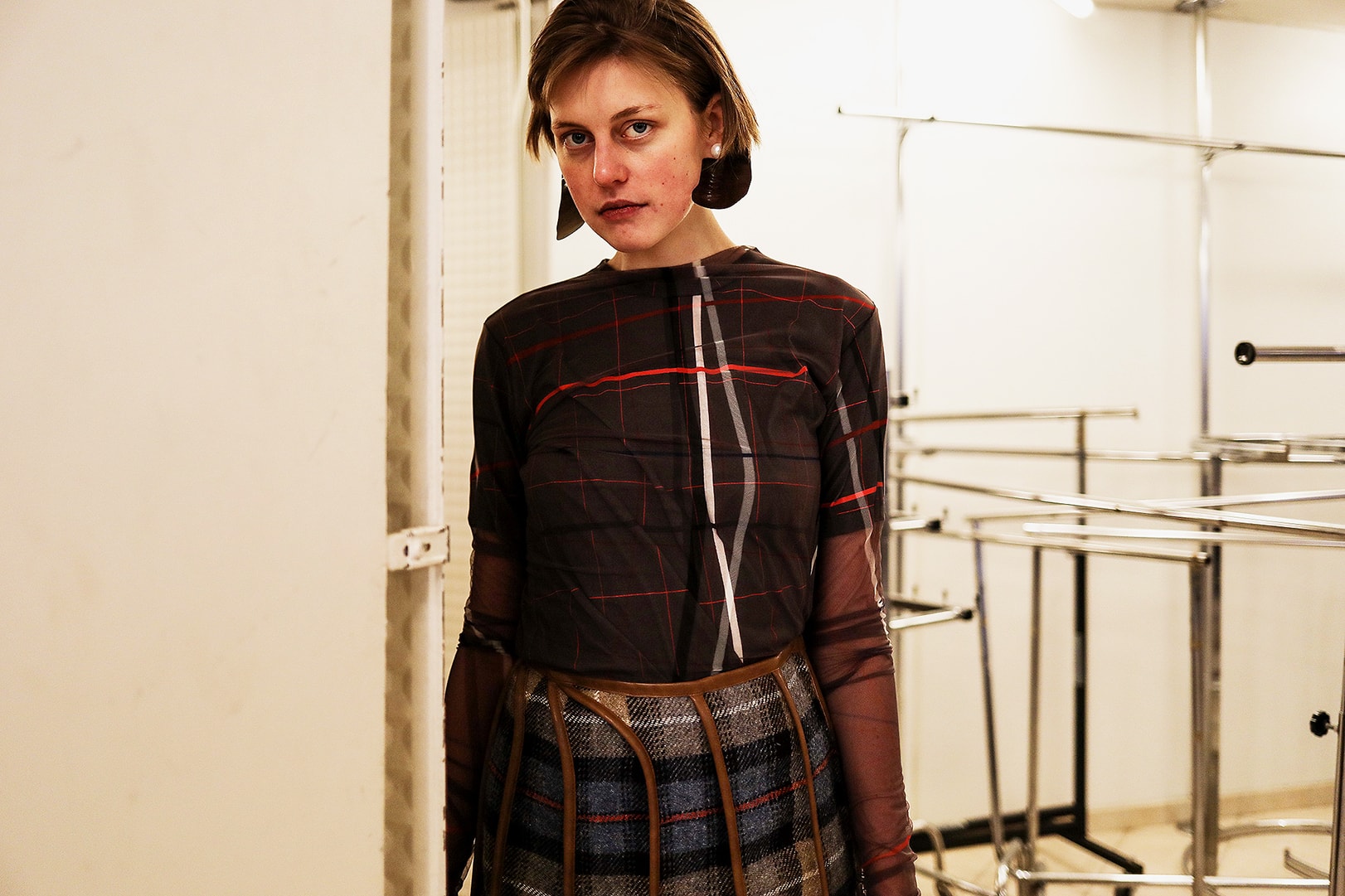 4 of 7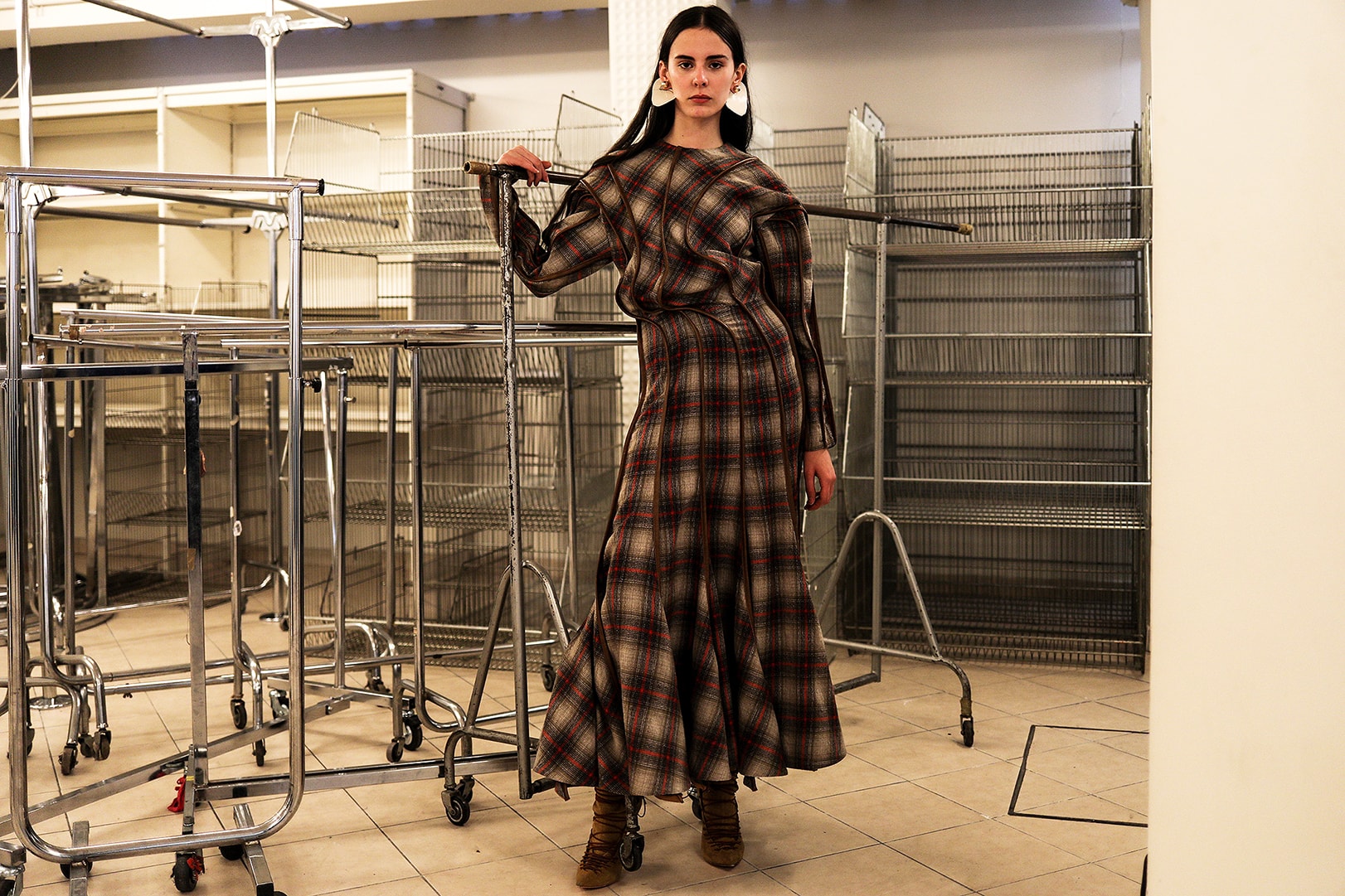 5 of 7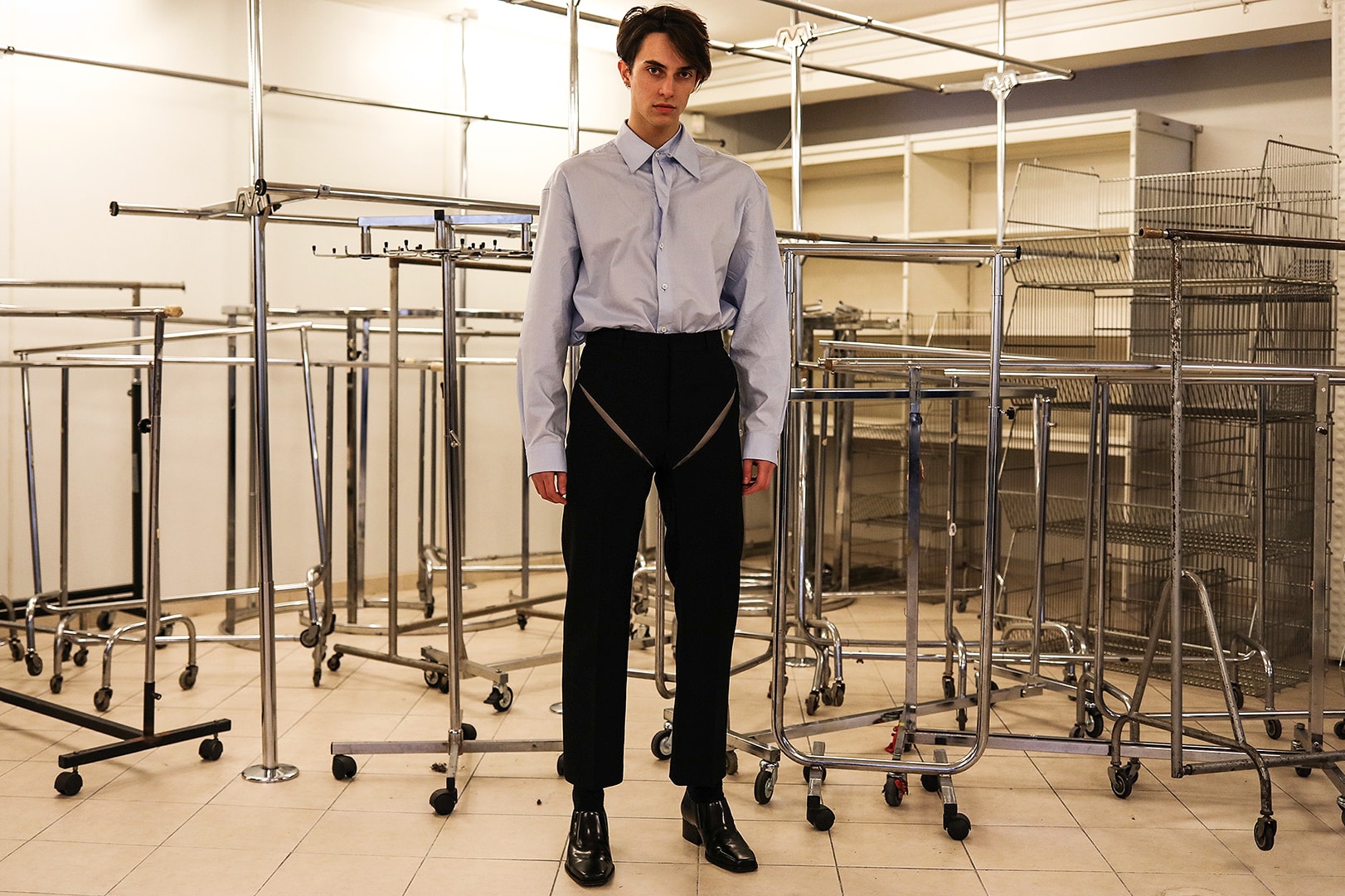 6 of 7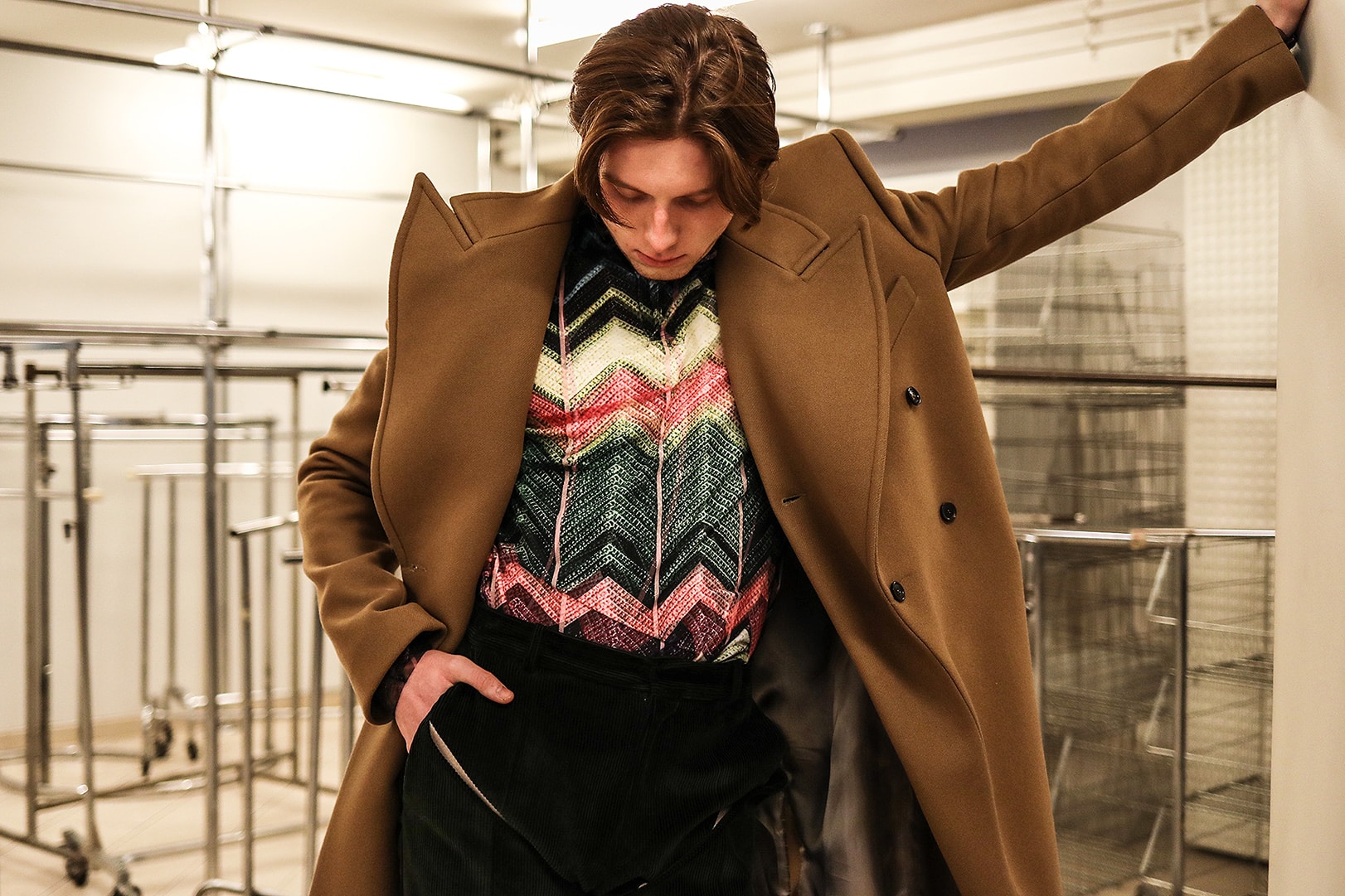 7 of 7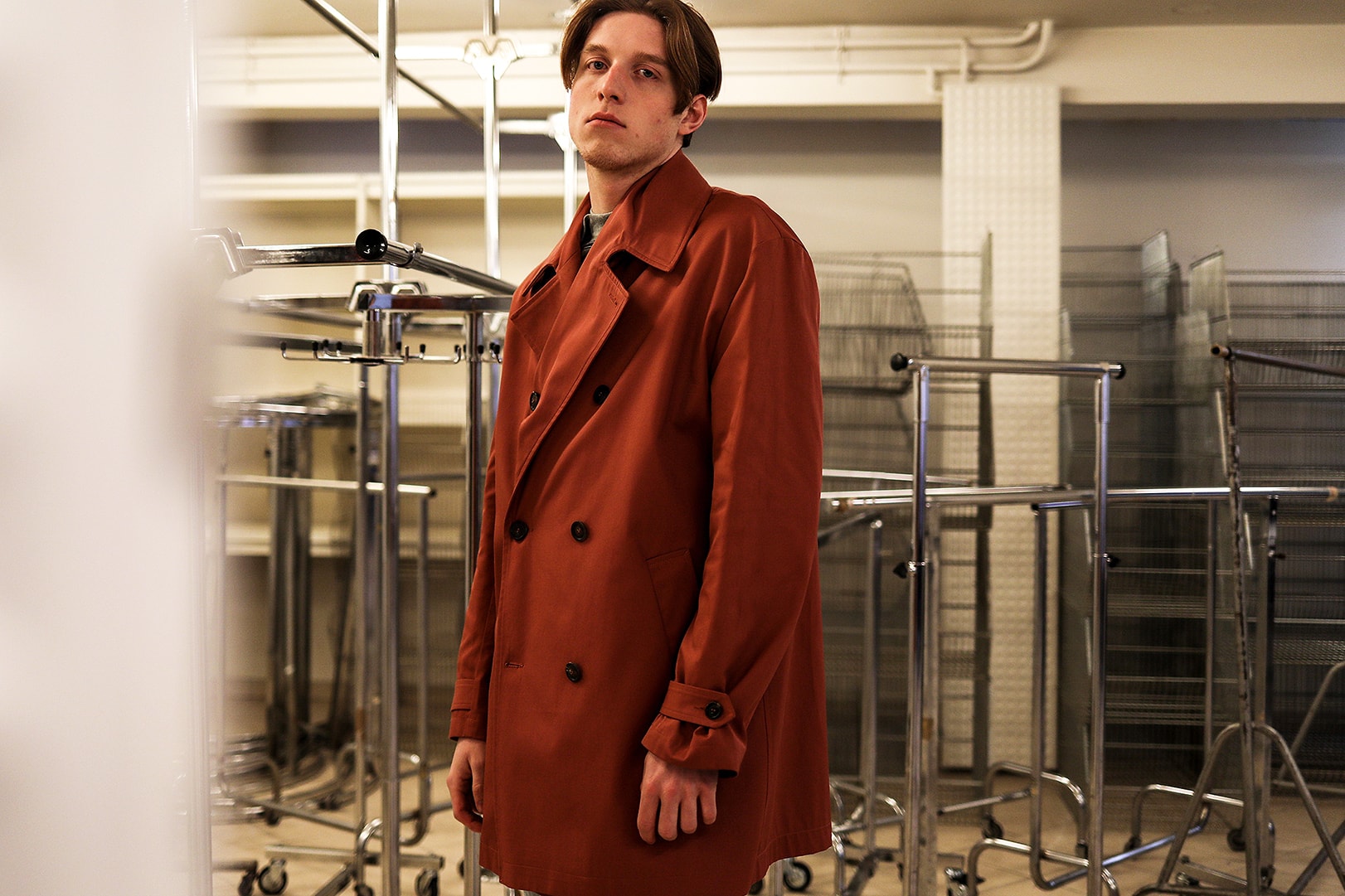 The use of torches in lieu of traditional lighting also led to interesting discoveries, with the overall darkness allowing Martens to sneak out onto the front row to see what pieces caught people's eyes. "It's also a matter of looking at things. You could see that some people would flash the shoes, the other ones on the necklaces, somebody on the coats. I think it's just like, focus on what you want to see. It was a very interactive show."
Martens' front row seat also allowed him to see things he wasn't typically privy to. "I could really see the show happening. I saw people crying and everything, it's always very cute when you know that people are really emotional about it."
The show itself was a clear example of what Y/Project does best: clothes that look — for lack of a better phrase — "normal" at first, but end up being twisted in a supremely wearable way. Martens said that there was two "very strong concepts" for this season. "One was kind of a pop-up vibe, where you double-up the front panels. The second thing was really optical illusions of prints."
1 of 4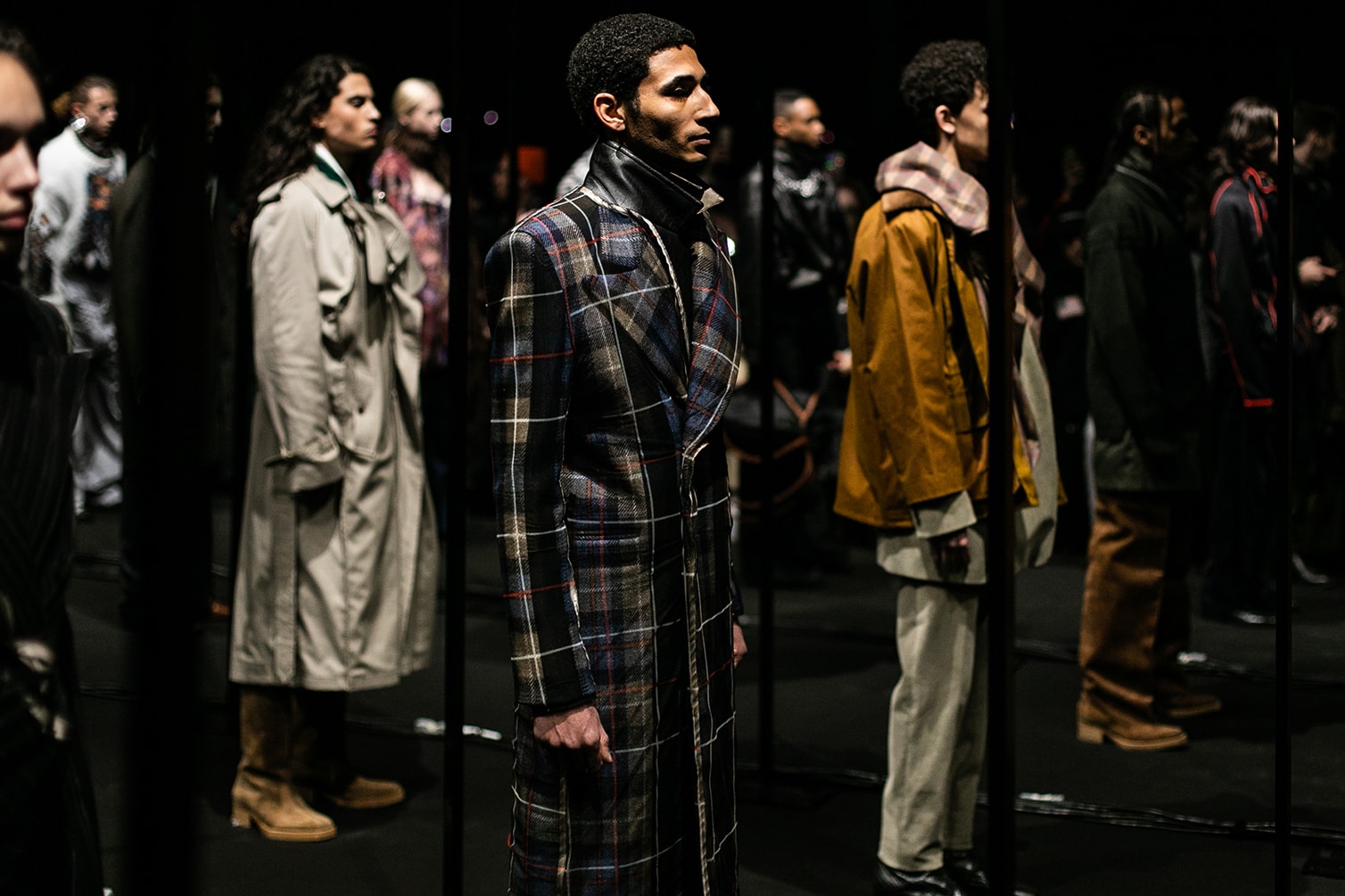 2 of 4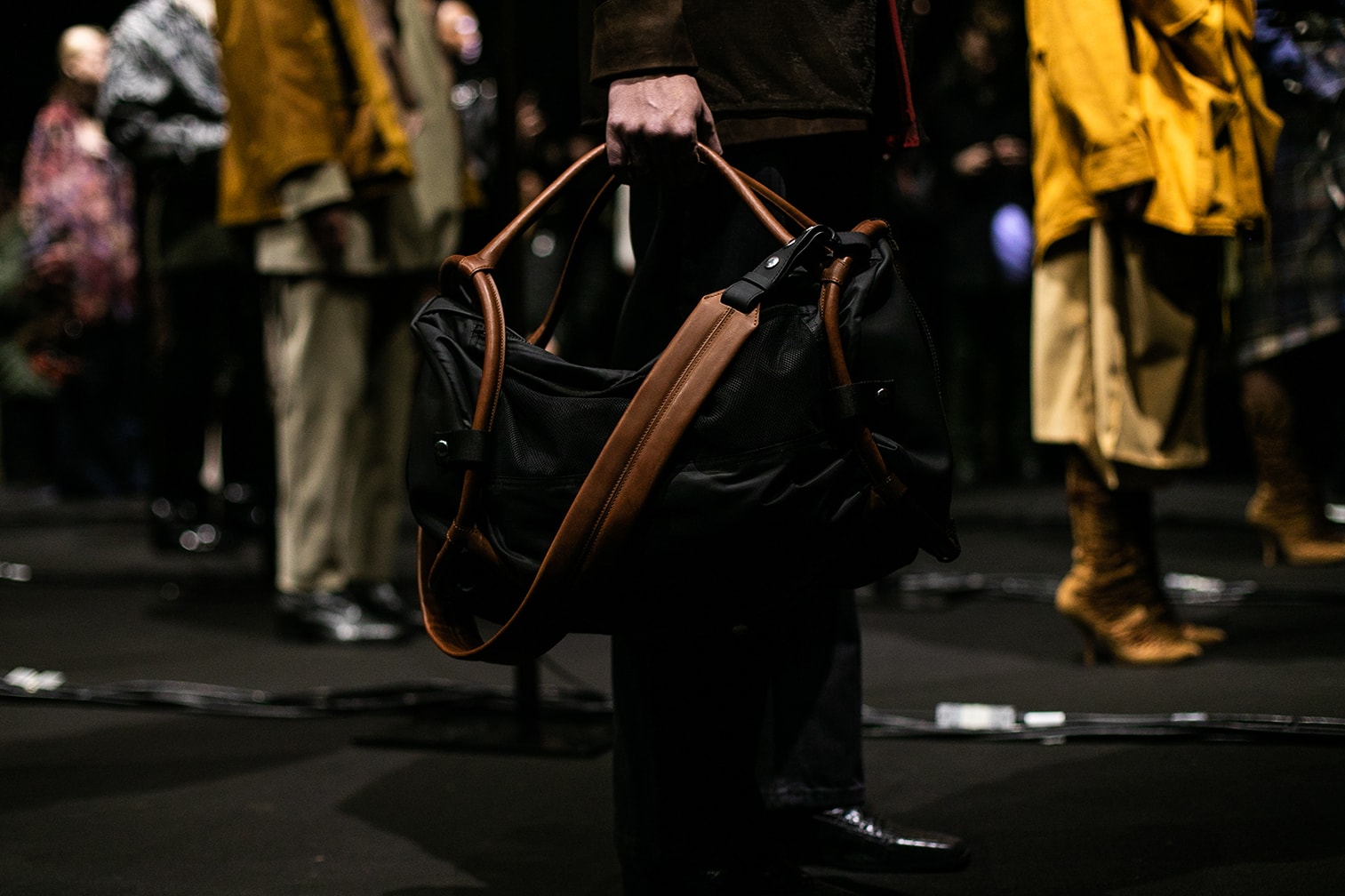 3 of 4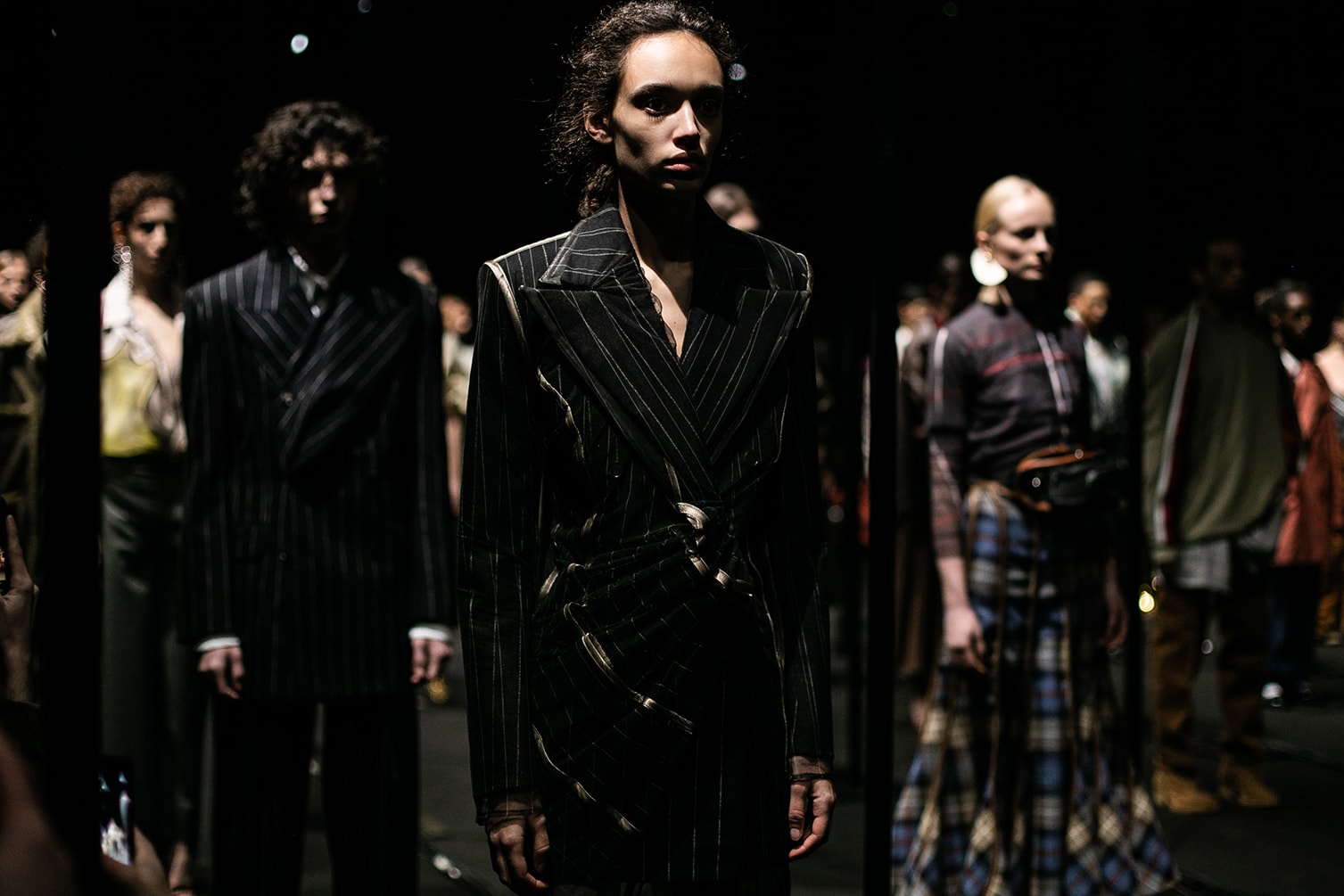 4 of 4
The print patterns were also an deceptively intricate process. "We scanned in print stripes, printed them again on tulle, and then covered those pieces so you get actually, this is a very simple method but it has the graphics. So the result is an optical illusion."
While it's clear Martens is serious about his craft, it's also clear that he maintains a healthy level of distance from the fashion world. "At the end, it's just a show, you know? it's just about clothes. But I was very happy about the emotions."
"I have no idea if, in five years, people are still going to remember Christian Dior, the brand Dior already exists, but Christian Dior? I don't know."
And if there's anything Martens would like to evoke, it's fun. Fun is the driving force behind most of his decisions, from the designs to the torches to the Paris showroom. It's something that comes up repeatedly during our conversation with the designer. His viewpoint becomes clear during our chat, when he says "At the end of the day, it's clothes. I have no idea if, in five years, people are still going to remember Christian Dior. The brand Dior already exists, but Christian Dior? I don't know. We're not doing masterpieces, we're doing clothes." He knows his work may be fleeting, so Martens would like to enjoy the ride. "It needs to be fun!"