UPDATE: Complete Supreme Skate Deck Collection Sold for $800,000 USD
Meeting the estimated price.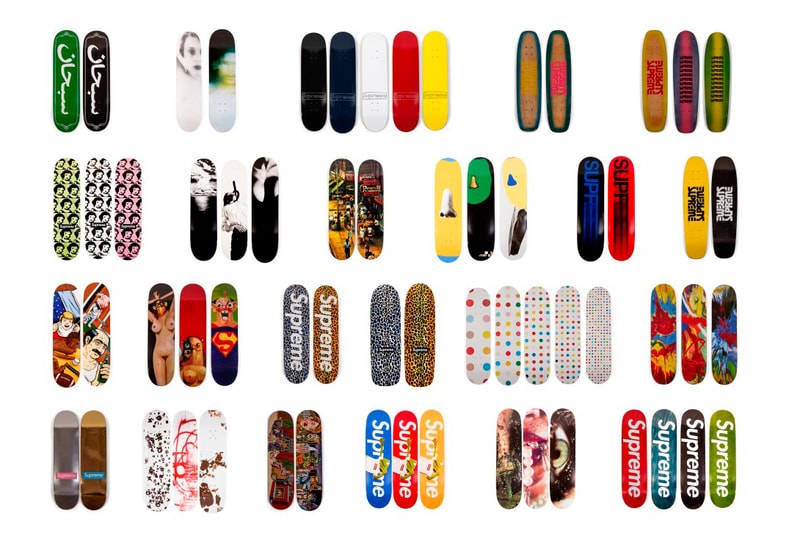 UPDATE: As revealed on Sotheby's site, the collection of skate decks sold for the low estimate, $800,000 USD.
---
ORIGINAL STORY: Sotheby's is gearing up for one of its biggest Supreme auctions to date, a full set of Supreme skate decks dating all the way back to 1998.
Collector Ryan Fuller was able to get his hands on every single Supreme deck since then and is now teaming up with Sotheby's to auction them off. Titled, "20 Years of Supreme," the sale will include every deck that has ever been produced by the streetwear giant since it began creating them in the late '90s. Just shy of 250 designs, the lineup includes collaborative desks with the likes of George Condo, Damien Hirst, Jeff Koons, Takashi Murakami, Louis Vuitton, and more.
"When I decided to sell my collection, I knew Sotheby's was the right fit," Fuller said in an interview. "Similar to Supreme, Sotheby's is the most distinguished leader in their field, and will have an international reach to give collectors all over the world an opportunity to bid on this one-of-a-kind collection of art, fashion, and Supreme history rolled all into one."
Fuller's collection is estimated to sell somewhere between $800,000 and $1.2 million USD and will be auctioned off at Sotheby's on January 25. Head over to sothebys.com to place your bids now. On the other-hand, public viewing of the "20 Years of Supreme" exhibition is opened now until January 20 on the seventh floor of Sotheby's.
Sotheby's
1334 York Ave,
New York, NY 10021,
U.S.A.
For more related news, Supreme and William Strobeck's BLESSED receives limited cinema showing.