10 Storylines to Follow During the 2018-19 NBA Season
The drama-filled offseason ends today, as the the first preseason game tips off tonight.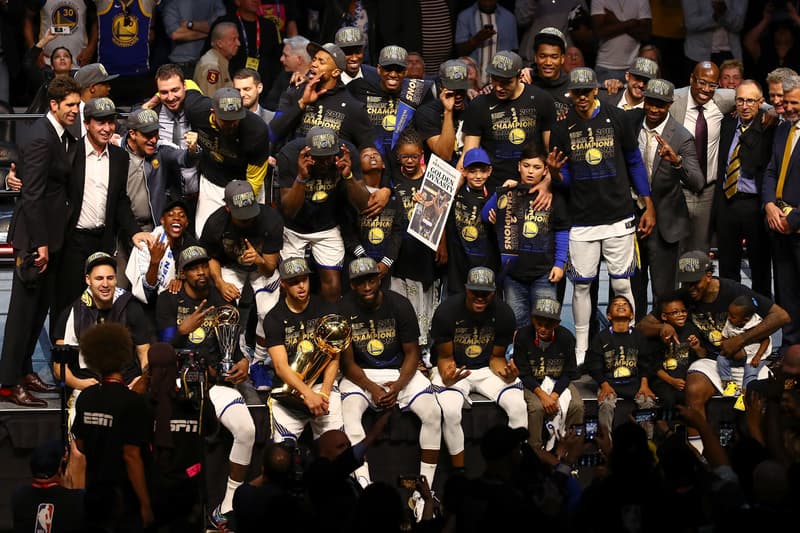 There may not be another sport with a drama-filled offseason quite like the NBA, and this summer was no exception: LeBron James signed with the Lakers sending yet another shockwave through the league, with Hollywood now in his crosshairs; the Warriors somehow got better, adding a much scarier, and better, Draymond Green in Boogie Cousins; former Heatle Dwyane Wade is set to go on a multi-city retirement tour; Adam Silver made some slightly controversial changes to the rulebook, including the removal of the we-didn't-know-that-still-existed color mandate on player footwear; Kawhi Leonard's laugh became the score to every child's nightmare, and that's just grazing the surface.
As players and fans gear up for nine more months of pro hoops, with the preseason starting today, September 29, we compiled a list of our favorite storylines coming with the 2018-19 season.
DeMar or Kawhi, Who Will Have a Bigger Impact?
One of the biggest moves this offseason was the surprising swap of DeMar DeRozan and Kawhi Leonard. During a good portion of the 2017-2018 season, news emerged that Leonard was unhappy with the San Antonio Spurs organization. This resulted in the defensive specialist expressing his desire to leave the Popovich-led team for greener pastures in Los Angeles (Lakers). Instead, on July 18, the Spurs dealt Leonard to the Toronto Raptors in a 4-player deal, which included 4x All-Star DeMar DeRozan.
Now months removed from the trade, Kawhi and DeMar are settling in nicely at their new homes. Both franchises have finished towards the top of their respective conference for the better part of the last decade, or longer, so their performances will certainly impact the playoff picture. Moreover, Kawhi is set to become a free agent next summer, while DeMar can exercise his player option in 2020; so maybe they shouldn't unpack everything just yet.
D-Wade's Retirement Tour
Dwyane Wade's recent announcement proves that father-time is indeed undefeated: earlier this month, the face of #WadeCounty shared that he'll be hanging up his signature Li-Ning kicks after the season. Similar to Kobe Bryant's Dear Basketball letter from 2015, Wade released a 10-minute heartfelt video, dubbed #OneLastDance, asking his friends, family and fans to join him for his final run.
Wade, a 12x All-Star and 3x NBA Champ, sits in the upper elechon of all-time 2-guards, alongside legends like Jordan, Bryant and Iverson. He was undeniably one of the most exciting and well-rounded players of the last 15 years, especially when he, LeBron, Bosh and the Heatles took over the league from 2010 to 2014. So while the expected gifts, tribute videos and other special dedications are deserved, let's see if we can get a Kobe-like 60-pointer from D-Wade one last time.
Moreover, we may also be watching the final season from the world's first seven-foot sniper, Dirk Nowitzki, and the greatest dunker of all time, Vince Carter. Although neither have announced their retirement, both are entering their third decade in the league with season 21, 2-1. Please don't leave us.
Is This the Golden State Warriors' Last Hurrah?
Since 2014, the Golden State Warriors have been the real-life Monstars of the NBA, and despite LeBron building his own team of looney misfit in LA, Bill Murray's not walking through that door. The offseason acquisition of DeMarcus Cousins has provided the defending champs with 5/4 odds to secure the title once again. However, although the core group still has years of elevated play in front of them, the NBA is a business where nothing lasts forever.
Both Kevin Durant and Klay Thompson will be on the market next summer, with Klay becoming an unrestricted free agent and Kevin having a player option. Additionally, Boogie's new $5.3 million USD-deal only spans the forthcoming season, while Draymond himself becomes a UFA in 2020. It's safe to say all four will be heavily recruited around the league, so enjoy (or don't enjoy) what may be the final season from the 73-win team.
The League Loosens the Reigns on Its Footwear Rules
Back in August, the league lifted all footwear color restrictions as an ongoing effort to find new avenues in which players can express, and maybe brand themselves. Succeeding a season that saw a LeBron James x KITH collaboration, Nick Young daringly sporting the YEEZY 500 in a game, players embracing fashion wunderkind Virgil Abloh and a fair share of other noteworthy feets; athletes, brands, designers and customizers all have reason to take things up a notch.
Kanye West has already teased what's to come from "YZY BSKTBL" and LeBron's move to LA is a match made in heaven for a sequel with Ronnie Fieg, as KITH's west-coast location opened its doors back in February. The new rule also grants newcomers like PUMA an even cleaner slate to work with as it tries to find its place among vets like Nike, adidas and Under Armour.
Year 2 of Nike x NBA
Parallel to the aforementioned style-minded storyline, it may be noteworthy to mention Nike is entering its second year as the official outfitter of the NBA. Last season, during its first weeks, the athletic powerhouse faced public shaming after LeBron's jersey, and a few others, ripped on-court. Backlash ensued on Christmas when the customary festive jerseys were nowhere to be seen.
Nevertheless, the brand did release special kits to commemorate Kobe Bryant (see: the "Black Mamba" and "Mamba Day" iterations) and a retro Chicago Bulls top honoring Michael Jordan's "Last Shot." So far, for the upcoming season, the Swoosh has already revealed that it'll go back in time to revive the Minnesota Timberwolves jersey from all-time-great Kevin Garnett's prime, as well as a throwback from the Jazz's storied history. No word on the Xmas tops though.
LA-Bron James and the New Showtime Lakers?
Since LeBron James announced that he would be taking his talents to Los Angeles, there's been an equal level of excitement and doubt. On one hand, the King is coming off a season–his 15th–in which he put up career numbers: he played in all 82 games for the first time in his career, while leading the entire league in minutes per game; he averaged career bests in rebounds (8.6) and assists (9.1), while notching a career-high 18 triple-doubles; he posted the best PER (28.6) among players in their 15th season or later; in addition to many other mind-blowing stats and highlights.
Sure, we should note he played on a team that looked drastically different from start to finish, juggling a mixed group of underperforming veterans and young unpolished talent that may arguably be his worst supporting cast in years. Without a proper No. 2 alongside him, Bron had no choice but to put up the aforementioned numbers if he wanted to get to the playoffs, let alone the finals.
The questions he now faces include, was last year the apex of his prime, and can his new teammates match his level of play? If last year was in fact the peak of LeBron's prime years, he has a longways to fall from grace. And as for his team of superstars-in-the-making paired with longtime league misfits, it'll likely look a lot different after next summer's free agency opens. The expectations for this upcoming season aren't nearly as high as past LeBron-led clubs, as the goal may be less about hoisting the Larry O' trophy, and more about enticing next year's batch of high-level free agents.
Sidenote: LeBron, who sits at No. 7 in all-time scoring with 31,038 points, is just 1,254 points behind his idol Michael Jordan. Having scored nearly double that deficit last year, James will likely finish the year just be No. 3 Kobe and 33,643 points.
Rules Were Made to Be Broken, or At Least Altered
Alongside the tip-off of the new season, Adam Silver and the league's board of governors will introduce a new set of rules, including changes to the shot clock, clear path fouls and the definition of a "hostile act."
The shot clock will now reset to 14 seconds instead of 24 following offensive rebound. The league wants to make close games even more competitive, so when a team that's up by just a few points grabs an offensive board in the final seconds of a game, it has less time to dribble out the clock. "We think it will enhance the entertainment of the game," commissioner Silver said. "A team that's down, because it will lead to more possessions, will give them a better chance of coming back and just overall increase pace."
Under the changes to the clear-path rule, a clear path to the basket would be in play in these three instances: "A personal foul is committed on any offensive player during his team's transition scoring opportunity"; "When the foul occurs, the ball is ahead of the tip of the circle in the backcourt, no defensive player is ahead of the offensive player with the scoring opportunity and that offensive player is in control of the ball or a pass to him has been released"; "The defensive foul deprives the offensive team of a transition scoring opportunity." If a clear-path foul is called, the offensive team is given two free throw attempts and possession on the sideline closest to where the foul happened. Silver believes the rule adjustment will reduce the need for replays, and thus, pick up the game pace.
Lastly, the definition of a "hostile act" will expand to include hostile interactions with referees, coaches and fans (we're looking at you, Russ).
Honorable Mentions
Anthony Davis for MVP:  Anthony Davis is coming off a year in which he averaged 28.1 ppg, 11.1 rpg, 2.6 bpg, all while shooting 53% from the floor and 83% from the line. At 25, it's scary to think The Brow is just now entering the prime of his career.
Who Wants Jimmy Butler?: Much of the recent NBA news has centered around Jimmy Butler and his desire to be traded out of the Timberwolves rotation. As of right now, the 29-year-old will be playing in Minnesota, mostly because the franchise hasn't received any, in their eyes, fair offers, but that won't stop them from shopping him around up until the trade deadline. Jimmy can exercise his player option next summer, so either way, he'll be gone by next season.
Melo and the Rockets: After coming within one game of the NBA Finals last season, the Rockets picked up 34-year-old veteran superstar Carmelo Anthony. It remains to be seen just how Melo will fit into the run-and-gun offense D'Antoni is so known for, one Melo didn't enjoy much when they were together in New York, but if he's keen on hoisting that Larry O'Brien trophy, this may be the best chance he'll ever have.
---
Let us know which story you're looking forward to the most and share your predictions for the upcoming season below.