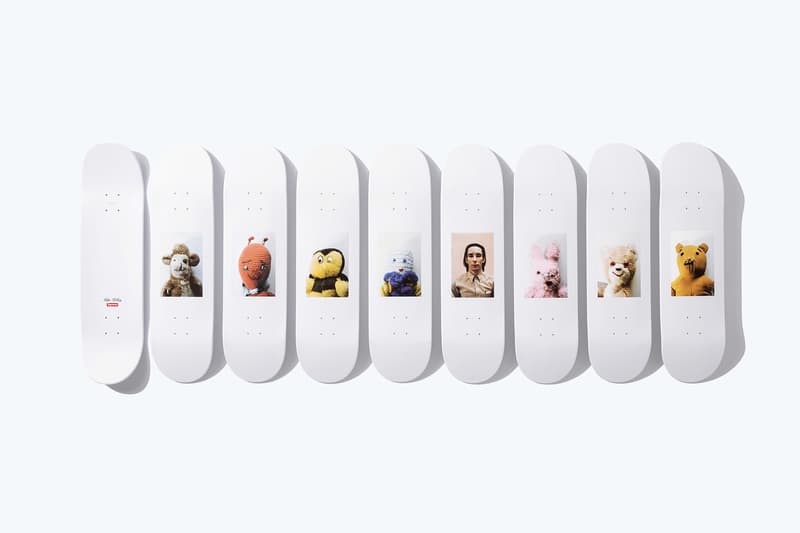 Best Art Drops: Supreme x Mike Kelley Collab, Daniel Arsham Sculpture & More
Including Steven Harrington's new neon 'Gotcha' collectible figure.
---
Every week we highlight the most notable releases by celebrated artists across the globe comprised of original artworks, prints, collectible figures, collaborative merchandise and more. Our latest installment features a commemorative capsule between Supreme and legendary assemblage artist Mike Kelley, Daniel Arsham's highly-limited CRACKED BEAR sculpture, Steven Harrington's neon iteration of his beloved Gotcha collectible, Matt McCormick's joint release of new artworks with the Tappan Collective, and Kinfolk's latest artist collaboration with Brooklyn-based painter, Patric Hanley. These artists are informed by wide-ranging genres spanning abstract, figurative, DIY, and street art to name a few.
View this week's best art drops below and let us know any of your favorites.
Supreme Honors Late Iconic Artist Mike Kelley for FW18
Release Date: September 6
Release Price: TBC
Supreme is paying homage to late iconic artist Mike Kelley with a special collaborative capsule for the Fall/Winter 2018. In association with the Mike Kelley Foundation, the label translates the Michigan creative's seminal works onto a selection of work shirts, work jackets, rayon shirts, two hoodies, crewneck sweaters, tees, and skateboard decks. Highlighted pieces include Kelley's More Love Hours Than Can Ever Be Repaid and The Wages of Sin, Ahh…Youth! and Reconstructed History.
The Supreme x Mike Kelley collection is set to release online and in the NY, LA, London, and Paris stores on September 6. Japan will see a later release on September 8.
Daniel Arsham to Release New CRACKED BEAR Edition Sculpture
Release Date: September 7
Release Price: Approx. $300-$500 USD
Daniel Arsham will soon release his new collectible object entitled CRACKED BEAR. Purveyed as an edition of 500, the sculpture is made of fabric, plaster, and acrylic paint. The artist encourages potential owners "to put on the gloves provided and break the plaster reinforcement layer to their desired effect," said the artist. Each sculpture is packaged with the bio-degradable loose-fill cushioning system alongside a pair of white, industrial-strength art handling gloves.
Look out for an official release on Daniel Arsham's website on September 7 at 12 p.m. EST.
Steven Harrington Unveils New Neon Gotcha Collectible Figure
Release Date: September 6
Release Price: $250 USD
LA-based artist Steven Harrington returns with a brand new version of his most popular Gotcha sculpture. Dipped in a fluorescent colorway, the latest collectible made in collaboration with ToyQube will release in an edition of 200 pieces each measuring at 11 inches tall and approximately 4.5 pounds. All sculptures were crafted using poly stone, paint, and metal.
Head over to ToyQube's official website this September 6 to purchase a piece.
Matt Mccormick Releases New Artworks at Tappan Collective
Release Date: Available now
Release Price: $3,600 USD-$9,200 USD
Celebrated artist Matt McCormick recently released new artworks and prints on fledgling contemporary art platform, Tappan Collective. Inspired by Western Americana and human experiences, the works portray inanimate yet intimate objects including cacti, swings and lawn chairs. Head over to Tappan's website to purchase a piece now.
Kinfolk Presents New "ABOVE & UNDER" Exhibition with Artist Patric Hanley
Release Date: September 5
Release Price: $200 USD – $400 USD (Digital print and jackets)
Kinfolk is gearing up to launch a new exhibition entitled "ABOVE & UNDER" featuring diverse artworks by Brooklyn-based artist, Patric Hanley. Focused on geometric forms, wave-like patterns, and abstract compositions, Hanley will present a total of seven oil on panel paintings, a special edition print, and vintage Levi's denim jackets with his signature motifs hand-painted onto the back portion. Altogether, Hanley is influenced by the works of Scott Olson, Gianna Commito, Loie Hollowell, Tomma Abts and Mariah Dekkenga. "ABOVE & UNDER" will commence on September 5 at Kinfolk 90 in Brooklyn, NYC at 7 p.m. EST. Find details in the Instagram post, below.
Kinfolk 90
90 Wythe Ave
Brooklyn, NY 11211