Joshua Vides on Becoming a "Professional" Artist, His Streetwear Hustle & Gifting LeBron His Nikes
We sat down with the CLSC founder during his recent visit to Hong Kong.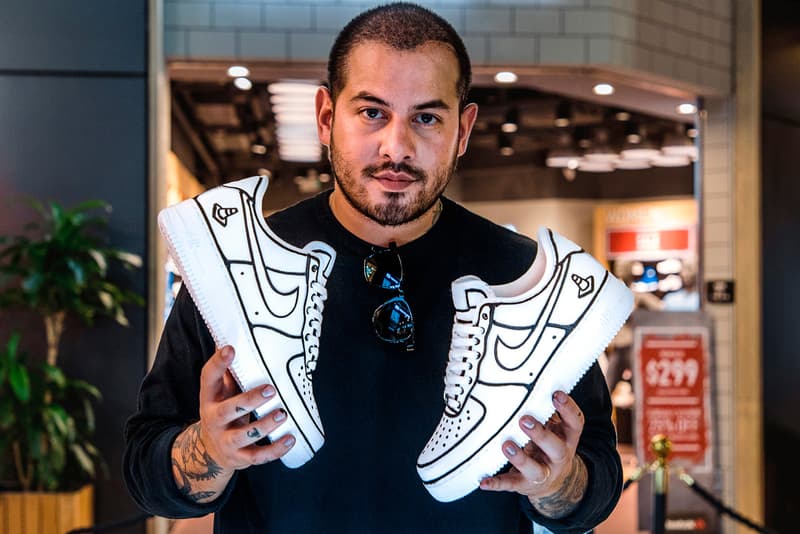 1 of 3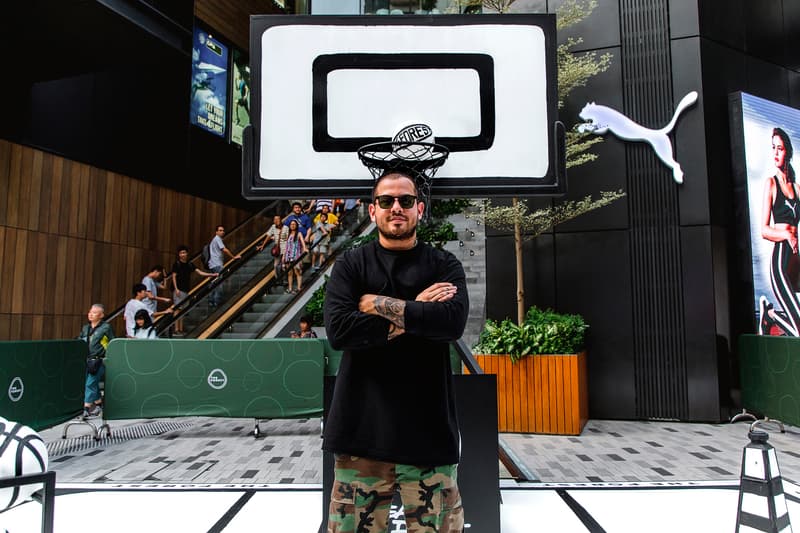 2 of 3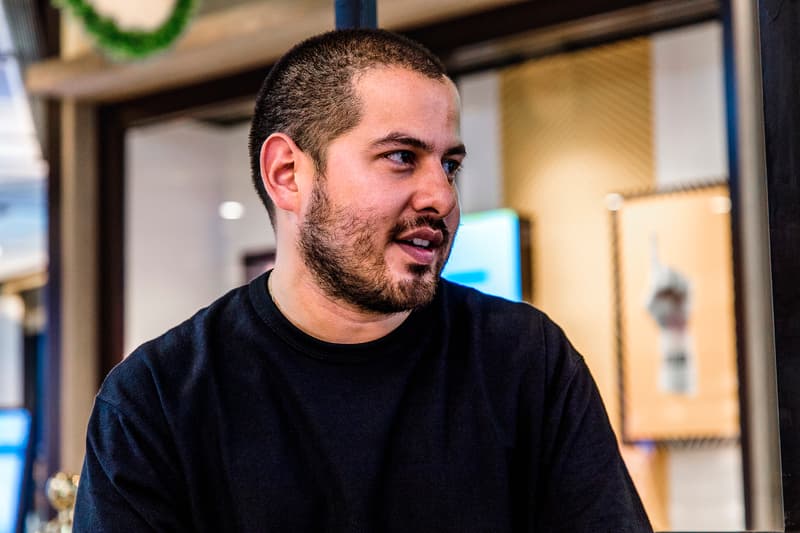 3 of 3
Artist Joshua Vides, though he doesn't particularly like being called one, greets us with a courteous "hey" before quickly attending back to his phone. "I'm just trying to send out my next clue," he mischievously laughs while showing his close friend Ron his latest IG story for approval. Vides, who has dropped down into Hong Kong for his latest showcase done in collaboration with The Forest, has been meticulously placing miniature street cones all throughout the city. Dressed in Vides' hand-painted black-and-white outfit, each cone comes marked with his signature and uniquely numbered. "15/50," he says as he presses the upload button, waiting for one of his 125,000 Instagram followers to locate it.
As our conversation begins, the lucky fan who found the cone comes running up to us asking for a photo. Vides graciously abides, laughing at how quickly the cone was found in the densely, overpopulated streets of Mong Kok.
Though Vides' popularity seems to have blown up overnight, many are unaware of his years spent hustling in the streetwear scene. At the age of 19 he was already working on his clothing line DOnUt — Do you, not them — before moving onto CLSC. "I grew up in Rialto where we would drive for a few hours to LA and try to push our shirts," he recalls. "We'd ask to speak to a manager and they'd tell us all the things we were missing like line sheets; I didn't even know what a line sheet was," he continued. "This is how I started learning about these things. It was harder back then. Now you can just hit up Bobby [of The Hundreds] and just show up outside their door," he laughs. But with handwork and dedication, two things Vides strongly believes in, he and his friends were able to open up their very own store on Fairfax. By 2015, CLSC took off, "we made millions. Not bad, right?" Vides nonchalantly states, brushing off his success.
"My mom was like, 'you've been doing this all your life and now people are calling you an artist?'"
But it wasn't until Vides posted a pair of hand-painted Air Jordan 1s on his IG that his phone quickly blew up. "I posted those shoes near the end of the day. As soon as I woke up I had all these new followers and mentions; all my friends were hitting me up," Vides says excitedly. But how does he feel to be called a "professional" artist now? "I've studied art for a long time and I like crafting things with my hands. I'm really good at building things and molding things with clay. I put up a pair of shoes on social media and it just blows up," Vides states. "My mom was like, 'you've been doing this all your life and now people are calling you an artist?'"
With social media playing such a big role in Vides' life, and somewhat newfound success, I had to ask about his biggest achievements. "It's funny, I got hit up by this dude on IG that said he worked for LeBron James. He asked me to send him a pair and I was like 'Okay sure, it costs $800 USD.' The guy was like 'are you serious?' and ghosted," Vides laughs. "After a few weeks he hit me up again and was like 'Sure. Can you send them to Akron, Ohio?' I was like 'Sh*t. These ARE for LeBron!'"
Soon after, the shoes were spotted on James' feet during a pregame warmup, which was followed by IG reposts from the Cavs and the NBA itself. "I was in a meeting and my phone just kept going off," he said smiling. "When I checked my phone, it was full of mentions and congratulations." Not only has Vides' sneakers sparked the interest of other top players in the sports world, but he also collaborated with the likes of Takashi Murakami on a one-off project. "I knew I was gong to meet him, so I just made a pair and passed them to him in person," he proudly says. "He was so stoked!"
Besides custom sneakers, Vides has made a foray into more expansive sets, from painting cars to recently teaming up with the MLB for an exhibition featuring a self-built and self-painted locker room. Continuing down his current sports-inspired road, his latest project with The Forest features a basketball court, balls and a locker room, which have all been aptly placed in the city's sneaker district. "Basketball has always had a huge impact on streetwear," Vides claims. "And with the change of times, basketball is looking more towards streetwear than ever." Alongside Vides' small-scale homage to the sport, a collection of his sneakers, including the Supreme x Nike Air Force 1 Mid and the Virgil Abloh x Nike Air Force 1, are also displayed.
But what can we expect from the artist in the future? Vides claims with confidence, "I want to make something people haven't seen before. Something sculptural and crafted from my hands." Whatever his next steps may be, his growing fanbase will surely be there to support him.
---
Joshua Vides' latest "Reality to Idea" showcase is running now until September 30 at The Forest.
The Forest
17 Nelson Street
Mong Kok, Hong Kong