Turning Passion Into Action: DJ Khaled Talks About Opening His Very Own Champs Store
Read our exclusive interview with the key-holder himself.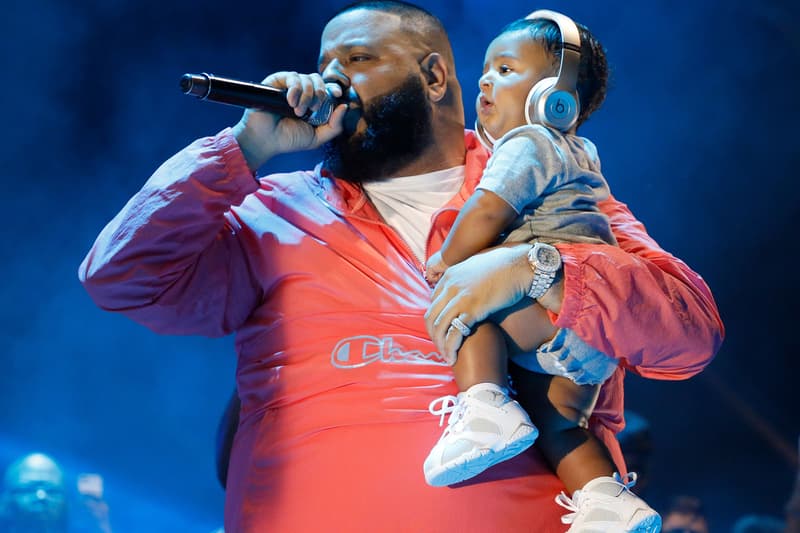 Over a decade ago, DJ Khaled was climbing his way up the ladder through an affiliation with Terror Squad. Today, he's standing as one of social media's biggest stars and the proud honor of a new No. 1 album under his belt. What began with records with artists like Rick Ross, Pitbull and Fat Joe has progressed into chart-topping, airwave-dominating singles with the majority of modern superstars running popular music. His affinity for the anthem approach to posse cuts and his larger-than-everything personality have created a mutli-medium, multi-brand figure that seeks to the be the CEO of everything he touches.
Bolstered by his inimitable, uniquely-DJ Khaled antics on social media since 2015, DJ Khaled's career has received yet another major resurgence. Determined to be more than just your favorite Snapchat account and meme, DJ Khaled has just cranked out a new No. 1 album with this year's Major Key and several huge singles with Drake, Jay Z, Future and more. With this latest tide of success and a tour with Beyonce on his resume, Khaled has also decided to revisit his roots for his latest venture.
Teaming up with Champs Sports, DJ Khaled has connected with NFL Offensive Rookie of the Year and Los Angeles Rams Running Back Todd Gurley for the second installment of Champs' "We Know Game" campaign. As Khaled tells it himself, his new movement is self-explanatory: it is what its title describes, "We Know Game." For their take, Khaled and Gurley inspire each other by trading some of their very personal come-up stories. Using their revealing exchange as inspiration, Khaled also reveals he has come full circle in his journey from Champs Sports employee to mogul: he decides to open up his very own Champs Sports store. For their part, the Champs crew also comes through with some gear, opportunity and more to aid in Khaled's new venture.
To learn more about DJ Khaled's latest partnership with Champs Sports and the current state of his career, we linked up with the We The Best CEO to speak on what working at Champs taught him, his label, dream collaborations, some of his core values and more. You can check out our interview with DJ Khaled and his We Know Game story below.
You worked at Champs when you were you younger?
Yeah, when I was a young don I was at Champs Sports. I worked there, it was one of my favorite jobs. Shopping jobs is where I got all my vibes from, from my sneakers to Timberlands. Back in those days, Timberland sweatshirts were off the chain. And, of course, all the sneakers and the athletic stuff. So, when I got a job there I felt it was the coolest job to ever have as a kid.
How did working there build the sort of "hustler's mentality" you have now?
I have always been raised to work hard from my family. My mother and father worked hard and I watched them sell clothes out the back of their trunk at flea markets to owning their own stores, so I got to see the hustle. I always knew when I was old enough to work I had to get a job. At the same time, I was fulfilling my music career but I had to be a man and boss up to bring money home and have money to get things I wanted like records and studio equipment. Champs Sports was part of that process of becoming a man and who I am right now. At Champs Sports, my paychecks went to records to turntable to drum machines. When I used to work there, I used to have my mixtape with me and put it in the shoebox. Everybody used to shop there, people from high school or someone I know, so they would come in and get a tape at the same time.
So you would take all your money from Champs and invest it in yourself?
Absolutely, 100%. I'm a hard worker, I've always been one to work super hard. In those days, I was working a job and fulfilling a music career, so it was a non-stop job.
Looking back, how does it feel to go from selling kicks at Champs and being an aspiring DJ to one of the biggest DJs in the world working with that brand?
It feels amazing. It's inspiring for myself, and it motivates myself every time I think of that story. Still, I'm just getting started. I just dropped the number one album in the country, my single with Drake went number one. So, I have two number ones at the same damn time on my release week, and it's the ten-year anniversary of my label We The Best music.
How does it feel to have ten years with We The Best and have that success with your artists and singles over the year?
It feels great, we just dropped a new record with Kent Jones this year and it went number one. He's the new artist I signed, I gave him an opportunity, and he had a number one record his first record so it's amazing. I want to be clear: We The Best is only Kent Jones, me, Vado, Mavado and we're also working with Steph Lacor. I'm thinking about signing more new artists and it feels good. I also got a lot of new producers that's on the team, like Lee on the Beats and Ben Billions. We're just building an empire, We The Best is a family. We represent love, we represent unity, we represent teamwork, we represent hard work and we also represent respect. When I was building a brand, I was always looking at a Champs Sports, an Air Jordan — those are big brands, and that's what I want We The Best to be.
I hear you're a new owner of a Champs Sports as well?
Yeah, I got that connect. I got my own Champs Sports Store, so when you come to my crib, come to my studio, I got Champs Sports right there. My sneaker room inspired me, and I got with the big people at Champs Sports and was like, "man, I might as well have a Champs Sports store because when I built my sneaker room it was already Champs Sports." I would walk in like, "this is Champs Sports." We got a store: Champs and We The Best. It's so dope because the guests that are coming through from the rookies of the years to the iconic athletes in the world, as well as people that just love sports and sneakers. We're talking that sneaker talk and that cloth talk and catching a vibe. For Champs to let me do this, it's a dream come true and shows you what hard work and dedication and passion is, and Champs recognizes that. I want to inspire the whole world and let them know, "you can own your own Champs one day. I used to work at Champs and now I have my own Champs Sports."
You connected with Champs Sports for the new We Know Game campaign. If you could, explain a bit about that?
We Know Game is basically what the title is, "We Know Game." We know what it is. Some of the biggest athletes and I, we're basically us having cloth talk, but it's special and real intimate. It's at my house, and it's us breaking down our vibes and what we love. Not just that, we tell each other stories of our come-ups. Todd Gurley, rookie of the year, he was there, he was explaining his story. It's so inspiring to come from an injury and become rookie of the year. Just coming from the bottom to where he's at now, it's inspiring to hear his story. He actually was the guy who convinced me to holler at Champs. He was like, "yo, you should have your own store. You need to get with the Champs team and really talk to them." He put a lightbulb in my head.
As far as the We Know Game campaign, what are some core values you share with Champs Sports?
Dedication, passion, quality, for the people, the love for the sport, knowledge, respect, hard work, being a champion, being a winner. There's so many things that Champs represents and I represent. I used to work there, so I always want to encourage everybody with that. I used to work at Champs, and now I have a Champs store, I'm the CEO of We The Best, I have the number one album in the country, and when you write my story you have to put Champs in there. So what I'm saying to the young brothers, young queens and young kings out there that are shopping there, you might become a manager at Champs, you might start working at Champs, or you might go in there as a customer and be inspired and be the next biggest thing happening.
Switching over to music, since you've pretty much worked with every major star in music right now, are there any big collaborations you want to do that you haven't done yet?
I've been blessed with most of the people that I've been working hard to work with, but I want to work with Beyonce. I've been blessed to go on tour with her, my next goal is record and go in the studio with her and work out an anthem. Or, even for something for her next project. I really want to put her on one of my records; I'm going to meditate on that and work hard on it. Hard work and working smart will get you the results you're looking for.
Lastly, what are the biggest keys you can give the readers of HYPEBEAST and HYPETRAK as far as fashion goes?
The biggest key is God: God is the master key. As far as fashion, the key is to always stay fresh — it's important. Looking fresh, being fresh is a presentation of yourself. Feeling good and looking good is a major key, we've been blessed by God, but at the same time to put the fresh sneakers and fresh vibes on is a blessing.