Watch the 2018 Governors Ball Livestream
We got you covered.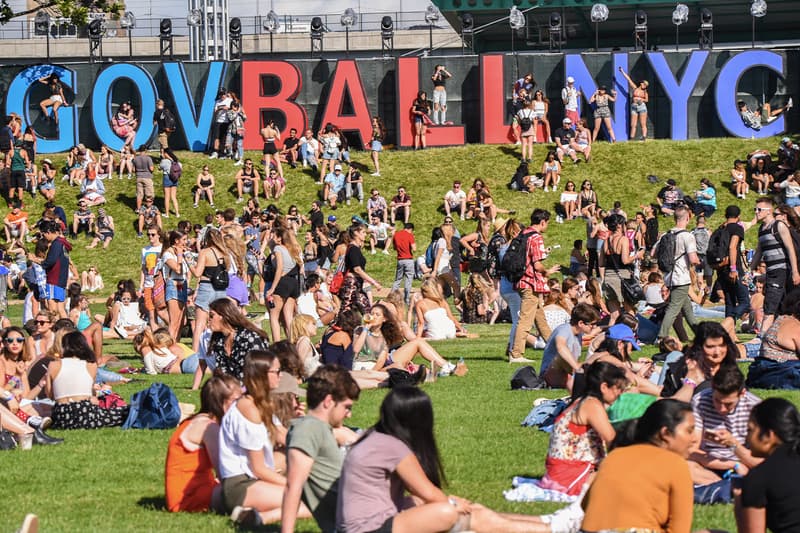 Festival season is officially in full effect and in case you weren't able to make this year's Governors Ball 2018 festivities – no need to worry, we've got you covered. The annual New York City music bash is now allowing fans to watch the entire festival via livestream on their website and on Twitter.
This year, fans will be able to catch Travis Scott, Eminem, Lil Uzi Vert, 2 Chainz and many more. Check out the complete set times down below and stream now through the Governors Ball website.
Governors Ball Friday, June 1 Set Times

Honda Stage
Lou the Human 12:15 – 12:45
Sir Sly 1:30 – 2:15
Belly 3:00 – 3:45
DRAM 4:30 – 5:15
Shawn Mendes 5:25 – 6:00
Post Malone 6:45 – 8:00
James Blake 9:15 – 11:00

Gov Ball NYC Stage
Slaves (UK) 12:15 – 12:45
Pond 1:30 – 2:15
Alvvays 3:00 – 3:45
Maggie Rogers 4:30 – 5:30
Yeah Yeah Yeahs 6:45 – 8:00
Jack White 9:15 – 11:00

American Eagle Stage
A$AP Twelvyy 12:45 – 1:30
Two Feet 2:15 – 3:00
Flight Facilities 3:45 – 4:30
6LACK 6:00 – 6:45
The Glitch Mob 8:00 – 9:15

Bacardi Stage
Lophile 12:45 – 1:30
Wolf Alice 2:15 – 3:00
Goldlink 3:45 – 4:30
Tasha Sultana 5:45 – 6:00
Damian 'JR Gong' Marley 8:00 – 9:15

Governors Ball Saturday, June 2 Set Times

Honda Stage
The Regrettes 12:15 – 12:45
VHS Collection 1:30 – 2:15
The Menzingers 3:00 – 3:45
2 Chainz 4:45 – 5:45
Galantis 6:45 – 8:00
The Gaslight Anthem 9:15 – 11:00

Gov Ball NYC Stage
Mikky Ekko 12:15 – 12:45 Aurora 1:30 – 2:15
Lany 3:00 – 3:45
Cut Copy 4:15 – 5:45
Halsey 6:45 – 8:00
Travis Scott 9:15 – 11:00

American Eagle Stage
Cuco 12:45 – 1:30
Moses Sumney 2:15 – 3:00
Kelela 3:45 – 4:45
Pusha-T 5:45 – 6:45
Russ 8:00 – 9:15

Bacardi Stage
The Spencer Lee Band 12:45 – 1:30
Jay Electronica 2:15 – 3:00
Japandroids 3:45 – 4:45
Manchester Orchestra 5:45 – 6:45
Silk City 8:00 – 9:15

Governors Ball Sunday, June 3 Set Times

Honda Stage
Alice Merton 12:15 – 12:45
Berhana 1:30 – 2:15
The Struts 3:00 – 3:45
Margo Price 3:45 – 4:45
Third Eye Blind 4:45 – 5:45
N.E.R.D 6:45 – 8:00

Gov Ball NYC Stage
Confidence Man 12:15 – 12:45
Middle Kids 1:30 – 2:15
Aminé 3:00 – 3:45
Khalid 4:45 – 5:45
CHVRCHES 6:45 – 8:00
EMINEM 9:15 – 11:00

American Eagle Stage
Knox Fortune 12:45 – 1:30
Billie Eilish 2:15 – 3:00
Kali Uchis 3:45 – 4:45
Vic Mensa 5:45 – 6:45
Lil Uzi Vert 8:00 – 9:15

Bacardi Stage
Westside Gunn & Conway 12:45 – 1:30
Quinn XCII 2:15 – 3:00
Dirty Projectors 5:45 – 6:45
Sylvan Esso 8:00 – 9:15