Who Is Captain Marvel & What Can We Expect From Her First Standalone Film?
We break down her origin story, powers and her role in the Marvel Cinematic Universe.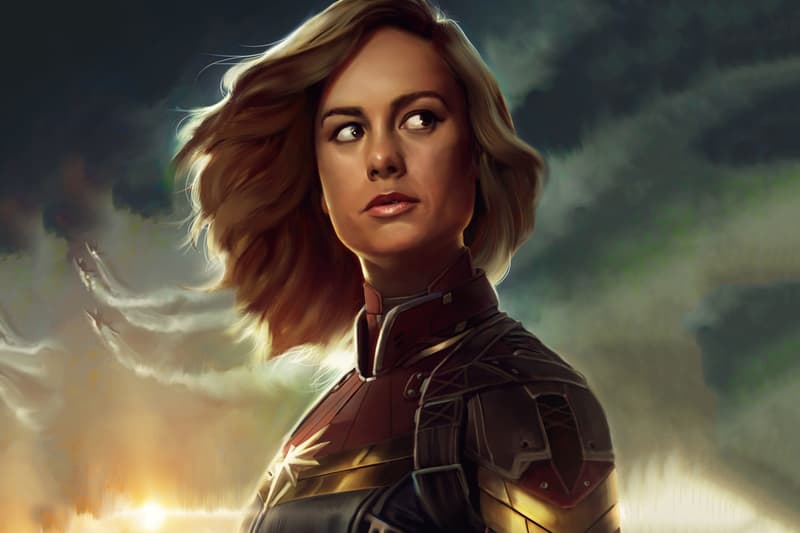 Warning: Spoilers ahead.
The ending of Avengers: Infinity War left fans with some emotional distress and more importantly, a ton of questions that demanded answers right away. One of those questions deals with how some of the heroes that "perished" in the film could possibly come back. In reference to the movie's final cutscene, however, two other crucial questions arise: For one, who is Captain Marvel? And two, what is her role in all of this madness?
In the Infinity War post-credit scene, viewers find Nick Fury alongside Agent Maria Hill driving through New York City while Thanos's plan to eradicate half the universe is in effect. As people dissolve into dust, car accidents are unfolding and a helicopter crashes into a building, reflecting how abrupt the eradication of humanity is. Fury and Hill are left puzzled as to what's happening and Hill herself begins to crumble into nothing, leaving Fury on his own. As Fury frantically pulls out a messaging device, people around him also begin to disappear and he too finally turns to dust. Luckily, Fury was able to input what looks to be a distress command onto the device that has now dropped to the ground. The pager-like instrument's screen then shows Captain Marvel's iconic symbol which then dissipates to black.
With the completion of Avengers: Infinity War, hype and mystery surrounding Captain Marvel has skyrocketed. Marvel fans, both old and new, are itching to know more about the newly-introduced heroine's backstory, powers, weaknesses and, of course, her place in the Marvel Cinematic Universe. It's been quite the masterful setup by Marvel and it looks like the studio is gearing Captain Marvel up to be the next key franchise and character in Disney's foreseeable future.
The Big Setup
The past 10-year culmination of the majority of Marvel Studios' films has ultimately led to the telling of the Infinity War story. The timeline of all these projects up until now has also been used as a platform for Captain Marvel's subsequent introduction. Nick Fury practically introduced fans to Phase 1 of the Marvel Universe with the "Avengers Initiative" — the formation of key characters that include Iron Man, Captain America, Thor, Hulk, Black Widow and Hawkeye. Now, fast-forward to Phase 4, we see Captain Marvel as that character to take the Marvel Cinematic Universe to an entirely new direction.
The Marvel movie franchises have been pushed from earth right into the outer reaches of the universe thanks to films like The Guardians of the Galaxy, Thor and Doctor Strange. Now, with Thanos at hand and the theory surrounding the Soul Stone, viewers could expect a Captain Marvel plot that extends beyond the physical realm. Everything will practically be fair game between heroes and villains and it all relates to Ms. Marvel's comic book origin story and powers ushering in a crucial and exciting Phase 4 for the MCU.
Origin Story
In the comics, Captain Marvel introduces us to Carol Danvers, a United States Air Force officer who gets her powers when a machine created by the alien race called Kree explodes. As the disaster unfolds, the powers of a Kree hero named Captain Marvel (real name spelled, Mar-Vell) transfers over to Carol who then becomes a superhero herself. She originally takes the name Ms. Marvel but later adopts Mar-Vell's old alias, Captain Marvel, instead.
For the film, releasing in March of next year, some major changes to Captain Marvel's origin story in comparison to the comics will be made. The plot is being revamped largely due to the fact that the origin tale itself is quite similar to the story of Green Lantern, a DC Comics hero. In a 2016 interview on the Any Time With Vin Forte podcast, Guardians of the Galaxy co-writer Nicole Perlman said, "If you were just going to do a straight adaptation of the comics, her origin story is very similar to Green Lantern. And obviously, that's not what we want to do." With DC Comics being such a main competitor to the Marvel brand, this was a no-brainer strategy for the studio. "There's a lot of reinvention that needs to happen, Perlman continues. "We have to be aware of what's happened in other Marvel films and makes sure that her particular storyline is unique and fun and also fits in within this world that's going on at the same time."
Powers
In terms of Captain Marvel's powers which fans are excited to know about, it's evident in the comic books that she possesses the abilities of flight, enhanced strength, durability and the skill to shoot concussive energy bursts. These attributes are laid out in the heroine's official Marvel bio. So in relation to her strengths for the official film, Marvel President Kevin Feige had already officially said in an interview that, "With Captain Marvel, she is as powerful a character as we've ever put in a movie." It will be fascinating from a fan's perspective how her abilities from the comics will be translated by the film. "If you had the collector cards of the Marvel characters and you could see the power levels, she would be off the charts compared to anyone that we've previously introduced in a film." Feige claims in another interview. However, the question remains, is she powerful enough to take on Thanos?
Mar-Vell, the alien hero Carol Danvers gains her powers from, had a scuffle with Thanos in a 1970s story that involved the wish-granting Cosmic Cube (the Tesseract in the MCU). That storyline follows Thanos using the cube's power to take over the world, however, Mar-Vell wins the duel and eventually destroys the cube, retroactively setting everything back to normal prior to Thanos getting a hold of it.
Mar-Vell's power, and by extension his conflict with Thanos, could be directly adapted for Captain Marvel's debut. According to his official Marvel bio page, Mar-Vell can "metabolize solar energy and convert it for a variety of uses, including superhuman strength, the projection of photon energy blasts, and flight." Mar-Vell also possessed Cosmic Awareness, which could increase his intellect, granting him limited precognitive powers and the ability to ascertain an opponent's weakness. At one point, he also had the ability to "teleport and cast illusions."
Film Expectations & Theories
So far, we know that Captain Marvel is slated to premiere March 8, 2019, after the launch of Ant-Man and the Wasp and a month before Avengers 4. Brie Larson will play Danvers and the movie will be set in the 1990s. Captain Marvel will also see Samuel L. Jackson reprise his role as Nick Fury. Other characters said to come back for this timeline are Agent Coulson played by Clark Gregg and Ronan the Accuser — the Kree villain from Guardians of the Galaxy — played by Lee Pace.
Captain Marvel's introduction will mark drastic changes for the MCU going forward. Not just because it will bookend Phase 3 of Marvel's films, but it will also open countless world building possibilities. The heroine as a cosmic character could broaden the franchise's cinematic universe into uncharted territories. For one, it's been speculated that the quantum realm — an alternate dimension only accessible through magic or subatomic shrinking — in the first Ant-Man movie could be vital to the Captain Marvel film's plot. We could see this theory develop in the upcoming Ant-Man sequel. In fact, quantum physicist and Marvel consultant Dr. Spiros Michalakis has mentioned how the quantum realm will play a major role in Ant-Man and the Wasp as well as in Captain Marvel. "This is exciting for the future. There are different ways that some of these ideas appear on-screen in a few years," says Michalakis. "Not just for Ant-Man, but also for Captain Marvel and all of the Marvel Cinematic Universe."
Another well-supported theory of how Captain Marvel will shape the upcoming Phase 4 is that the heroine might actually be in possession of the Ego Stone, a lesser known Infinity Stone from the comics. It's capable of rebirthing the omnipotent Nemesis from which the stones originated. A Reddit post suggests that this could be the source of her power, similar to how Scarlet Witch's powers derive from a stone as an alternative to the comic's explanation. This newly introduced stone could be the means of retrieving the heroes from the confirmed Soul Stone pocket dimension.
Marvel Studios has tons of storylines it can pull inspiration from in the company's comic book world. This means the possibilities are endless when it comes to future film releases. The debut of Captain Marvel is evidently an important stepping stone for other fan-favorite comic stories to reach the big screen, too. What's more crucial now, however, is that with the character's extremely hyped tease in Infinity War, Disney could be focusing on Captain Marvel to be the next face of the franchise. There have been talks of Iron Man and Captain America's fate coming to an end in Avengers 4. If that is indeed the case, then Captain Marvel will ultimately redefine Marvel's future not having to heavily rely on super mainstream characters like Cap and Iron Man who have already six standalone films between them. Captain Marvel could be that crucial refresh of characters the studio needs in order to build a more fruitful future for the Marvel name as a whole.