10 Drops You Don't Want to Miss This Week
Palace snakeskin loafers, Supreme tees, KITH's "Utah" collection, Raf Simons and more.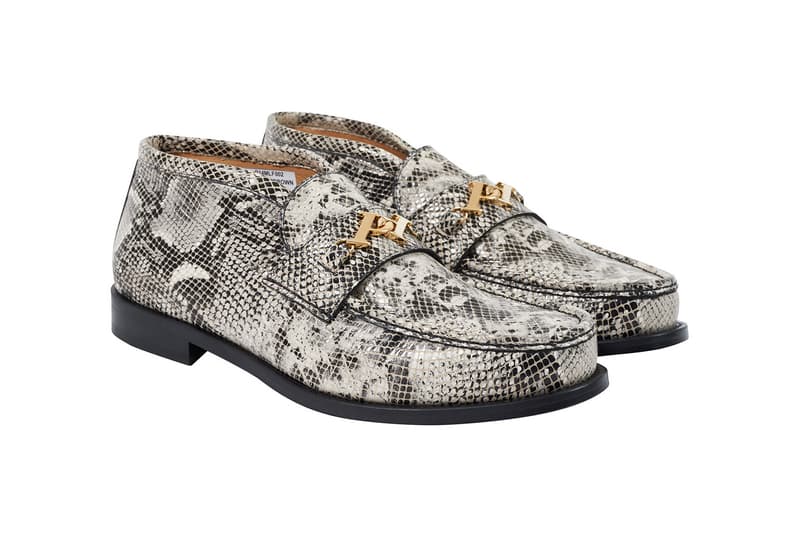 Supreme usually takes the lead in our weekly drops roundup, but despite this week's daring Nan Goldin x Supreme release, it was Palace that had us itching to cop — most notably, for the Palace Spring 2018 snakeskin loafers with the gold-tone buckles. Of course, Supreme didn't disappoint with a few notable main collection pieces, such as the 3M reflective stripe work jacket and the logo-heavy matching hoodie and sweatpants, which will surely catch eyes. Another top contender is KITH, which released a massive "Utah" collection featuring a slew of weather-ready collaboration pieces with Columbia Sportswear, adidas, TUMI, Oakley and G-SHOCK — together, forming the Element Exploration Agency (EEA).
The grunge category finds notable drops including Raf Simon's Spring/Summer 2018 Joy Division and Blade Runner pieces, and Hyein Seo's macabre-inspired collection. On the more eccentric side, we have GAIKA's Armour In Heaven collection — which features experimental prints and materials such as a latex, metallic and "Petrol Camo" — as well as South2 West8, which released some whimsical sheer mesh tie-dye and trek-print outdoors gear.
Raf Simons Spring/Summer 2018 Pieces
The newest drop from Raf Simons's Spring/Summer 2018 collection features graphic pieces that pay homage to '70s English rock band Joy Division and associated act New Order, as well as cult film Blade Runner. The highlight pieces include the Convertible Joy Division Unknown Pleasures two-piece hoodie, which features Peter Saville's iconic album artwork and a detachable panel and silver press-stud fastening; the Black "Replicants" Parka, which features a graphic print on the back of a scene from Blade Runner 1982; as well as the text-emblazoned Black Wording Classic Hoodie.
When: Available now
Where: SSENSE
Hyein Seo Spring/Summer 2018 Collection
Hyein Seo's Spring/Summer 2018 collection, titled "Don't Deliver Us From Evil," takes on a macabre theme featuring dark graphics, distressed detailing and baroque accessories. The collection pieces remix familiar streetwear silhouettes — hoodies, bombers, graphic tees and pullovers — with modern cuts and intricate embellishments. Highlights include the white Layered Lab Coat, the Green Ribbon Bomber Jacket, the grey Slashed T-shirt, as well as the beaded bags and theological accessories.
When: Available now
Where: /017
Brain Dead Spring/Summer 2018 Collection
This week sees the release of Brain Dead's Spring/Summer 2018 collection. In tune with upcoming Summer months, the collection is chock-full of bold graphics and bright colors. The L.A.-based brand's use of collaging can be seen across a number of tees, long sleeves and pants, while pieces like the corduroy-collar work shirt, knit beanie and hoodie make for a perfect choice for the colder nights. Standout mentions include the branded studio tape and collaborative AIAIAI headphones.
When: Available now
Where: Brain Dead web store
UNDERCOVER x Cream Soda Collection
Building off the steam of its recently-uncovered collaboration with Supreme, UNDERCOVER now teams up with Cream Soda for its Spring/Summer 2018 collection. Taking us down memory lane to the early days of the Ura-Hara movement in Tokyo, the collection merges UNDERCOVER's signature punk/underground aesthetics with Cream Soda's love for rock and roll. In the capsule we see the two brands come together in the form of animal print jackets, black denim jackets, and a pair of all-over-print shoes — all featuring Cream Soda's Jolly Roger insignia. Although rather small in terms of quantity, the capsule is sure to appease the two brands' cult following.
When: Available now
Where: MADSTORE UNDERCOVER stores and UNDERCOVER stores
GAIKA's Armour In Heaven Collection
UK musician and artist GAIKA has launched his new clothing label, Armour In Heaven, which is made in collaboration with MA Menikmati. Inspired by the dystopian future, the collection garments are created as a uniform for a fictional biker hang existing after the fall of civilization. The range features experimental prints and materials in avant-garde silhouette. Highlight pieces include a latex shawl, a graphic-print shell agility suit, a "Petrol Camouflage" tracksuit and a metallic "Deflection" jacket. Make sure to also read GAIKA's explanation of his new fashion concept.
When: Available now
Where: Armour In Heaven web store
Levi's Made & Crafted Spring/Summer 2018 Collection
Levi's' Made & Crafted line has launched its Spring/Summer 2018 collection, which draws inspiration from Japanese surf culture and the label's California home state. The expansive range features a selection of casual wardrobe essentials, including hoodies, crewnecks, button-down shirts and a variety of denim pieces. Light hues and tropic flower patterns are incorporated on several of the pieces, as well as traditional Japanese Shibori indigo dyeing techniques. Signature Levi's jeans are also offered in a variety of cuts and washes, ranging from classic to more modern.
When: Available now
Where: Levi's web store
South2 West8 Spring/Summer 2018 Collection
Japanese outdoors-centric label South2 West8 has released its Spring/Summer 2018 collection, which takes on a whimsical interpretation of nature and utilitarian-inspired gear. Never one to shy away from mixing bold patterns, South2 West8's latest lineup sees colorful camouflage pieces, sheer mesh vests and pants in vibrant tie-dye and trek-inspired prints, and a selection of Tenkara jackets and vests in classic khaki, beige and black options. Many of the garments, such as the "Real Tree" print River Trek Jacket, feature functional properties such as being waterproof and boasting many pockets and compartments.
When: Available now
Where: Nepenthes online store
Supreme Spring/Summer 2018 Drop 6
Admittedly, this week's Supreme drop is a bit more low-key. In addition to the Nan Goldin x Supreme pieces, mainline releases include a 3M reflective stripe trucker jacket and logo-emblazoned matching hoodies and sweatpants. However, for those awaiting 'Preme summer tees, you're in luck as the NYC-based skate giant just revealed one photo option touting a kid football player portrait and another featuring a pink retro T.V. alongside a small red box logo. Lastly, Supreme has quietly released a new accessory — a branded square illusion coin bank with a box logo magically floating in the middle. Nostalgia from the late 20th century, the toy is a box for collecting coins that seemingly disappear as you insert them.
When: March 29 — 11:00 am GMT (for London), 11:00 am EST (for NYC)
Where: Supreme NYC, LA, European locations and online at Supreme's web store
KITH "Utah" Collection
After dropping a teaser video dubbed The Voyager: An EEA Film, KITH has officially unveiled its full "Utah" collection. This time, Ronnie Fieg went the full mile with a slew of collaborative pieces courtesy of Columbia Sportswear, adidas, TUMI, Oakley and G-SHOCK. The performance-geared collection includes apparel, footwear and accessories, with notable pieces in pastel and bolder color palettes. Notable mentions include the Columbia Sportswear garments (the Chuting Jacket, Santa Anna Windsuit and Powder Fleece Pullover), the TUMI luggage pieces, as well as the adidas footwear models (the Terrex Jawpaw Slip-On, Agravic and Response TR BOOST).
When: March 30, 11:00 am EDT
Where: KITH locations and KITH online store
Palace Spring/Summer 2018 Release
The latest drop from Palace's Spring/Summer 2018 collection offers up a nice selection of bright-colored sportswear staples and more formal options perfect for the upcoming Easter weekend. The stars of this week's drop are the gold "P" buckle snakeskin loafers, which are offered in light grey, the neon Alsan shell track tops and shorts, and the multi-color striped Crew Bando sweatshirts. Other pieces such as the striped T-shirts and Sweat Adjusto pullovers are clean options for any essential wardrobe, while the gold double-pendant chain offers a little bit of polish. Check out the Palace Spring/Summer 2018 lookbook, shot by Juergen Teller, to see how the pieces fit.
When: March 30 (London 11:00 a.m. GMT; New York 11:00 a.m. EST)
Where: In-store and online at Palace's web store