Young Thug Speaks out on the Fight Against Poverty
"I look like Santa Claus, because I'm just giving everyone something."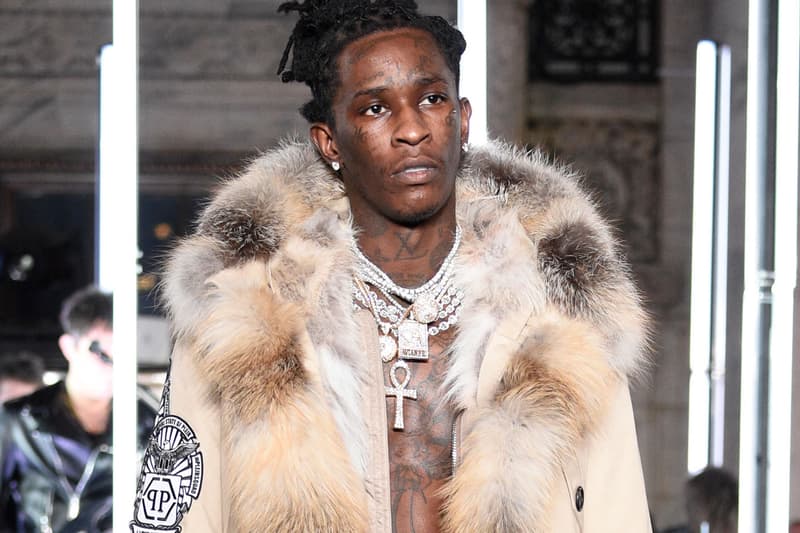 Young Thug is well-known for his distinctive, gender-defying luxurious style, but the rapper alongside his fiancée Jerrika Karlae have a deep-seated and very personal tie to poverty. Although the two are doing well for themselves now they never forget their humble roots, manifesting in their personal fight to fix the issue of poverty. With the holiday season just around the corner the two recently sat down with PAPER Magazine to discuss the importance of providing for one another, their own experiences with monetary hardships, and how they're tackling poverty on a global scale this coming year.
Young Thug and Jerrika Karlae's interview appears in PAPER Magazine's latest 'Outspoken' issue, which is available for purchase here. Take a look below for an excerpt from the interview.
YOUNG THUG: [The fight against poverty] is important and means a lot to me, because it is a part of my background. Where I'm from is real poverty. My mama had 11 kids, and when you have that many kids, you're going to experience hard times. We all got it though — my friends and I were robbers.We were bad ass kids that took everything we wanted.

JERRIKA KARLAE: We both come from very humble beginnings. We strongly believe that we now have been blessed with the means to help people, whether that is financially or by bringing awareness.We both come from backgrounds where we have experienced not having much and watched our parents work hard and struggle to provide. My mom has always worked hard to make sure I had everything I needed growing up. I'm sure she had moments where she was stressed out about bills, like most people, but she did a good job of always making sure I didn't want for nothing.

YOUNG THUG: I never want my kids to feel like they don't have anything. I had my first child at 14/15, so you can only imagine [what it was like in the beginning]…When you're poor you do anything to survive. You rob and take… Now I can give my kids anything they want… The holidays are when families make the most memories. It's the one time of year when the family comes together to celebrate something. Our families celebrate Christmas and food is always the center of Christmas Day. But when you don't have food, the day just seems off.You're not just going to sit and look at each other — you want to be able to eat and laugh [in the company] of your loved ones.

I think people only care about what affects them. It's selfish, but I think it's the truth. If they are not affected by being poor, they don't typically fight for it. I remember not having anything, so I want to always stay involved.Whenever I go back to my side of town — Cleveland Ave [in South Atlanta] — I know I have to bring money, because there'll be friends or cousins or people I knew from 6th grade who are going to ask me for money. My fiancée always says I look like Santa Claus, because I'm just giving everyone something.

JERRIKA KARLAE: He has such a big heart, if I didn't stop him sometimes he would give away everything. He just wants everyone to feel good.