Kylian Mbappé: "I'm Not Doing Anything Exceptional"
On becoming a next generation leader.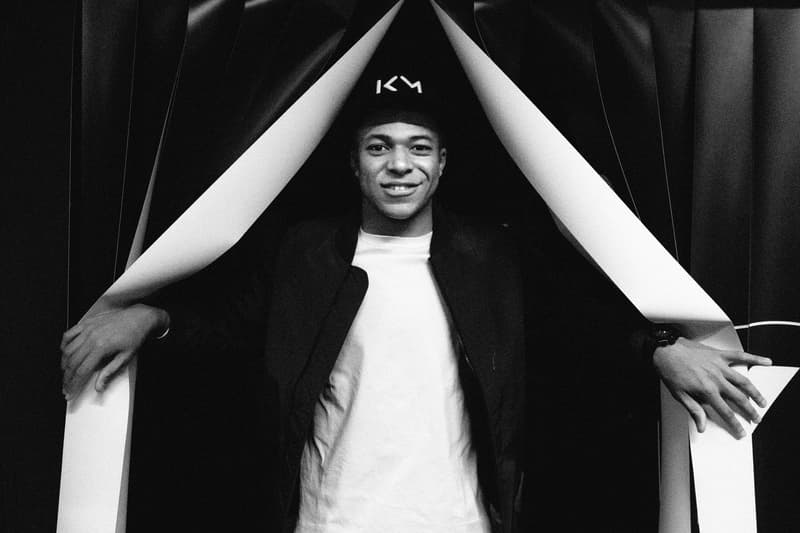 Renowned footballer Kylian Mbappé enters the MK2 François-Mitterrand cinema greeted by the deafening sound of children chatting his name.
It's a Wednesday afternoon in Paris and 400 young fans throughout the city have been brought together by Hublot for its FIFA 19 tournament for youth. As always, the bright young player instantly lights up the room with his infectious smile and playful personality; a welcomed joy considering the footballer must be tired from his constant travel with Ligue 1 champions Paris Saint-Germain. Mbappé's love for the youth is instantly seen as his warm welcome to fans heightens the mania that is swimming throughout the room, increasing the admiration from his young fans by tenfold. Of course, being a teen idol suits him perfectly.
Taking the briefest of breaks from selfies and playing videos games with his admiring fans, Mbappé caught up with HYPEBEAST France to touch upon life as a FIFA World Cup Champion and being an inspiration to the youth, though he believes he's not doing "anything exceptional."
"I was in their place not so long ago."
"It is a pride to feel this energy, this admiration," he assures us when referring to the packed venue. "I was in their place not so long ago. I was lucky enough to experience these kinds of moments many times before, so I know how it feels to finally meet a player I admire. I feel adored and supported by the youth. It really is a source of motivation for me to continue to do what I do and to go as far as I possibly can." Often reminding himself to "follow his dreams," Mbappé also makes sure to have fun with the inspiring youth and to "share good times."
Kylian, between this event and your association with Premiers de Cordée (a charity that provides free sports instruction to disabled children and hospitalized children), you seem very invested in today's youth.
"I am one of the privileged. I have been very privileged since the beginning and I think all children should have a chance to be on equal footing; that's why I have dedicated myself to them and I hope to continue doing so as long as possible."
During these types of events, where you get to meet young people, do you give them special advice?
"No I don't usually give them advice. At a young age, we don't care that much about life advice. What they want to do is to have fun, enjoy life. So I just try to be with them, make them laugh and joke with them; that's the most important thing. I think this makes more of an impact on them, instead of saying 'do this, do that.' But if I had to give them some advice, it would be to follow their dreams; I have always followed mine and I still follow them to this day. So if I have any advice to give them, it's simply that."
Are you aware that you are the equivalent of a post-1998 Zinedine Zidane for a whole generation?
"It's a pride to feel this kind of admiration. I will try to continue to perform well on the field, and to respect everything that happens around it; to be a model for these young people."
From an idol to generation leader.
Idol. This is the role which many imagine Mbappé to be more at ease in than any other aspects inherent to his daily life; while the title of World Champion could weigh heavy on the budding star, turning him instantly into a media object. "It's okay. I'm trying to get by, it's okay for now," he reassures us on his catapulted fame. But all in all, it's all the accomplishments made by the young star that has people talking. In addition to winning the World Cup held in Russia this past summer, Mbappé placed 4th in this year's Ballon d'Or competition and won the Kopa Trophy, which is awarded to the best performing player under the age of 21. Other than that, he holds many other records including recently becoming the most expensive footballer on the market. Just ahead of his 20th birthday, he is already seen as the future best player on the planet.
To solidify Mbappé's impact on the world, Time Magazine recently chose the young star for its latest cover story. Aimed at spotlighting the "Next Generation Leaders," the print went on to state he is "more than an extraordinary football player for the French," but also that "he is a living rags-to-riches fairy tale." Vanity Fair also paid similar sentiments, naming him the third most influential French personality of 2018, just in front of French president, Emmanuel Macron.
As an idol, can he become the leader of the next generation? Mbappé accepts this task openly. "This admiration is also my responsibility. We must show exemplary behaviour to make things happen. Leading is a challenge that I take on everyday, but I am happy to lead," he assures us.
"Champions inspire young people more than we inspire each other."
With ease Mbappé delves further into his new found titles and success. "I feel like I'm doing nothing exceptional. People will say the opposite, but I just think I'm living my dream. I have always dreamed of having this life and I am living my dream thoroughly. I am happy to do what I do, much like the people who have their own dreams in other fields. I'm sure it's because football has become more publicized and its fanbase has grown, which is why more attention is placed on me. But I don't think I've done anything extraordinary," he explains.
When asked who else will accompany him among the leaders of tomorrow, and if there is anyone he himself admires, he pauses for a moment to think. "LeBron James, Roger Federer, Cristiano Ronaldo, that range," he finally says. "When you're young, you're inspired by the champions, the people who have made their mark on their discipline, their demands, the sacrifices they had to make to get to where they are, to get beyond their talent. I think that's what inspires young people, rather than admiring ourselves." Already on course to becoming the next champion himself, the room is unsurprisingly filled with children looking up to him with admiring eyes. Though he is still young, Mbappé has managed to go beyond the greatest expectations placed upon him.