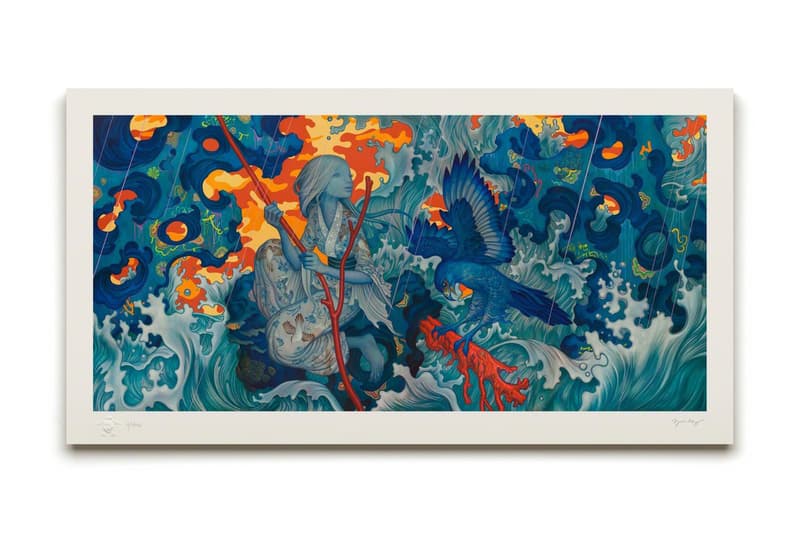 Advent Calendar Day 8: James Jean 'Adrift' Artist Proof Print
Another chance to own the print that will never be released again.
---
LA-based, Taipei-born artist James Jean is internationally-renowned for his highly-detailed paintings that portray otherworldly figures, creatures, and foliage set against dreamy landscapes. Apart from creating large-scale paintings and murals, the artist has been consistent in releasing signed and numbered, time-limited edition prints that are available for only 24 hours and will never be reproduced.
In 2015, Jean released the limited Adrift print (artist proof) sized at 22 5/8" x 42 3/8". The mixed-media artwork features unique special effects and embossments. In case you missed the launch, we teamed up with James Jean to give one lucky winner an artist proof as part of this year's Advent Calendar 2018 installment through our art-dedicated Instagram handle, @HYPEBEASTArt. The winner will receive the piece securely rolled into a shipping tube.
---
To enter, simply follow the steps below
The winners of the Advent Calendar will be announced on December 27.
Open to US Participants only. All prizes won by minors will be awarded to their parents or legal guardians on their behalf.
The maximum number of entries allowed for each daily prize of the Advent Calendar is one (1) per person. You can enter for each daily prize throughout the 25 days. We are not responsible for lost, late, incomplete, invalid, unintelligible, illegible, misdirected or postage-due entries, which will be disqualified.
All participants agree to abide by our website's terms and condition and these General Contest Rules. By participating in the draw, all participants shall be deemed to have accepted and agreed to comply with the revised terms and conditions of the draw. HYPEBEAST reserves the right to suspend, modify, terminate or amend the terms of this draw without further notice. In case of any dispute, HYPEBEAST reserves the rights of the final decision.
Please allow a minimum of 8 weeks for prize delivery.
General contest rules/disclaimer can be found here.