Best New Tracks: Playboi Carti, N.E.R.D, Kendrick Lamar, A$AP Rocky & More
Capping off a big week in music.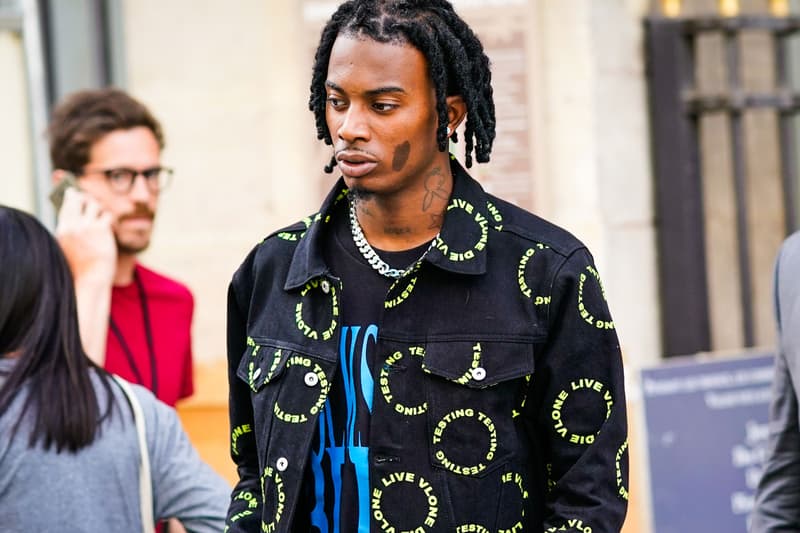 For this week's music roundup, we go over a week that was stacked with noteworthy releases including albums, mixtapes and singles. Arguably the most anticipated project was the release of N.E.R.D's NO ONE EVER REALLY DIES album which caps off weeks of anticipation following the mysterious signs that were spotted all over LA back in October. On the note of legendary comebacks, Eminem made his return with his ninth studio effort, Revival, which may go down as one of his most ambitious projects to date with notable features Ed Sheeran, Beyonce, Alicia Keys, Pink and others.
Aside from the music drops, this week also saw Tyler, The Creator in rare form when he lit up NPR's 'Tiny Desk Series' where he performed an assortment of stripped down versions of Flower Boy songs backed with a live band for the first time ever. Meanwhile, Lil Pump also had a notable live performance of his own after he was spotted throwing a microphone at a concertgoer during a show in Connecticut, just hours after he was on Instagram live roasting local police officers.
Check out our picks for this week's music roundup down below and let us know what you think in the comment section.
21 Savage & Tay-K – "The Race" (Remix)
Despite facing some serious time surrounding murder charges, Tay-K has been one of the most popular and most controversial newcomers in the rap game this year. This week, a remix of his breakout song arrived, and it features 21 Savage and Young Nudy. The revamped version features verses from both rappers as well as Tay-K's original vocals. Listen to it below.
Playboi Cart & Harry Fraud – "Hit a Lick"
After years of sound purveying for rap's pantheon, one of the silent kings of hip-hop production has finally unleashed a new project packed with a star-studded lineup that's nothing less than staggering. One of the instant fan favorites was his Playboi Carti-assisted number, "Hit A Lick." Listen below.
N.E.R.D., Kendrick Lamar & Frank Ocean – "Don't Don't Do It!"
Serving as a prelude to N.E.R.D.'s long-awaited comeback album earlier this week, the iconic trio certainly didn't hold back with the features on this track. Check out the massive squad cut featuring K.Dot, Frank Ocean and N.E.R.D down below.
Brockhampton – Saturation III (Album)
Brockhampton had previously stated Saturation III would be their final album, however on their Twitter this week, they've announced another album for 2018 called Team Effort. If this latest LP is any indication of what's to come on Team Effort, loyal fans are going to be in for a treat. Listen below.
A$AP Rocky & Tom Morello – "FTW (Fuck The World)
As we approach Bright's December 22 release date, Netflix has officially released the Will Smith-starring film's full soundtrack and one the standouts was definitely this A$AP Rocky and R.A.T.M.'s Tom Morello cut. The worlds of rap and rock collide. Listen below.
T-Shyne – "Timing" Featuring 2 Papi
YSL rapper T-Shyne is poised to make 2018 his year after circling the country multiple time on tours with Young Thug and appearing on a number of big records this year. Check out his latest below.
Young Thug & Travis Scott – "Me or Us" (Remix)
Fans discovered the La Flame rework on the vinyl edition of Beautiful Thugger Girls this week and despite it being released in the coming week, you can listen to it first down below.
Kendrick Lamar, J. Cole & Jeezy – "American Dream"
"American Dream" is one of the featured songs on Jeezy's tenth studio album, Pressure, officially out now, but you can listen to it down below. Not to mention, it also features rap heavyweights Kendrick Lamar & J. Cole.
Migos, Young Thug & Zaytoven – "Five Guys"
Zaytoven has no problem assembling an array of top-tier hip-hop artists for any project, including his latest Trapping Made It Happen effort which features this massive "Five Guys" single featuring Migos and Young Thug. Peep down below.
Action Bronson & Harry Fraud – "All I Wanna Do"
One of the silent kings of hip-hop production has released a new project this week and as expected, it might be one of the most stacked line-ups this year. Listen to his Action Bronson-assisted cut down below.
N.E.R.D – NO ONE EVER REALLY DIES (Album)
It has been seven years in the making and this week saw the group comprised of Pharrell, Chad Hugo and Shay Haley make their return with their brand new comeback album, NO ONE EVER REALLY DIES. Press play to listen in below.
Be sure to check out our previous music roundups for the best drops of weeks past.