Best Art Drops: KRINK Hand-Pressurized Sprayer, Tomoo Gokita Works & More
Including Medicom Toy and Javier Calleja's 'F*ck You' BE@RBRICK.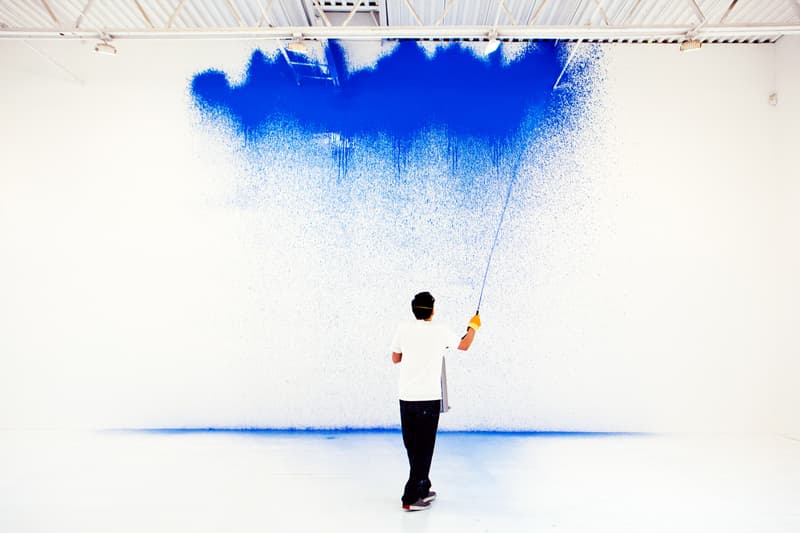 Every week we spotlight the best art drops by leading artists, galleries, museums and contemporary art platforms across the globe. Listed items normally encompass original artworks, prints, collectible figures, collaborative merchandise and more.
For our latest installment: KRINK releases a limited hand-pressurized sprayer, iconic Japanese artist Tomoo Gokita is selling works at the new SHOP Taka Ishii Gallery in Hong Kong, Medicom Toy teamed up with acclaimed Spanish artist Javier Calleja on a bespoke BE@RBRICK, and Nixon just launched a new collaborative watch with Disney and Steven Harrington alongside a partnered skate deck series between Numbers and NYC-based artist Othelo Geravacio.
View the complete list below. Elsewhere in art, Banksy is set to showcase momentous artworks in Hong Kong for a new exhibition.
KRINK Releases New Hand-Pressurized Sprayer
Release Date: Available now on KRINK's website
Release Price: $30 USD
Craig "KR" Costello of KRINK is urging fans to let their creativity loose this 2018 holiday season with his brand's new hand-pressurized sprayer. The paint system features a black plastic body with white KRINK branding. In addition, its wand is made of stainless steel with a brass nozzle for adjustability. Altogether, this latest drop aims to help make large-scale paint projects easier for those interested. "The Sprayer is a hand-pressurized paint delivery system. It will take a bit of trial and error, but once you master the process you can achieve unique marks on a large scale," said the company in a statement.

Tomoo Gokita Sells Rare Works at New SHOP Taka Ishii Gallery
Release Date: Available now at SHOP Taka Ishii Gallery
Release Price: TBC
Taka Ishii Gallery recently opened its new SHOP concept store in Hong Kong. The experimental space is displaying a diverse range of artworks by the gallery's branded artists alongside miscellaneous items. Rotating the works in every three months, the first presentation is currently helmed by seminal Japanese artist Tomoo Gokita. The artist also created a series of new works using acrylic gouache on plywood and paper over publicity imagery. Conclusively, rare sculptural works are also being purveyed alongside apparel items such as collaborative jackets and tees.
Medicom Toy and Javier Calleja Launch Collaborative "F*ck You" BE@RBRICK
Release Date: Available now at e-comm sites like Rakuten
Release Price: $105 USD
Medicom Toy joined forces with celebrated Spanish artist Javier Calleja on a special-edition BE@RBRICK figure. The bespoke collectible mimics the visual traits of Calleja's signature child-like paintings. For a dark twist, the artist embellished the T-shirt worn on the figure with the words "FUCK" and "YOU" across the front and back sections in red lettering. As a whole, the figure is available now in dual-sizes — 100% and 400% — as a set for a limited time only.
Nixon and Disney Drop New Steven Harrington Watches
Release Date: Available now at select stockists
Release Price: $275-$750 USD
Nixon and Steven Harrington are collaborating on a pair of special-edition watches as part of Disney's worldwide "Mickey the True Original" campaign to celebrate the iconic mouse's 90th birthday this year. The bespoke timepieces feature the LA-based artist's signature motifs in a harmonious composition with Disney's leading mascot. Both watches are also numbered on the casebook, with a limited run of only 100 of each model (Arrow Milanese for $275 USD and the 51-30 for $750 USD).
Numbers Enlists Artist Othelo Gervacio for Limited Edition Skate Decks
Release Date: Available this week at Numbers' online shop
Release Price: TBC
Eric Koston's Numbers Edition recently joined forces with rising New York City-based artist, Othelo Gervacio, on a limited range of skate decks. A total of four skateboards have been designed with all-over printed graphics portraying Gervacio's unruly typography and puckish subjects such a tombstone emblazoned with the peace symbol. The artist is known for his previous collaborations with well-known labels such as Off-White™, Alchemist, and New York Sunshine.