Anti Social Social Club Reportedly Owes Over 1,000 Customers Their Merchandise
The community speaks out on what exactly is going on.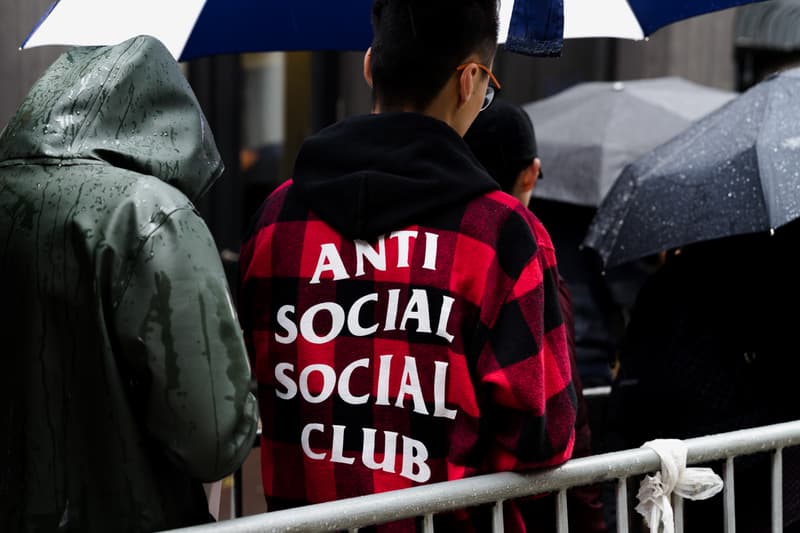 Earlier this week, HYPEBEAST took to Instagram asking readers to share shipment-related issues from Anti Social Social Club and other fashion brands. At the time of publication, at least 1,320 users reported they had yet to receive orders from this summer's July 4 drop and at least 500 users reported they experienced two months of shipping delays before receiving their orders. According to analysis based on comments, the average value of missing orders is $380 USD, bringing the estimate of total unaccounted for merchandise close to half a million dollars. Anti Social Social Club and founder Neek Lurk denied to comment.
Although the overwhelming majority of comments were negative, several users also chimed in to express they received their shipments from ASSC on time and had positive customer service experiences. And while issues were mostly tied to the July 4 drop, some customers referenced poor experiences dating back to earlier collections.
As far as delays go, the ASSC website does warn of long shipment periods, asking to allow "14-24 business days of shipping and handling" and "7-10 days for delivery once item is shipped out," totaling to a maximum of 34 business days per the website's disclaimer. Yet now almost 60 business days since the drop, thousands of units have yet to reach shoppers.
The hype behind streetwear has arguably built this bed itself. The wait has become part of the game — whether it's in line to cop a new drop, frantically refreshing a browser page on Thursdays at 11 a.m. EST, or spending weeks complaining about missing items. "ASSC is well known for long ship times, but do you really want your product the next day — or do you want to lurk on Neek's IG where he's pushing fat whips, and smoking exotic cigarettes with supermodels wearing dad hats," questions Oliver Mak, founding partner at streetwear multi-retailer Bodega.
Mak's point echoes several commentators on our Instagram post, who admit the delays with ASSC are widespread knowledge, but haven't been enough to halt orders. Intrinsically, streetwear is driven by the personalities behind brands and the experience tied to each personality, even if that means waiting in frustration as you're out on thousands of dollars. Perhaps even masochistic, streetwear seemingly lives off this paradox.
"Hype is fueling the streetwear trend and redefining the industry by driving the creation of artificially scarce products that are unique and, as a result, become highly coveted," says Robleh Jama, senior product manager on Shopify Garage team, the product team that created Frenzy — a mobile marketplace app that allows retailers and brands to create and execute highly anticipated product releases.
"ASSC is well known for long ship times, but do you really want your product the next day — or do you want to lurk on Neek's IG where he's pushing fat whips?"
Indeed, hype has become a valuable tool to streetwear brands, changing the retail game altogether and igniting a movement so strong that it's reeled in legacy luxury brands like Louis Vuitton and Gucci. Hype is a well-oiled machine and a new wave within the fashion industry has been built on it.
But while streetwear culture somehow manages to convince followers to line up days on end for the off-chance of copping an item, the rest of the world is doing the exact opposite — aiming to deliver to consumers as fast as possible. Companies like Amazon and ASOS have entered the race to make deliveries instantaneous, spoiling shoppers with choice and lowering the tolerance for slow shipping. "With same-day shipping and fulfillment standards increasingly becoming the norm, consumers are becoming conditioned to expect this level of immediacy, regardless of the size or scale of the brand they are purchasing from. It's a really tough situation to be in, especially for young streetwear brands," Jama continues.
So while streetwear aficionados know the long wait is part of the game, they're also privy to the value of solid customer service. In ASSC's case, shoppers have seemingly passed their threshold for waiting, and they've started to ask questions, demand refunds and bombard the brand with emails — many of which have gone unanswered.
2 of 3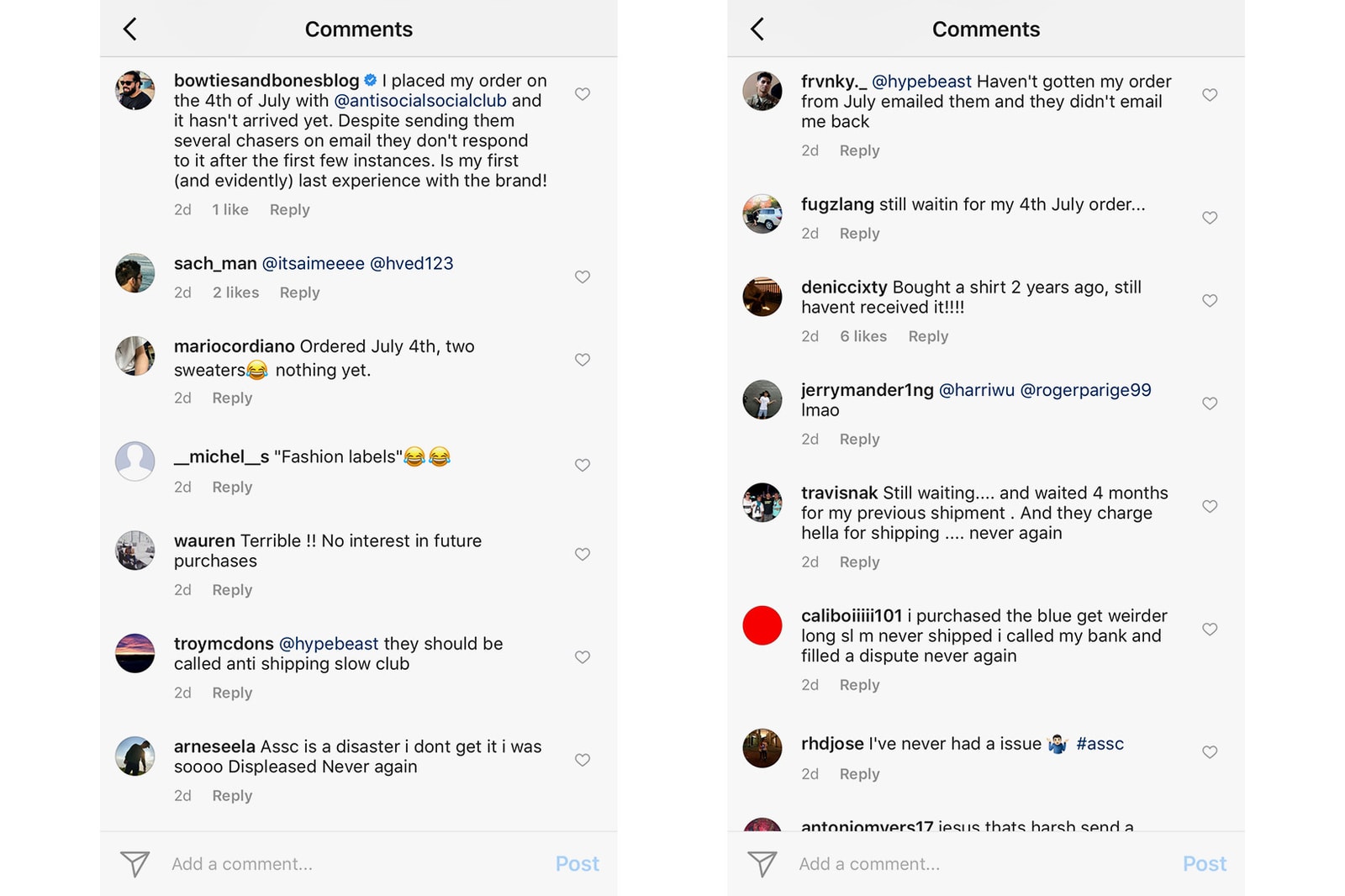 3 of 3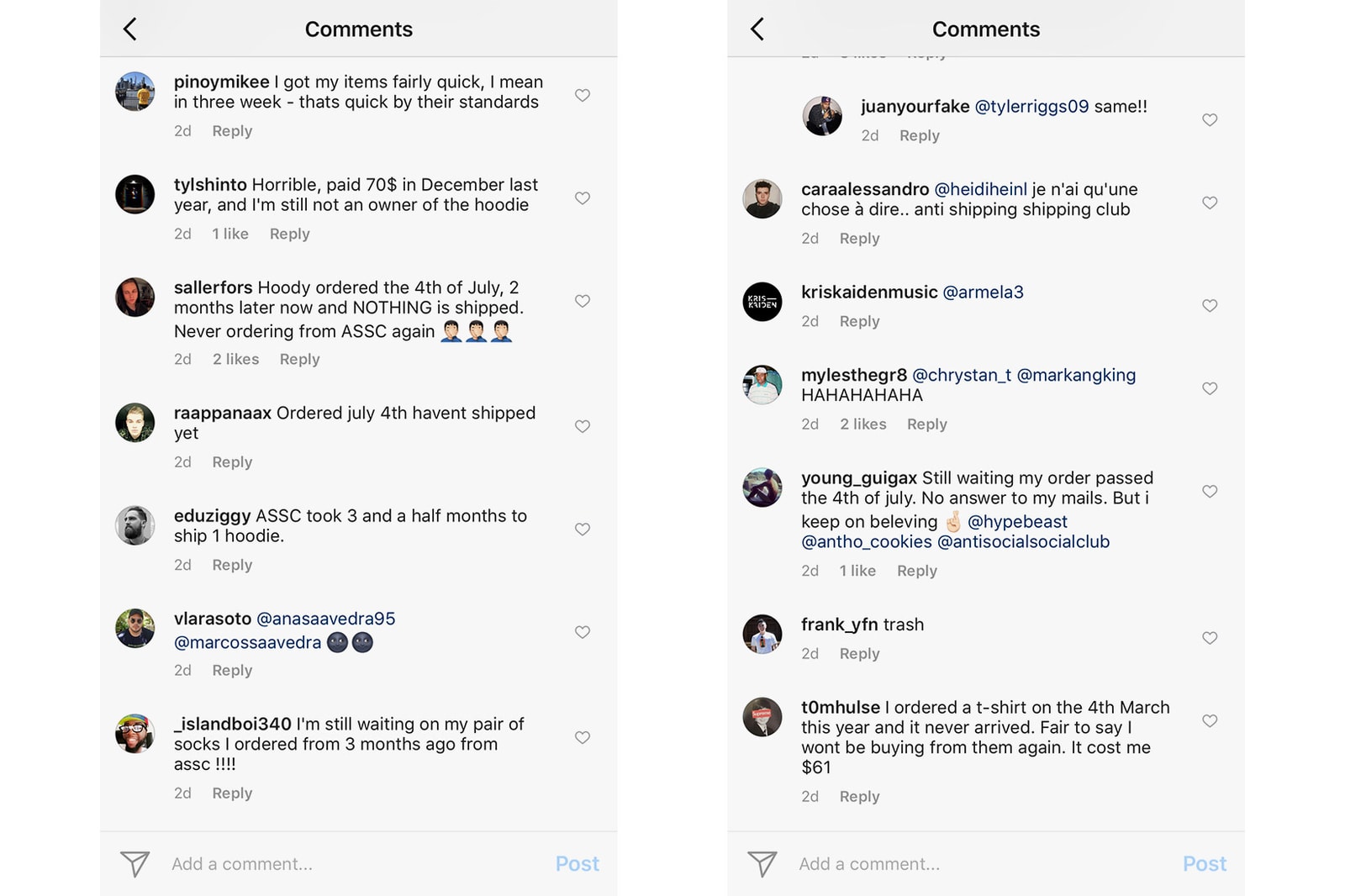 Given ASSC's silence on the issue, the reason for delays can only undergo speculation. One possibility is that ASSC employs a made-to-order model, has become overwhelmed with orders, and is now playing catch-up. According to streetwear experts, direct-to-consumer brands often employ a print-to-order model. This can be a cost-effective way to handle inventory and means brands don't need to front the money to stock their product. But brands also take a major risk with this strategy, as fulfillment can easily go awry.
"It seems like a lot of direct-to-consumer brands print-to-order. In that case, it's not just mailing you your purchase, but the whole process of creating the piece — from ordering blanks, to the printer, then mailing out — that goes into the delivery date," explains Mak. But, according to the Anti Social Social Club website's Terms and Conditions page, "all items on the online shop are in stock," referencing the ones marked available. However, the website also states that "orders will be fulfilled in the order they are received, and therefore may sell out before a certain item is processed." While the language of the latter disclaimer proves difficult to decipher, the two statements are essentially contradictory. Basically, items should be in stock, but they might not be.
"The sophistication of bots can put access and experience at risk for a lot of brands selling these kind of goods."
For small brands just starting out, the logistics of delivery and fulfillment can surely pose issues. Particularly for streetwear brands, who are typically operating with small teams and can experience rapid expansion, growing pains are to be expected. All the meanwhile, the fuel of hype gone mad doesn't make the job easier. Ways to cut the e-commerce line — like bots — have become a popular tool for both resellers and dedicated fans, adding another layer of complexity for young streetwear brands. "For brands that have built a huge amount of anticipation and hype for their online product releases, bots can be a huge problem. The sophistication of bots can put access and experience at risk for a lot of brands selling these kind of goods," continues Jama.
While bots can be difficult to avoid, solutions do exist. Frenzy requires all users to complete their order using Apple ID and a fingerprint scan, but most streetwear brands aren't using this type of technology. Instead, the anticipation of a website crashing, the presence of bots, pumped up resell values and so on, just add to the experience.
But at what point do the byproducts of hype crossover from "the name of the game" into bad business and negligence? Despite the thousands of delayed orders, ASSC is positioned to drop a collaboration with Playboy this weekend. As echoed by comments on Instagram, ASSC could be getting its current orders under control before taking new ones.
And while small direct-to-consumer brands like ASSC can easily cause life-disrupting stress for consumers, brands that delay orders to a retailer pose a whole other set of issues. In these cases, the people who stand the most to lose are not the shoppers, but retailers with businesses to sustain. Indeed, the operations behind fulfillment continuously poses challenges for retailers, and when dealing with smaller brands, particularly streetwear, it must be taken into consideration.
"Customer satisfaction is the delta between expectation and reality. It's fine to be on a wait list if you know it's going to be a wait list."
"A lot of times what you're supporting is an independent artist or collective. For many it's their first business which they're doing as a passion project on top of their daily grind. We love those brands that are just pure expression of a creative soul. Sometimes they're not able to deliver on time but it's never a dull moment," adds Mak, who also points out that shipping and product issues aren't unique to young or smaller brands, but open communication and honesty is key in either case.
Mark Silver, founder of fashion communication agency FACTORY, agrees. "The trick for a small brand is to be honest, explain the issue, and then make it right," he says. But, while certain retailers may be passionate about supporting emerging labels, if communication is absent, a brand can easily lose the support that built it in the first place. "Consequences can be severe. Customer satisfaction is the delta between expectation and reality. It's fine to be on a wait list if you know it's going to be a wait list. But, if you expect something in X period and don't get it for Z , it creates frustration and turns people off the brand," adds Silver.
With Anti Social Social Club, the wait has undoubtedly become a part of the experience — but customer satisfaction has suffered as a result. In line with the feedback HYPEBEAST received, shoppers are growing tired of waiting for their purchases. In the end, streetwear seems to thrive on these twisted pleasures of living life in line. But that doesn't mean enthusiasts don't have a breaking point, and behind that hype is the drive of community and belief in the personality of the brand. When a movement that was founded on the coy and authentic appeal of antisocial tendencies turns into a hype monster, will the hype be enough to ensure its survival?
Chime in below to share your experience with Anti Social Social Club and other brands.