10 Most Notable Dragons in Popular Culture
Some grant wishes, while most simply destroy everything in their path.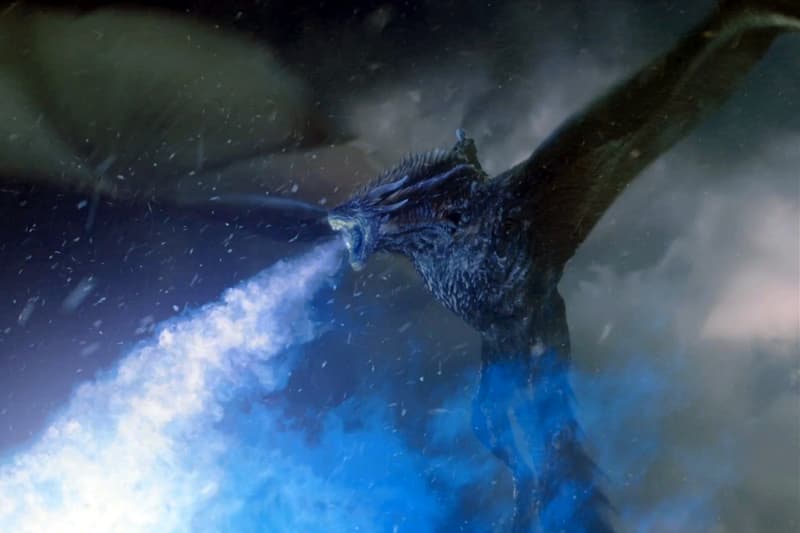 The season finale of Game of Thrones, which broadcasted on Sunday, August 27, ended with (WARNING:
SPOILERS AHEAD) an undead Viserion breaking down the Wall with a stream of blue flames, making way for the Army of the Dead to march south. The Night King has brought Daenerys' beloved beast back to life and this could very likely result in an epic battle with Khaleesi's two remaining dragons, Drogon and Rhaegal.
The last season of Game of Thrones put heavy emphasis on dragons, and it's becoming one of the central themes of the show. Although many dismissed the TV series before it began, it has achieved unprecedented success throughout the years and helped push the fantasy genre to new heights. After all, the David Benioff and D. B. Weiss-created series is one of the few, if the only, mainstream television shows that features fantasy setting of magic, religions, dragons and other supernatural themes.
In celebration of the show's season finale, we've gathered 10 of the most notable dragons in modern popular culture including TV shows, movies, anime and more.
Shenron
Appears in: Dragon Ball
As one of — if not the most — influential anime series in the world, Shenron is one of the most internationally recognizable Dragons of today. Also known as the "Eternal Dragon" and in early English dubs, the "Dragon God," Shenron is summoned when all seven dragon balls of Earth are gathered in order to grant wishes to the gatherer. When the Dragon Balls aren't being used, Shenron dwells in a raging fire deep inside the Earth's core. While by far the most popular dragon of the series, Shenron is not the most powerful, Namek's Porunga, the Black Star Dragon Balls' Ultimate Shenron and the Super Dragon Balls' Super Shenron.
Dragonite
Appears in: Pokemon
Although not as popular as the "flying lizard"-type Pokemon Charizard or the serpentine Chinese dragon-like Pokemon Gyarados, Dragonite is the most recognized true dragon-type Pokemon. Dragonite differs from its sea serpent-like pre-evolved forms, Dratini and Dragonair. Dragonite can fly faster than the speed of sound, allegedly able to circle the globe in sixteen hours. It's a compassionate Pokémon with intelligence similar to that of humans, capable of traits like altruism. However if threatened, Dragonite can also be uncontrollable and destructive despite its friendly demeanor.
Smaug
Appears in: The Hobbit & Lord of the Rings
Smaug, considered the last "great" dragon to exist in Middle-earth, is a fire drake (another term for fire-breathing dragon.) Smaug was attracted to the wealth gathered by the Dwarves of the Lonely Mountain during King Thror's reign, hoarding the treasures to himself for nearly 200 hundred years. A group of Dwarves, along with Bilbo Baggins, managed to get into the Lonely Mountain and wake Smaug up from hibernation. Upon stealing the Arkenstone, the most valuable piece of treasure, Smaug flew in anger to Lake-town upon the Long Lake and brings desctruction upon it. He is ultimately slain by Bard the Bowman.
Viserion
Appears in: Game of Thrones
Viserion, along with Drogon and Rhaegal, was one of the three dragons born in the Dothraki Sea and is named after Daenerys Targaryen's elder brother, Viserys. His scales are cream and gold colored scales he has red-orange wings. In the latest season of Game of Thrones, Viserion gets killed by an ice spear tossed by the Night King during Daenerys' attempt to rescue Jon Snow from the White Walkers and the army of the dead. After the wights retrieve Viserion's corpse out of the frozen lake, Night King resurrects Viserion and he breaks down a large part of the Wall with blue flame. This allowed army of the dead to enter past the Wall into the Seven Kingdoms.
Haku
Appears in: Spirited Away
Nigihayami Kohakunushi, simply known as Haku, is Yubaba's apprentice and second-in-command at the Bathhouse. Although he looks only about 12, he is actually much older since he is the spirit of the Kohaku River. He can transform into a silver flying dragon with a long, serpentine body, deer-like antlers whiskers and a dog-like face. He and movie protagonist Chihiro eventually fall in love, which leads to breaking Zeniba's spell on Haku. After Chihiro recalls her memory of falling into the Kohaku river, he is freed from Yubaba's service because he remembers his real name and past.
King Ghidorah
Appears in: Godzilla
King Ghidorah is one of the most popular villains that Godzilla had to face. First appearing in Toho's 1964 film Ghidorah, the Three-Headed Monster, the monster was originally an extraterrestrial planet-killing dragon. It then was a genertically engineered monster from the future, and later a guardian of ancient Japan. Eventually, director Ishiro Honda revealed that Ghidorah is simply a modern version of the dragon Yamata no Orochi, an eight-headed and eight-tailed dragon of Japanese folklore. King Ghidorah will make its return in the MonsterVerse franchise — a series of monster films featuring Godzilla and King Kong — as shown in the Kong: Skull Island's post-credit scene.
Toothless
Appears in: How to Train Your Dragon
Toothless is a Night Fury dragon belonging to Hiccup Horrendous Haddock III, the protagonist of How to Train Your Dragon. A Night Fury is one of, if not the rarest, of dragon species and can fly over one hudnred miles per hour. He is presumed to be the only living Night Fury on Berk and the Isles. Toothless was initially shot down by Hiccup during a dragon raid in the first movie, where they eventually became best friends. In his fight with Drago in How to Train Your Dragon 2, Toothless turned into Titan Wing Night Fury. Toothless turned into an Alpha and with the aid of other dragons, eventually beat the 520 foot long Bewilderbeast.
Mushu
Appears in: Mulan
Unlike the other dragons on this list, Mushu is not a powerful or large dragon. Featured in Disney's 1998 animated feature film Mulan, Mushu is the companion, guardian and guide of the antagonist. He once acted as a guardian spirit of Mulan's family but has been demoted to the position of an incesne burner and gong-ringer ever since he failed to prevent a family member from getting his head decapitated. Because Mulan's ancestors did not consider Mushu a "real dragon". Mushi is comical and impulsive and convinced Mulan to join the army so that he might be able to regain his position. After helping Mulan defeat Shan Yu, Mushu regained his job as a guardian spirit.
Maleficent
Appears in: Sleeping Beauty & Maleficent
In the original 1959 Disney animated feature film Sleeping Beauty, antagonist and self-proclaimed "Mistress of All Evil" Maleficent transforms into a dragon. The three good fairies cast an enchantment on Aurora's true love Prince Phillip's Sword of Truth, which he throws into the dragon's heart and kills her. In the 2014 fantasy film featuring Angelina Jolie, Maleficent did not transform into a dragon herself. Instead, she turns her raven assistant Diaval into one in order to protect herself from Stefan and his army.
Blue Eyes White Dragon
Appears in: Yu-Gi-Oh!
In Yu-Gi-Oh!, Blue-Eyes White Dragon was the monster ka spirit of Kisara. Kisara had the power of the white dragon sealed inside her and was saved by Priest Seth from a group of villagers who tried to kill her because they thought she was bad luck. She was ultimately killed by Seto's father and her power transferred into the Blue-Eyes White Dragon. It is the signature card of Seto Kaiba (who stole it from Yugi) and most of his deck revolves around ways of summoning it. Only four cards exist.