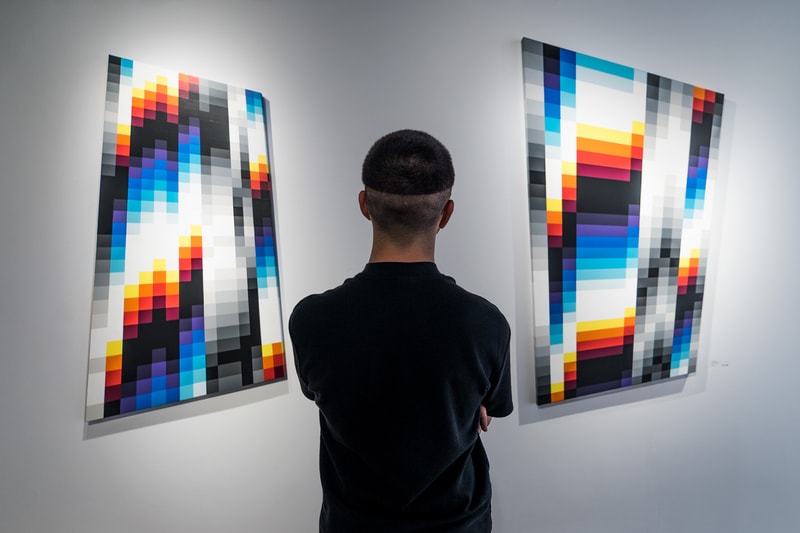 Felipe Pantone Wants to Create Artwork That Transcend Physical Boundaries
The enigmatic artist offers personal gems at his new "PLANAR DIRECTION" exhibit.
---
"I'm a boring painter," said Felipe Pantone at the opening of his new exhibit titled "PLANAR DIRECTION" at Station 16 Gallery in Montreal, Canada. Nowadays, the acclaimed artist is more captivated about creating art through technological means rather than traditional art practices such as painting. In fact, the Internet means everything to Pantone who is widely known for creating pieces inspired by computer-generated graphics, colorful glitches and jagged grids. Not long ago, he painted the largest painted QR code mural in the world. It's safe to say that as technological advancements arise so does his quality of work.
The digital-influenced Pantone has painted for an incredible 17 years. He first studied art in England for about a year but decided to leave because he felt it was pointless. Instead, he delved into graffiti and surrounded himself with notorious street artists in Valencia, Spain. Pantone honed in on creating public murals that blend kinetic art with contemporary hyperrealism. He is currently a part of the legendary UltraBoyz crew made up of boundary-pushing artists from Paris and Belgium such as Kool Func 88, Dems and Sawe to name a few.
We caught up with Pantone at MURAL Festival 2017 to discuss his new exhibit and find out all the ways he's developing his artwork.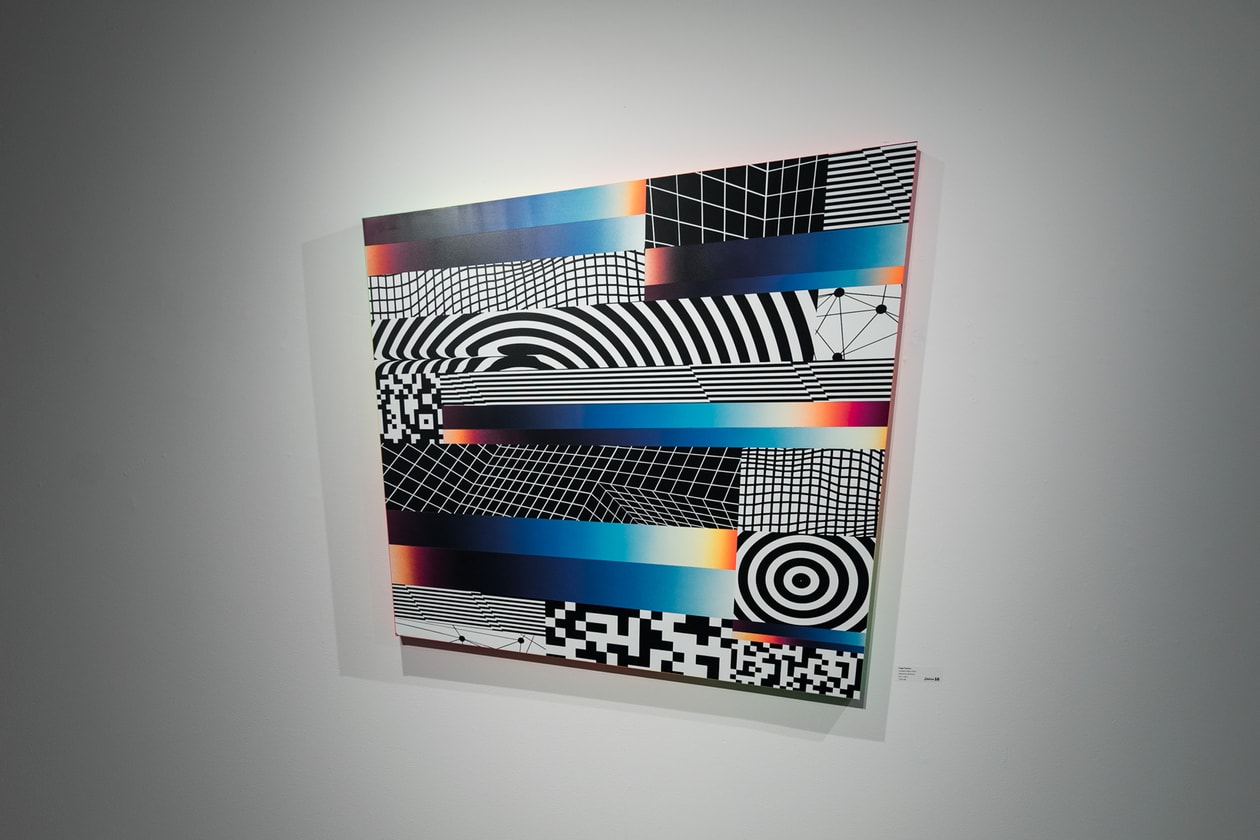 What's the inspiration behind "PLANAR DIRECTION"?
I always try to give a twist every time I do a new project and every exhibition for me is like an album. It has its title and a whole new concept, hopefully. This one is called "PLANAR DIRECTION" because it's basically the same visually and not changing much from my previous exhibitions. However, I gave it a little twist with the surface. I'm always working on the perceptive phenomenon and that's what I do in my visual work and in this case, I try to give off impressions of tilting with the surface.
The paintings are supposed to suggest directions but are actually flat. They appear three-dimensional but are actually 2D and that's due to their weird shapes. That's the concept behind this project.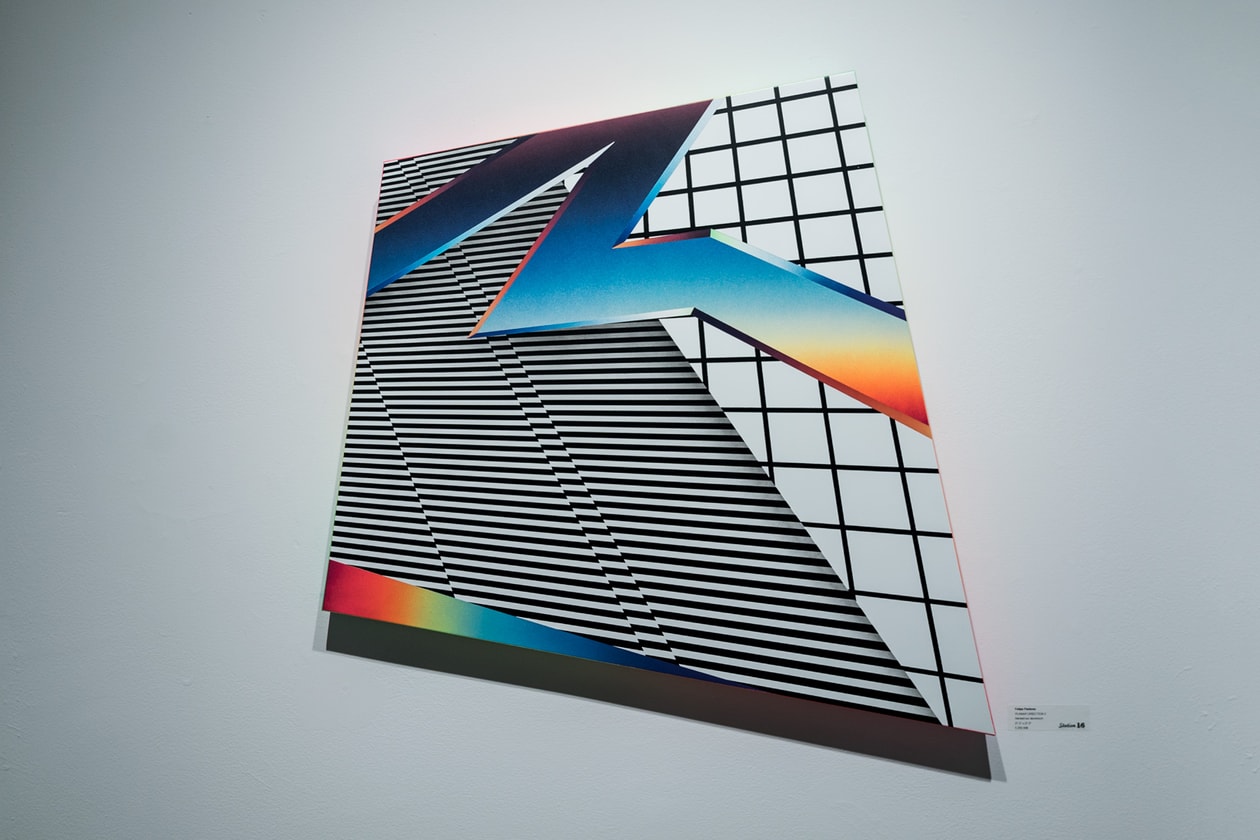 How long does it take to create one piece in the series? 
It depends. I work with four assistants that work on all of the pieces at the same time. However, if I had to start a new piece and finish it by myself, it would take approximately two to three days to complete. All of the surfaces were made at an industrial design studio, but if I had to do that myself, it would take me two weeks. For this project, I sent the studio a lot of vector files and they would use their CNC machines to cut out the designs from the file.
What are the surfaces made up of?
The surfaces are all actually aluminum instead of traditional canvas. I really like to work on aluminum now because it's so flat and perfect. Fabric canvas has texture and aluminum is slick like a car. You can be more precise with your artwork using aluminum. I've never used aluminum before in any of my artwork until this series. It goes with the concept of the show.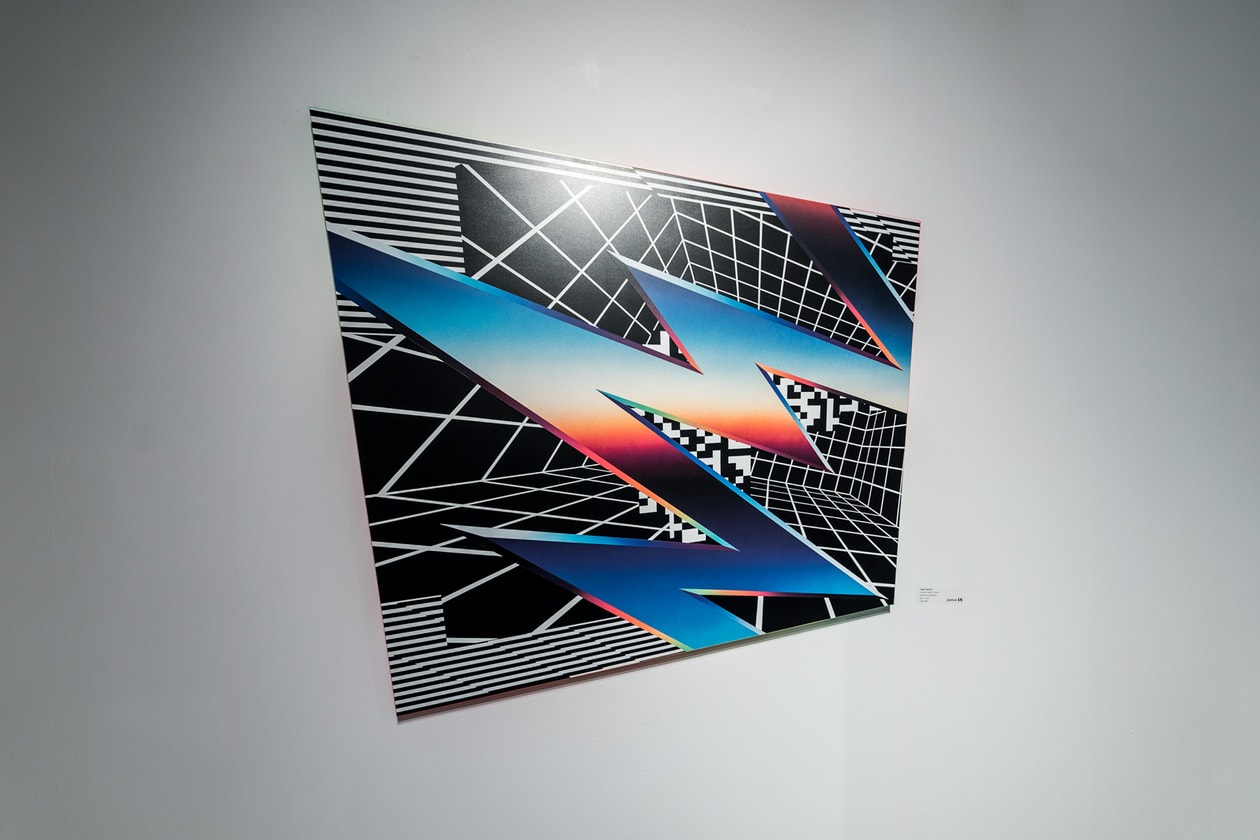 What kind of paint did you use for the series?
All of it is spray paint. I used stencils for all of the black colors and for all of the gradients that you see, I use masking tape.
How do you come up with the concepts for your exhibits?
You know how Dali would be a hypocrite and just make things up with his titles? For example, "Dream Caused By The Flight Of…" like come on bro. For me, I would like my titles to be very descriptive, but not too obvious. My series "Optichromies" speaks for itself. It's a mixture of optical art, classic elements and really strong colors. I would never be too obvious like "Internet figures with this and that."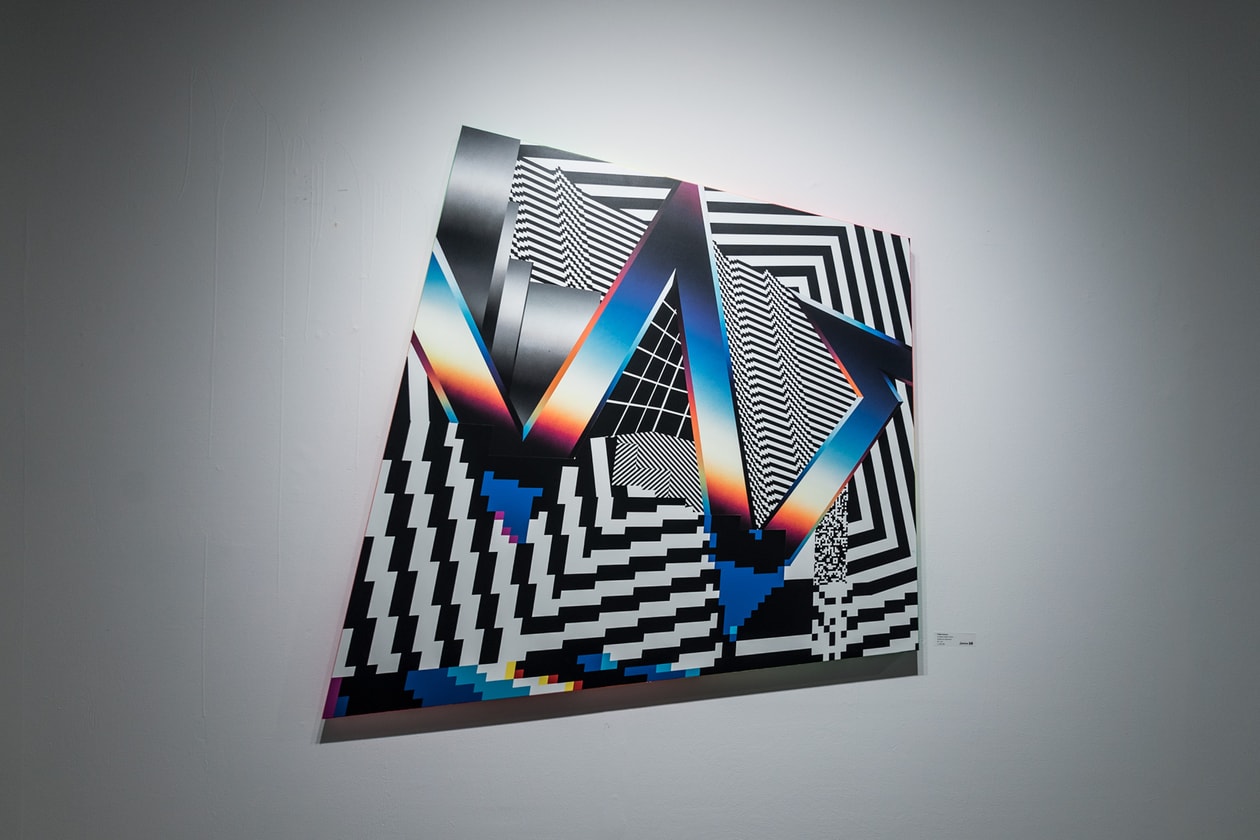 You dabble with murals, paintings, sculptures as well as commissioned works. What's the most challenging?
Definitely not painting. I would say that I'm a boring painter. I've been doing graffiti since I was 12 and then I went to art school and learned all of the techniques. I can do a portrait pretty well, actually. However, I hate it. Now, I want to grow up as an artist and really try to eliminate this boring painter label of me. I want to be an artist and not just a painter. Painting is very easy for me and I feel like I should have never gone to art school. I wish I've done coding or programming. However, I'm a painter after all. A boring painter. I try really hard to not only paint.
I read one quote that really got to me — it said something along the lines of "if you only paint, then you can only see the world through the eyes of a painter." So, that's really boring. You can make art by making a song or whatever and that's what art should be. I try to do as much as I can. Trespass my limits and push my boundaries.
One of the more challenging things for me is messing with virtual reality and also directing a music video. I'm working on a huge LED screen sculpture and that's really challenging. It's coming up next and it will launch in Antwerp, Belgium this November. Also, my team and I are going to work on huge three-story sculptures for the Miami Dolphins stadium. That's also really challenging, I've never done that before.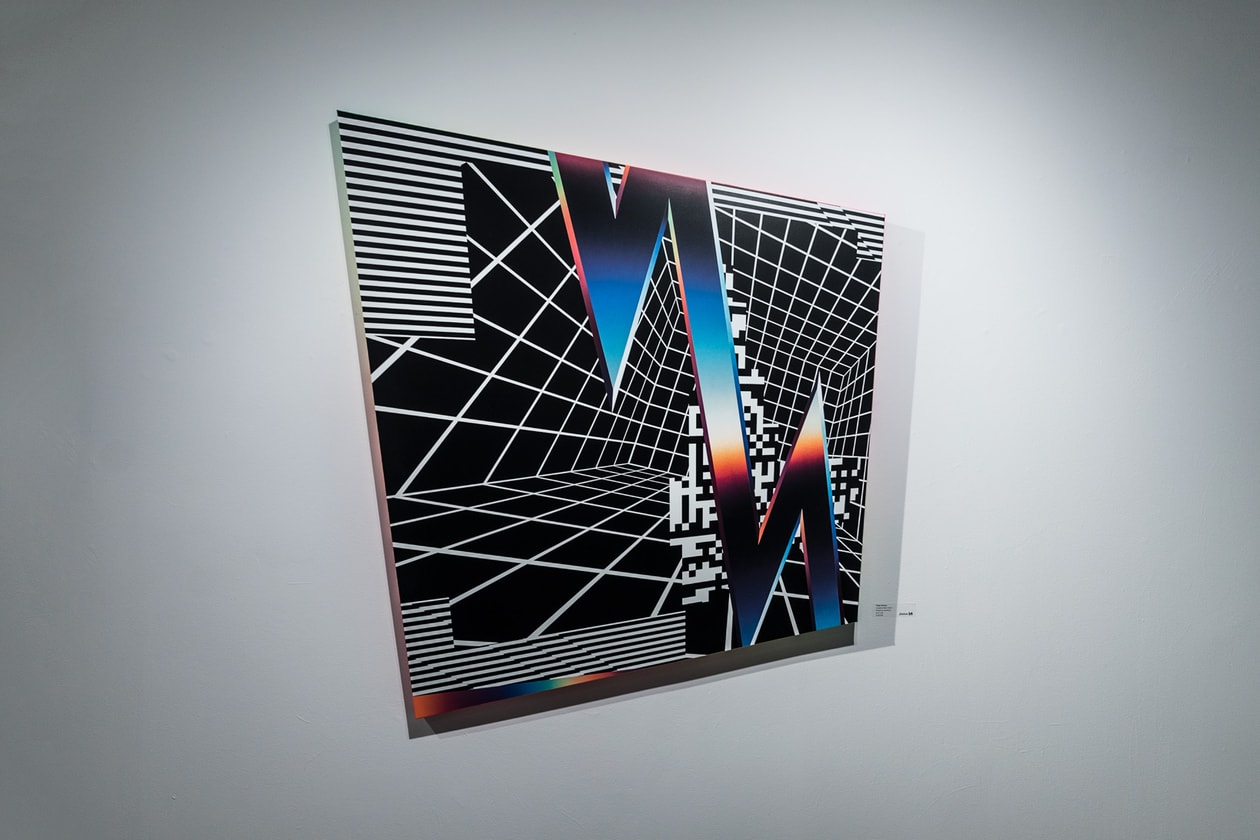 Can you tell us a bit more about your past sculptures?
Recently, I've done this installation called Chromadynamica Dimensional. It's basically color moving really fast and that's the way I see the Internet and actually, nowadays, the way I see the world. It's things moving really fast and that's the meaning behind "Chromadynamica." The "dimensional part" is because it's a three-dimensional sculpture. It gives off a moire effect when you walk around the sculpture while looking at it. That effect was used in the '60s. I wanted to use that effect and do something that those guys in the '60s wouldn't even be able to imagine because it never existed in their era.
Let's talk about your QR code mural. It's the largest one in the world, right?
It's the largest "painted" mural. There were huge QR codes made on grass and then gasoline was poured over them to cause a huge fire. For my QR code mural, the most challenging thing was to convince the festival that I won't be doing anything beautiful, just a QR code. They were like "What? Paint something beautiful!" I said "No, I'm going to paint a QR code." They were like "Fuck!" It took me ages to convince them. The website takes you to a page that says that the painting's soul lives on the Internet and shows you how many times it was viewed around the world. Basically, I'm trying to give off this statement about non-location. Nowadays, your mural or piece of art is not attached anymore to a physical location, but it's everywhere. It's not only big physically, but also digitally because it can be viewed digitally almost anywhere. Art is everywhere now.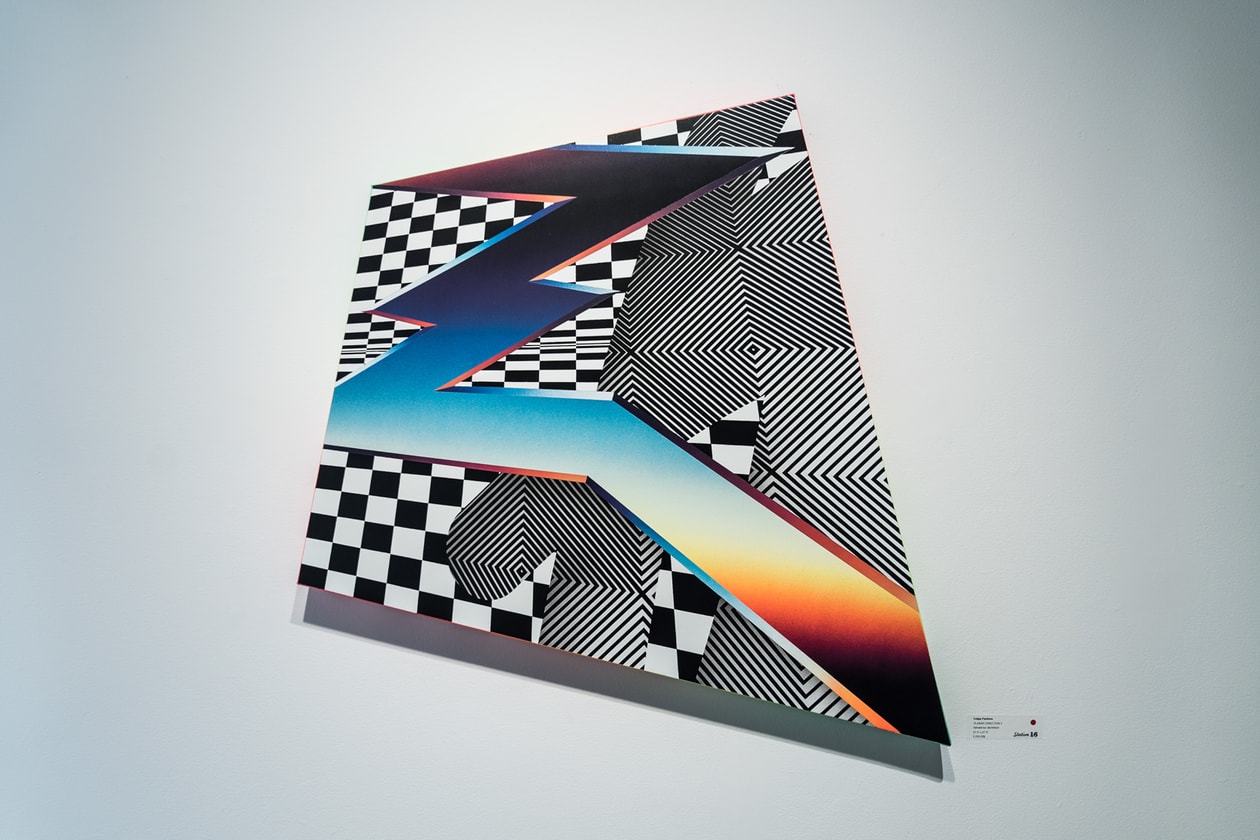 The Internet has had a major influence in your work. In your opinion, what are the worst and best things about the Internet?
I think we are living in the most exciting time of all times. There are three very important things that happened in history. One is the invention of writing and when that happened, we started storing knowledge. In the middle age, the press got invented which means we can transport our knowledge onto books and share it with people. Now, with the Internet, it's the same thing, but more immediate and infinite. I think we live in the most exciting times for culture, ever. I don't understand why all artists aren't only talking about this. I think it's so important. I can only think about that, you know. Ten or 15 years ago, people had Walkmans with the cassettes. Now, I have all of the music in the world on my phone. The Internet is amazing. It gives me goosebumps.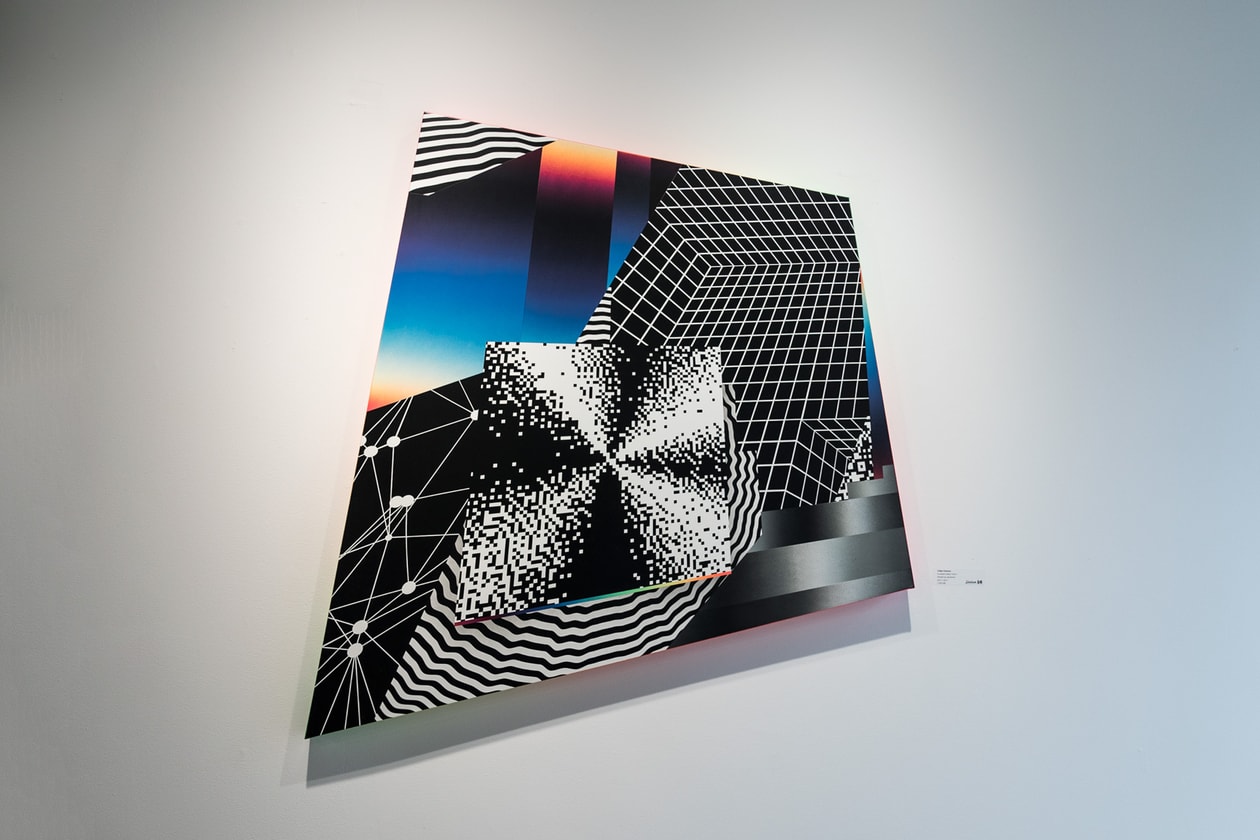 Where do you see your work 10 years from now?
I have a painter training, but because of the Internet, I can do VR shit. Two years ago, I said that I needed to learn 3D. I went on YouTube and about 15 days later, I was doing some crazy work. My art can go anywhere now. I can be whatever the fuck I want and my work is limitless. If you make good use of this tool (Internet) that we all have available, you can see your work go very far.
What are some essential items that you can't live without?
My computer, Sony camera and headphones. I could carry them all in just a bag and start a new life or showcase my art immediately.
What's one thing that people don't know about you?
My painting shoes are my running shoes. When I run, people look at my shoes and they're full of paint. And when I'm painting, people are like "why are you painting with those brand new shoes?" It's because it takes less space. When I travel, I don't have to pack running shoes, painting shoes and good shoes.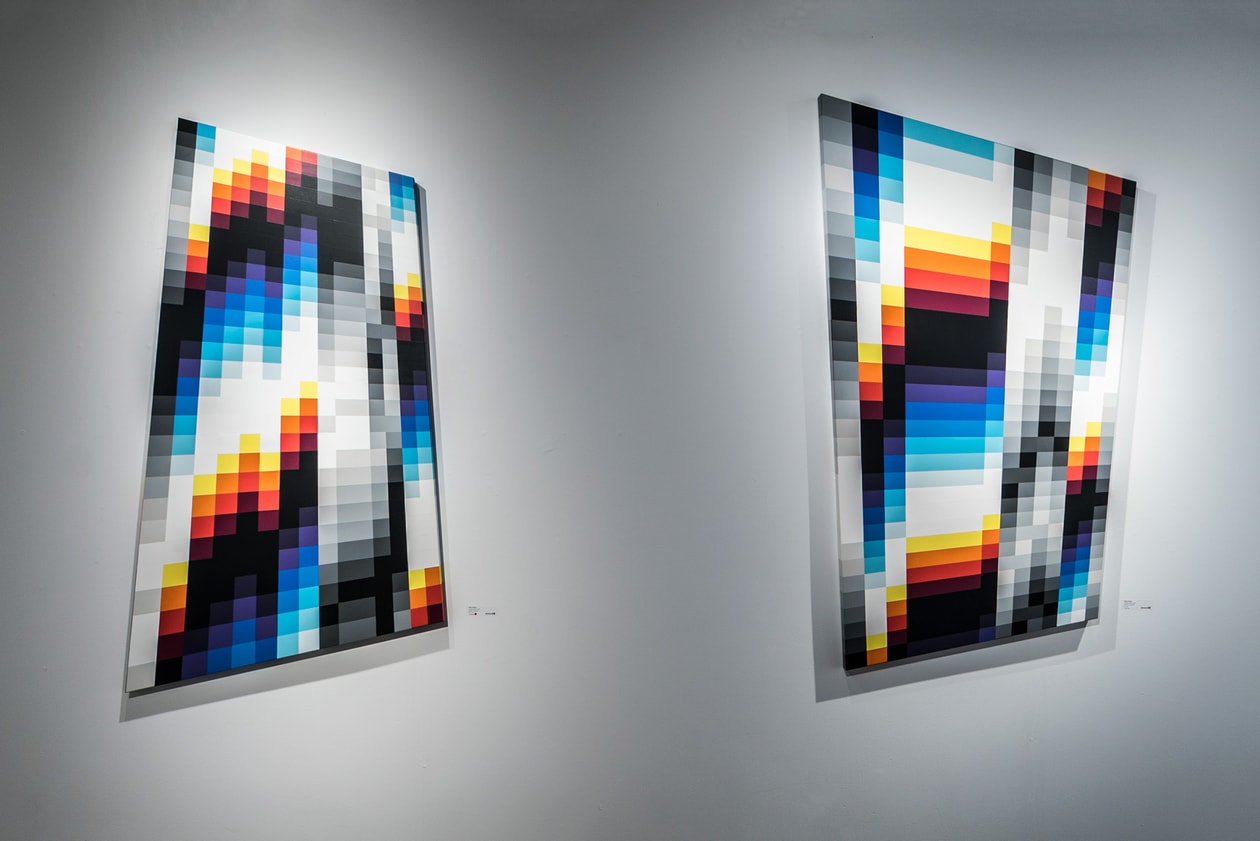 What kind of shoes are they?
The Nike Zoom All Out Low in white. I actually popped them. I tried to climb a fence to take a photo of my work and then the air bubble struck the fence. I only used them for like two weeks.
I also do my own haircuts. It's so convenient.
What do you call that haircut that you have on now?
The anti-baseboard. It's like what bald people have, but the opposite.
You're very elusive. You don't show your face in any interviews or photos. What's the reasoning?
My face is the least interesting thing from all the visual things that I can offer. If I was a novelist or musician, I think my face would be pretty interesting. However, in my case, I make two or three pieces of visual content every week and each one of those pieces, I choose and create each pixel. That says way more about me than my face. My face is just some random thing that was given at birth. It doesn't say anything about me really. I want people to remember me by my paintings and not my face.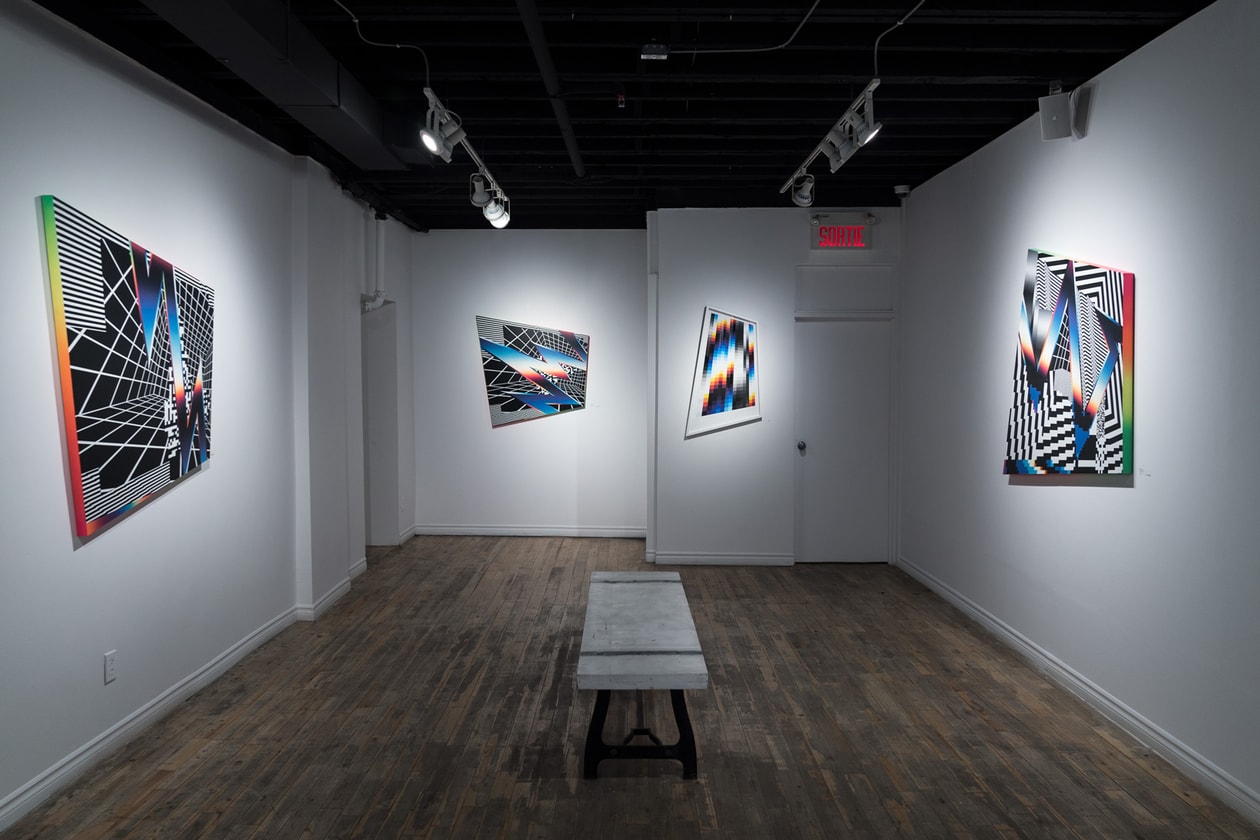 What advice would you give to aspiring artists?
Be limitless and explore new things. There are so many techniques to learn. You can tell stories not only through paintings, but also sculptures and more. That's what I'm trying to do, actually.