Stray Rats on the Importance of DIY Culture in Design
"Don't front on subcultures that you're not invested in."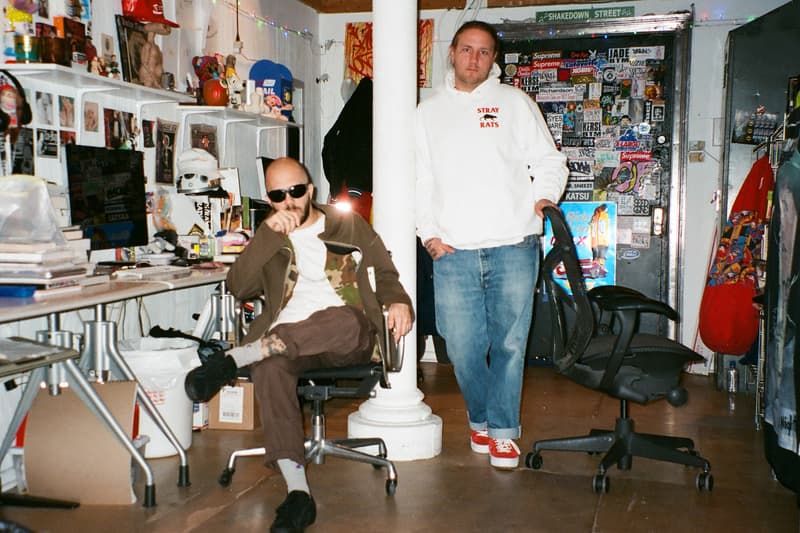 1 of 2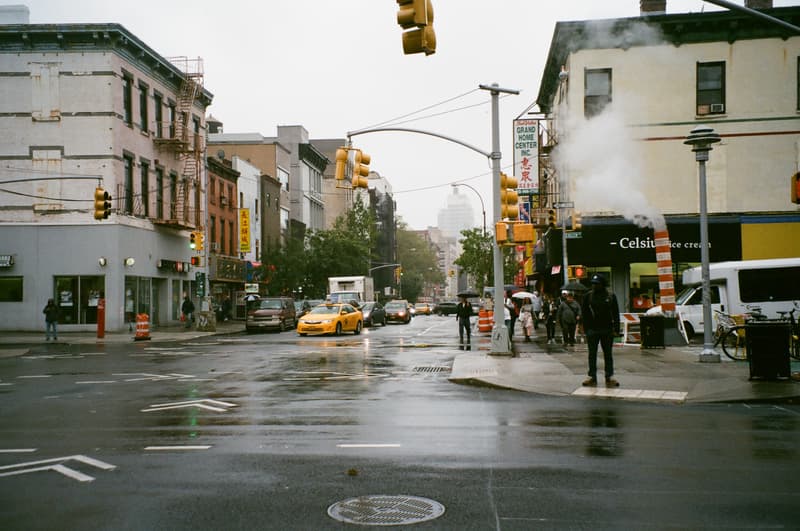 2 of 2
"It's important to indulge yourself in as much shit as you can. For me, it can be anything from Freddy Krueger to an '80s Japanese funk album," Stray Rats founder Julian Consuegra muttered without lifting his gaze. JR Ewing, who left FUCT as a lead creative to join Julian in the brand's operations, chimed in: "The more you dig in, the more you find, and that's the most exciting thing about being alive, as deep as that sounds." From afar, the duo's friend and brand advocate Earl Sweatshirt sat in the corner and nodded in agreement. Along with Earl, compadre Tyler, the Creator and the Odd Future clique have long been been supporters of the Miami-founded label. There's no denying Stray Rats's ties with music run deep. A quick scroll through its Instagram reflects the far-ranging artists (from Future, Denzel Curry, and Frank Ocean to punk outfits Turnstile and NOTHING) donning the trademark rat emblem. But Julian insists that he doesn't glorify fame and that Stray Rats puts community first, as his seeding list can stretch from high profile artists down to the day shift clerk at High Line Deli.
We sat at the label's small but cozy Chinatown headquarters in New York. Experimental ambient music seeps through the speakers while burning Kuumba incense add a much needed calmness that offsets the bustling traffic just outside. Straddling the line between a thrift collector's paradise and an underground think tank, this is the home to the Stray Rat's idiosyncratic designs. A place where ideas are first conceived, and a stone's throw away from where the apparel are made. The abundant of vintage clothing samples, comics and flyers from various punk gigs add to the visual overhaul that epitomize Julian's diverse sampling of subculture both online and offline. "I grew up worshipping my two older bothers, one was a '90s Miami Beach drag-queen and the other a major club kid. They exposed me to very different and vibrant things at a young age," said Julian. Raised on a healthy diet of East Coast hardcore, his straight edge philosophy may be a far cry from the lifestyle of those who don his wares (or even further in contrast to the culture that embraces the Japanese manga and plush toys in his studio). Yet, it's this exact melding of opposites that give Stray Rats its unique place in fashion.
"A lot of what I design can be a mix of different kinds of references," said Julian "I can't always just look at one thing and immediately lift it. I like to dig a little deeper and take my time to understand what it is I like about it and maybe mix it with something else if it looks right." While many brands these day create as a reaction to trends, Julian has a different route mapped out. "Everyone feels rushed to be and do something so fast, and that's because of how we live now, but I don't feel that pressure. I just want to be at the right pace, working with the right people." Julian keeps good company, and like other brands that stem from core subculture beliefs, he's keeping his operations tight and sincere. We catch up with Julian and JR to learn more about the brand's beginnings and why there's really no other mascot fitting for Stray Rats.
1 of 2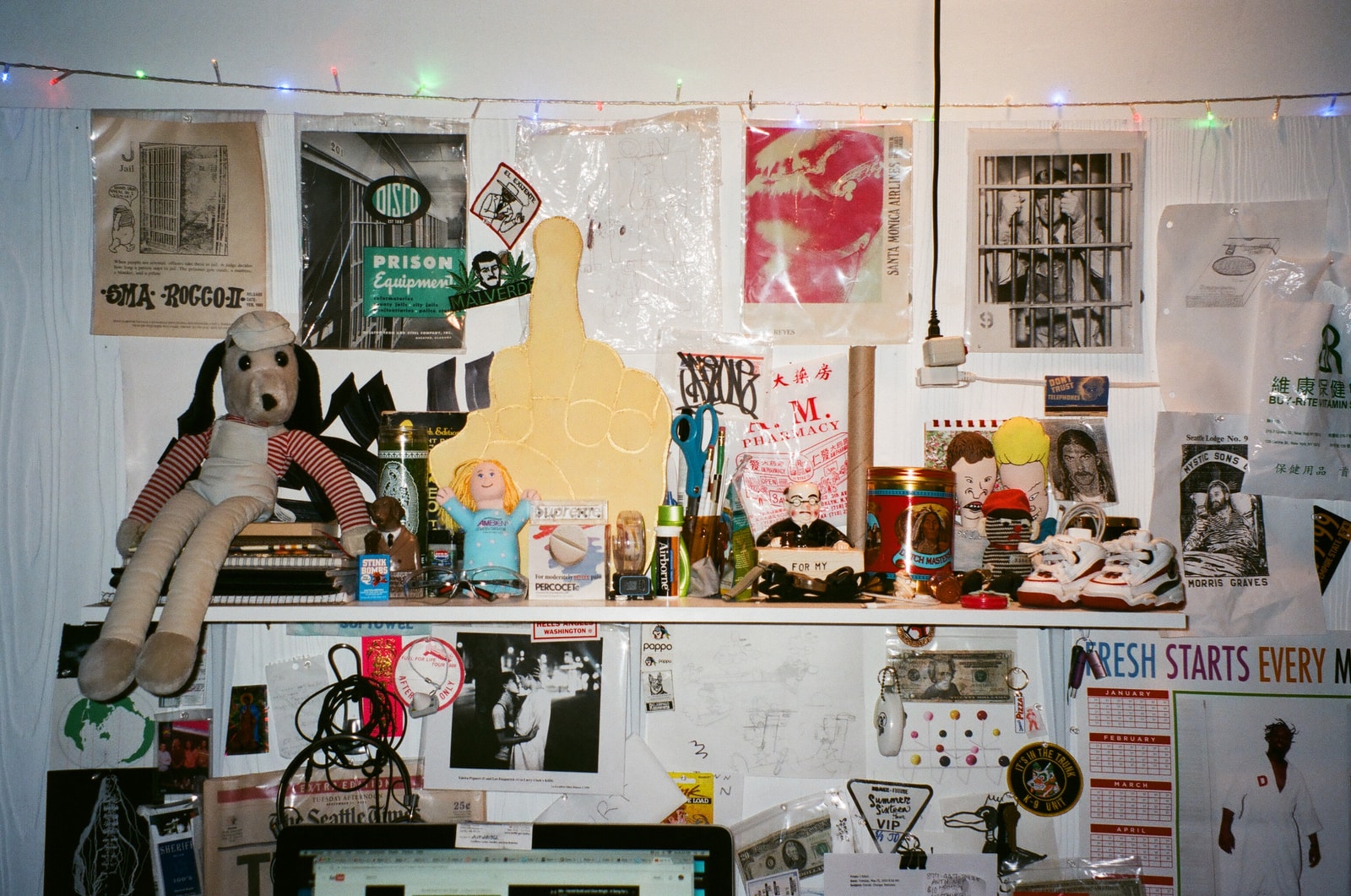 2 of 2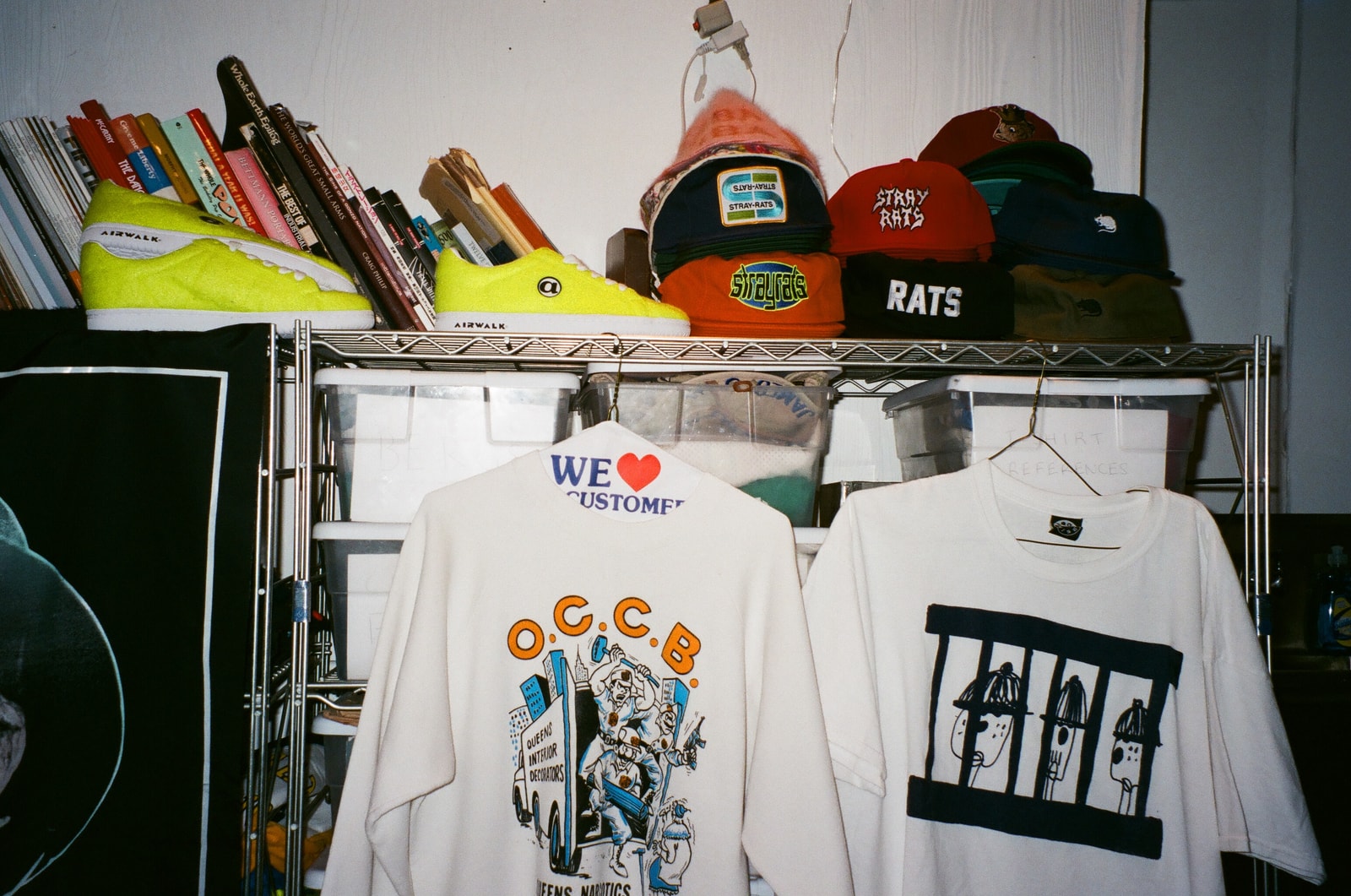 You and JR work closely together.
Julian: I think it's important to find people who can understand the aesthetic and ethos of the brand. JR has great taste and can show me new and old things that can be implemented in the brand. We come from very different backgrounds but we meet in the middle. The team is very small and is comprised of close friends that help in different ways. Up until three years ago, I was doing everything by myself.
JR: I come from a little bit of everything, for around 10 years I had a manufacturing spot in Seattle where I did printing and some light garment manufacturing, that evolved into a retail store. Through the store I stumbled into a mentorship working with Erik Brunetti for FUCT. Julian and I were introduced through mutual friends and stayed connected. We hung out in LA then New York and developed a friendship. Around 2015, we both moved to NY after feeling we had outgrown, for lack of a better word, where we were at.
Julian: We moved to New York around the same time with no plan to actually work together but it happened naturally.
What's the meaning of Stray Rats? How did the name come about?
Julian: . Stray Rats came after I dropped out of college. Growing up in the punk rock / hardcore scene I noticed rats were often referenced in the music. From the 1982 Rat Music for Rat People compilation to the Subhumans RATS EP, the list goes on. I always thought of my friends and I as a bunch of moving rats in the city or scene, getting what we could get within the boundaries we had. Underground but moving above ground to bring it back in.
1 of 2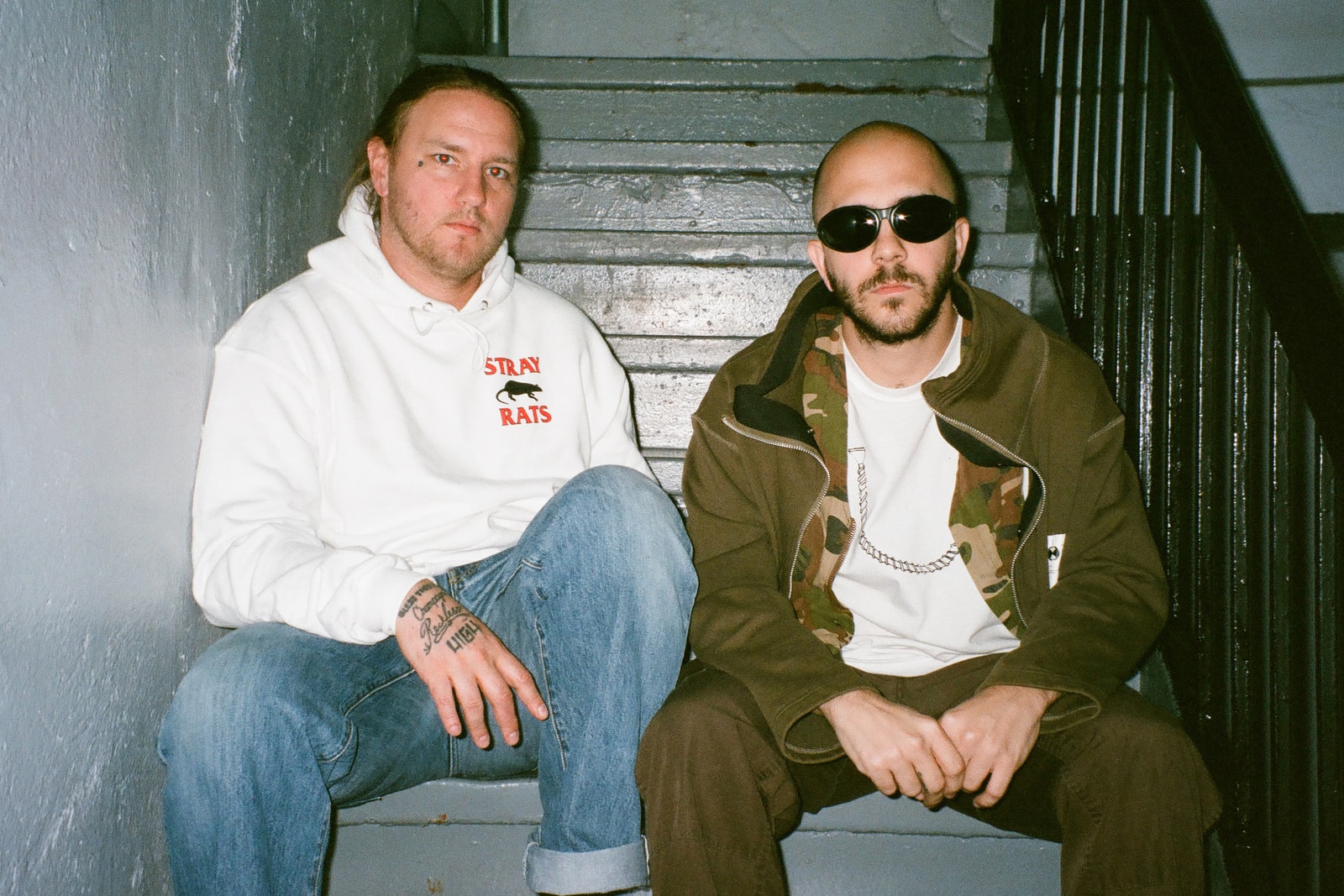 2 of 2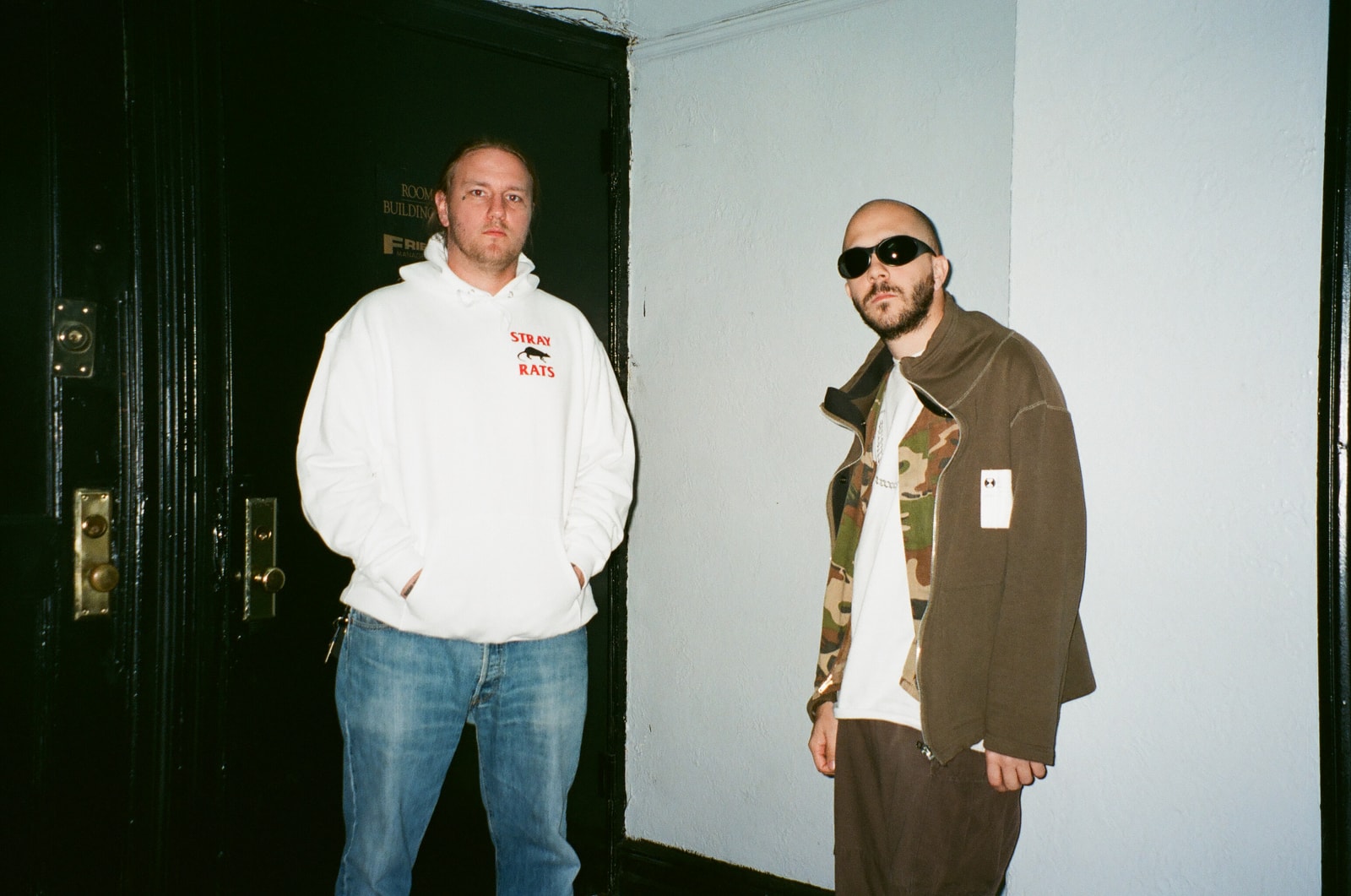 Do you come from a design background?
Julian: I've always been attracted to art and design since I was very young. My brother spent a lot of time drawing really gorey comics and making strange computer art in the early '90s that I admired. He operated a website in the mid '90s under "8up.com" for Florida club kids to find out about local parties. He would design flyers and help set up parties, that was cool to watch. There was a lot of visual stimuli growing up for me. Naturally, I would start drawing and was put on to graphic and web design. I'm thankful to have been shown all those things so early. When I was 15 I was doing merch and record layouts for local bands under a freelance MySpace account, and over time developed a name in the scene. I don't think I'm a great designer but I've put a lot of effort into being involved.
How has hardcore music infiltrated your work ethic?
Julian: Being rooted in punk and hardcore taught me a lot of what I know. I've learned how to do so much from nothing. Stray Rats was funded out of pocket with DIY ethos and that's part of what punk music teaches you. We set up the shows, we bring the bands in, we pay to see the bands, we make the bands, we put out the records, zines and shirts, all by ourselves. It's all about community, and that's how I learned to do shit. Most of all, it's honest. You do it for the love of it, and I learned that from being in the scene. There was no godly worship of a person or band, no big cool guy egos. We're all united as one.
Did you ever think how Minor Threat has a sheep, you had to have a rat?
Julian: I think everyone who listened to Minor Threat connected to the black sheep, its perfect. Maybe people can connect to rats in a strange, but similar way. I always thought brands with mascot logos like Kangol or Lacoste stuck out. Rats have a unique shape that's easy to recognize, when you see it you know it right away.
How do you ensure the rat doesn't get overused as a mascot?
Julian: Once it gets too obvious it becomes silly. It's important to mix rats and other things that encompass the brand. Too many rat themed designs can get boring or cartoony, so there has to be a balance. "Stray Rats" on its own works well. When people see it it sticks out because a lot of people (especially in New York) hate rats. I know people have gotten asked if Stray Rats was either a band or a pest control service.
1 of 2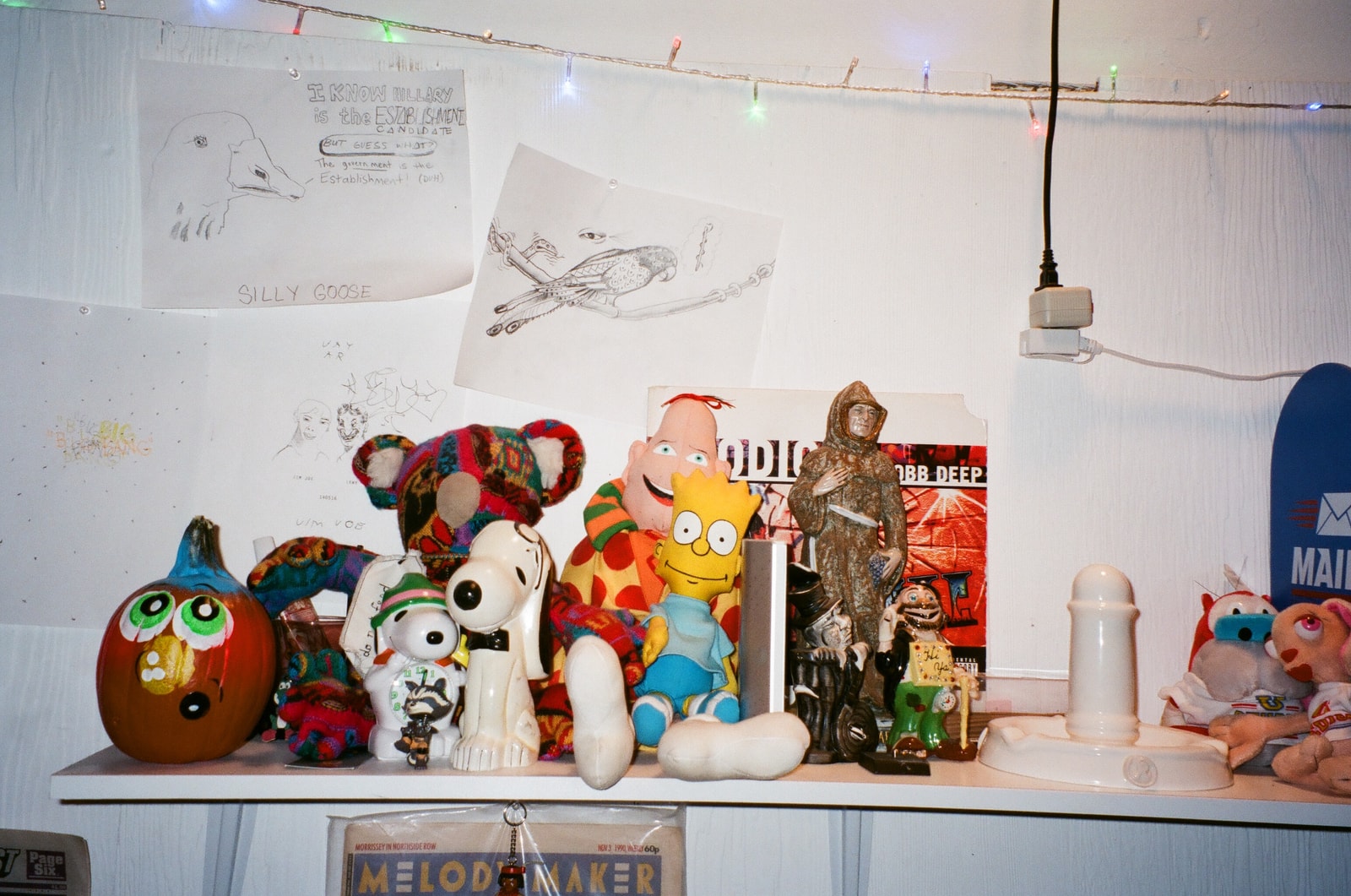 2 of 2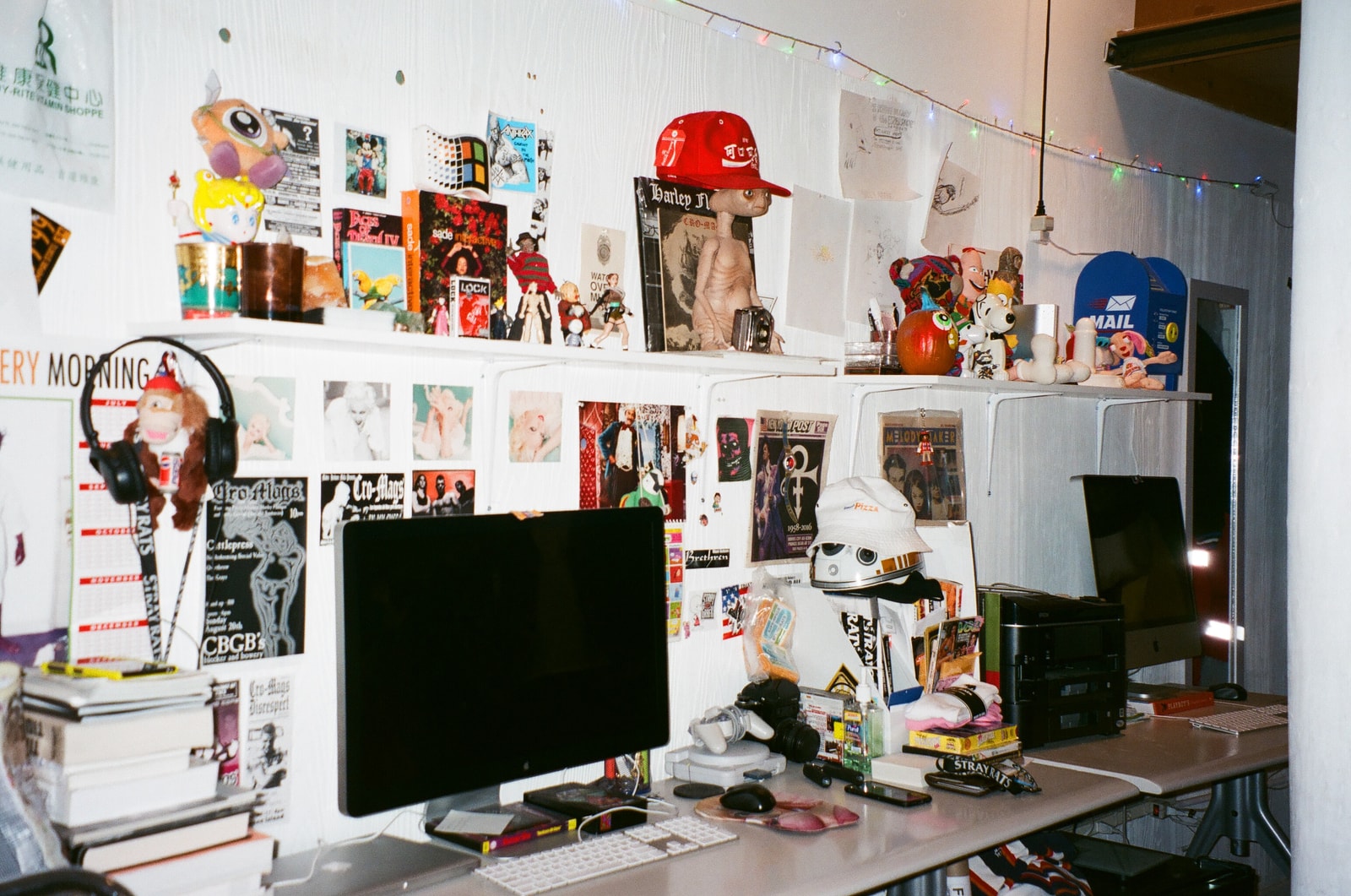 Stray Rats samples a lot from different inspirations, what are your thoughts on authenticity in streetwear today?
Julian: A lot of the things I draw from are nostalgic to where and what I was raised around. Today, the culture has been bankrupted by pure consumption, so much out there is copied without an understanding of the roots. This behavior has always existed but the internet today creates a false acceptance of that junkfood lifestyle. We try not to pay attention and push the tradition of things that are authentic to us.
JR: You can put on a costume so easily nowadays. On Instagram, it's hard to see how one person is different from the next. I was raised on the basics, pay your dues, earn your stripes and get to work. These steps force authenticity by being educated through those who were here before us. The way people curate their online personas is embarrassing. One month it can be hip hop and another month it can be industrial goth music. I grew up loving this culture for it's uniqueness and acceptance of weirdos, there are only a few brands left embracing that and Stray Rats is one of those.
What else are you doing outside of Stray Rats?
Julian: Outside of Stray Rats I've been doing art and design for Drake including the More Life tape and his tour merchandise. I also play in Liberty, a hardcore band I started with some friends. It's important for people to step out and be challenged while maintaining a comfortable pace. This is what keeps me from burning out.