Why Is the World So Obsessed With MMA vs Boxing, and How Do They Move On?
We look at the history of boxing-MMA crossover fights that never come to fruition, with help from top pundits.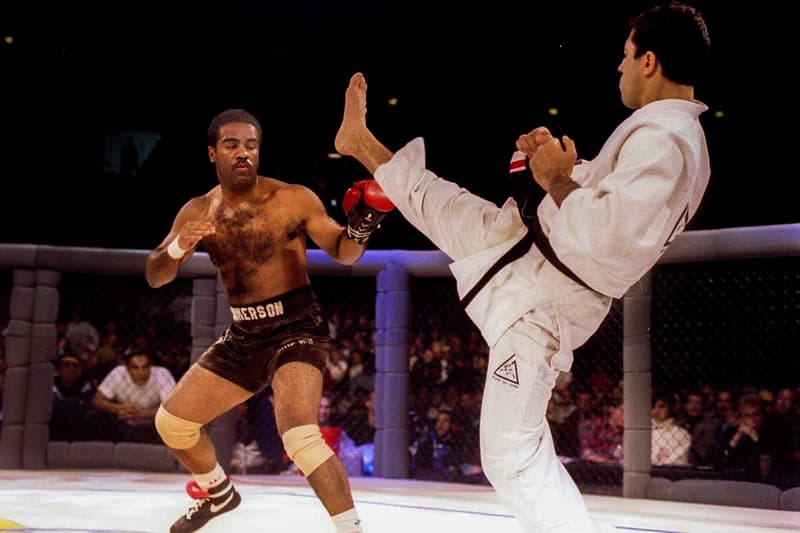 MMA and boxing are often compared, and for good reason. Boxing is obviously a key part of mixed martial arts, and while few professional boxers make the switch to MMA, a great deal of MMA fighters have boxed at the lower levels of the sport. However, while comparisons make sense, the idea that two practitioners of separate disciplines should fight is, well, absurd when you look at it plainly. An MMA fighter trains boxing as part of their regime but they also train various other disciplines as well, meaning their boxing skill is always going to be rudimentary compared to a full-time boxer. In the other corner, boxers don't do any of the grappling arts, or even practice kicks, so few of them show any willingness to get in the octagon.
So why is one of sport's biggest stories this year and last a fight that surely won't happen?
Before we mention Mayweather and McGregor, the biggest boxer vs. mixed martial artist match-up was Roy Jones Jr. vs. Anderson Silva. The story started in 2009 when Anderson Silva announced that he'd take on a fight with Roy Jones Jr. when his UFC contract expired. The conversation died down but picked up again in 2014 and, when asked about the possibility of the fight happening, Dana White said "it's always interesting with Anderson. I don't know. We'll see." Roy Jones Jr. himself was interested in the fight, saying "the UFC won't allow him to fulfill his dream and get in the ring and enjoy a night of sharing the ring with the great Roy Jones Jr."
One look at their respective boxing records shows why Jones Jr. is interested in the fight even at this advanced stage. Jones Jr., 48, is a boxing veteran who's had 73 fights, and Anderson Silva, while a talented striker, is 1-1 as a professional boxer, losing his second bout to Osmar Luiz Teixeira, who has an unimpressive record of 30 wins and 22 losses. Few pundits in boxing or MMA gave Silva much of a chance in the fight, with MMA writers noting the bad business sense of letting a then-marquee star compete in a different sport that'd likely have ended in defeat for said star.
Fast forward a few years and Conor McGregor has garnered a stream of headlines surrounding the possibility of fighting Floyd Mayweather Jr. It's been a topic that's given just about everyone something to write about, even though we're no closer to a conclusion than we were a year ago. So why are all sides endlessly talking it?
We spoke to a few sports reporters who specialize in boxing and MMA to find out more about this ongoing saga. We asked Morgan P. Campbell, sports reporter at the Toronto Star and co-host of the Mandatory Challengers podcast, about why McGregor was calling out Mayweather. "Like all great fighters, he needs a rival to help boost his profile and, eventually, his pay," he says. "And since there's no other UFC fighter in or around McGregor's weight class who even approaches his notoriety, the next best option is to target a better-known fighter, even if he's in another sport, and use that fighter's name and reputation to generate hype for yourself. Speculation about a Mayweather-McGregor match that will never happen generates more headlines and page views than actual analysis of McGregor vs. some other UFC lightweight, and attention leads to pay-per-view buys, which fatten McGregor's paychecks."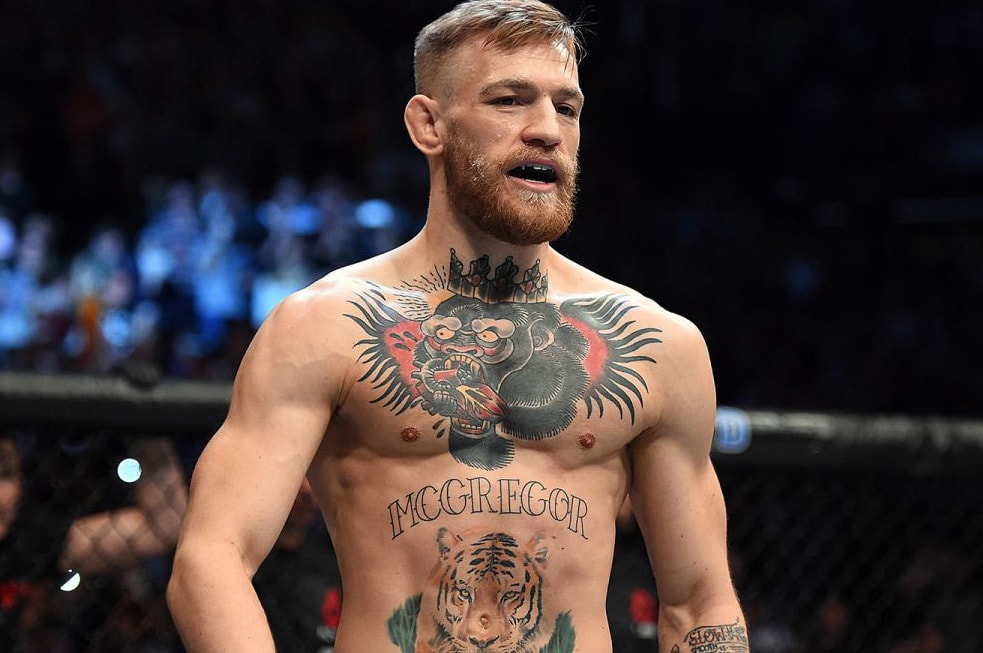 John Morgan, lead staff reporter at MMAJunkie.com, agreed with Campbell's points by saying "Honestly, I believe both men have realized how the discussion helps them to remain relevant and in the spotlight even when they're not competing. In his heart, I'm sure Conor McGregor really does feel like he could beat Floyd Mayweather, but I'm sure he also realizes the UFC isn't going to sign off on him taking a boxing match whenever he wants. But McGregor realizes the talk keeps him in focus."
It also helps that Conor McGregor is press-friendly, in the same way that Ronda Rousey once was before her losses, and that Mayweather Jr. has long been a foil for MMA fighters – after all it wasn't too long ago that the idea of a Rousey vs. Mayweather bout was discussed. Another important factor to note is that Mayweather is now a boxing promoter, which means that he needs outlets to cover his events, and most usually only do so if he answers a few questions about his own career which, inevitably, leads to questions about McGregor.
To move beyond these two fighters, a common refrain for MMA's most popular fighters is to be compared to boxers; considering they are two different sports, why is this so?
They don't call out Olympic taekwondo champs, even though the underlying concept – an MMA fighter challenging a specialist at his/her sport – remains the same. Because Olympic taekwondo champs aren't famous, so there's nothing to gain in issuing that challenge."
"It's no different from a contender calling out a champion," says Campbell. "It's also important to remember that UFC fighters are challenging boxers to fights everyone knows will never happen. Silva and Rousey benefit from promoting the perception that they could beat boxers in a boxing match, but the people handling them understand a boxing match against a world-class boxer would end badly for them. The goal is simply to create that perception, and use these boxers' names and brand equity to prop up select UFC fighters." Campbell went on to note there was always a strategic use of certain boxers. "This is also why you only ever see UFC fighters calling out boxers who are already famous. They don't call out Olympic taekwondo champs, even though the underlying concept – an MMA fighter challenging a specialist at his/her sport – remains the same. Because Olympic taekwondo champs aren't famous, so there's nothing to gain in issuing that challenge."
Crossovers have happened before, but they've usually been cynical and rather tasteless. We speak, of course, of the time Randy Couture took on James Toney in 2010 at UFC 118, where Toney was dominated and tapped out three minutes into the first round. Toney was 42 at the time, a long way from his peak in boxing and had never grown up taking part in any of the grappling arts (for reference, Toney first won the middleweight title in 1991, 19 years prior to this fight). The Telegraph's sports reporter, Gareth A. Davies, described the fight as being "as one-sided as it was predictable. A side-show. It was never Boxing v MMA/UFC." Couture said it would've been the same result the other way if he decided to step into the boxing ring. So why did the fight even happen?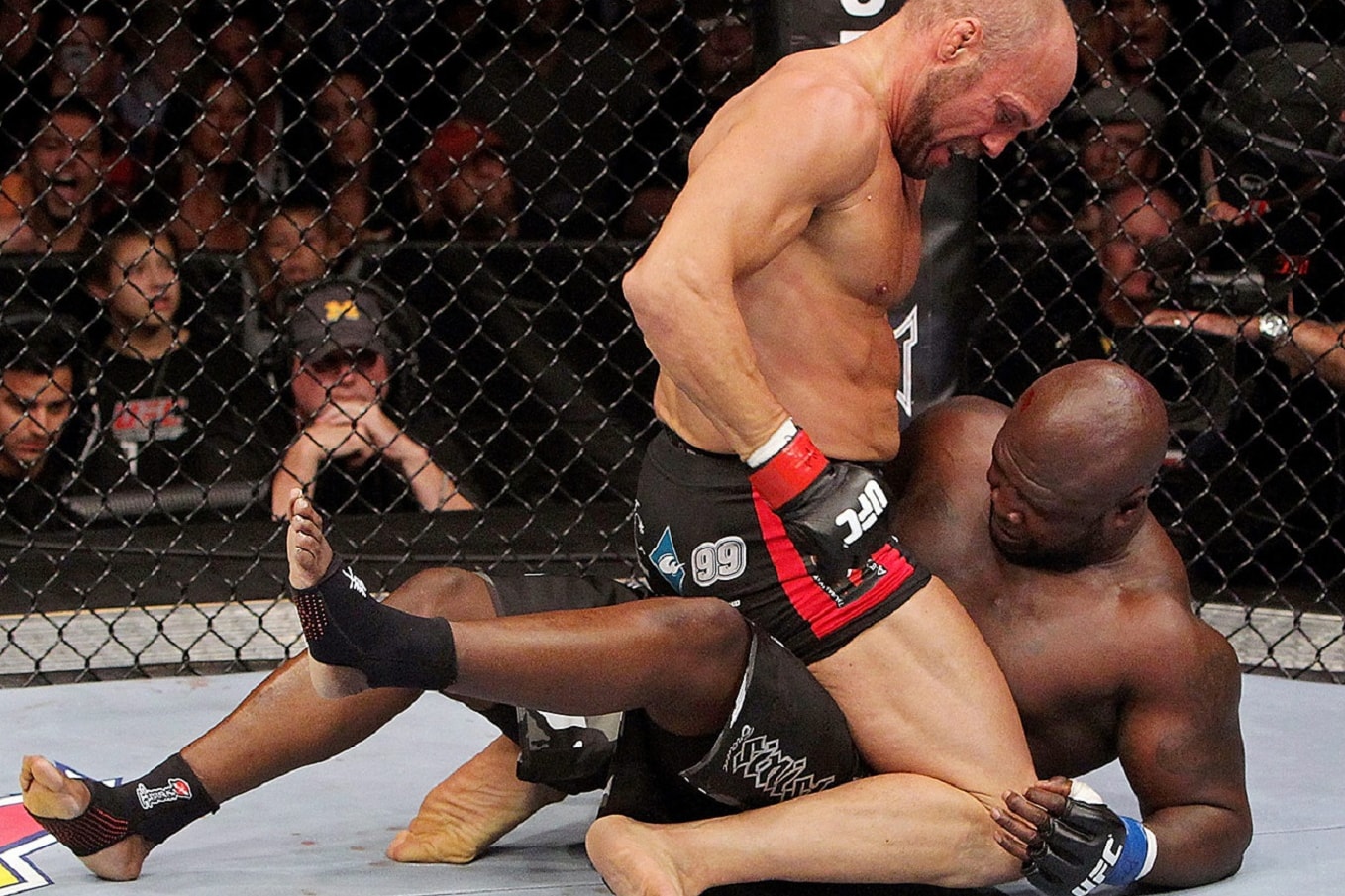 "Because it was a risk free way to show the public that UFC fighters are superior to boxers," says Campbell. "Look! Our world champ beat your world champ. Case closed. The fight only proved that MMA fighters are better at MMA than boxers are, but we should have known that anyway." John Morgan cast doubt on this kind of fight ever happening again. "I don't know that we'll ever see a legitimate championship-level boxer make the move to MMA in the prime of their career. The time it takes to become an expert in the grappling arts, as well, makes it a tough task for anyone to be at the highest level as a pure striker and still commit time to crossing over, as well."
Another reason why MMA fighters often call out boxers is that the UFC has often used boxing's history to promote itself. The sports similarities have lead to many reporters comparing the two, often asking MMA fighters slightly clumsy questions about whether they'd beat a boxer in a "real fight." But reporters aside, UFC has often used the history of boxing to add context to fighters' achievements. For example, Cain Velasquez was called the first Mexican heavyweight champion in "the history of fighting" when he won his title, a vague reference that included boxing without quite mentioning it. The reason for this, Campbell says, is because MMA is still relatively new. "MMA as an organized sport has only existed since the mid 1990s, and the UFC as we know it emerged later than that," he says. "Every other mainstream sport in the U.S. has a long history and a roll call of legends, both of which provide instant context for what we're seeing today. But labeling somebody 'the best in UFC' doesn't resonate as deeply when 'history' only stretches back 22 years. But if you can co-opt boxing history, you can place your fighters in a tradition that dates back to the 19th century and beyond. That's why the UFC was promoting Cain Velasquez as the first Mexican heavyweight champion in the history of 'fighting.' Suddenly you're viewing Velasquez alongside Tyson and Ali and Marciano, and not just beside Tim Silvia and Tank Abbott. Instant context, instant legitimacy, even if it's disingenuous."
Morgan disagrees somewhat, noting that "If anything, I think MMA probably leans more on the history of professional wrestling moreso than boxing, directly. But boxing and pro-wrestling go hand in hand as well. Bottom line, it's prizefighting, and there's really only so many ways to hype a fight." Boxing and wrestling have long had a joint history, with Ali being a noted fan of wrestling, something that eventually led him to take on Antonio Inoki in a bizarre exhibition match in 1976.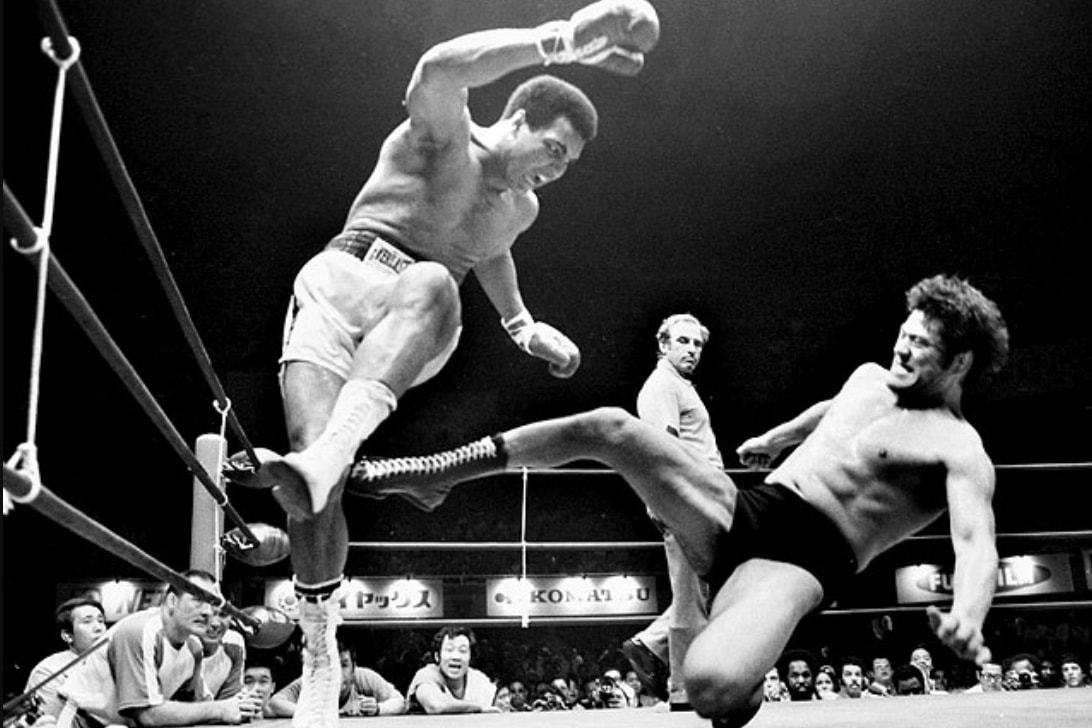 Kelefa Sanneh, staff writer at The New Yorker, expanded on fight promotion techniques, saying that "many of the traditional techniques work in both sports—you have to get people to care, sometimes by convincing them that the athletes truly don't care for each other! One difference is that boxing is a bit more lawless: TV networks and promoters generally let boxers do whatever they want, where the UFC is expected to exercise a bit of control (there are rules, for example, that oblige UFC fighters to talk to the media—although, as we saw with Ronda Rousey, exceptions can be made!)."
While the UFC did sell for $4 billion USD, the sport still isn't accepted in America the way American football is, or the way soccer is in the rest of the world. Is legitimacy still an issue for MMA? "I think both sports are seen by the mainstream media as slightly illegitimate! Or more than slightly illegitimate!" says Kelefa Sanneh. "True, some people still find MMA kind of distasteful, even compared to boxing. But remember that many people consider boxing to be indefensibly brutal and incorrigibly corrupt (with good reason, sometimes!)."
John Morgan states that legitimacy isn't as much as of an issue that it once was. "More so than legitimacy, I might say familiarity. If you try to explain to a non-MMA fan who Conor McGregor is, it can be a little tough to build a frame of reference. But you add in some connections to Floyd Mayweather – and maybe even Muhammad Ali – now you've got a point of reference that makes it much easier for someone to understand."
Mayweather retires at 49-0 and writers tell him he needs to beat an MMA fighter, as if that proves something.
Campbell believes that in terms of immediate legitimacy, MMA is in "a transitional phase." He goes on to say "for mainstream sports media, the UFC is combat sports and boxing is a niche that merits attention a couple of times a year. Think about the comparison between football and track. A sprinter breaks world records and reporters ask him if he can outrun a football dude. A boxer wins two gold medals and reporters ask her if she can beat a judoka. Mayweather retires at 49-0 and writers tell him he needs to beat an MMA fighter, as if that proves something. So in that sense, the UFC might be receiving more legitimacy from the sports media than it actually deserves. UFC fighters are all tremendous athletes, really tough people and world-class competitors. But they're also martial artists who respect craft and, for the most part, understand they can't compete with best-in-class specialists at their specialties. But sometimes we in the media need a reminder."