Take a Peek Backstage at Han Kjøbenhavn's Slightly Disturbing 2017 Fall/Winter Show
Founder Jannik Wikkelsø Davidsen also speaks about the show, the brand's Puma collaboration, and American expansion.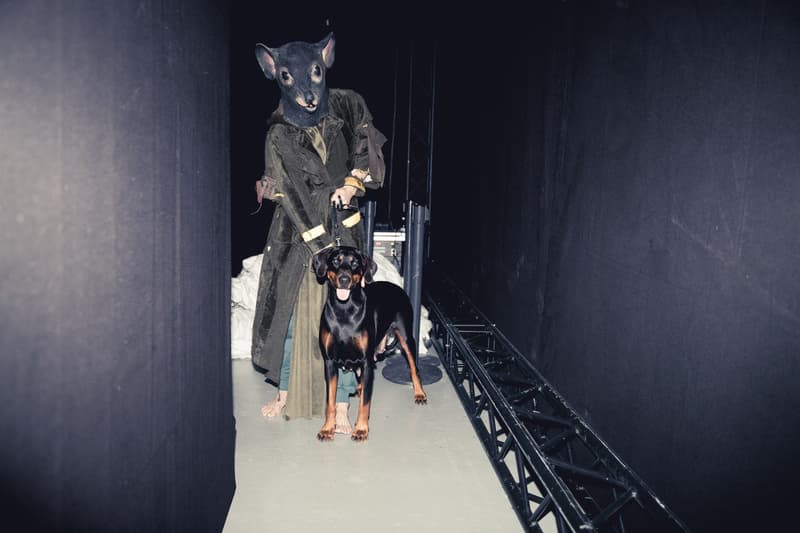 1 of 17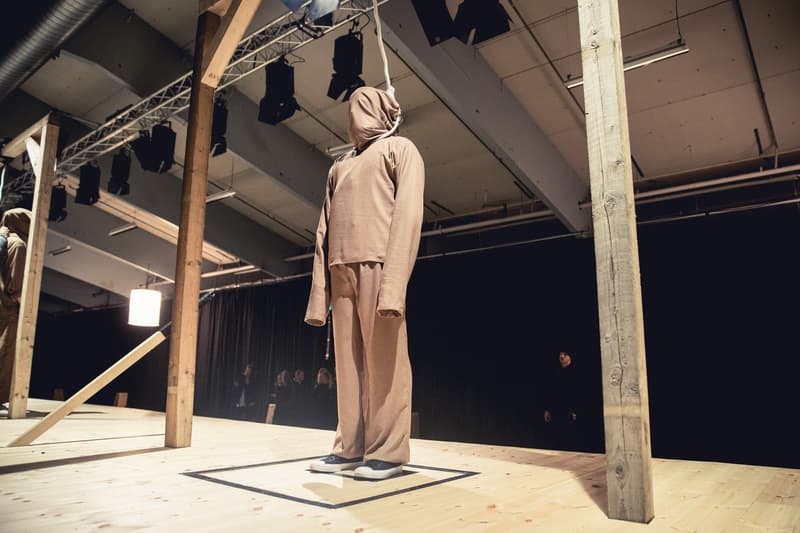 2 of 17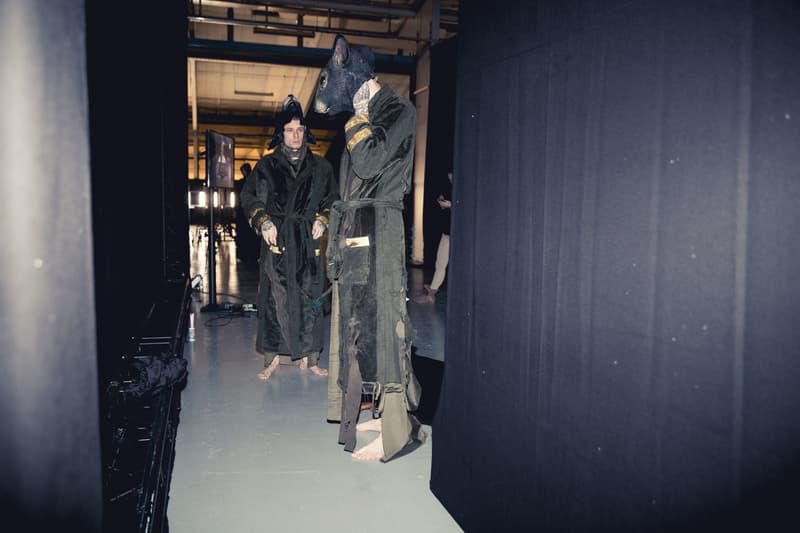 3 of 17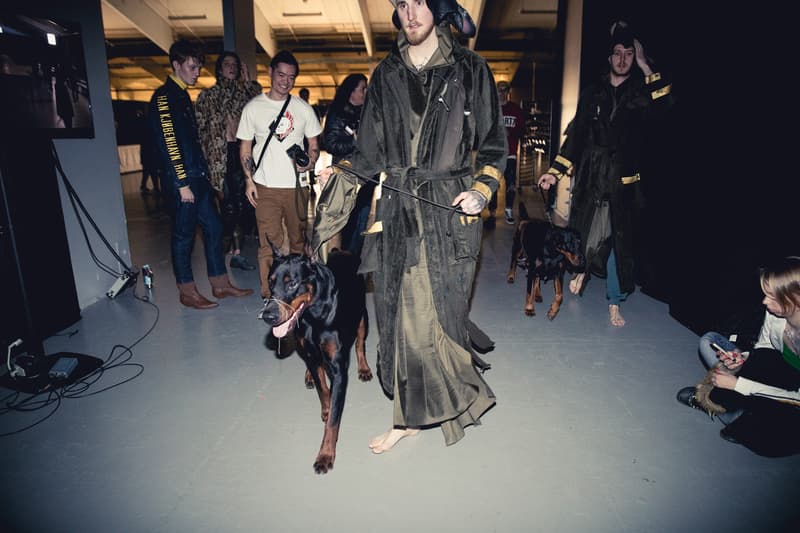 4 of 17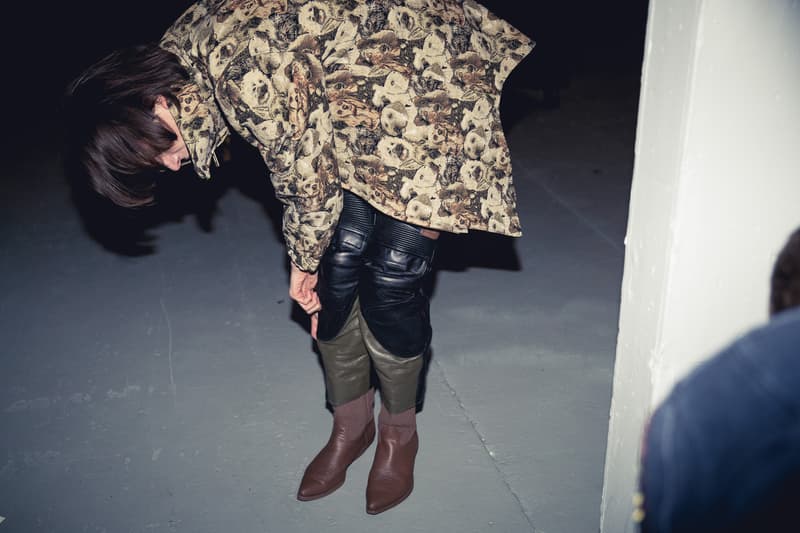 5 of 17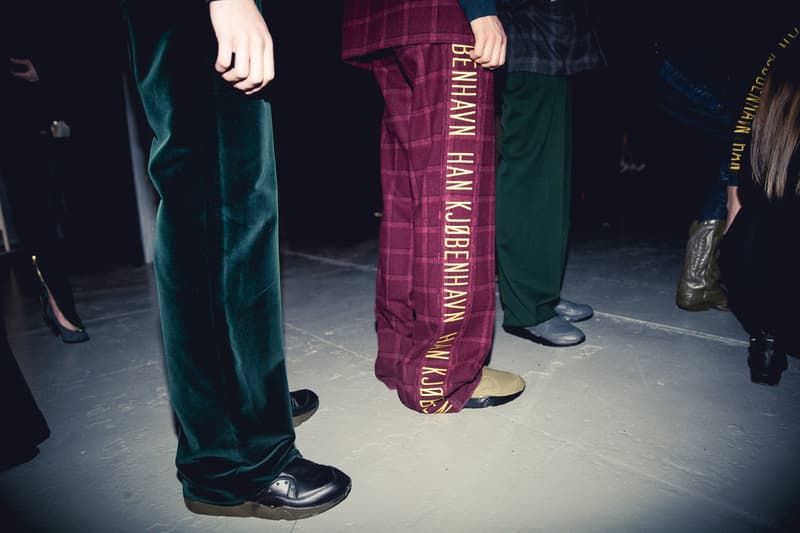 6 of 17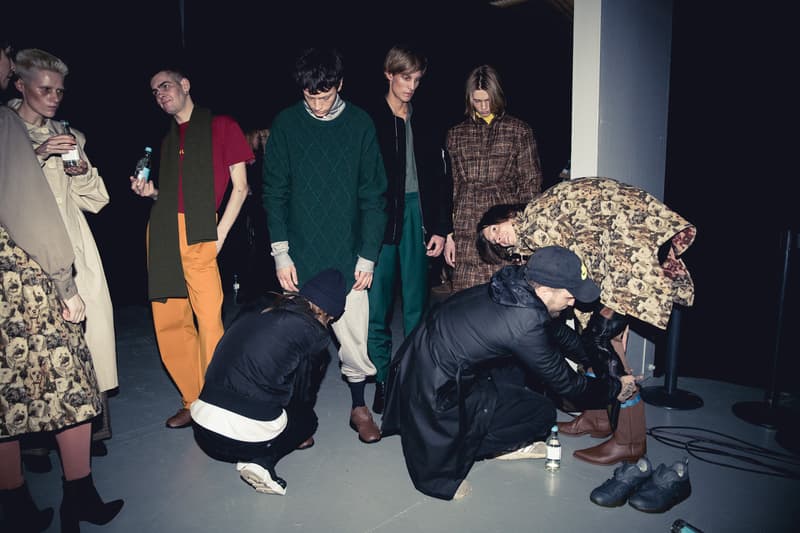 7 of 17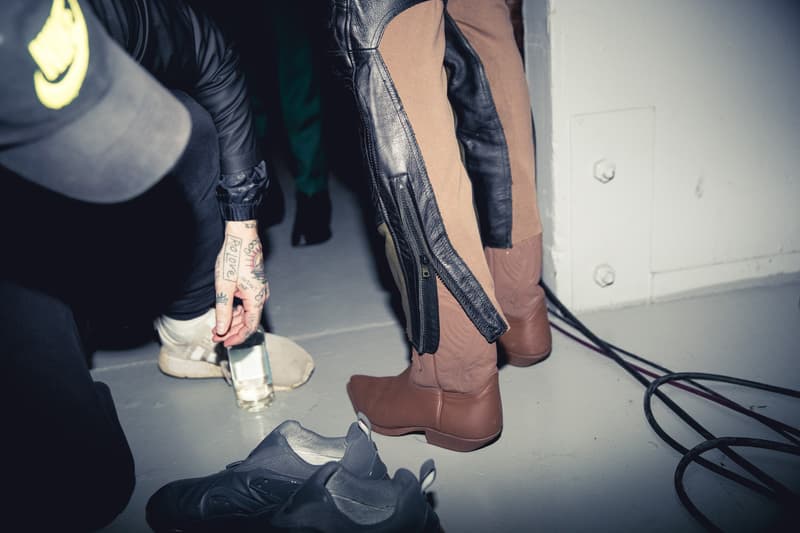 8 of 17
9 of 17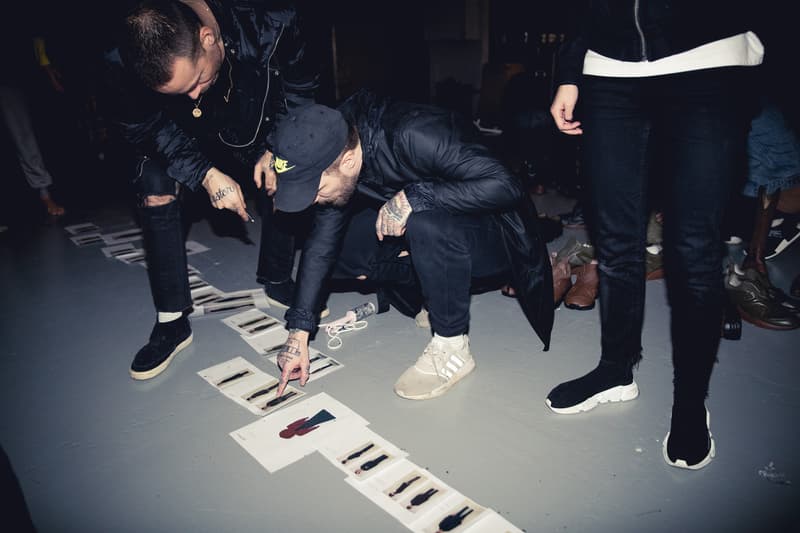 10 of 17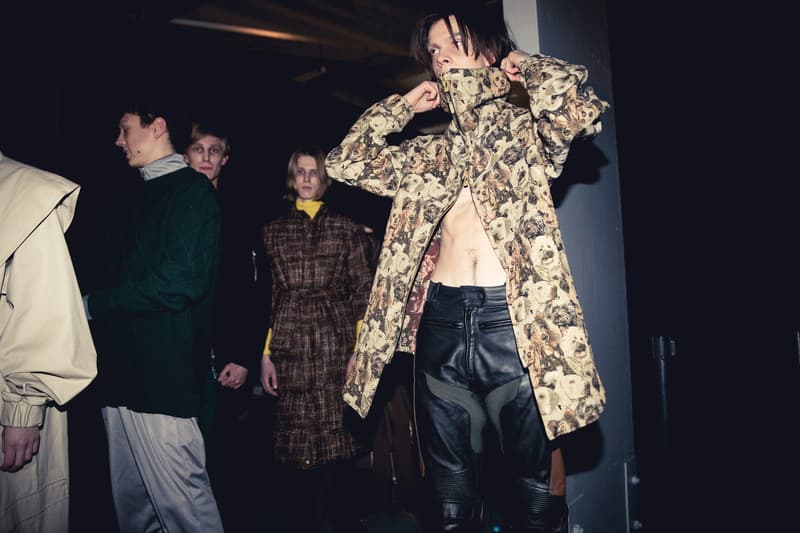 11 of 17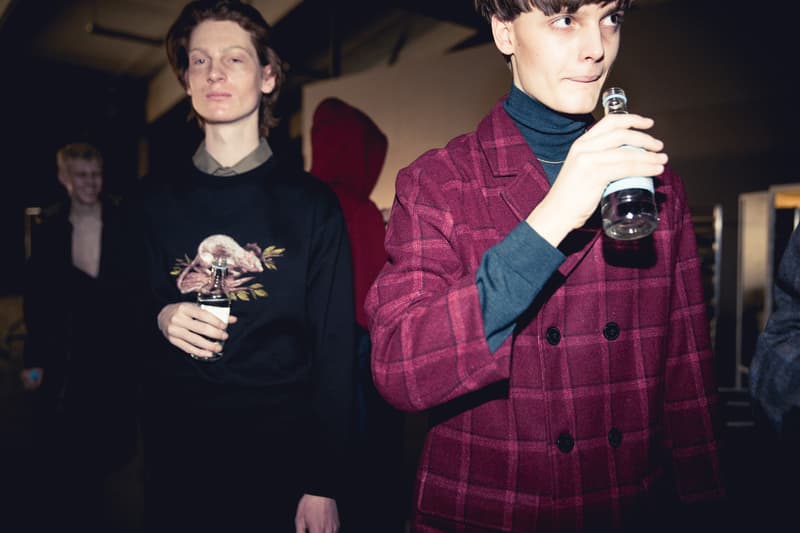 12 of 17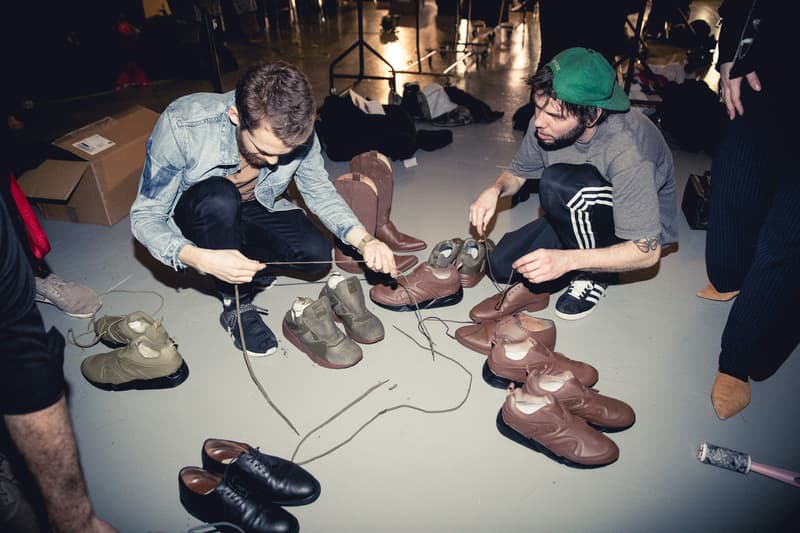 13 of 17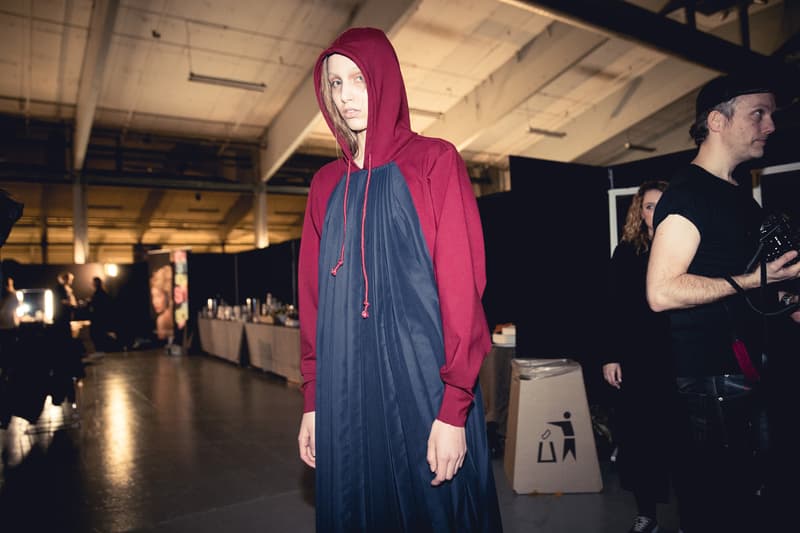 14 of 17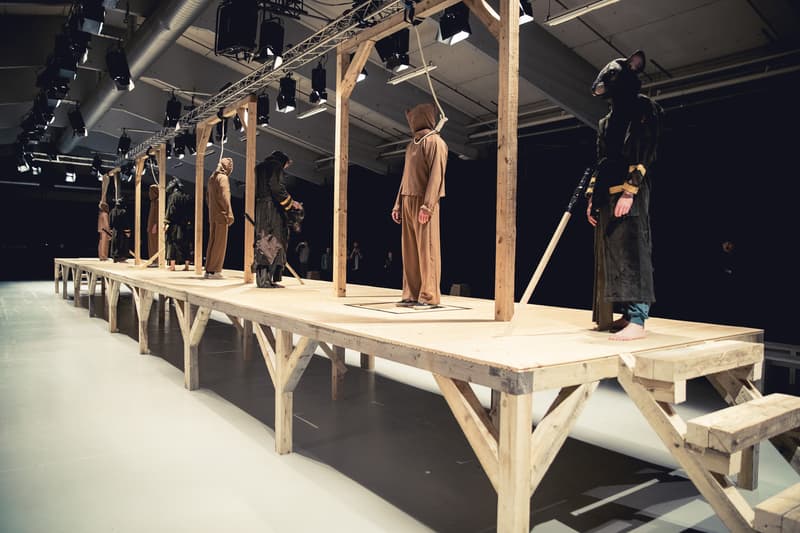 15 of 17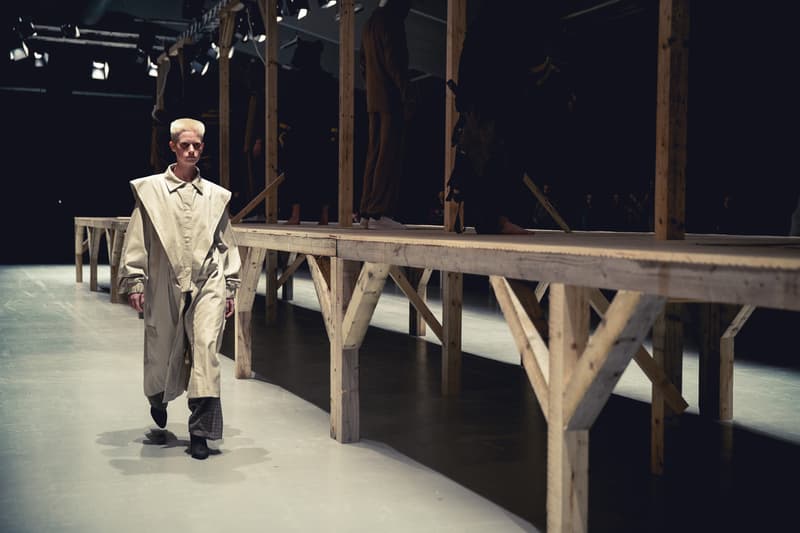 16 of 17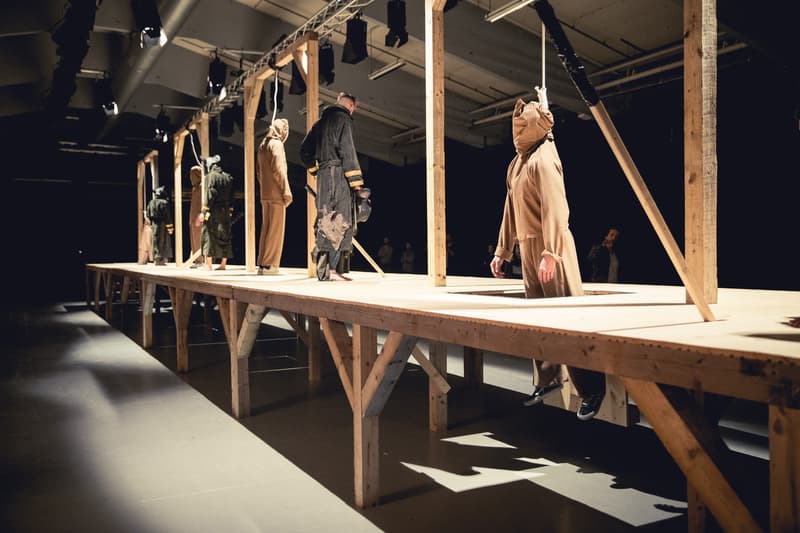 17 of 17
Han Kjøbenhavn is known for its typically Danish clothing which is minimal and has references to retro-sportswear, design, and architecture. The brand, which originally started out as an eyewear label, has since grown into a full collection which makes campaigns that always use elderly models, something we asked the brand about.
The 2017 fall/winter show was both a shift for the brand and a continuation of what the imprint has always been known for. The presentation itself was the shift from previous seasons when the clothes had been shown with minimal storytelling elements added. This time the set consisted of four hooded men in a hangman's gallery, all wearing sackcloth-esque garments with nooses around their necks and a trapdoor beneath them. The show started out with four men in rat masks and nightgown-esque garments being led by dogs as they walked onto the hangman's gallery and stood by the lever. Then the main show itself started, which consisted of slightly a continuation of Han Kjøbenhavn's offerings, such as loose fit check tracksuits, chunky knitwear, tweed puffa-overcoats and a new collaboration with Puma. Once the runway part of the show ended, the hooded men were hung, which made for an interesting, if slightly disturbing, spectacle. We spoke to Jannik Wikkelsø Davidsen about the inspiration behind the show, the company's American expansion and its collaboration with Puma.
So what were the references for the show?
The collection is called 'men with dogs killing rats' but the show is called 'rats with dogs killing men'. The inspiration came from those stories you heard in your life when you're growing up. Normally we do bigger stores but I wanted this to be simpler and make it more cinematic. In the collection you have the man represented through all the tweed, you have the hard work shown through the dogs and rat embodied by itself – so this is the rats taking revenge.
Were the sneakers a new product for you?
They're a little teaser for our upcoming collaboration with Puma.
What are some of the new products in this collection that you're excited about?
We have a lot of collaborations and not all of them were shown here. We have a Schott NYC collaboration, which is a big one, we have Airwalk as we're helping to relaunch the brand, so we're part of that as well. Normally we don't do that many collaborations but this season we've been interacting with a lot of interesting people and kind of agreed that this is the right sort of projects.
Is furniture design and architecture still an influence for you?
It's still a part of it, but this is more our cinematic universe and this is also why it's so conceptual – the colors, the story – so I would say this is not specific on furniture but this is more about where we're from, our Danish heritage.

Do you still want to work on eyewear?
Eyewear is a big thing for us as well. It's still one of our main groups so I would say apparel is where you create the image and tell the stories. Eyewear, of course, is a part of that but it's not separated from the concept, but it still has its own life and takes the brand into different directions than is possible with just the apparel. But it's still very much part of Han Kjøbenhavn.
Is New York still a focus for you?
Yeah, it's a big city and regarding a question you had before, we're also opening up a big store in downtown L.A. So, in general, the U.S. is a good market for us.
Aside from all that, plans for the future?
We're still trying to expand. We're still a relatively small company but we're pretty aggressive in the way we expand in terms of stores and stuff like that. But in terms of the future right now, it's about making all of our stores work. When we're opening up stores we still need to give them some love. So right now, we want to focus on making it the best stores possible that it can be and then after that, it's onto new adventures.
Photographer

Victor Jones/HYPEBEAST
Join Our Discussions on Discord
The HYPEBEAST Discord Server is a community where conversations on cultural topics can be taken further.