Lonzo Ball's Nas Hoodie Gets Roasted by Twitter
Some subtle shade.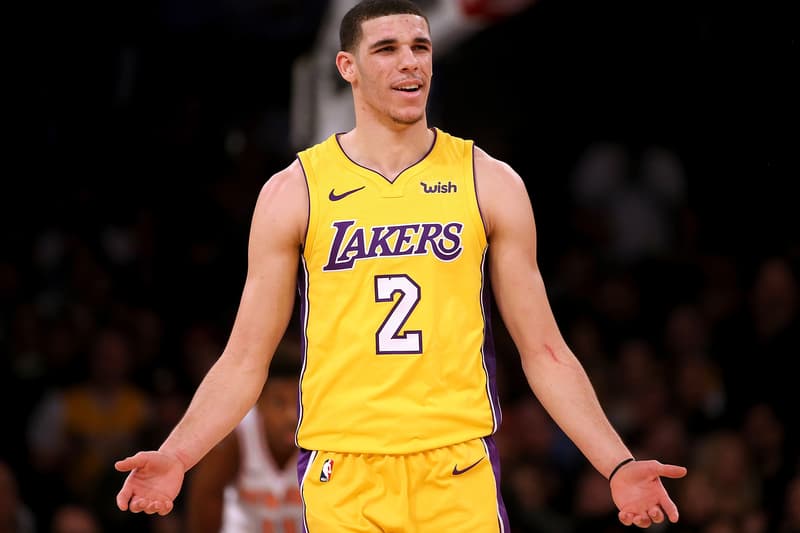 After a bold statement made by Lonzo Ball — who stated no one listens to Nas anymore and Migos and Future are "real" hip-hop — the Los Angeles guard was recently spotted throwing more subtle shade at the artist. As Lonzo made his debut appearance at Madison Square Garden for the Lakers vs. Knicks game, the newly-appointed guard was wearing a hoodie featuring a Photoshopped image of Lonzo's face replacing Nas's from the infamous Illmatic album cover.
Of course, with the Internet watching, Lonzo's move did not go unnoticed quickly causing a stir in the Twitter world. Check out the reactions below.
And in case you've missed it, check out our exclusive video interview with LaVar Ball where he discusses the future of Big Baller Brand and Lonzo's career with the Lakers.
Lonzo Ball arrives at the Triple B pop-up shop rocking his Nas inspired sweatshirt. pic.twitter.com/PXwRxF8Rs6

— Chris Martin Palmer (@ChrisPalmerNBA) December 10, 2017
Lonzo wearing a hoodie with his face on Nas' album as he heads into MSG ?
(via @Lakers) pic.twitter.com/i1Dt532w4o

— Bleacher Report (@BleacherReport) December 12, 2017
Im a Laker fan and Lonzo Ball looking stupid trolling Nas. The way he playing his level of trolling should be Chingy.

— West Coast (@FreshCoastPapi) December 13, 2017
Lonzo Ball been in the league for like 20 sum games and his biggest rivalry is Nas

— Kofie (@KofieYeboah) December 13, 2017
Yo how Lonzo Ball say "Nas ain't relevant" then walk into Madison Square Garden with a hoodie imitating Nas's Illmatic album cover ??‍♂️. This is trolling at its finest by #bbb ? pic.twitter.com/t33zJS6h5b

— mista_me_too (@eric8705) December 13, 2017
He ain't disrespect Nas like that…wow

— Donovan Mitchell (@spidadmitchell) December 13, 2017
first lonzo ball disrespected nas then put his face over the illmatic cover on a hoodie, lil b need to curse u son

— ayano (@yano_253) December 13, 2017
C'mon Lonzo Ball you don't disrespect Nas on your hoodie like that especially your first game at MSG lol, You should still be playing in the PAC 12 you bum

— MG (@therealmikeyg) December 13, 2017
First @zo says Nas isn't real hip hop then he wears a custom hoodie with his face photoshopped onto Nas' It Was Written album cover at Madison Square Garden.. I like Lonzo but at this point you're begging to get ethered boy. ? Should Nas diss him on his upcoming album? pic.twitter.com/z2TaPs8P6v

— Official Grrindtime (@itsgrrindtime) December 13, 2017
Wow. Look at the hoodie Lonzo wore to MSG tonight. Disrespecting the GOAT once again?!??

Go get 'em, Frank pic.twitter.com/FL4Ztdvhty

— Tommy Beer (@TommyBeer) December 12, 2017
Nas hoodie across your son's belly, it proves you lost already. #Ether https://t.co/RHYanDTEV1

— Jason Whitlock (@WhitlockJason) December 13, 2017
I thought Lonzo said nobody tryna listen to Nas but look at his hoodie ? https://t.co/so7tdsfN6m

— ͏y͏o͏n͏cé ͏a͏d͏u ? (@AgapeLove_x) December 13, 2017
NAS SAW THE HOODIE ??? pic.twitter.com/6qVb8UQM36

— SB Nation (@SBNation) December 13, 2017
Come on Lonzo, you can't disrespect Nas like that https://t.co/iJpwDbTAz6

— Iliana ? (@IlianaGerardo) December 12, 2017
Respect the legend @Nas ?? I️ legit got up and screamed at the TV when I️ saw @ZO2_ enter MSG with that blasphemous hoodie

— Ericka Goodman (@Ericka_Editor) December 13, 2017
Chauncey Billups wasn't down with Lonzo Ball rocking the Nas hoodie. (via @NBAonESPN) #ItWasWritten pic.twitter.com/D8L2ojiyRr

— Ball Don't Stop (@balldontstop) December 13, 2017