HYPEBEAST Mix: Chase B - Plot Twist
Travis Scott's DJ and right-hand man laces one up for our HYPEBEAST Mix series.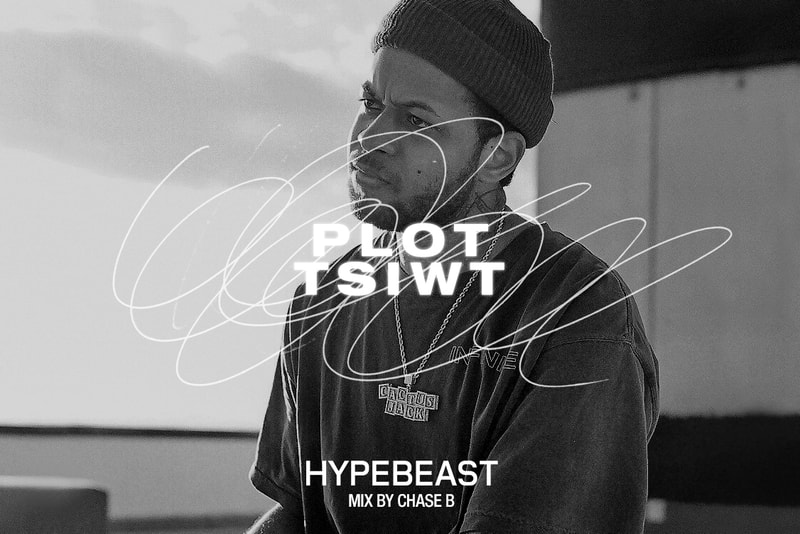 Chase B has built a name for not only being Travis Scott's right-hand man and DJ, but also having an ear for fresh new music while curating some of the biggest residencies around the globe that include LIV, 1 OAK, UP & Down and Marquee amongst others. In addition, he's a notable sneaker aficionado and co-host of .WAV Radio, a new station in collaboration with Travis Scott on Apple Music. Today, in conjunction with his new Plot Twist HYPEBEAST Mix, we caught up with the music creative to briefly catch up on a few things including his aspirations of becoming one of music's most legendary producers, his favorite new artists, records, sneakers, residencies and of course, some of his most memorable moments on tour with Travis Scott. Check it out below.
What are you currently involved in?
Sounds like what you tell everybody haha, but I've just been working. Like literally only working. It's been such a good and progressive year for me. I have all of these residencies to keep up with, so I don't really have too much time to chill. I have Avenue in LA twice a month on Tuesdays, me and my boy DZA have a new Wednesday party called Rotation at Liv on Wednesdays. Plus I've been doing my 'Weekday Warriors' party every Thursday at Up & Down for about a year and a half now, 1 OAK on Fridays, then I start my residency at Marquee Las Vegas in January. That's not including any other random gigs that I might book on top of all that. Plus Travis has been doing maybe one show a week while we're off tour. At this point, any day where I don't have to go to the airport is a good day haha. So yeah, my SkyMiles are UP right now.
What are your long-term/short-term goals?
Man, I feel like this conversation came at a really good time, because the next interview I do will probably be totally different from this one. I've just been producing. Trying to make as much music as possible. I can't wait for everybody to hear what I've been working on. I'm just ready to make that transition into being one of music's legendary producers. That's short term. Long term, I just want to be remembered as the best to ever do it, which is all relative at the end of the day, but that's always been the long term goal.
Nowadays it seems like everyone wants to be a DJ, but not actually DJ if that makes sense. Any thoughts on that?
Yeah. DJing, along with a ton of other creative crafts, has gotten a little too saturated for its own good. A couple of years ago it used to frustrate me, but then I kind of just woke up and realized, these "not actual DJs" are only "DJs" because promoters and whoever else book them to DJ. So who's really to blame here. At the end of the day, DJing has grown into a very lucrative industry and obviously a lot of people (worthy of it or not) want to be apart of it. There's room for everybody to eat, though. You just have to play the game. There are some amazing DJs out there killing it in local bars every night that don't even have SoundCloud accounts, so how are you supposed to know them outside of wherever they're at. Aside from that, on the technical side — all of these programs like Serato paired up with all of these new Pioneer controllers have just made the act of "DJing" so much easier to grasp. So naturally people are going to pick it up.
You obviously come across a lot of new music and have your own personal preference with curating tracks. If you were to create a "franken-rapper," what type of build would it be?
That's a funny ass question, haha. Off the top of my head I'm gonna say B.I.G.'s flow, Ye's charisma, Drake's melodies, Travis Scott's energy, Rick Ross' ear, and Slick Rick's chains haha. That sounds pretty chill.
You and Travis Scott spend a lot of time together on the road. What's the funniest/best memory you've had so far?
I suck at this question haha. There's been way too funny moments. We're like 6 or 7 tours deep at this point. But the thing is, me and Trav don't just laugh, we laugh hard as fuck. Nobody on Earth wants to be on the wrong side of a Trav and Chase laugh I guarantee that.
Any new artists that are on your radar right now?
It's Ashton Travis season. Simply put, he's about to fuck so much shit up.
Favorite sneaker out now?
Obviously all the Virgil shenanigans can go without saying. This dude just went 730 on everything. But I love the Tom Sach's too, I wear those very-very often. Sean Wotherspoon killed his 97s, Aleali May 1s and I'm always gonna have a good pair of white cement 3s around.
Favorite record out right now?
King Krule's new album.
Final words?
Houston, we won the World Series. Rockets up next. Cactus Jack Records. God is good.