Best New Music Releases of The Week: Migos, Ronny J, Majid Jordan and More
Hot tracks from the last week of October.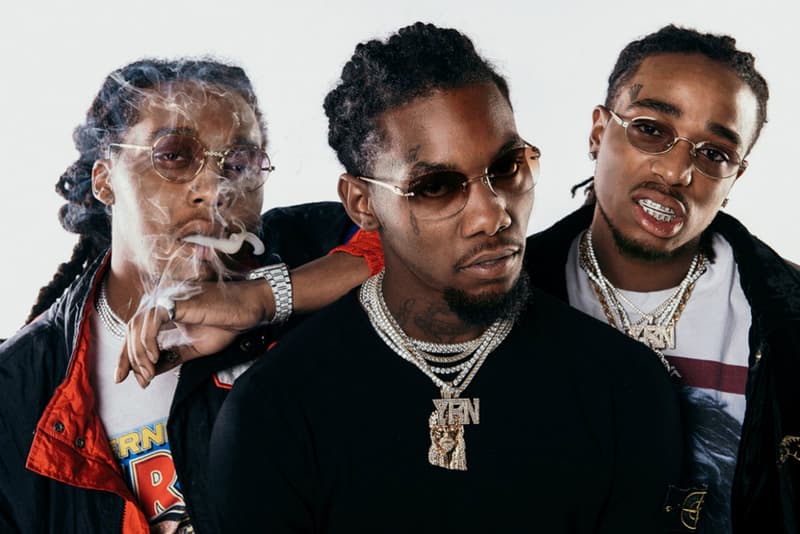 The final week of October proved to be another solid week of music drops that saw mostly single releases with the exception of full-length albums from Majid Jordan, The Space Between and Ty Dolla $ign with Beach House 3. Aside from the music, capturing most of the headlines this week was Lil B who was violently attacked at this year's Rolling Loud festival by allegedly, A Boogie and PnB Rock. Many came out in support of the Based God after the video surfaced, including Skepta, Travis Scott and Drake amongst many others. Meanwhile, Lupe Fiasco even took it upon himself to praise the Based God in a new track called ""All While Doing A Rubik's Cube One-Handed."
Aside from the Lil B squabble which was eventually squashed, 21 Savage fulfilled a life-long dream of becoming a pilot by enrolling into flying school, while Kaytranada and MF DOOM are teaming up with young Bishop Nehru for a new collaborative album.
Check out all of our selections and let us know what you think.
Majid Jordan – The Space Between (Album)
After sprinkling some singles throughout the year, Majid Jordan's long-awaited sophomore album dropped this week. The Space Between is a 13-track project that includes the singles "Phases," "One I Want" featuring PARTYNEXTDOOR and "My Imagination" with dvsn. Majid Jordan will head on their 'The Space Between: A World Tour' which kicks off in January 2018. Stream the album in its entirety via Apple Music below.
Migos, Cardi B & Nicki Minaj – "Motor Sport"
After debuting during a Brooklyn performance, the first single off Migos's Culture II finally arrived this week and as expected, the track doesn't disappoint. Meanwhile, Migos's Culture II album is set to feature a star-studded guest lineup with appearances from Drake, Travis Scott, Big Sean and Ty Dolla $ign amongst others. Not to mention, the project could arrive any given moment. Stay tuned and check out "Motor Sport" down below in the meantime.
Puma Blue – "(She's) Just a Phase"
South Londoner Jacob Allen—otherwise known as the young jazz purveyor by the name of Puma Blue—has been making a lot of noise thanks to his unique approach on traditional jazz. Somewhere in the mix of Jeff Buckley falsettos, downtown jazz vibes, and J Dilla rhythms, his sound is quite a sight to behold. This week, he shared a new song called "Want Me," which was recorded in his bedroom and is also accompanied with a video. Press play to check it out below.
DJ Snake & Max Frost – "Broken Summer"
DJ Snake reached a staggering 4 billion views on YouTube last week and as a thank you to fans, the renowned DJ/producer dropped off a new Max Frost-assisted cut called "Broken Summer." The song finds the French producer switching up his usual frenetic, uptempo transmissions into a more syrupy, future-pop angle that not only showcases his versatility as a hit-making producer, but also takes his music to the next level through experimentation with different artists and genres. Listen in below.
Ronny J & Ski Mask The Slump God – "Thriller (Forever)"
You can't talk about South Florida's music scene without mention Ronny J. As one of the center pieces of the movement, he's now switching up the production role to a full-fledged spitter. This week, we saw the young pioneer drop off this hard-hitting cut with Ski Mask aptly titled, "Thriller (Forever)." The song is the first single off his upcoming major debut with Atlantic Records, OMGRONNY, set to drop later this year.
Onyx Collective – Lower East Suite Part One (EP)
NYC-based Jazz ensemble Onyx Collective have released their first ever debut studio project, Lower East Suite Part One. The EP serves as the group's first studio effort through record label Big Dada, following up 2016's release 2nd Ave Rundown with Supreme. This is also the first time Onyx Collective's music has been available online, with previous releases only released in physical form and distributed locally. Stream the entire project for yourself below.
G-BABY GVVAAN – CALM DOWN (EP)
Directly following the May release of the A$AP Illz-debuted, Pierre Bourne-produced "Oi!," listeners are finally being treated to a fully-formed project from GVVAAN. Known as Calm Down, the EP delivers four new tracks, with production coming exclusively from DJ Mike Nasty and B1ackboy. Eschewing features in order to fully showcase his own sound, G-BABY GVVAAN goes the solo route, allowing his melodic, charismatic style to lead the way. For those in search of hip-hop and R&B's next major sound, G-BABY GVVAAN and Workspace Records are offering something fresh and exciting. Listen in below.
Ty Dolla $ign – Beach House 3 (Album)
Ty Dolla $ign's long-awaited Beach House 3 album has finally arrived after hitting the internet heavy these past few weeks with a plethora of releases alongside PARTYNEXTDOOR, Gucci Mane and Future amongst others. The esteemed rap-singer's sophomore effort contains a staggering 20 tracks in total, with guest appearances from Pharrell, Lil Wayne, Future, Swae Lee, Tory Lanez, Jeremiah and more. Meanwhile, production duties were handled by Mike Dean, Skrillex, DJ Mustard, Mike WiLL Made-It, James Royo and of course Ty Dolla himself. Jams for days, listen below.
Ye Ali & K Camp – "Wedding Bands"
Mr. "Trap Jodeci" delivers some holy matrimony rhymes on a new trap-soul-esque number this week called, "Wedding Bands." The record also features Atlanta-based R&B crooner K Camp who along with Ali, finesse the track with catchy braggadocios rhymes and hooks. This song sets the state for young Ali who will also be making a major appearance on Chris Brown's upcoming Heartbreak on a Full Moon album set to drop on November 3. Press play to listen in below.
Be sure to check out our previous music roundups for the best drops of weeks past.