Haunting & Hallucinatory Art Events in Light of Halloween
Infinity mirrors, cosmic caverns and more.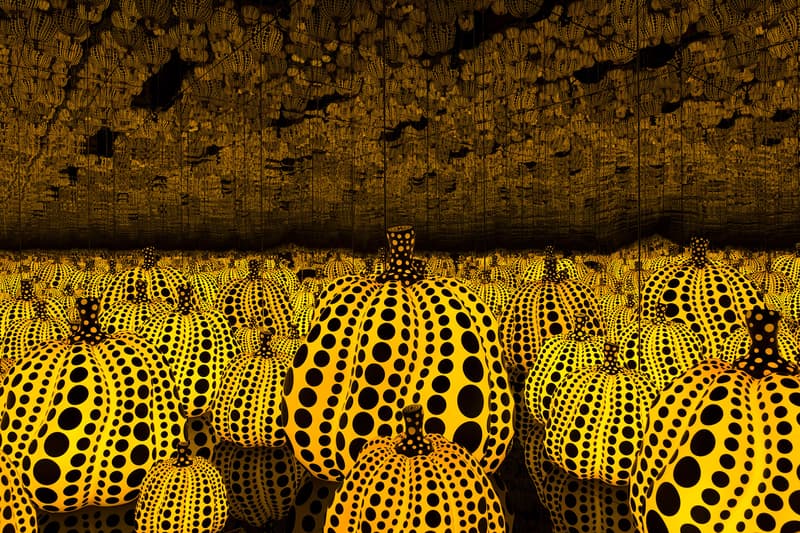 Halloween is upon us. Costume parties, street fairs and haunted house explorations are just a few of the many happenings that occur on the spookiest day of the year. For the art lovers out there, we rounded up a handful of exhibits as well as collaborations that fit the frightful bill. From Yayoi Kusama's hallucinatory Infinity Mirror Rooms in New York City to Livestock's 13th anniversary show filled with Jason Voorhees-inspired hockey masks, check out our list of Halloween-inspired art stories below.
Yayoi Kusama Brings Her Infinity Mirror Rooms to NYC
Yayoi Kusama is the subject of two major exhibitions at the David Zwirner Galleries in New York City. Dubbed Festival of Life and Infinity Nets, the presentations will boast a total of 66 paintings from the legendary Japanese artist's My Eternal Soul series. Additionally, Kusama's large-scale flower sculptures, paintings and two never-before-seen Infinity Mirror Rooms will be on display at the Chelsea locations.
The exhibits will launch this November 2 up until December 16. Head over to David Zwirner Gallery's official website to learn more.
David Zwirner Galleries
525 W. 19th St., New York, New York 10011
533 W. 19th St., New York, New York 10011
34 E. 69th St., New York, New York 10021
Kenny Scharf Will Transform MoMA Into a Cosmic Cavern
Kenny Scharf will launch a new exhibit at the Museum of Modern Art in New York City this Halloween. Titled "Club 57: Film, Performance, and Art in the East Village, 1978–1983," the show honors the historic nightclub and performance space located at 57 St. Mark's Place—a go-to spot for legendary artists such as Jean-Michel Basquiat, Keith Haring and more. Paintings, video, films as well as performance art will be on display.
The pop surrealist will also transform the space into a trippy wonderland inspired by his notorious Cosmic Cavern parties. Party-goers were immersed in a fluorescent-drenched universe covered with graffiti tags and bizarre objects. Visit MoMA's website to learn more about "Club 57."
MoMA

11 W. 53rd St.
New York, NY 10019
Livestock's 13th Anniversary Art Show
Livestock celebrates its 13th anniversary this year with a series of art shows. Aptly titled 13th, the Canadian boutique has commissioned Geoff McFetridge, Don Pendleton, Mister Cartoon and more renowned artists to create unique artwork on hockey masks. "As both a nod to our Canadian heritage, as well as to our 13th anniversary, we have selected hockey masks as the medium for each artist to express themselves through, with the intent of including as many people as we can, who we have worked with or who have inspired us to date," said Livestock.
The first mask show took place on October 13 in Vancouver while the second installment launched at the company's Toronto flagship on October 20. The third show will be located in Livestock Winnipeg this November 10.
Livestock Winnipeg
407 Graham Ave.
Winnipeg, MB R3C 0L3
Canada
"13th Hour" at Last Rites Gallery in NYC
Last Rites Gallery in New York City is one of the best spots to catch captivating artworks of contemporary surrealism. For Halloween, the gallery has launched a group show called "13th Hour" that centers upon the dark arts. There are over 30 participating artists in the show, including Rachel Bridge whose painting is depicted above.
"The [show's] name describes the final minute before 1 am, in which entities that are bound to other dimensions and otherworldly realms intrude on our own reality," said Last Rites Gallery. "13th Hour" is currently open to the public until November 15. Head over to Last Rites Gallery's official website to learn more.
Last Rites Gallery
325 W. 38th St. #1
New York, NY 10018
Jeremy Fish and Death Wish Coffee Launch Special Collaboration
Seasoned visual artist Jeremy Fish has teamed up with Death Wish Coffee (aka World's Strongest Coffee) on a limited edition coffee tin, bag, and a numbered print. The collaborative design features Fish's signature "silly pink bunny" character alongside the coffee shop's basement roots.
Take a look at the limited items above and purchase it all starting November 2nd at Death Wish Coffee's official website. The print will set you back approximately $50 USD.