What Makes the New adidas PureBOOST Different From Other BOOST Models?
Design Director Stephen Dobson tells us why he stripped it all back.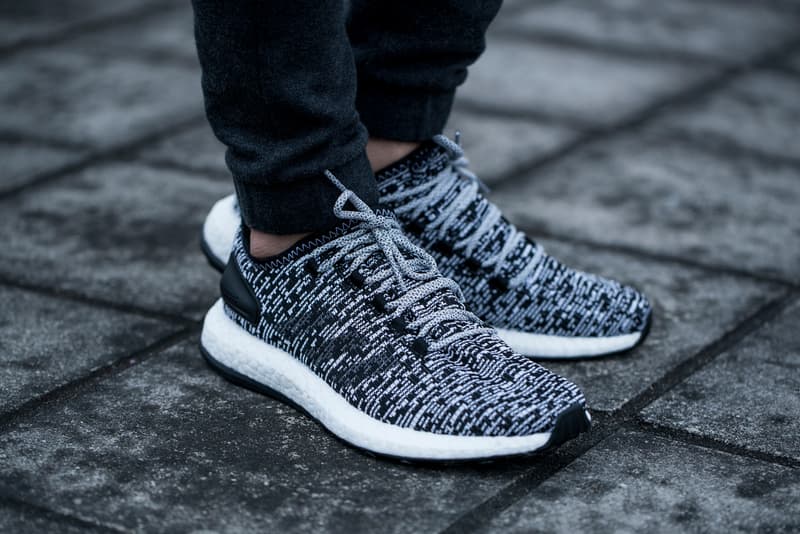 1 of 7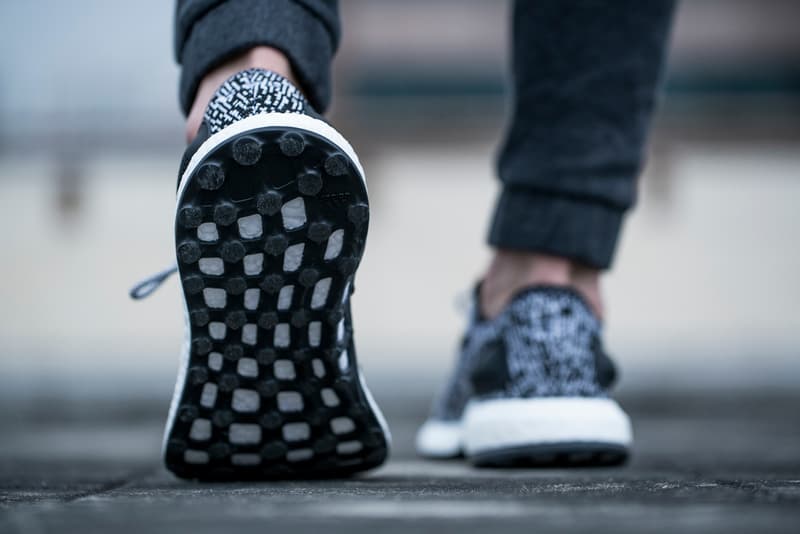 2 of 7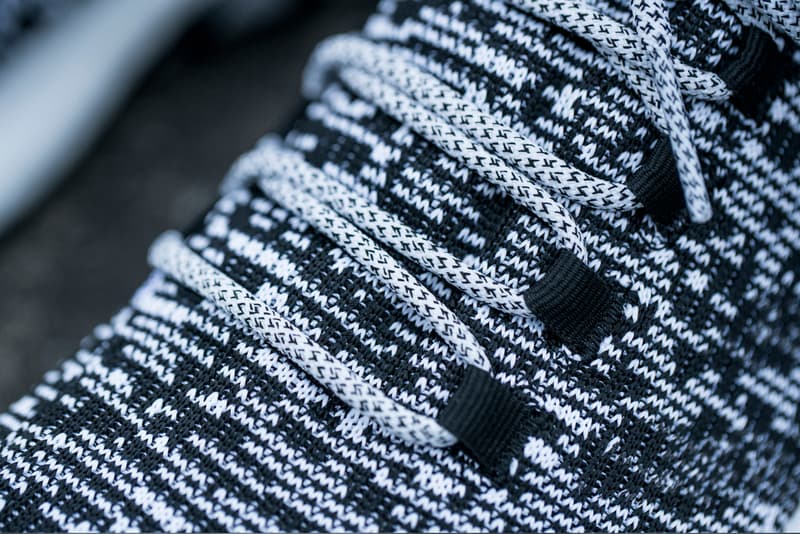 3 of 7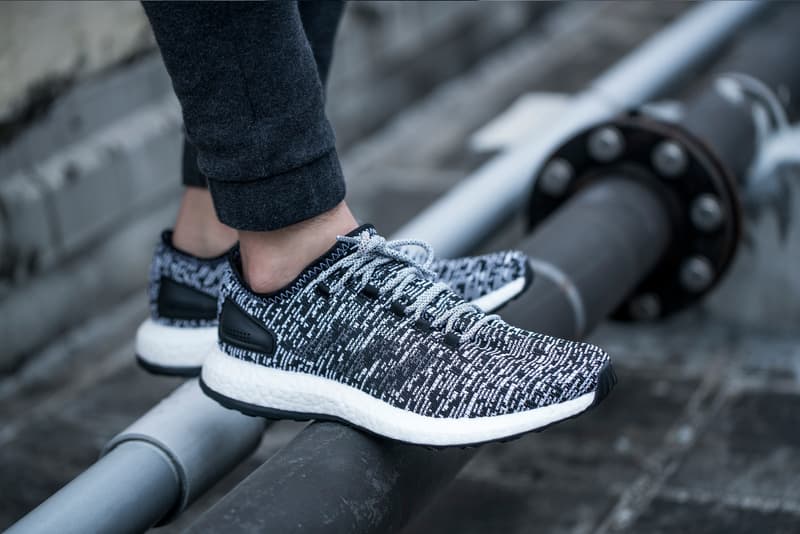 4 of 7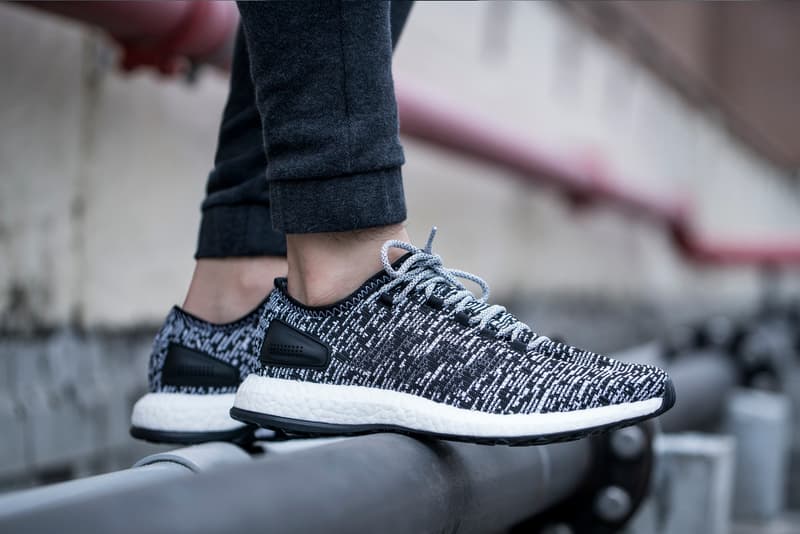 5 of 7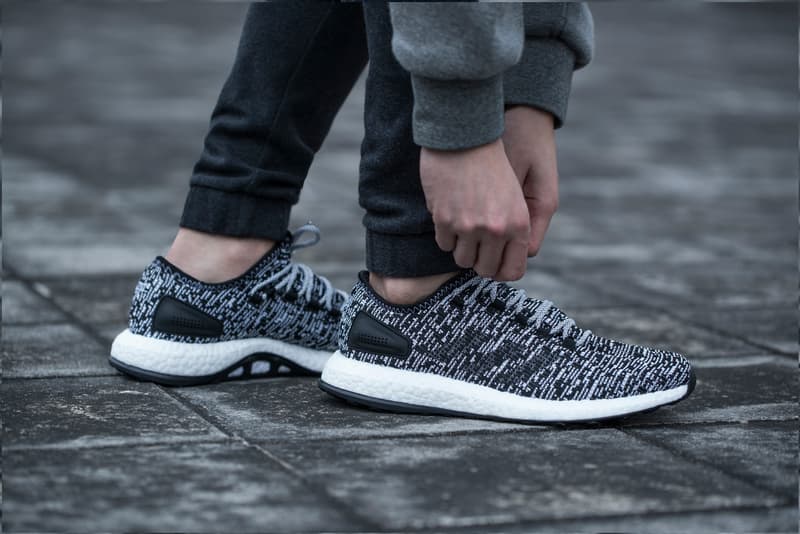 6 of 7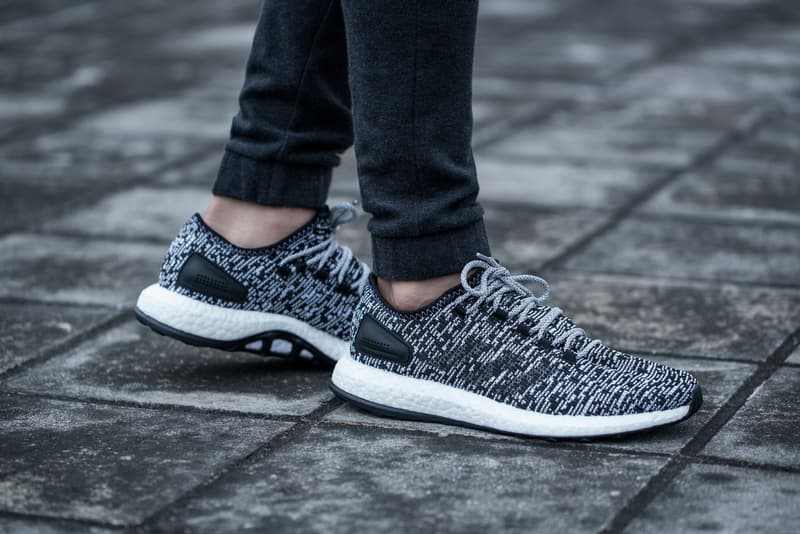 7 of 7
Since its debut in 2013, adidas' BOOST technology has continuously redefined the sneaker landscape by bringing performance shoes to the lifestyle scene. Four years later, the Three Stripes continues to push forward the tech-as-fashion movement with the ceaseless evolution of BOOST.
In 2014, the Herzo giant took things further by applying its ubiquitous Boost technology across the shoe's entire cushioned midsole. Aptly named the PureBOOST, the model provides maximum comfort without forgoing a simple, lightweight build. As we kickstart 2017, the PureBOOST category makes a return, this time boasting knit construction in a street-ready getup for adidas Running. The streamlined silhouette features a seamless upper made from a new circular knit, double wrap tongue, external heel ventilation, Stretchweb outsole and a unique lacing system that brings to mind elements from the Yeezy BOOST 350 and 750 models. These design features all revolve around a sculpted BOOST midsole for a versatile, agile and adaptive shoe that is specifically suited to withstand city environments.
In anticipation of the shoe's February release, we spoke with adidas Global Running's Design Director Stephen Dobson and Product Manager Stephan Schneider about the design process of the PureBOOST, how it differs from other BOOST sneakers, and how technical silhouettes are taking over current sneaker trends.
The adidas Running PureBOOST in black and white is available now in the U.S. at adidas.com, with a black version dropping on January 25. The rest of the colorways will launch on February 1.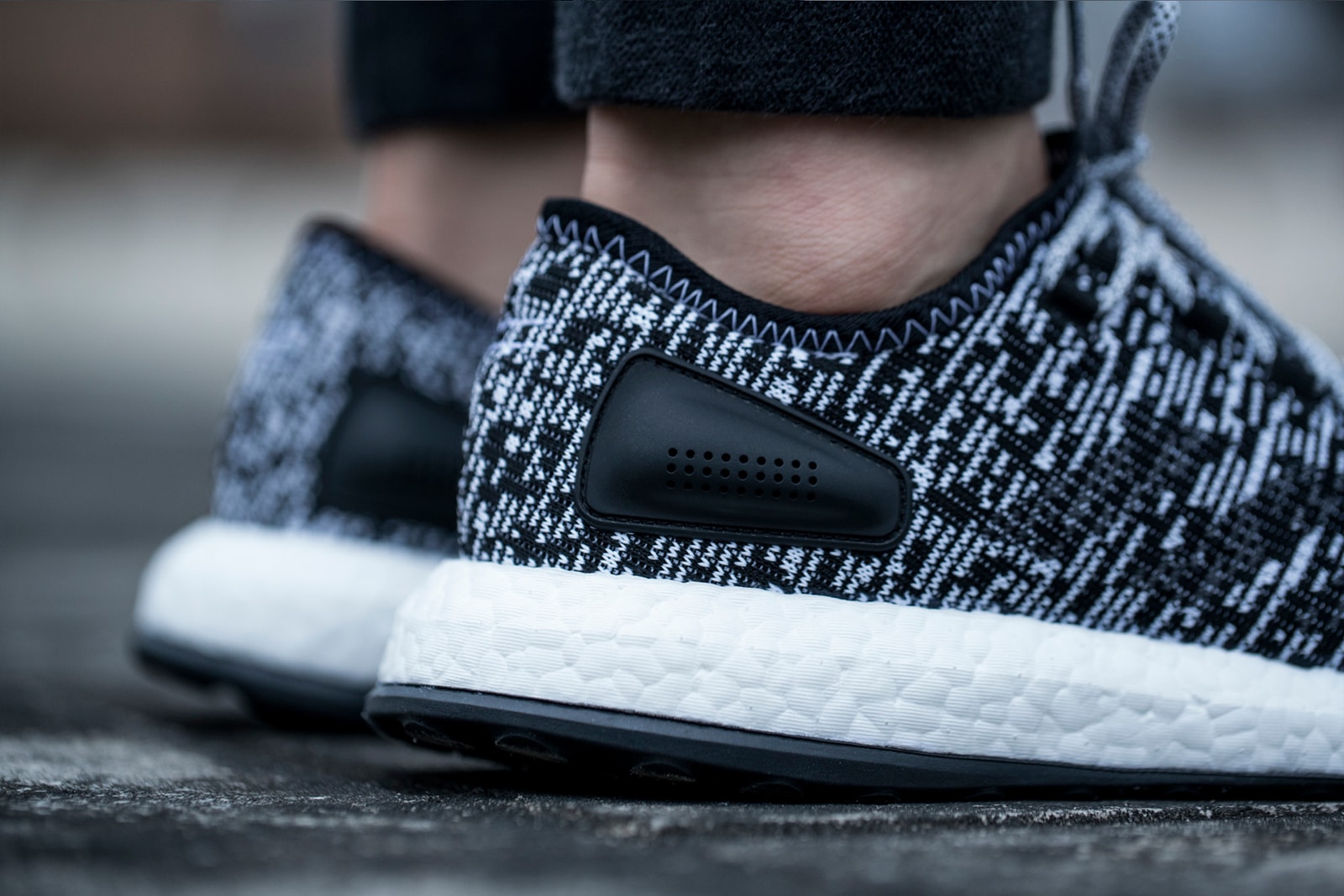 What sprouted the idea for adidas to design the PureBOOST?
SD: Well, we spend a lot of time on the road, out in our cities, talking to runners from all over the world. We found a common insight kept coming up about how running in cities has all sorts of challenges. Uneven sidewalks, traffic lights, traffic, pedestrians, courier bikes, manhole covers, steps. Actually, it is like an obstacle course. Like a trail run. Runners are constantly stopping and starting, bobbing and weaving, turning or breaking at a moments notice. Our runners need a shoe that is adaptable and agile. That moves with them through this obstacle course of a city.
What does the PureBOOST offer, that other BOOST sneakers don't already offer?
SS: The basic idea behind PureBOOST was to build a shoe that faces the needs and challenges of running in a city environment. Running in the city is really like running in a maze. So we built a new shoe that features a deconstructed, versatile and adaptive design, which enables runners to explore the city. We brought the runner lower to the ground and extended the stretchweb so that the shoe is highly flexible and adapts to different surfaces and situations in the city – whether that be crossing drains, running stairs or taking a sudden change in direction. Another key part is the knitted upper. It is constructed to adapt to any type of foot shapes but also to hold your foot in the simplest way possible. In essence, PureBOOST is definitely the most untraditional performance running shoe we have created yet.
How has BOOST technology evolved since you first started applying it to footwear?
SD: We are very excited by how people are responding to BOOST technology and how it has changed how we design running shoes. We focus on how a shoe feels more than just how it looks. While BOOST stayed constant, we have looked at every single other piece of the shoe, to change and evolve how these parts interact and compliment the Boost experience. This creates a new sensation of comfort and experience that helps us strip back the design to only what is essential.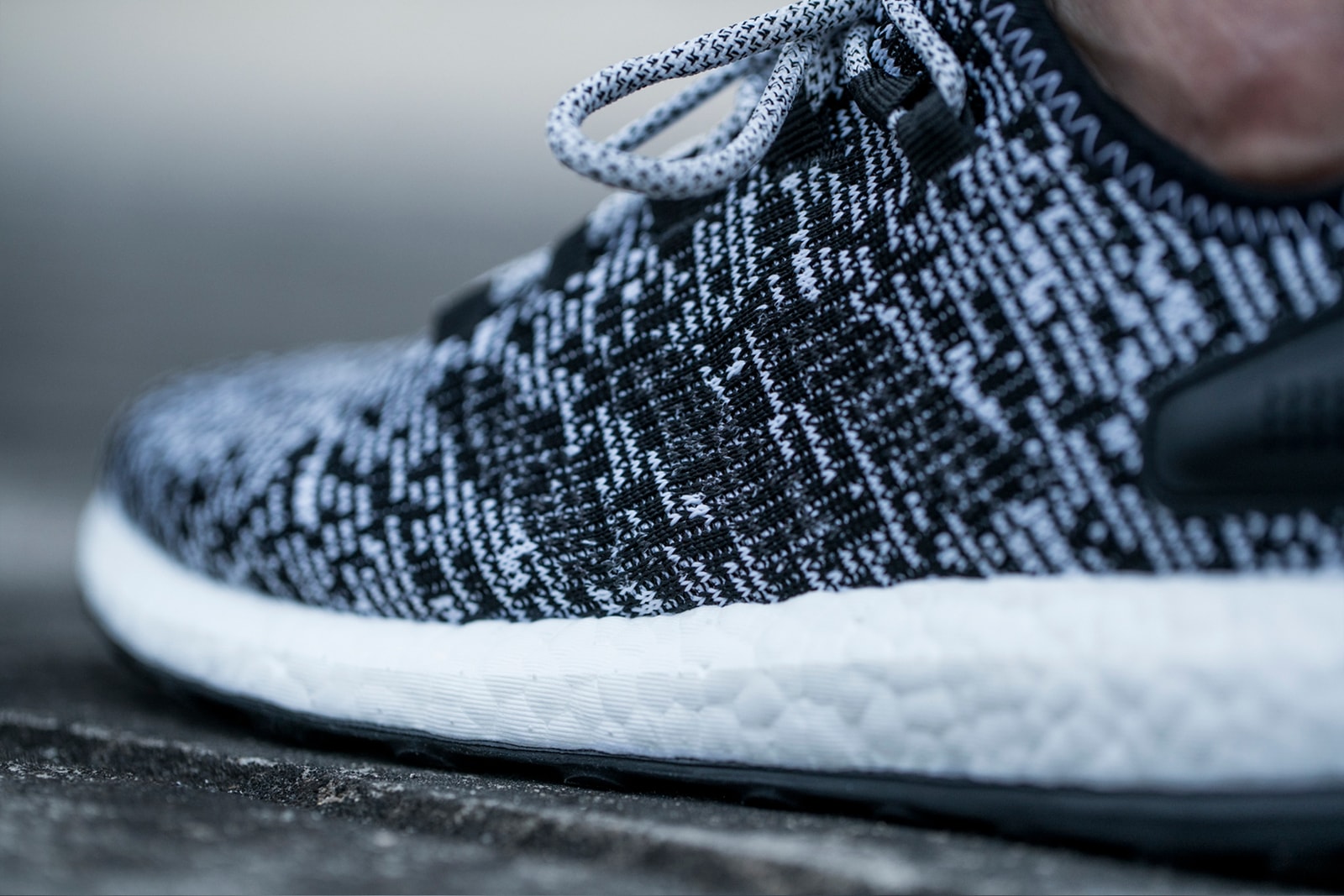 What are the standout design motifs in the PureBOOST? How do these design elements balance functionality and style?
SD: We strived to create a design that is pure, raw and real. It is a completely new silhouette and stance from the full-length BOOST, from the larger rubber stretch web to the unique knitted upper construction.
In more detail, the wider stance of the shoe creates a greater footprint and therefore offers more stability to the runner by giving them more connection to the ground.
The enlarged stretch web is visually quite striking and unleashes the BOOST foam to bend and move more dynamically.
We took a lesson from our trail running shoes and wrapped the rubber outsole on the inside of the shoe, to provide more traction when running up and down icy steps or across slippery gutters.
We obsessed over the fit. Stability and confidence begin in the heel area. So we created a dynamic new heel fit that hugs and holds the foot. The external heel counter is separated into 2 pieces that can move and adapt independently.
We removed the tongue and really just built the shoe out of two overlapping pieces of textile. This means that you can adapt and customize the fit in different ways for different foot shapes. The aim was to liberate the foot and create a design that feels almost alive like an extension of your foot. We heard from runners that running through the city can be gritty, messy and dirty. We wanted to create a knit pattern that wears well with age and can blend with the city around it, so we introduced the new urban camo pattern.
"We wanted to create a knit pattern that wears well with age and can blend with the city around it, so we introduced the new urban camo pattern."
With performance sneakers being a popular option in the lifestyle realm, how has the PureBOOST design reacted to this trend?
SD: We always put our runners first and our initial aim is to create a great experience for them. However, the sheer comfort of BOOST makes it hard to switch back to conventional materials and people simply love to wear BOOST beyond the run. We are inspired by what people want to wear and we look at new ways to translate this back to performance product. This has helped inform how we create objects of desire through silhouette, shape, material and color.
We also observed that many runners are commuting to their run through the city. So we wanted to create a running shoe that could compliment any wardrobe and blend naturally into the city they are commuting through.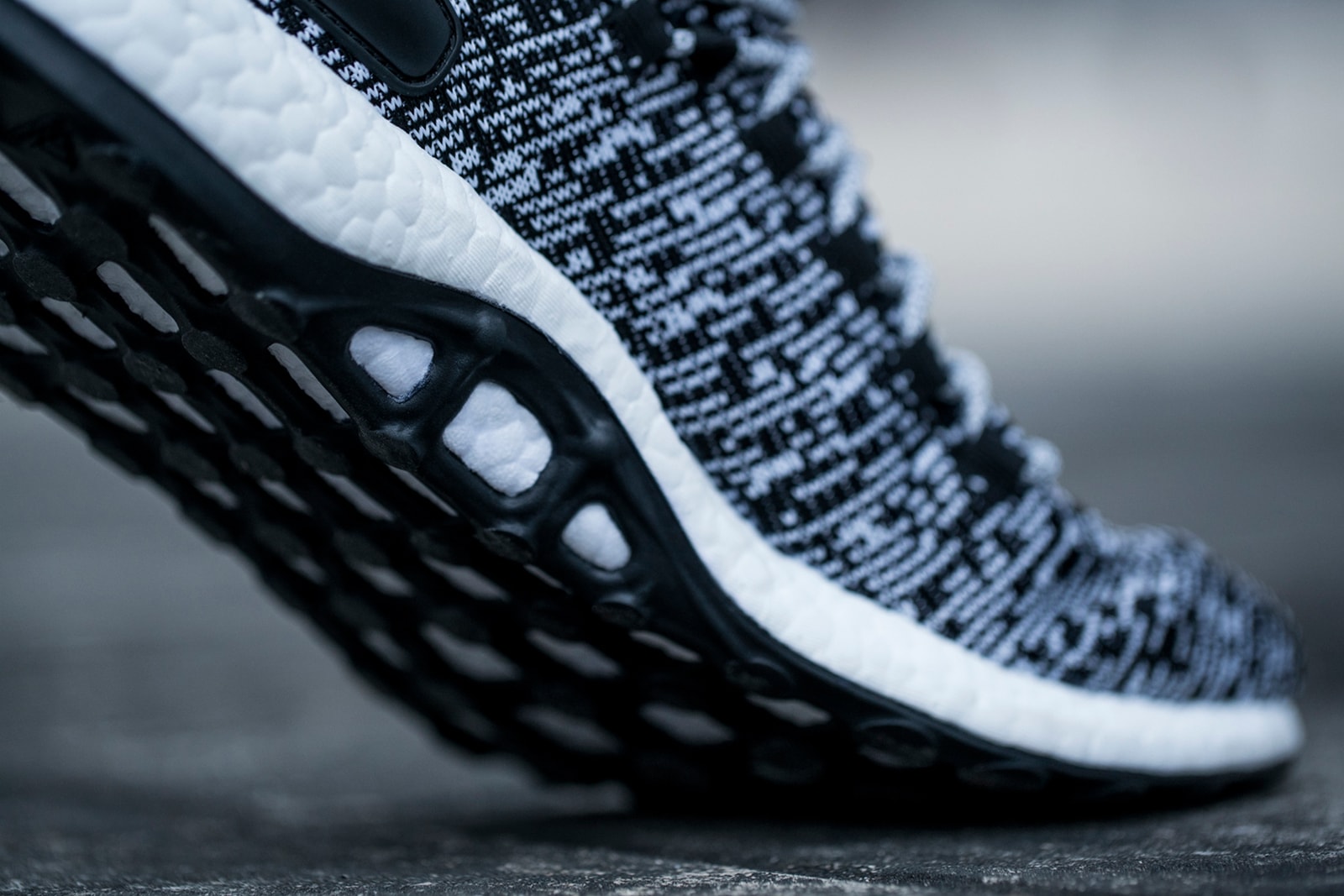 What was the biggest challenge you came across when designing this shoe?
SD: Having the confidence to strip the product back to its essence – to constantly challenge ourselves to make a simpler design. Simplicity isn't easy. It is easier to add and make something more complex than it is to reduce or remove. So making a great experience out of the least number of parts was our aim. What we are most proud of is that with every stage of refinement, we made the design simpler and as a result, it seemed to become somehow more honest, raw and more real.
Why do you think the current sneaker and footwear trend has pivoted towards advanced technical silhouettes as opposed to retro'ing vintage models? (i.e. the ZX series)
SS: Sneakers have become so popular that they are almost ubiquitous and sneaker culture in general has so much energy right now. It is exciting to see so many creative and imaginative people, who are embracing new ideas and are willing to take risks. We believe that they want to be challenged and are constantly looking for the next. The next technology, the next innovation, the next great design.
As an innovative company we always aim to disrupt the market place, everything that we do is rooted in performance culture, innovation and purpose. An example is our Futurecraft series which is pioneering new ideas. The positive resonance we get clearly shows us that people are seeking for more progressive designs and innovations, which are predominantly integrated into advanced technical running silhouettes.