The Karlbox Is Karl Lagerfeld's $2,850 USD Chinese Wedding Chest of Crayons
The Chanel icon teams up with Faber-Castell for a box of his go-tos.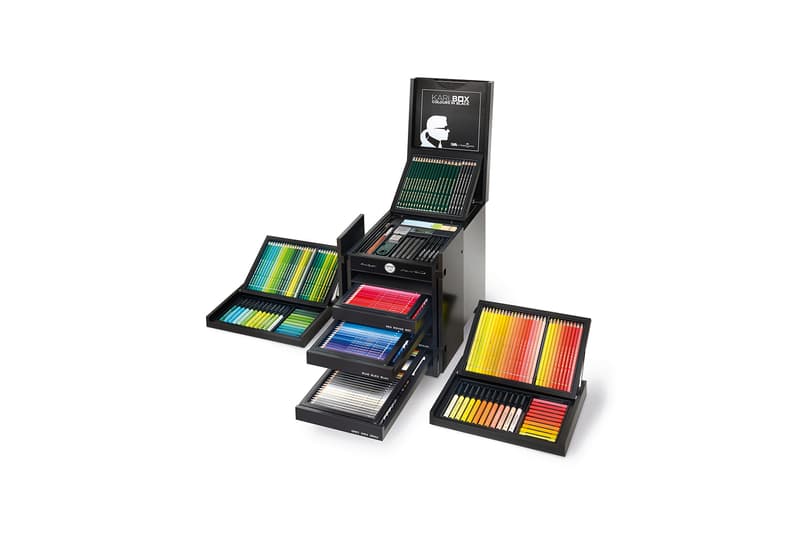 $2,850 USD may seem like a lot to shell out for a box of crayons, but when you consider some of the man's Chanel dresses go for upwards of $100,000 USD, a little less than three grand doesn't seem so bad.
That's how much you'll have to cough up if you want to get your hands on the upcoming Karlbox. A collaboration between Karl Lagerfeld and Faber-Castell (long Lagerfeld's go-to when it comes time to add to his sketchbook), the aptly named package features 350 tools for drawing and painting — all sorted by shade in removable drawers housed within a custom cabinet resembling a traditional Chinese wedding chest. In addition to the iconic designer's favorite line, the Albrecht Dürer range of pencils (of which all 120 are included), the Karlbox also contains "Polychromos color pencils, Pitt ink pens and Castell 9000 graphite pencils along with brushes, a foldable cup, erasers and sharpeners."
Limited to just 2,500 units, the $2,850 USD package is available now at Faber-Castell stores, Karl Lagerfeld boutiques and Harrods and will land at additional retailers on September 19.