Banned Ones: Kanye West, Michael Jordan, and the Uniformity of Uniforms
The two legends have more in common than you might think.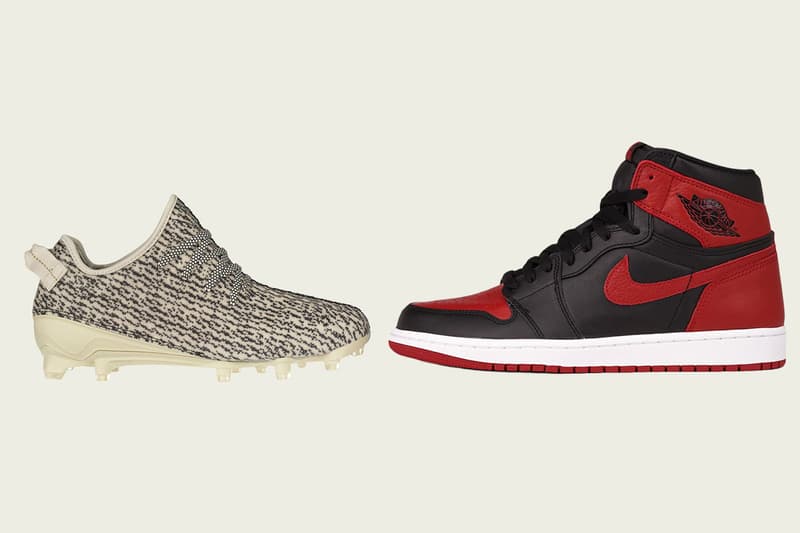 Kanye West may have infamously declared that his Yeezys "jumped over the Jumpman," but it appears that Mr. West and Michael Jordan may have more in common than originally thought. Just last week, photos and reports surfaced of Yeezy football cleats that appended spikes to the much-coveted 350 and 750 silhouettes. Instagram and Twitter photos started popping up of adidas athletes like Von Miller and DeAndre Hopkins receiving pairs of boots from their sponsors to wear during their teams' respective season openers. Naturally, social media went berserk for the athletic version of streetwear's heavily-coveted sneaker, and shortly after kickoff, the Three Stripes confirmed that they would be selling the cleats to the public at some point in the near future.
Introducing the #YEEZY 350 and 750 CLEAT by Kanye West. Coming Soon. pic.twitter.com/RcF5ah7LOn

— adidas Football US (@adidasFballUS) September 13, 2016
However, things haven't gone smoothly with the rollout of the Yeezy Cleats: the aforementioned Hopkins told ESPN that he wouldn't be wearing his gifted grails on game day after he received a $6,000 USD fine from the NFL. Apparently, West's "Turtle Dove" 350 cleat violates an NFL rule which states that cleats must have "a solid base color."
All of this will sound eerily familiar to seasoned sneakerheads, who are no stranger to the narrative of banned athletic sneakers.
The mythical story of Michael Jordan's "banned" black-and-red Air Jordan 1 is the stuff of sneaker lore. The tale goes that MJ's Bred AJ1 violated the NBA's "uniformity of uniform" rule, which states that
"A player must wear shoes that not only matched their uniforms, but matched the shoes worn by their teammates."
His kicks lacked the white found on Bulls uniforms of that era, so the NBA slapped him with a $5,000 USD fine every time he laced a pair up on game day. According to sneaker legend, Nike was so thrilled by the attention the shoes received that they footed the bill. One need look no further than Jordan's appearance on Letterman to see how the 23-year-old Jumpman approached this controversy.
Jordan's "Banned" narrative has come under intense scrutiny, due to the fact that it's not clear how many times Jordan wore those sneakers during the 1984 season, whether Nike actually paid the fines, and if the AJ1 was actually the first pair of sneakers to be banned by the NBA (that honor may or may not belong to the Nike Air Ship, which Jordan wore earlier in the season). Skeptics and critics maintain that the story was trumped up by Jordan and Nike in appearances like the one above in order to bolster sales.
While the narrative has since become a case study of branding and a source of endless argument in sneakerhead forums, it's interesting to see echoes of it still resonating in 2016. When asked if he would continue to wear his controversial cleats, Hopkins said that he would only do so if "Kanye wants to pay the fine." It's unclear whether this was in deliberate reference to the banned narrative set forth by Jordan, but the point still stands today that players will act in defiance of league rules, but only if sponsors are willing to eat the charges.
While at first glance it may appear to be a stumbling block, this entire "Banned by the NFL" ordeal may be more of a blessing than a curse to Yeezy: The "Uniformity of Uniform" fiasco lended MJ, Jordan and Nike an air of notoriety that has stuck around to this day. Wearing outlawed sneakers gave Jordans an air of badassdom that eludes its competitors; look no further than the ridicule heaped onto the ultra-safe Under Armour Chef Curry Two Lows and Jordan Brand's revisiting the incident for a commemorative XXXI silhouette for evidence of this. Meanwhile, it should be noted that the NFL's uniform rule may only apply to the pattern found on the 350 cleats; the 750s are sold in solid colors. Jordan infamously "fixed" the Air Jordan 1 silhouette, creating the similarly coveted "Chicago" 1s in the process. It remains to be seen whether these fines will have any effect on adidas's design or its decision to release the boots to the general public going forward.