Frank Ocean Releases a Second Version of 'Blonde' at Pop-Up Shops
The gifts just keep on coming.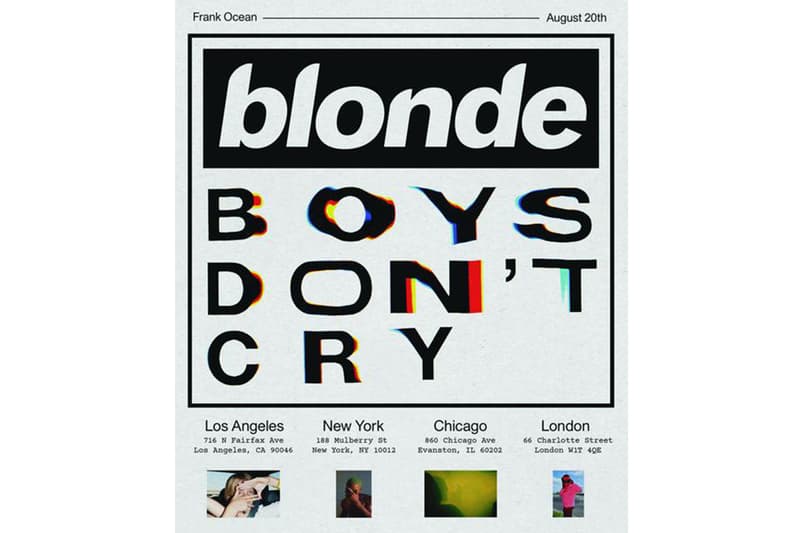 The Frank Ocean-filled weekend just keeps on coming. While most of us experienced a tear-filled 45-minutes after the drop of Frank's visual album Endless, Ocean goes on to surprise us with not only a music video for the track "Nikes," but a 4-years in the waiting, new album titled Blonde. The album's release also comes accompanied by copies of a print publication, titled Boys Don't Cry, at pop-up shops set up in New York, Chicago, Los Angeles and London. By the looks of it, fans who visited the pop-up shops were given a free copy of the 360-page Boys Don't Cry magazine. The kicker is, the book also includes a physical copy of Blonde but with different track-listings than the online version. Blonde boasts the album's first single "Nikes" while Andre 3000 appears on the album's "Solo (Reprise)." Ocean has hinted in the past, "I got two versions. I got twoooo versions," which he also sings on "Nikes." Looks like the four year wait wasn't in vain. Check out the listing below.
Blonde Physical Copy Track List
1. Pretty Sweet
2. Mitsubishi Sony
3. Ivy
4. Pink & White
5. Solo
6. Easy
7. Skyline To
8. Night.s
9. White Ferrari
10. Seigfried
11. Godspeed
12. Futura Free
Blonde Streaming Track list
1. Nikes
2. Ivy
3. Pink + White – features vocals by Beyoncé
4. Be Yourself
5. Solo
6. Skyline To – features vocals by Kendrick Lamar
7. Self Control
8. Good Guy
9. Nights
10. Solo (Reprise) – features vocals by André 3000
11. Pretty Sweet
12. Facebook Story – features vocals by Sebastian
13. Close to You
14. White Ferrari
15. Seigfried
16. Godspeed – features vocals by Kim Burrell
17. Futura Free