Here's How Kanye West Met His "Champions" Squad
(Cruel) Winter is coming.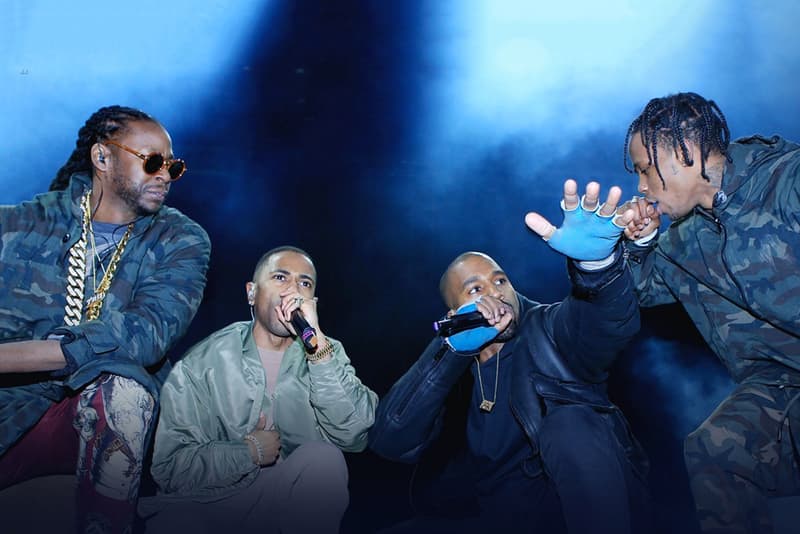 1 of 2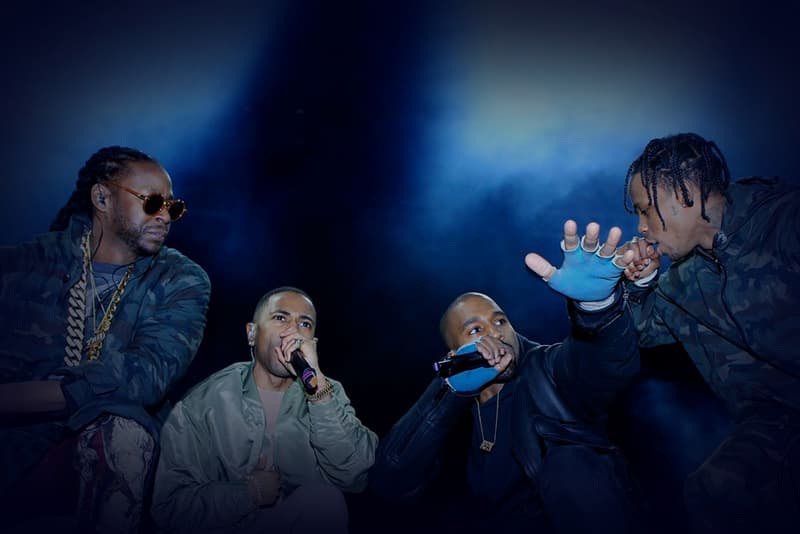 2 of 2
After the release of Cruel Summer in 2012, there's been rumors of a follow-up project. Cruel Winter was not just hearsay either — Kanye, Q-Tip and Big Sean all at one point claimed its legitimacy and existence, and a trailer from 'Ye and DONDA was even released (although Def Jam later denied its authenticity.) As time passed, it seemed apparent that the album was either scrapped or would never see the light of day…until last week. Pretty much out of nowhere, Kanye West visited Los Angeles' Real 92.3 to premiere the first single, "Champions," from the resurrected forthcoming album. It's not all-hype-and-no-quality either; the well-produced posse-cut features a very rare and unlikely combo of Quavo, Travis Scott, Gucci Mane, Big Sean, Desiigner, 2 Chainz & Yo Gotti.
In celebration of the single and in anticipation of what's to come for Cruel Winter, we've decided to revisit how Kanye West met each of his "Champion" features individually. Each of these artists linked up with 'Ye at different points of his life. Some, like 2 Chainz, Gucci Mane and Yo Gotti, already had established careers when they met Yeezy while others, like Big Sean, Travi$ Scott and Desiigner, were essentially amateurs or relatively unknown up-and-comers at the time of the encounter. Regardless of how and when they came up, the thing that these guys all have in common is that they're all irrefutably successful in their own ways. What also makes this track so impressive is that it's an impromptu team effort. For example, Fonzworth Bentley linked a recently-released Gucci with Kanye after 'Ye laid down his verse and Yo Gotti recorded his bars hours before the song was publicly released.
QUAVO (2016)
"Lifestyle on camera / Hundred thousand dollars chandelier / They tried to turn me to an animal / But white people think I'm radical / Supermodels think I'm handsome / You might think I'm too aggressive / Really I think I'm too passive / 'Till I pull out the chopper, start blastin.'"
It's true that Drake was the first big star to bring Migos to the forefront, but Kanye West also has his eye on the Gwinnett County trio. Migoyeezy season began in February when a snippet of their collaboration (something about "sniffing Miley Cyrus with Miley Cyrus") surfaced through Ian Connor's Snapchat. A month later, the "Versace" trio were spotted in the studio with 'Ye, reportedly working together on his Turbo Grafx 16 album. In an new interview with the Acton Entertainment, they claim to have "multiple songs" with Kanye that they are holding off until the right time.
TRAVIS SCOTT (2012)
1500, all in singles (straight up!) / Throw it up, watch it fall and drop / Round and round they go / Round and round they go / Champions, we run the city / Number one, they fallin' from the top / Round and round they go / Round and round they go.
As a teenager, Travis Scott was inspired by Kanye West's production, leading him to seriously pick up making beats at 16 years old. After T.I.'s team found out about Scott from the blogosphere that starting picking up on his music, Kanye also wanted a piece of the La Flame pie. They linked up around 'Ye's "Mercy" saga, and after unknowingly force-feeding a taco to an unwillingly cooperative Travis, they worked on Cruel Summer and the rest was history; he is one of the most successful GOOD Music artists to date.
GUCCI MANE (2016)
"Fresh out the feds in this mothaf*cka / And they still ain't ready yet for a mothaf*cka / Gucci Mane and I'm 'bout to put my Yeezys on / Now that Gucci's home, it's over for you Gucci clones."
Kanye and Gucci Mane had never linked up prior to Guwop's recent release from federal prison, but according to Vince Staples, very probable that 'Ye is a fan. The "Champions" connect happened all because of Fonzworth Bentley, who was in the studio with West when he was writing and recording the track. The moment Bentley heard "Gucci" being dropped in the verse, he knew they had to get the Bricksquad honcho on the track. After one text message to an insider, Gucci got on the phone with Ye and it all worked out. Good call, Fonzworth.
BIG SEAN (2005)
"Look, I say a prayer for my enemies / They cannot slow down what's meant for me / Funny how they come around like I can't see through their secret identities / Lately it's all about Zen and me / Subtractin' the negative energy / With the family, turn your ass to a memory / My n*ggas team of the century."
During Big Sean's junior year in high school, he got a job as a telemarketer and made $100 a week. A friend encouraged him to rap to Kanye, who was at their local radio station one day. Borrowing $20 from another friend for transportation, Sean rushed over and asked West if he could rap for him but 'Ye declined. After Sean pleaded and told 'Ye that he was the Detroit rapper's hero, Yeezy gave him a 16-second opportunity to rap. Sean did, and Kanye was so impressed by his voice, lyricism, style and heart that he signed him as a protege on the spot.
DESIIGNER (2015)
"Round and round they go, round and round they go / Rather be trappin' up out of the bowl / Then to get down with a ho."
In 2014, 22-year-old producer Menace put the "Panda" beat on YouTube and sold it to Desiigner for $200. In late 2015, the Brooklyn rapper posted the song online and it hit a million views in a short time. Apparently, Desiigner was at his house making music when his manager got on a conversation with 'Ye, and after the call, told him that he's going to LA to meet him. In December, Pusha T told Sway that he had deals in place for two new artists. Rumors of a signing began to bubble after TMZ spotted Desiigner at LAX with Kanye as they listened to music in the car. A month later, Ebro sent a congratulatory tweet to the rapper for being signed to GOOD Music; Kanye made the official announcement shortly after.
2 CHAINZ (2012)
"I took a nap in the pulpit / I never like how a suit fit / I got a pocket full of money / It got me walkin' all slew-foot / I'm on my wave like a cruise ship / In that h*e's mouth like a toothpick / Anyone get in my way / Nothin' to say, I tote them choppas like pool sticks."
Unlike many of the other rappers on this record, 2 Chainz has had a longer music career than Kanye. It began in 1997 when he (known then as Tity Boi) and Dolla Boy formed Playaz Circle — they were affiliated with Ludacris at the time. When Dolla Boy got locked up in 2000, their popularity declined but still were able to release two albums via Def Jam thereafter. In 2011, Tity Boi changed his name to 2 Chainz and shortly after released first mixtape under that moniker, T.R.U. REALigion. This caught Kanye's attention, and the two linked up for their infamous "Birthday Song" in 2012, among many others. While 2 Chainz is closely affiliated with GOOD Music, he's technically not part of the label.
YO GOTTI (2016)
"I'm Yo Gotti! / Reach for my chain is suicide / The car I drive fit two inside / They mad at Ye cause he all in the neighborhood / But he let them goons inside / Let's f*ck up the neighborhood / Let's f*ck up the neighborhood / Buy every house in this b*tch / You know that the money good."
Other than crashing Yo Gotti's album release party three months ago, there's no too much known history between Yo Gotti and West. The Memphis rapper claims that he recorded his part late at night, and that Kanye finished it and put it out the morning after. Yo Gotti is pleased that 'Ye gave him this opportunity and is enjoying the diversity that it has brought him. Perhaps we'll be seeing more Yeezy and Gotti collaborations in the near future.