A Japanese Runner Unofficially Broke the Record for Fastest Half Marathon Run in a Suit
Smashing the previous record by nearly 18 minutes.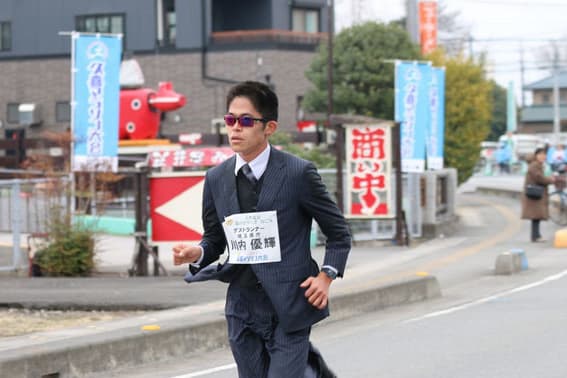 Yuki Kawauchi, known as Japan's "Citizen Runner" due to his refusal to accept corporate sponsorship, took an unorthodox approach to Japan's Kuki Half Marathon. Kawauchi ran it in 1 hour, 6 minutes and 42 seconds, all while wearing a full business suit.
Kawauchi's Kuki run also unofficially broke the world record for the fastest half marathon run in a suit by a whopping margin of 17 minutes and 59 seconds. The existing record will still stand, due to the fact that Kuki is not a Guinness-certified course. Kawauchi does not seem bothered, however, as he told Japan Running News: "But I'm glad that I could break the Guinness World Record unofficially. I got pretty sweaty and tired out there, but the people along the course loved it."
Check out a picture of the man in action below.
川内優輝選手、スーツで快走 #久喜#マラソン大会 #川内優輝 pic.twitter.com/6ZgpHYi7xw

— ぴの (@pinobubu) March 13, 2016