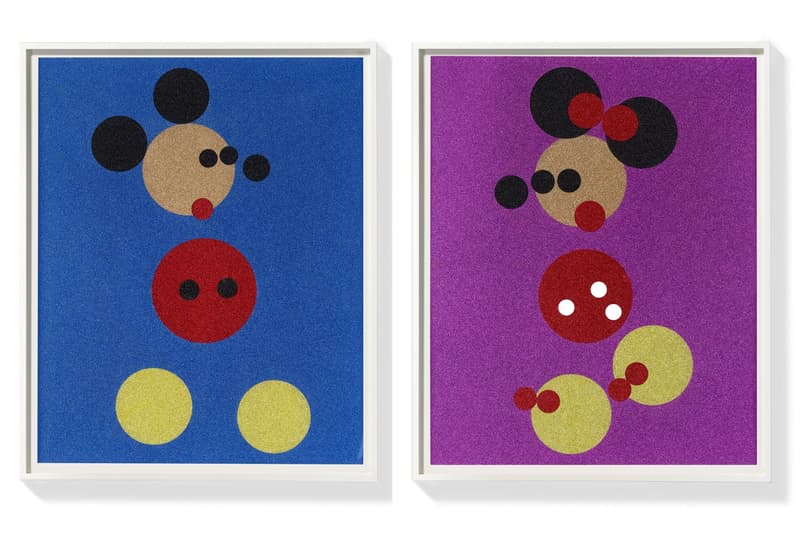 Damien Hirst 'Mickey' & 'Minnie' Prints
Glittery, silk screened renditions of the iconic mascots.
---
Seasoned English artist Damien Hirst looks to pop culture for his latest series of silk-screened prints for a playful reimagining of Disney's beloved Mickey and Minnie Mouse characters. Offered in two sizes, these limited-edition silk-screened prints of the iconic mascots are encrusted with sparkling glitter, with Mickey in blue and Minnie pink, and are a creative extension of Hirst's familiar spot paintings. The Bristol-born artist began his grid-like spot paintings as a conceptually endless series in 1986, and remain among his most widely recognized works today. "They represent happiness and the joy of being a kid and I have reduced his shapes down to the basic elements of a few simple spots," Hirst remarked. With small versions limited to 150 prints and large prints at 50, each one is signed and numbered by the artist.
Hirst's Mickey and Minnie prints are now on display at Booth E06 at Art Central Hong Kong 2016 until March 26. The original Mickey print sold out immediately, and these limited editions are expected to follow suit after their official unveiling on March 24 at a price range of £6,000 GBP (approximately $8,500 USD) for a small and £14,000 GBP (approximately $19,800 USD) for a large. Purchase inquiries can be directed to Hirst's New York City and London-based art and book shops, Other Criteria.